$389.99
in stock
13 new from $389.99
as of November 30, 2023 2:12 pm
Last updated on November 30, 2023 2:12 pm

Turning our attention to the rear I/O panel. A good host of options can indeed transform a 'maybe' into a 'sold' in the minds of experienced buyers. Conversely, even just a mediocre selection of included options can transform a 'maybe' into a 'keeping looking'. So, we are not exaggerating when we say that this is an area that can make or break the final decision for many.
This is an area that MSI know fully well the importance of and over the years have put more and more of their attention towards getting right. Right… but without breaking the bank. Like all things in life, the list of features a rear I/O boast is a series of tradeoffs. So sure, in a perfect world even a "business" orientated (aka budget is king) series like the MSI Pro would come with dual 10Gbps NICs, HDMI+DP+DVI+VGA ports, 4-way WiFi/BT antenna headers, a physical on/off switch, a half dozen USB 3.2 gen2x2 ports, another half dozen of USB 3.2 gen 2, and even an old school PS/2 port… and make full use of a 1000 PCIe 5.0 lanes that even i3s would boast of having.
Back in the land of reality pesky things like a budget matter. Budgeting not just over total build cost but also PCIe lanes… as both AMD and Intel's 'consumer' line of CPUs and chipset do not come with nearly enough PCIe lanes for our tastes (e.g. we consider Xeon W's 112+ PCIe lanes and ThreadRipper's 128 to be a good 'first try' with plenty of room for improvement). Since this is a revision / second take / refinement on the same foundation as found in the non-Max Z790 series, it should come as little surprise that this critical area has not really changed all that much. We do not consider this to be a bad thing as the Edge Z790 generation of motherboards is rather decently equipped in this area. Not perfect. But certainly better than many of the alternatives in this price range.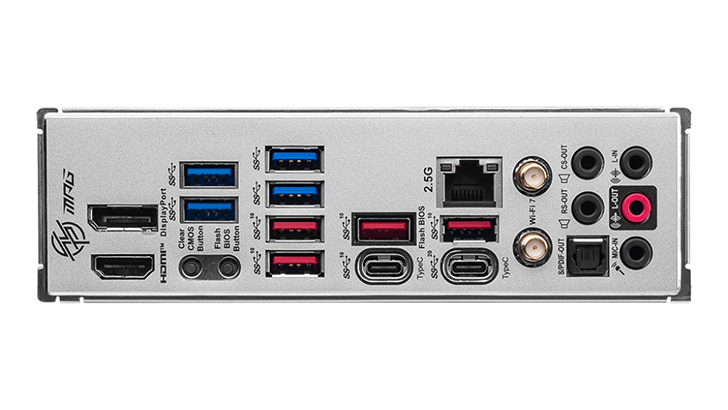 To break things down the non-Max came with 8 USB ports (the MPG Carbons come with 10); a small and recessed BIOS flashback and Clear CMOS buttons, a HDMI; a DP; 5+S/PDIF audio ports; a single 2.5GbE NIC; and dual antenna headers for the integrated WiFi + BT option. All in it was a decent assortment of options. No real standouts, but it covered all the basses nicely.
On the surface… nothing has changed. However, the devil is in the details. There are tangible improvements. Arguably enough to make it be considered an upgrade. So, while yes there are still only four (clearly labeled with a '10') Type-A USB 10Gbps ports; only one Type-C Gen2 and one Type-C Gen2x2 USB ports; a DP 1.4 and HDMI 2.1 ports; and even a lone (Intel i226v based) 2.5Gbe based NIC port… both the Wireless and Audio portions of the I/I options are improved upon.
Before we move on, we feel compelled to point out that while the ASUS ROG Strix F II has on paper a better host of options the reality is much more nuanced. Yes, that more expansive board has more USB ports. Sadly, ASUS has gotten to '12' Type-A ports by padding out / "juking" the stats. To be precise the number of USB 2.0 headers makes up a full 50% of that '12'. Of the remaining 6 Type-A ports four of them are USB 3.0 / 5Gbps ports and there are only two 10Gbps Type-A ports. Compare and contrast that with MSI and their '8' of which 4 are 5Gbps and the other 4 are 10Gbps and its obvious which are more practical… as yet even in 2023 a teir-1 company thinks that quantity is better than quality. Which is bloody disappointing, and we must give credit to MSI for not going down the 'marketing department is more important than the engineering department' route.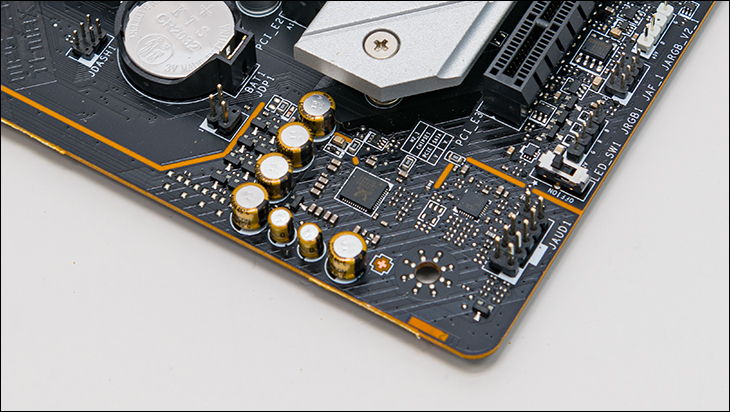 Moving on. In the previous Z790 Edge the motherboard's integrated ALC4080 sound solution was indeed electronically separated from the rest of the motherboard. It did this in two ways. The first was by quite literally carving out a portion of the PCB for just the sound – as seen by the wide 'line' that goes through all 6 layers. This certainly reduces noise as no power nor signaling pathways not related to the sound subsystem are even coming close to the sound pathways let alone crossing over them.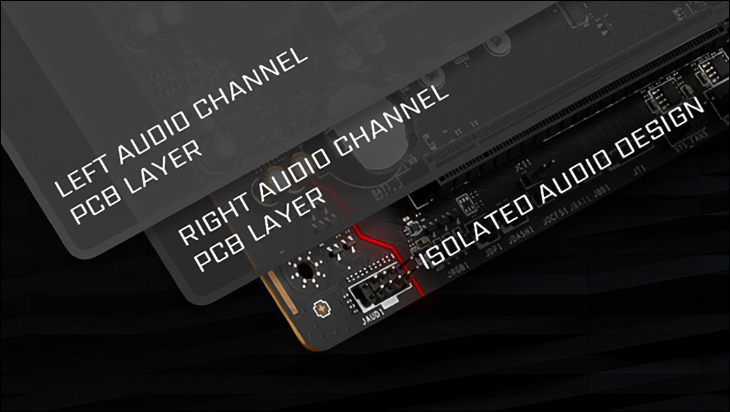 MSI, like all tier 1 manufactures, then separates the left and right audio channels and places them on their own layers of the PCB. Once again, a good improvement from the bad old days of yesteryear (aka the early to mid twenty teens). However, once the signals hit the audio block on the rear I/O they were on their own with only whatever EMI protection was baked into the 5+1 block keeping EMI noise out.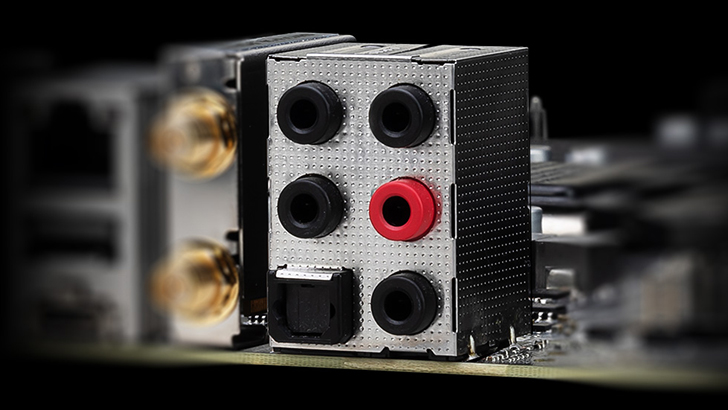 This actually changes with the MAX variants as they include the previous generation's audio noise reduction features but then improves upon them in the block area. To be precise this block now has a two-layer design. The outermost layer is a metal wrapped covering that is not connected to the internal block structure. Instead, it there to provide physical and electronic protection… and is basically a Faraday(ish) cage. Since it is connected to the pre-attached rear I/O panel it is even 'grounded'. Then inside this cage is the actual audio block with each port separated into its own physical zone.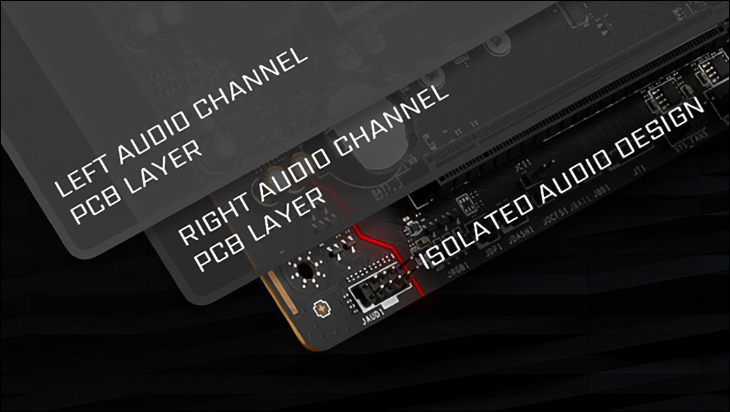 What this means is that no matter how noisy the USB ports or the wireless headers become their EMI will not be (easily) passed on to your headphones or speakers. Thus, lowered chances of hissing or popping. In theory. In reality it does make a noticeable difference but there is still room for improvement. For example, we would like to see the entire audio portion of the motherboard get this (as MSI has called it) "Isolated Analog Structure". We say this as EMI from say a dirty GPU can 'jump' the soundcard area isolation, hit the pathways (or worse the ALC 4080 codec itself) and introduce noise long before the signals get to this Farady(ish) cage zone.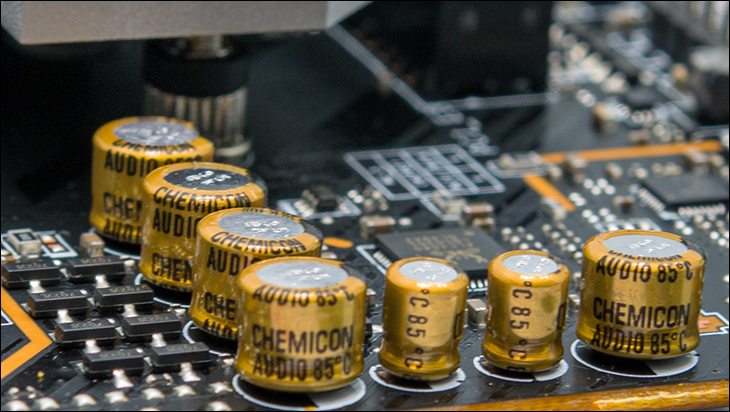 This is why good audio Add In Cards include a 'covering'. It is why the MPG Carbon series gets a (decent if not perfect) covering… as it does make a difference. To be fair, this improvement offered will make a lot more people happier and provide a noticeably better integrated audio experience than previous options. This goes double if you plan on using the Edge as the foundation for a headphone-based PC gaming system. It just is not truly up to 'MPG Max Edition' standards. Which is a shame.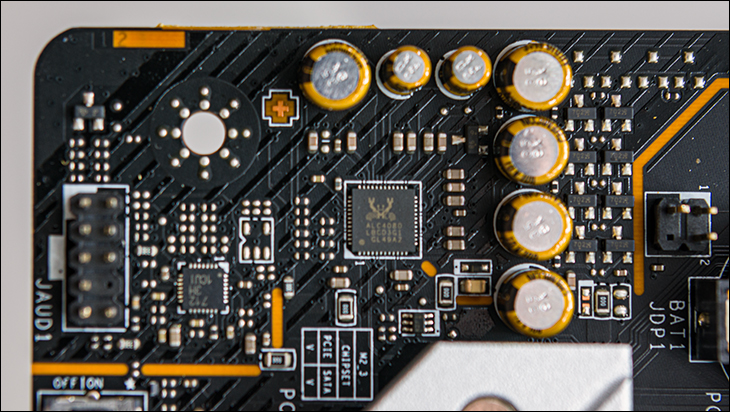 Make no mistake. This is a better sound solution than what ASUS uses on their more expensive STRIX-F II… as they do not give you a standard 5+1 audio block. They just give you a 2+1 block… and 5.1 audio enthusiasts who do not use SPDIF based speakers are SOL. Whereas this badboi will have you covered.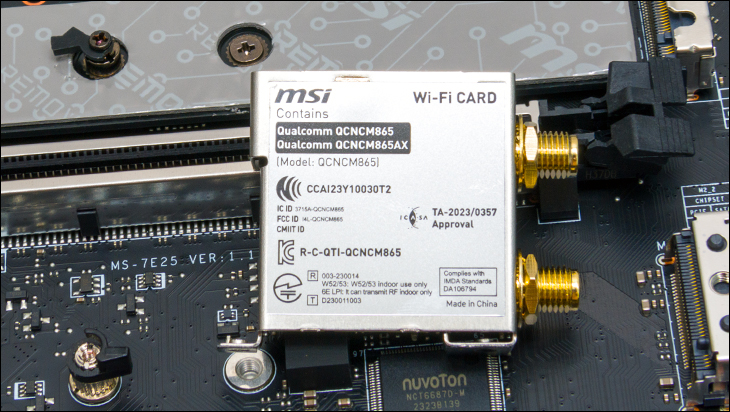 The other improvement is in the WiFi and Bluetooth features. The previous generation typically used an Intel AX211NGW based WiFi 6E + BT 5.2 solution in a M.2 (e-key) x1 form-factor. For its day this was a fantastic solution that was capable, reliable, had stable drivers and 'Just Works' rather decently for a 2×2 WiFi solution. Sadly, Intel's WiFi 7 solution (e.g. BE200) is in high demand and they cannot keep up with the demand (thanks ClownWorld for a 12 to 16+ week lead time on orders!). As such MSI has cast their net a wee bit wider than previous generations of Edge boards.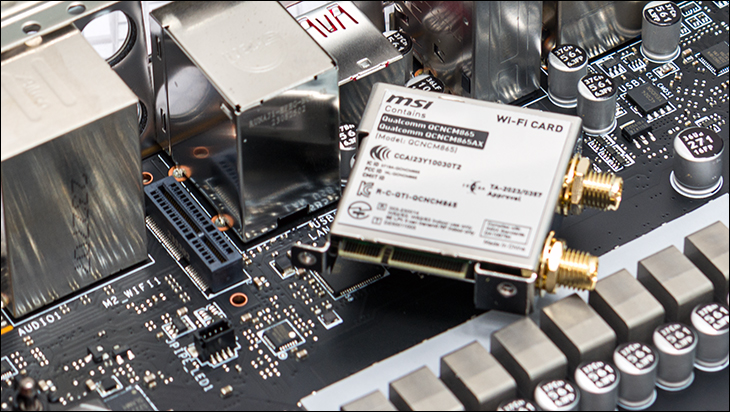 This is why the Z790 EDGE Ti Max edition is using a Qualcomm QCNCM865AX based solution. Once again this is a M.2 x1 (e-key) 2×2 (aka dual antenna) solution. While not perfect, this specific solution is quickly becoming the de-facto standard for mainstream motherboards and is the 'go to' solution for everyone from MSI to Gigabyte… to even ASUS. Given the issues with Intel shipping we are glad to see the Qual' 865 being used and not the MediaTek '927 series… as ooof. The best thing we can say about the MediaTek's stability is 'well bless your heart. At least you tried." So, while some will consider this a downgrade vs. Intel… we consider a minor upgrade. An upgrade that if it really annoys you, at some point in the future you can swap it out for an Intel based option as it is a standardized formfactor with only two screws holding it (securely) in the M.2 port.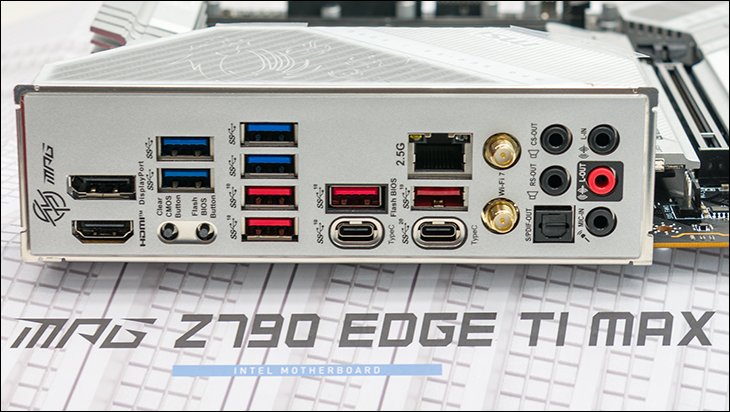 Before we move on, we do have to point out one 'feature' that some will like and some will not. To be specific, MSI's main competitor, Asus has gone to a 'quick connect' option for their external WiFi+BT antennas whereas MSI is still using the old-school 'screw in' (mini-BNC) connectors. Some will love the fact that ASUS is just push in and done. Others will realize that you basically only attach the antennas once so spending an extra 30-seconds is not a deal breaker. Others will realize that 30 seconds of savings does come at the cost of security… as friction mounting is great for devices that are connected and disconnected often but not for 'one and done' components. The jury is still out if they will cause long-term random disconnect issues, random signal quality degradation, and generally fail earlier than brass screws.
To us, we rather spend the extra bit of time and ensure it is done right than pay for the privilege of being an unpaid guinea pig. An unpaid guinea pig that is stuck with an external antenna that uses "custom" proprietary connectors that can not be easily replaced. If in a couple years the quick connector has proven itself to be just as reliable, then we will consider it. Though once again, it will be more a case of not being a potential negative and just a different mounting method… as a couple seconds makes in the grand scheme of things. You may feel differently but quite honestly to convince us to opt for a proprietary connectors ASUS really should go for a small form-factor that allowed for 4×3 (or even just 3×3) connectivity as 2×2 is 2×2. Make it an actual, tangible upgrade or don't bother.
Moving on. We come to the Quality-of-Life additions of the MPG Z790 EDGE Ti Max. Sadly, nothing has changed. Yes, you get a physical Clear CMOS button. Yes, you get a dedicated BIOS Flashback button (and its accompanying mult-use red colored USB port located directly over the Type-C '10' labeled port). Yes, both are superb features. Sadly, MSI has once again not opted to include their "Smart Button" option. An option that is nifty and helps separate the MPG series from the MAG… and actually a good reason to further upgrade to the MPG Carbon MAX.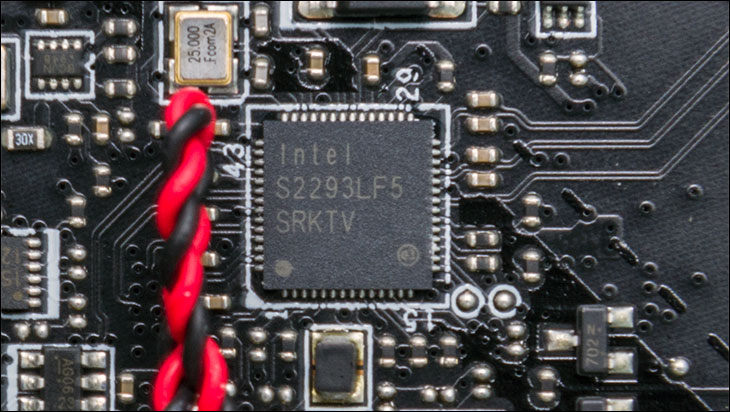 Make no mistake. The included QoL options are very good. Just as good as what ASUS demands you spend over 4-bills for. It is just that the TomaHawk Max offers pretty much the same QoL rear I/O features and MSI has once again not made it crystal clear why the Edge series is the better series – and it is better. We just wish they made it blatantly clear. Maybe even going as far as including either dual 2.5Gbe NICs or even just one 10Gbpe NIC.
After all, the cost between a good 2.5GbE switch and good 10GbE is not that great… and if people are going to pony up for new "above 1Gbe" networking infrastructure "Cry once, buy once" is the only way to go. Furthermore, the flexibility 10GbE offers cannot be matched by 2.5GbE NICs. These days a good 10GbE's controllers can do 10/5/2.5/1… but these wonky, cheesy, "still a work in progress" 2.5's can't do 10. They cannot even do 5GbE (i.e. about the fastest a standard 1500MTU configured network offers in real-world scenarios). They can only do 2.5/1/.1/ and yet demand one upgrade their networking backbone before you can take advantage of the 'improvements' they do have to offer. In either case, this still an very, very good rear I/O panel with a well above average feature set.