$389.99
in stock
13 new from $389.99
as of November 30, 2023 2:12 pm
Last updated on November 30, 2023 2:12 pm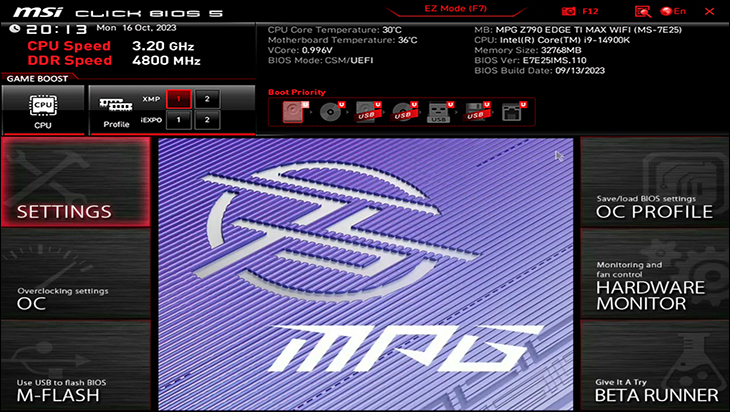 Let's face facts. Much like all other major motherboard manufactures MSI has put a lot of time and effort into their BIOS design. Time and effort into making it as user-friendly and yet powerful as possible. However, just like every other manufacture each BIOS has its own unique quirks… as each BIOS team follow slightly different philosophies. To be blunt, MSI is firmly in the "use as few sub-sub-menus as possible" camp. This commitment to not hiding BIOS features is laudable, but it does also mean that the UI can be considered 'unusual'. Highly unusual at times. Which is fair. Just like an ASRock is not the same as a Gigabyte which is different than Asus, MSI's UI is different than the rest and does things the MSI Way™. It always gets the job done, but first time MSI motherboard owners may find it touch busy, crowded, or even a touch disconcerting.
This is the biggest quirk users will find with the BIOS. However, once you get used to the flow (and occasionally 'different' naming schemes – especially if you have recently given up on ASUS and their plummeting QC) it will quickly grow on you. It may never become your absolute favorite. But it can be counted on to always get the job done… and does make sense once you get used to the MSI Way™.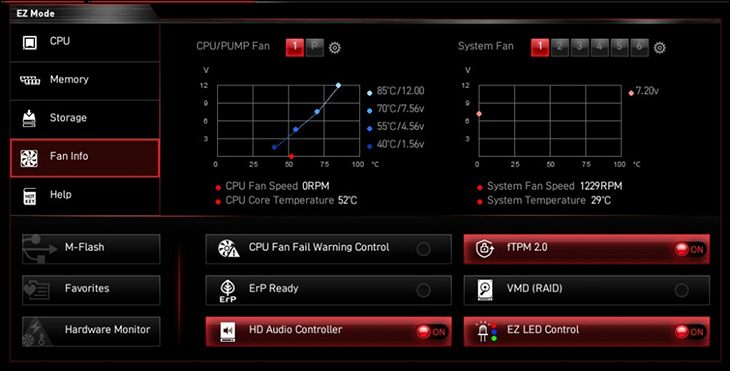 Thankfully, MSI is fully aware of that and includes two different BIOS UIs. EZ Mode is just that. Easy mode for novices who do not want, or even care, about minutia of their motherboard. They just want to hit Delete or F2 on POST, enter is a simplified UI and tweak the fan profiles, or select the boot order… or just activate XMP options of their RAM. All of which are here and then some. In fact, compared to some lower tiered motherboard manufactures BIOS… MSI's Easy Mode is more capable and more powerful.
If however you need/want/desire more than just handholding. Hitting F7 will get you into the 'real' BIOS. A real BIOS which is indeed unique in its three columnar layout – with right and left columns for your menu options and the 50% center column for where said options appear and are configurable. All of which is the basically what you would find with the non-Max EDGE. Yes. There are few minor additions/revisions… but an Intel 12/13/14th gen CPU + Z790 chipset combination is a 12/13/14+Z790 chipset. There really is not much MSI can change. Which is fine as MSI has spent countless years, arguably decades, refining the BIOS and they simply modify to take advantage of new features available in a given generation of CPUs.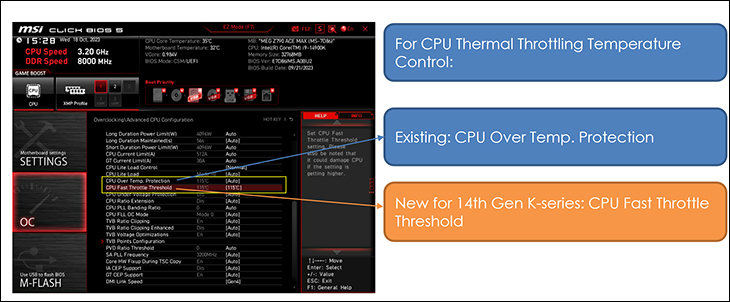 Before moving on, a great example of this is the new (and 14th Gen only feature) CPU Fast Throttle Threshold. Much like previous Intel's Over Temp Protection which is baked into every modern Intel CPU and motherboard BIOS, CPU Fast Throttle takes that idea to the next level. It takes it to the next level by being faster, more precise, and more accurate. So while this will do somewhere between jack and squat all good for buyers not interested in pushing the boundaries of overclocking. For overclocking enthusiasts it does actually make a difference. It can make the difference in edge cases where sometimes an overclock with thermally limit, and yet seemingly randomly it will not. All without anything changing. Such gremlins are annoying to track down. As such this easy to find, easy to use feature should be enabled if you want the very best from your Edge Ti Max and 14th Gen Core-I CPU.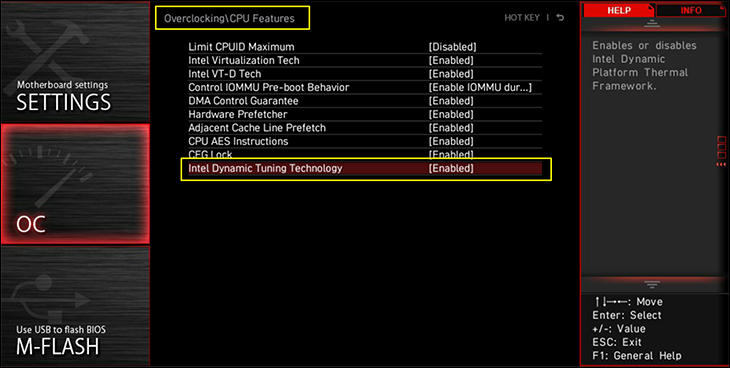 The same is true for Intel Application Optimization. This optional new addition allows buyer to have pre-tuned configurations pushed directly into Intel 14th Generation's Thread Director firmware. Yes, it requires both a BIOS and software component. Yes, few applications are available with these preconfigured tuning done for you. Neither really matters. As time goes by Intel engineers' will add more applications and games to their list of Intel AO supported applications. In the mean time it is free added performance. All for just entering the BIOS turning it on, and then downloading a(nother) piece of Intel driver software. Not too shabby if you ask us.
Moving on. Much like the BIOS will not really have any surprises for experienced Z690 and Z790 users overclocking of a 14th Gen CPU really is no different than overclocking a 13th… which in turn really was not that much different than a 12th generation (which to be fair was a massive 'sea change' compared to overclocking 11th gen Intel Core-I's).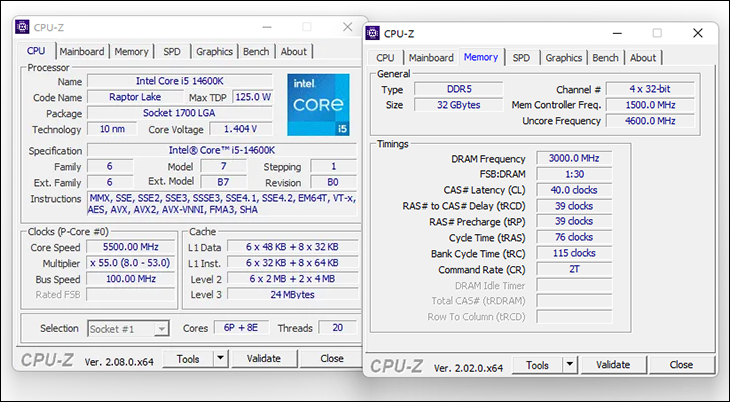 First let us be clear. If you have used, or are using, the non-Max Z790 Edge then the Ti Max will simply be a minor refinement over what you are getting right now. That is reasonable. That is fine. That is what should be expected as the non-Max is extremely robust motherboard with a very good power delivery subsystem that is/was cooled excellently with via a huge L shaped heatsink. Add 'Ti Max' after 'Z790 Edge' and you have the version 2.0 Z790 Edge results. That is to say, very consistent. Very reliable… in fact thanks to so much time and effort put into the non-Max edition the firmware is already razor sharp. Something we could not say when we review the Z790 Carbon shortly after 13th gen + Z790 chipset launch. As such, if you own the non-Max edition you probably are not the potential buyer this motherboard is marketed towards. Which is also fine. As there is no good reason, beyond being slightly less costly, to opt for the non-Max edition over the Z790 EDGE Ti Max version.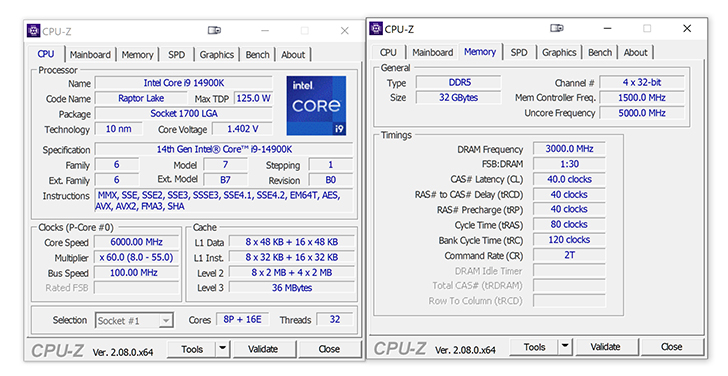 We would go as far as saying that, from an overclocking point of view, there is actually no good reason to opt for even a non-Max Carbon over this EDGE Ti Max. If anything, we were able to feed slightly less voltages to the same i5 and i9 and get completely stable overclocking results. Results which were the same as what we got with the non-Max Z790 Carbon motherboard we used for the Core-I 14th Generation review. Needless to say… color us highly impressed. Impressed enough we are going to have to start using more of the Edge's and fewer TomaHawks in future customer builds. Higher asking price or not. This motherboard is just that good for mainstream builds to not spend the couple extra bucks to use it.