$389.99
in stock
13 new from $389.99
as of November 30, 2023 2:12 pm
Last updated on November 30, 2023 2:12 pm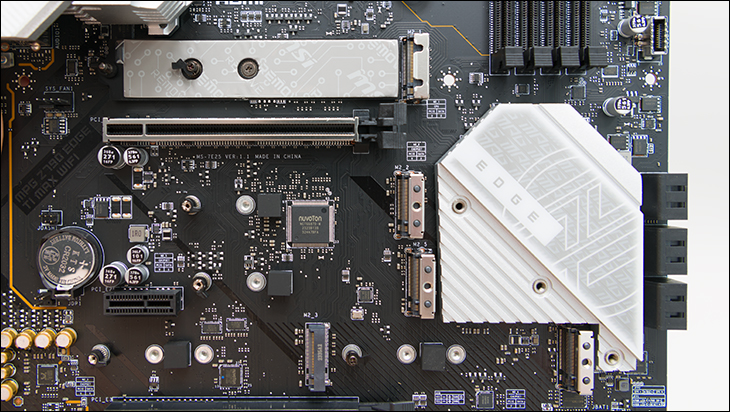 With no changes to the total PCIe lanes, nor a new chipset, not much has changed on the M.2 front. As with the non-Max Edge Z790, the MPG Z790 Edge Ti Max comes with five M.2 ports… which is more than enough to satisfy the needs of 99 percent of the general buying population. However, not all M.2 ports are made the same. To be specific the non-Max may have had five M.2 ports. It may have even had a M.2 port cable of handling a M22210 drive (aka capable of handling the long boi 110mm M.2 drives). What it could not offer was a PCIe 5.0 M.2 port. Which makes sense as when the Z790 chipset was launched PCIe 5.0 x4 drives were still in the beta testing stage.
Thankfully, as PCIe 5.0 x4 drives are the performance option of choice for buyers, the Ti Max variant has corrected this issue. To be precise, and just like the non-Max Carbon edition, the top most M.2 port is PCIe 5.0 capable and directly attached to the CPU via the shortest possible lanes. Yes. Technically, it should not matter if a port is labeled 3/4/5 capable as direct connect is direct connect… but it does. The bus width was not the only thing that was upgraded between NVMe 1.4 and NVMe 2.0 standards. Going hand in glove with the doubling of the (theoretical) bus width was an increase in allowable maximum power consumption… and sticking a PCIe 5.0 drive (and having it run at 5.0 speeds) in a '4.0' direct connect port is a recipe for a Bad Day. Gen 4 drives typically topped out in the high single digit wattage draw. PCIe 5.0'ers now can suck down low double-digit amounts. So, if the motherboard's team did not design a port for the higher demands of the latest generation it would be a less than optimal idea to try and use it.
Would/Should this improvement sway many buyers? Probably not. It is not like there is a massive real world difference in gen 5 SSDs vs gen 4. PCIe 5.0 NVMe SSDs are still using first try controllers, whereas Gen 4 controller have had gone through multiple iterations/refinements/etc. This will change in the next year or two, but right now it is more future proofing rather a 'must have' feature. Still nice to see MSI address this issue with the Edge though.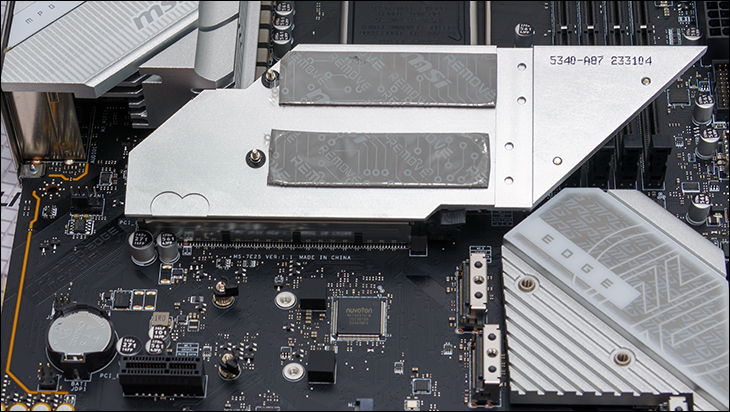 Sadly, not everything is sunshine and lollipops with all of the M.2 ports. Just as with the non-Max variant only the topmost M.2 port gets double sided cooling. Yes, all are covered in massive chunks of alloy (which vary in weight with the top being about 2oz, the central of being ~4oz, and the third being about 3oz). Yes, only double-sided M.2 drives will be impacted by there not being a hunk of alloy underneath the M.2 area. Yes, there is an air gap and unless you push PCIe 4. X4 hard passive cooling is probably going to be 'good enough'. Yes. It is even true that few will use all five drives in a build. In fact, most will use one or two and consider it 'good enough'.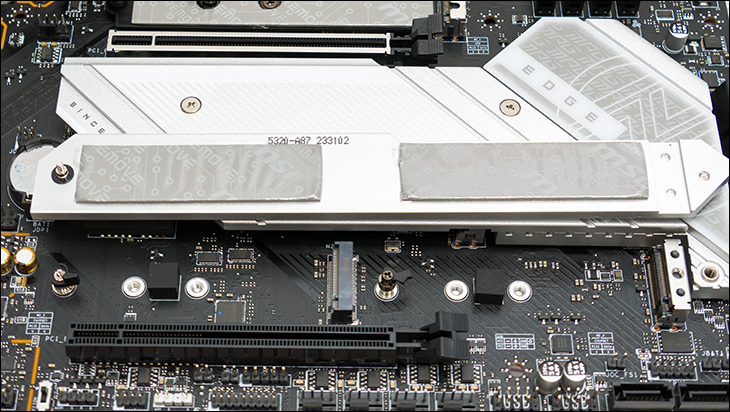 None of that matters and is purposely missing the point. A 2280 chunk of alloy plus a 22×80 thermal pad does not cost much when dealing with the order size MSI deal in. Even if it did. This is a nearly $400 motherboard. Hell, they should include proper M.2 cooling on all their mainstream boards. This should not even be an issue when dealing with their premium mainstream orientated series… as this is not a 'MAG' branded board. It is an MPG branded motherboard. MPG are supposed to be mainstream / premium crossover motherboards with few corners cut. As such this corner cutting is disappointing to see. It is an oversight that will take another generation before MSI has the opportunity to correct it. Which we sincerely hope they do as this does tarnish the entire MPG brand. All over less than four dollars' worth of missing 'accessories'.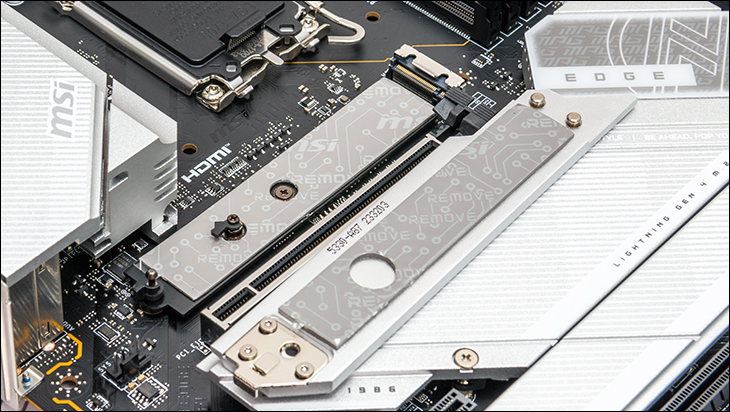 Thankfully, if this does bug you as much as it does us you can fix it. Your, existing Z690 (or newer) motherboard should have a backplate on at least one M.2 port. Most are only held in via the M.2 mounting standoff. Simply remove it then, gently pull up… and install it on your new EDGE Ti Max . Just be warned that you will also have to cut/modify the z-height on the small foam pad that is used to ensure the M.2 drive installed is perfectly horizontal. All in all, one should not need to do it, but it is not a deal breaking issue. Even if it does annoy us to no end.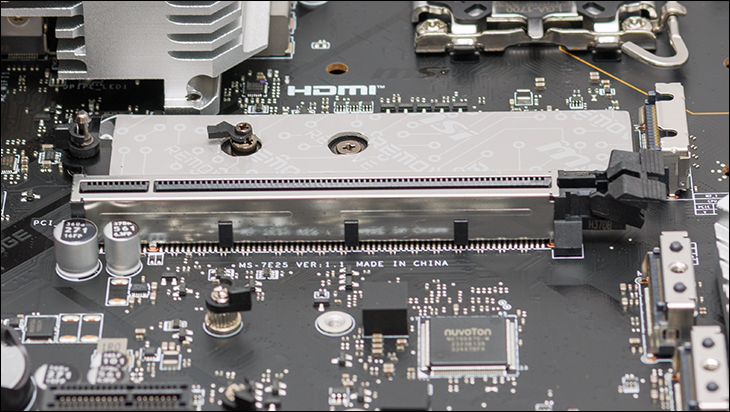 On the positive side, all five do get the 'EZ M.2' securing latch treatment. This may not sound like much but if you install enough M.2 drives… at some point you are going to lose one of those itty-bitty mounting screws. With the EZ clip configuration one no longer has to worry about it as the 'latch' is now a swivel design where to secure the M.2 all you need do is swing the latch to the side/open position, install your M.2… and swing the latch closed. No fiddly screws. No worries over a screwdriver slipping. Just ease of installation. So sure, it may save you only a couple minutes in the grand scheme of things, but it is a Quality-of-Life improvement.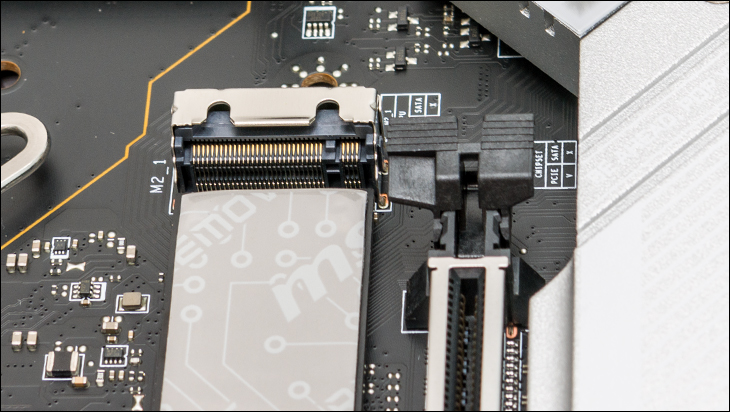 Also of note is the topmost M.2 port, just like the non-Max variant, not only features screw free installation but tool free installation of the top heatsink. Yes, instead of screws this bad boy uses a latch mechanism to lock it in place. We really, really like this configuration as it is fast, it is secure, and it is reliable.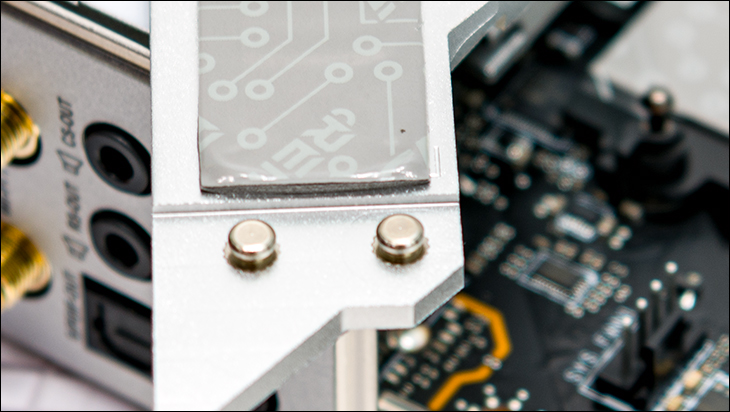 Going back to the 'old' way for the other ports just underscores how much better it is. So much so we sincerely hope that future Edge models get it for all their M.2 ports. However, given the fact that even the Godlike MAX does not get such a feature it probably will more than one generation before such a wish trickles down to the MPG series.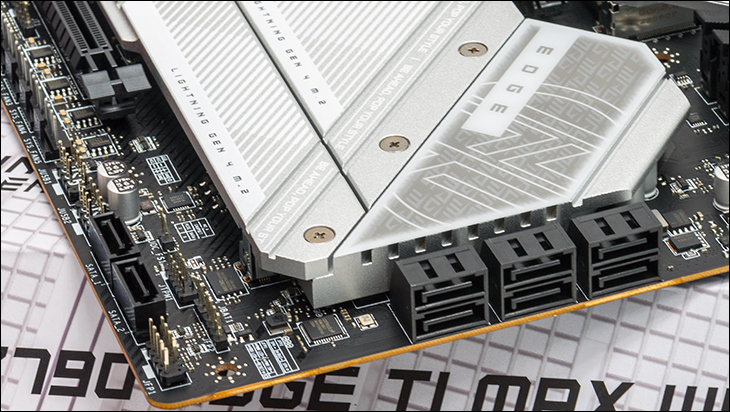 Moving on. The SATA port count has changed. Finally, MSI has seen the error of their Z790 Edge non-Max ways and gone back to the Z690 Edge's eight port count. Yes. This is 'only' an increase of one (the non-Edge came with a very decent seven SATA ports), but seven is an oddball number. Eight on the other hand is perfect for a moderate sized eight-bay homebrew Network Attached Storage build. It is perfect for Home Theatre PC builders. It is perfect for PC storage enthusiasts. It is just… perfect. So, if you are considering just dropping in a 14th gen CPU into your Z690 Tomahawk or Torpedo or Mortar the extra port(s), in addition to the upgrade M.2 ports, may indeed push you towards upgrading to a Z790 maximum edition. I know it will us.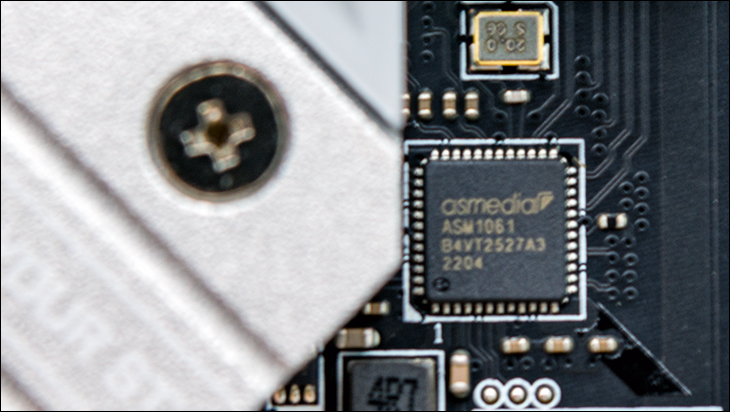 Sadly, not all eight are direct attached to the Z790 chipset. Instead, MSI has once again used a ASMedia ASM1061 dual SATA controller for two of the ports (block of two nearest the top of the board / nearest the USB Type-C header, and are labeled A1 and A2).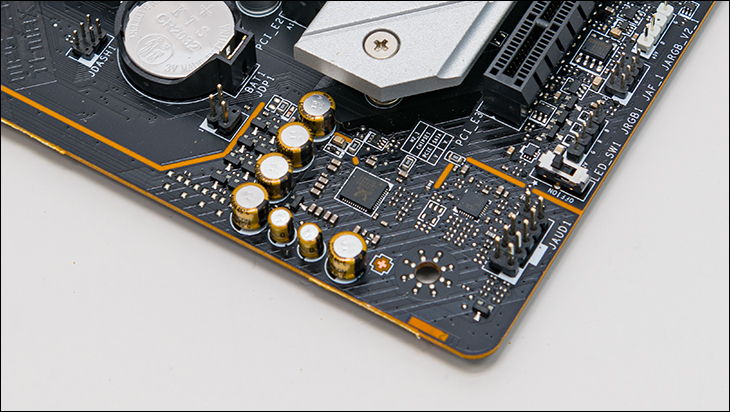 Also, please note that if you do use the first two Z790 attached ports (labeled SATA_1 and SATA_2. Aka the two down at the bottom nearest the front header, internal usb headers… aka not part of the 3×2 SATA block) you will not be able to use a SATA M.2 SSD in port M2_3 – and vice versa. So, avoid M.2 form-factor'ed SATA drives. Quite honestly wasting a M.2 port on a SATA based device is just that. A waste. Pick up a cheap PCIe 3 or 4 NVMe M.2 drive instead.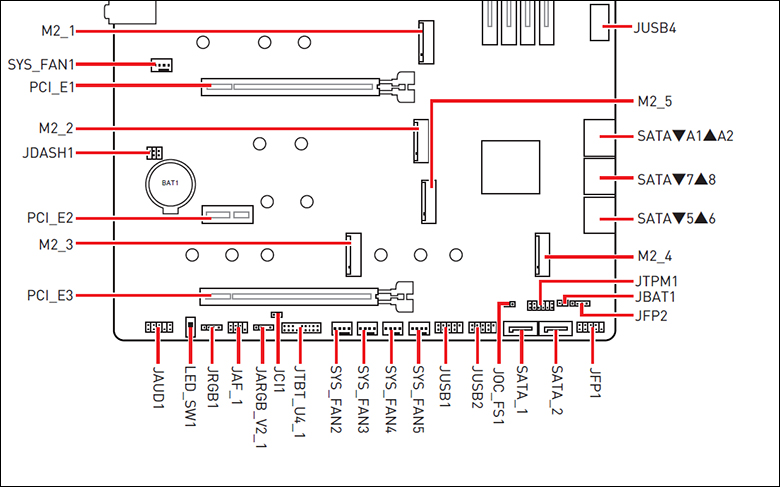 Running along the bottom edge of the motherboard is not your typical assortment of headers. Yes. There are multiple 4-pin fan headers (four or five depending on how you count things). Two USB 2.0 headers (for a total of four of the six possible USB 2.0 'case' ports). The two Marvel based SATA headers. Audio front header. Various other odds 'n' sods including the previously mentions USB4 extension header. A very nice LED on/off "kill switch" that will allow a builder (if they so choose) of turning off Every. Single. LED. On. The. Motherboard. Making it one of our personal favorite switches. Then there is that marvelous front header port that uses that incredibly intelligent, arguably 'game changing', custom adapter cable. As such this list of header options is so far above average that it makes the $430 Strix -F II look extremely overpriced in comparison.
This brings us to the PCIe ports and their features. Some of which we have gone over already. In total you get one dedicated PCIe x16 slot and its cutting-edge Steel Armor… that sadly will run in x8 mode if you use the PCIe 5.0 M.2 port. This is a darn shame, but it is because it is direct connected to the CPU and 12/13/14th gen Core-I CPUs are a touch PCIe lane constrained. Thankfully, we are talking about PCIE 5.0 here so eight 5.0 lanes are the same as 16 4.0 lanes. Either way, we expect the next generation 'Z890' based Edge to eliminate this issue via the increase in PCIe lanes that are rumored to be going hand in hand with the introduction of the non-I 15th Gen Core series.
Thankfully, the middle 3.0 x1 slot is attached to the Z790 chipset, and the same holds true of the bottom 'x16' form-factored PCIe 4.0 x4 slot. So no matter what you attach to this motherboards other options they will give you all they rated for. First time. Every time. Once again we would have liked to have seen them get the Steel Armor treatment for both its increased durability and efficiency… but also because the black slots do contrast a wee bit more than we would like with the white+silver M.2 heatsinks darn near surrounding them. This is a complain we had with the non-Max Edge and MSI really should think about either Steel Armor'ing them… or go for a white PCIe slot. Either would be fine. Either would be an noticeable upgrade over what the Edge's are using. After all, this is an MPG branded motherboard and the difference between 'ordinary' and 'extraordinary'… is that little bit extra. Once again, not enough to be remotely considered deal breaking issue, but a bit of annoyance as this motherboard does raise the bar, and does get so much more right than we would think an Edge would get in a single inter-generational revision.