$389.99
in stock
13 new from $389.99
as of November 30, 2023 2:12 pm
Last updated on November 30, 2023 2:12 pm
With (most of) the fascia, the VRM, and M.2 heatsinks removed we can get a better look at the motherboard and its design. As you can see it is extremely well laid out (especially for a five M.2 capable ATX motherboard), with an excellent job done on soldering, component mounting, and (generally speaking) component selection. With a few caveats that obviously go along with having a lowered MSRP compared to the 'other guys'. So with that in mind let's zoom in at take a closer look at all the components MSI has chosen for this generations MPG EDGE and discuss the pros and cons of their design decisions.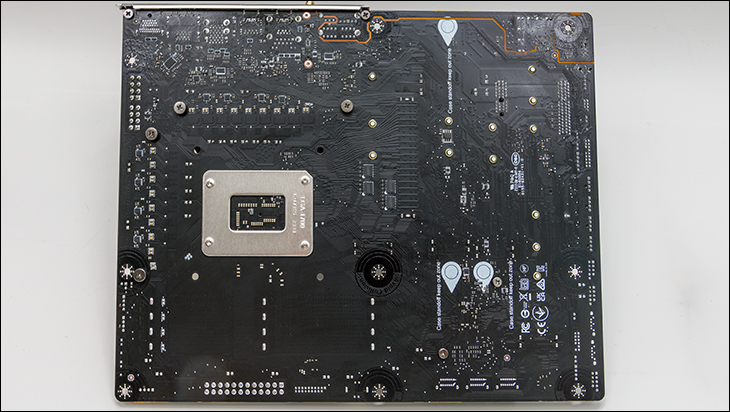 When examining a motherboard series for the first time, even one we have not 'torn down' to 'bare metal', we like to start with looking at the back of the board. How much time and effort a manufacture put into the part that is going to be hidden can tell you a lot about how good the design really is. Put simply, the more time spent on design the cleaner the back will be. Conversely, some companies are so slapdash during the design phase that they simply cram any 'after thoughts' on to the back and call it good… as few will ever notice their lack of forethought. Sadly, we have come to this quick and dirty method based on a lot of bad boards over the years. Even rather costly boards have failed this test. Failed so badly that when we pulled them out of their box at the store, examined the back… and quickly put them on the 'do not buy' list. This is why we always start here when judging a new model that we have never handled before.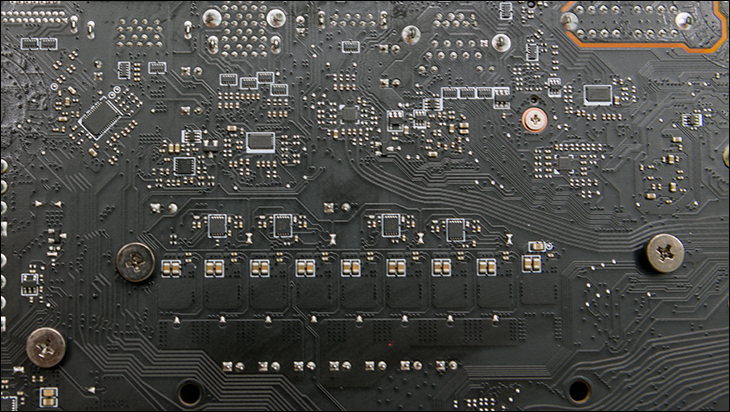 Thankfully, the Edge Ti Max not only meets but exceeds expectations. So much so that, in this regard, it does live up to its MPG and not (arguably more appropriate) MAG branding. Yes, it is not fully clean and absent of components on the back of the board. With a downright overkill power delivery subsystem that is to be expected. However, that is pretty much all you will find here. No 'oopsies'. No poor soldering. Nothing that would scream 'avoid' to us. In fact, MSI has even taken the time, effort, and expense to silk-screen the 'no go zones' on the board. Something that most 'mainstream' motherboards lack. Which is a shame as many a novice has had to learn the hard way to double check which brass standoffs should, and should not be installed, lest a brass standoff scratch a tracing / pathway. With these nicely sized and extremely easy to see warnings you really will have to not be paying attention to do so.
We just wish that MSI would take a page from more premium models and include a steel (armor) backplate. To be fair, such expectations are not exactly realistic, let alone fair, for the mainstream corner of the marketplace. Even above the 400 USD mark such features are rarer than hens' teeth. For example, the ~$40 more expensive ROG Strix-F II does not come with a backplate… nor warnings. Neither does the ~$100 (MSRP) more Strix -E get a backplate. Instead, ASUS rather silkscreen bollocks graphics and logos on the back than give novices a heads-up. This difference in 'face above all else' vs. 'actually help our buyers and point out weaknesses' pretty much sums up the differences in company culture between these two tier-1 manufactures.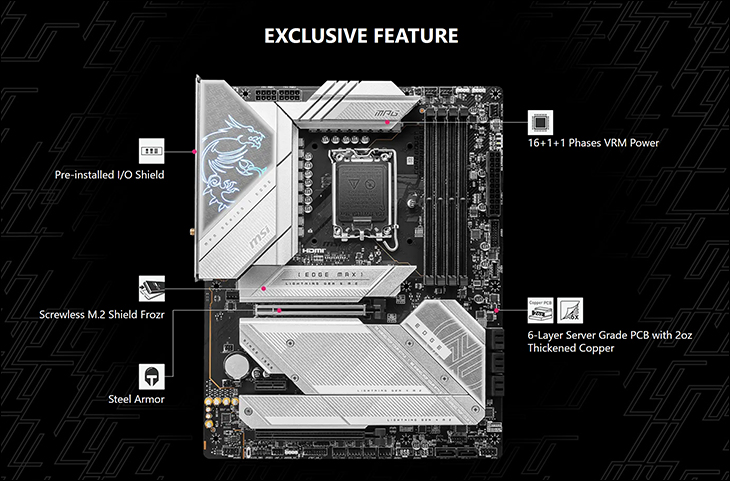 Moving on. We come to one of the biggest pet peeves with MSI putting the EDGE series under the MPG and not MAG series banner. We are of course referring to the fact that it is a 6 and not 8-layer PCB. Yes. This is not your typical 6-layer PCB motherboard. It may not get a fancy name like 'TuF' or be called '(mall ninja) milspec', but it is 'server grade' and meets server grade standards. Standards which quite honestly are more stringent than some military specifications. To be blunt the 2oz copper layers combined with higher grade fiberglass used in those 6-layers allow this Edge to outperform the vast, vast majority of 6-layer motherboards out there and even some '8-layer' boards. Sadly, what it cannot do is outcompete 8-layer boards in the marketing department. Most will see 6 layer and not care that many of ASUS' TuF and ROG STRIX are also 6-layer boards. All they will see is an MPG that is 6 layers thick and think it is a 'rip off' compared to the cheaper MAG branded TomaHawk (which is a very good board in its own right… it is just one that does not 'pretend' to be a brother to the MPG Carbon). So yes. This is an MPG grade board. It just lacks in the optics department, and unless you do your research you will also think it is not a great deal. Server grade features or not.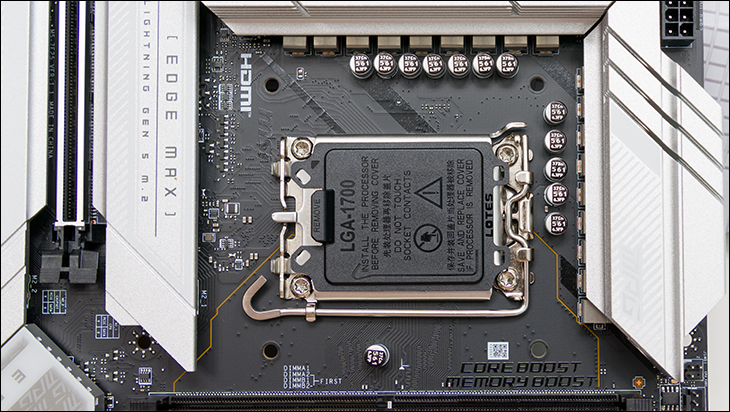 Moving on. The star of any motherboard show is the CPU socket and area. Taking a close look, we can see that once again MSI only include Intel LGA 1700 mounting holes. At this point in time, especially given the fact that LGA 1700 is on its last legs, this was not unexpected. Disappointing, but not unexpected. The last gen Edge (and Carbon for that matter) did not get backwards compatibility, but we were holding out hope that MSI would go all out and include this feature… as there are people coming from the LGA 11xx days who would have liked to have been able to reuse their existing CPU cooling solution. If this does matter to you, ASUS and their $40 dollar more STRIX -F does include this feature. Of course, at $40 more that difference in price goes a long way towards a decent cooling solution (and if you are dealing with many an i5 basically covers the cost of a 'good enough' air cooling solution).
Either way, we do understand both point of views on including backwards compatibility versus not including it. Compromises such as dual mounting holes are by their very nature just that. A compromise. Punching extra holes around the socket does weaken the board. While it is indeed true a significant portion of buyers now opt for AIO water-based solutions there are people who still go for 'old reliable' like the Noctua D15. Hanging a kilo of weight off a 6-layer PCB is a recipe for long-term "bowing". Hanging one off a weakened 6-layer PCB 'board is a recipe for cracks and broken pathways.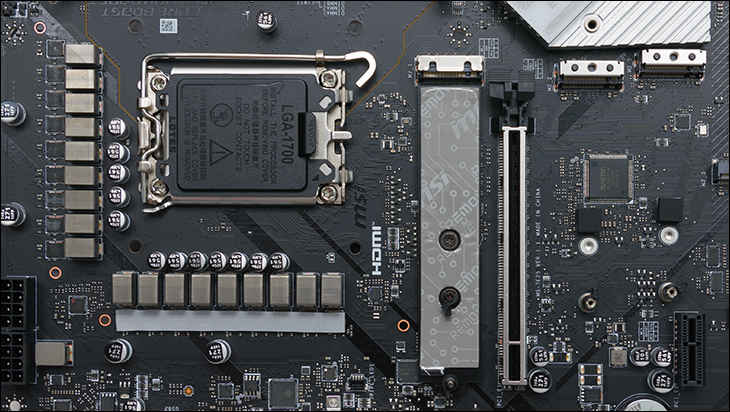 Even excluding long term longevity concerns extra holes means less room for the tracing and pathways… which are is always at a premium with 'only' 6-layers to work with. For example, this LGA1700 only has (Japanese) caps on three sides, the ASUS -F (and E for that matter) has to place them on all four sides. Yes, both boards respect the Intel Z-height restrictions inside the socket area, but 'things' do happen. Hitting a cap with a screwdriver may indeed be a rare, rare event… but it is never a good feeling when Mr. Murphy makes you do it. As such the Edge Ti Max is above average when it comes to the socket area. Above average with a very sane, and sensible layout to the components.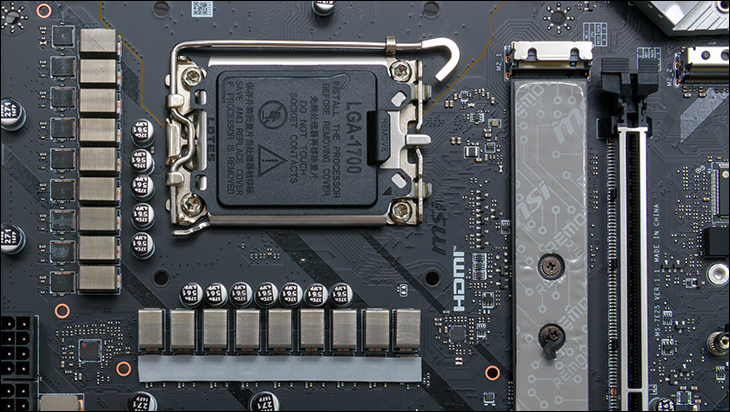 On the component side of the things, MSI is once again above average. Yes. 'All' LGA 1700 motherboards can technically handle 12 to 14th Generation i9'ers. However, if you are not careful in your motherboard selection and pairing it with say a Core-I i9 14-900K, the result may be you hear 'popcorn' on first powerup… as the VRM self detonates while under load. That, will not happen with the Edge Ti Max as it has an insanely overpowered VRM configuration.
To be a wee bit more precise this chonky boi uses an all-digital 18(16+1+1) phase design. Consisting of sixteen 90Amp ISL99390 'fets on an all-digital 20-phase Renesas RAA229132 PWM IC means this is an excellent power delivery subsystem. 1440 Amps is no joke. To put this beefiness into proper perspective the recently released Intel Core-I 14900K is rated for 400A maximum power draw and the i5 14600K is rated for 200amps. Meaning that under normal operating conditions each of those doubled up 8 phases (or what MSI call a 'Duet Rail' design) can darn near handle an i5 and two of them can almost handle an i9. Even with random transient power spikes taken into consideration this VRM configuration is more than enough to keep the parts from a poppin'.
To further help clarify how impressive a middle of the road / mainstream option coming with this setup is, one simply needs contrast it with its direct competitor. The slightly lower MSRP'ed Strix-A and its (still 'good enough') 1120A VRM (that uses 16 Monolithic Power Systems MP86670 70A fets) is not even close to being in the same league. Instead, the -A is basically the same as what MSI's MAG Tomahawk offers. It is only when you step up to the above 400 USD price range that ASUS offers 1440A based VRM. To be precise, the $40 more Strix F uses a very similar 1440A setup via 16x ISL99390's. So yes. It is fair to say that the Edge… pardon the pun… does indeed have an edge. For its price range.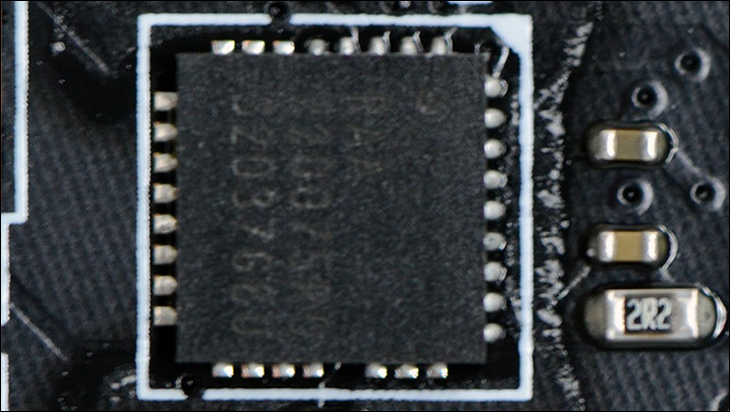 With that said, the Strix-F does use slightly better 'fets for the VCCGT (aka the part that supplies power to the iGPU). Where MSI has opted for an overkill (75 amp) Renesas RAA220075, the -F makes use of a 90A Renesas ISL99390'er (Intersil was purchased by Renesas back in 2017 and yet they have kept the 'ISL' branding). Is the difference significant? No, it is not. Is the difference ever going to be noticeable? Outside of an edge of an edge case…no. Would we have liked to have seen a 90A fet? As (the fictional) Heisenberg once said "Your Goddam right". There is no kill like overkill. This is a "MPG" branded board and seeing the same VCCGT configuration as what the non-Max Tomahawk uses is disappointing. Why round this corner? Why prove (the actual) Heisenberg quip right and make the "Universe… stranger than we can think…"?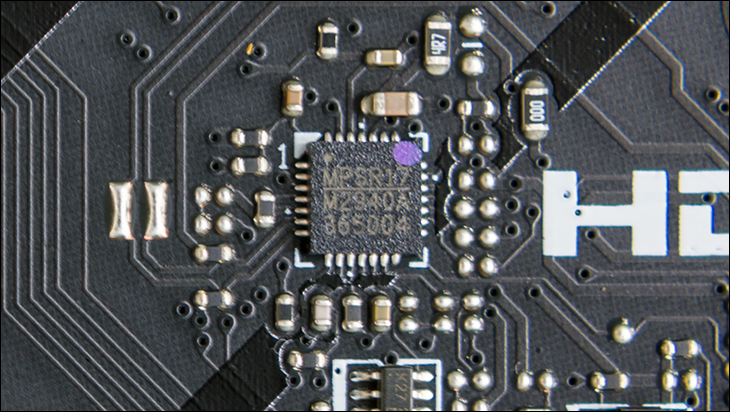 In this vein, the CPU VCCAUX is also the same as the Tomahawk and on paper inferior to the Strix-F… and -A. To be precise, while ASUS RoG Z90's typically use a dual 70A configuration (usually MP86670s), MSI has once again opted for a single 80 amp MP87670. Which is just a strange corner to round. It too is using a dual channel M2940A controller. Yet MSI runs it with only one channel populated. That is just plumb stranger than we can think. Once again, will this matter? Not really. If the board is pulling 80 amps off the auxiliary power and the design team did not add in a secondary power delivery option… somebody in the design team "dun messed up" and need to be looking for a job at their intellectual level (like Starbucks). It just is an annoyance and pet peeve of ours as these 'fets are not expensive when purchased in the numbers that MSI routinely order them. Furthermore, one fet will almost invariably run hotter than a teamed pair of 'fets when the total amps being pulled is the same. It is just basic, electrical engineering 101. So yes, when we see things like this we do become annoyed. We extremely dislike needless corner rounding.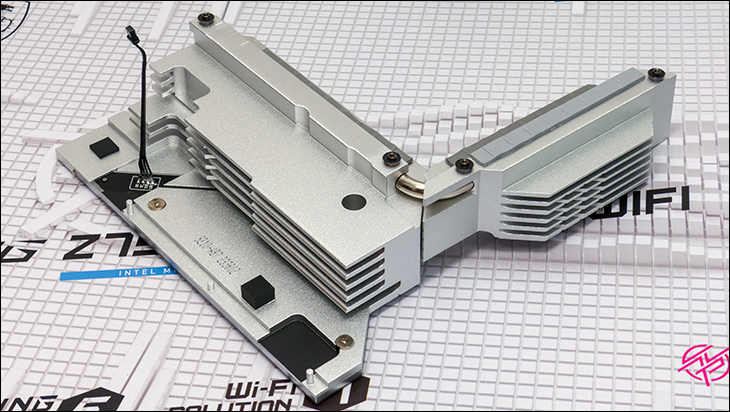 Thankfully, and minor VRM quirks aside, MSI has no "rounded" any corners when it comes to cooling the VRM. To be precise it is basically the same as what the non-MAX Edge uses. We take zero issue with this as you are talking about a smidgen over 1 pound of aluminum for the massive "L" shaped heatsink. A heatsink that has been milled into a two cooling towers that have then been connected half way up via a 6mm heat pipe (please note, the base of both is also still connected between the two).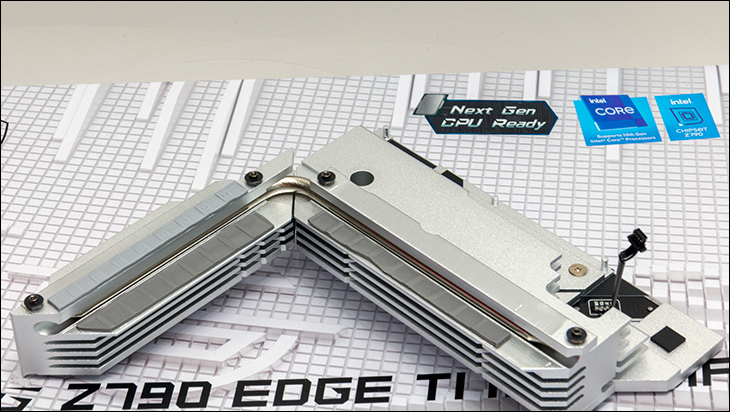 This combination means that no matter what CPU you use, no matter how poor the internal case air flow is… no matter if only one of the two 'towers' gets any air movement all… this motherboard is going to run cooler than most in its price range. Once again, it is just basic math. 8 extremely robust phases with each phase spreading the load out over two separate fets plus a massive heatsink… that is attached via premium 7W/mK heat pads equates to premium cooling performance. Cooling performance that the Strix F II and its non-heatpipe heatsinks cannot match. Color us impressed because we seriously were not expecting a premium cooling solution be matched to a mid-priced board.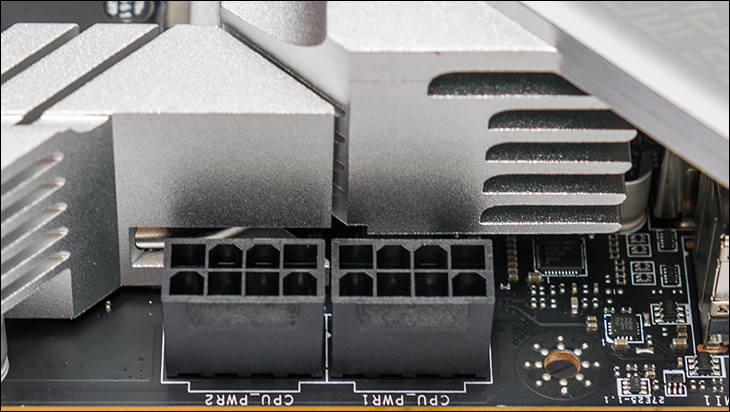 Moving on. As you can see MSI has once again made the wise decision to use dual 8-pin (4+4) headers for power delivery. We have zero issues with that, as in a pinch you can run it with only one… while you get either an actually good PSU or a second 4+4 'CPU' cable for your existing PSU. Either way, make sure your PSU offers dual 8-pin 'CPU' connectivity (as some older models only include 1). We just wish that all MAX variants got the ACE treatment and moved them closer to the end of the motherboard and not the back near the IO ports… as they sometimes interfere with larger AIO fans' in smaller cases.
Speaking of wishes for fishes, we also wish that the GODLIKE's 90 degree 24-pin power connector would trickle down to mere mortal motherboards… but considering their ACE MAX still does not include that nifty (cable clutter reducing) feature, well, we are not surprised to see an MPG "lacking" such an advanced feature. For the record. We do not consider these to be dealbreakers, as ASUS STRIX line-up does not include either, it just is a feature that should have become the 'gold standard' generations ago – and thus is a pet peeve of ours to see such a good mainstream board not push all the boundaries and exceed every possible expectation.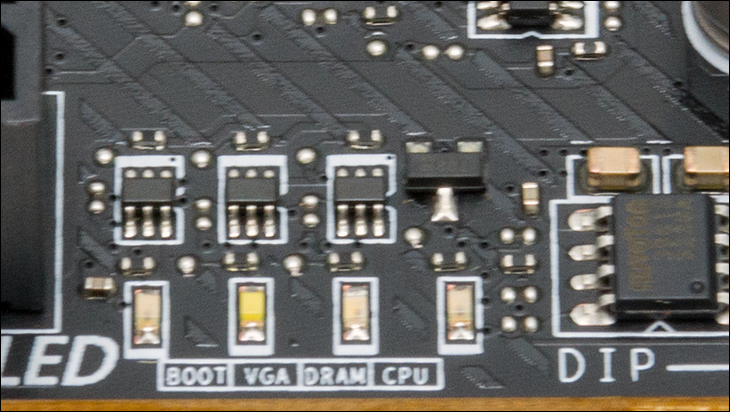 Also fully into the pet-peeve end of the spectrum, MSI has once again not included onboard Power or Reset 'buttons' on the board… like they do for the MPG Carbon. Such Quality-of-Life features really need to become standard on mainstream boards. Yes, most will never use it. But those that do will be annoyed by this missing feature. A feature ASUS has been including on the STRIX boards for many a year now. On the positive side is MSI has, once again, included a sensible host of troubleshooting LEDs (CPU, RAM, GPU, and Boot failure) that are located in an easy to see location. Furthermore, they are labeled so while it is not as good as a large 2-digit "EZ Debug" option that the Carbon's come with but it is above average for its price range.
On the positive side those nits were also nits we picked with the non-Max Carbon edition, and unlike that more expensive board MSI has not gutted the number of fan headers. First and foremost is the 4pin nearest the top M.2 slot is included and not MIA like it was on the non-Max Carbon. This header comes in handy in 99 percent of cases as the rear IO fan can easily be plugged into it. So, seeing a cheaper board exceed a more expensive option is always nice. Also, firmly in the exceeding expectations category is that this board not only includes that sometimes missing 4-pin fan header but includes a total of eight 4-pin fan headers. Two are dedicated for the CPU (and can handle 2 amps for the CPU_Fan1 and a whopping three amps for the PUMP_Fan1 header!) but also six system 'case' fan headers (each of which are rated for 1A or 12watts of power).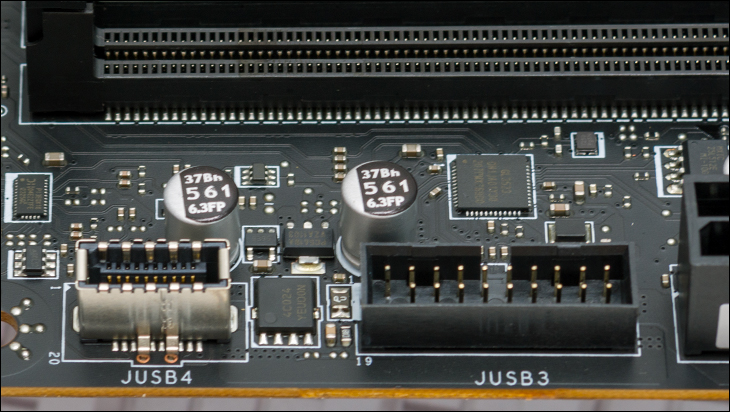 In between these two extremes is the fact that, much like its non-MAX Edge predecessor, MSI has still not seen fit to include two USB 3.1 gen 1 headers (aka USB 5Gbps… aka USB 3.0). Yes, one header can control/power two USB 5Gbps front headers, but many cases still come with four USB 3.0… err USB 3.1 gen 1 headers. Meaning that one will have to pony up for a USB PCIe add in card. Which is sub-optimal. Just like the fact also once again the USB front headers are not 90-degree connectors. This is a missed opportunity as the non-Max Carbon did boast of such a feature and it would have been nice to see it 'trickle down' to this generations Edge series. It has not, and while not a deal breaker, is never the less disappointing. These days we pretty much use 90-degree adapters (when the board does not offer it) so as to make the final build noticeably cleaner than having a big honking cable stick up and off the board. If you are not as OCD (aka "toilet trained with a shotgun") it will not matter. If you are, such adapters can be picked up from Ali-slowboat-from-china-not-so-Express for about a dollar (just double check the location of the adapter's keyway as there are 'right' and 'left' USB 20-pin adapters), and while you are there you can pick up a type-c 90 degree adapter for about the same (which also come in 'left' and 'right' options).
On the positive side, MSI does include a USB4 Expansion card header (at the bottom of the board underneath the bottom "x16" PCIe slot and is labeled as JTBT_U4_1). So, if you do want/need/desire more USB ports MSI does offer a great custom solution in the form of their USB4 PD100W add in option.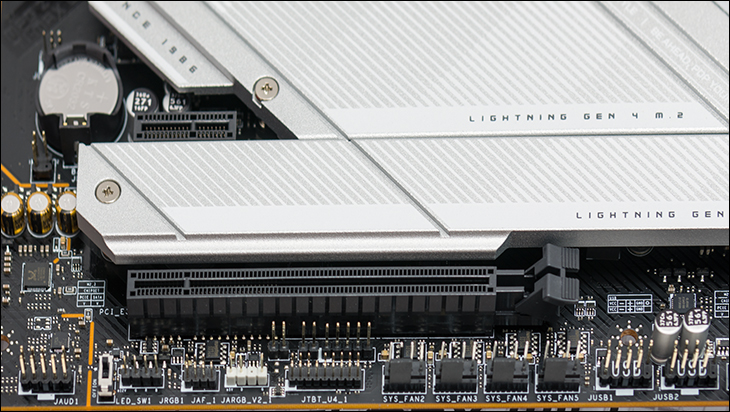 In this vein, MSI even includes cutting edge features none of the non-MAX (including the Godlike we might add) do not boast of having. To be precise, nestled in-between the bottom of the boards two dedicated RGB headers is the "JAF_1" header which combines an ARGB (sadly) Gen 1 (and not Gen 2) header and 4-pin fan header all in one. To use both, all one must do is use the included propriety cable. The only issue we have with this header is the location. It should be up near the CPU so that buyers could use it with their AIO w/ 2 or 3 LED equipped fans. Other than that, this is a nifty little feature no matter where it is located. Hopefully in future generations all the Gen 1 ARGB headers will be these new double duty headers!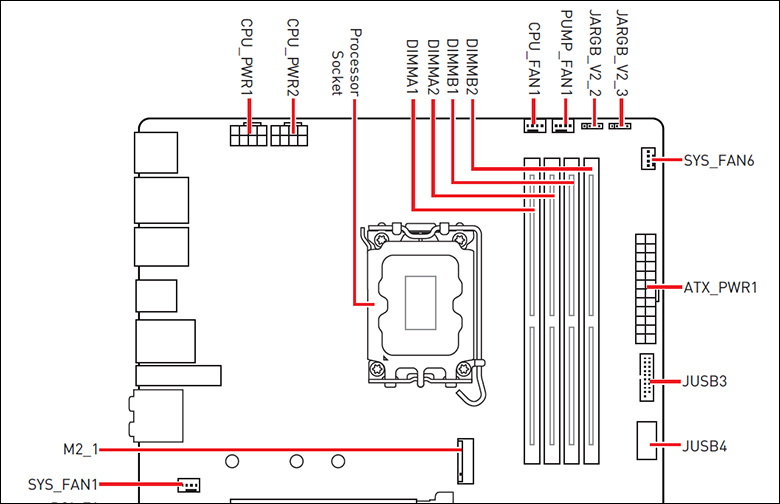 Mix in four dedicated ARGB headers (for a grand total of five )and this board is feature rich from a cooling and cool looking point of view. Though before do move on, we do have to break down the ARGB headers as three are ARGB gen 2 compliant and the oddball is only a gen 1 ARGB header. This is a bit confusing, but the odd man out is labeled differently. It is just called 'JRGB1' whereas the gen 2 headers are labeled as… JARGB_V2. So, it is not difficult to figure out which is which. Just pay attention at do not assume before you use any of the headers as one is 12v (gen1) and the other is 5v (gen2) based.