$399.99
$479.99
in stock
14 new from $399.99
11 used from $292.30
as of September 29, 2023 10:22 am
Last updated on September 29, 2023 10:22 am
With the recent release of Intel's 13th generation of Core-I processors, and concurrent release of Z790 chipset-based motherboards, the usual questions of what to buy have (once again) cropped up. Yes, at the start of every generation such questions are inevitable; however, unlike the last generation buyers interested in enthusiast class/ 'Z' chipset-based motherboards now have twice the options to choose from… as both Z690 and Z790 based motherboards will work with both 12 and 13th Generation Core-I processors. Mix in the fact that the Z790 chipset can arguably called 'underwhelming' and decision paralysis is a real issue for buyers looking for a good Intel socket 1700 motherboard. Thankfully, there are very few out and out bad choices to be made. Instead, most motherboards will be 'good enough'… but no one should settle for good enough. We all want to maximize the value of our budget and get an optimal motherboard. Creating tailor-made options, and convincing people of their options' virtues over the competition, is actually a pretty good definition of what being a reputable motherboard manufacturer is all about.
This is where MSI enters the chat. For many generations MSI has been diligently designing, building and selling tailor-made solutions. Every generation their top-of-the-line MEG (Msi Enthusiast Gaming) are some the most feature packed options available – with the last generation's ACE and Godlike being two of the best money could buy. Their Pro line-up offers no-frills options that out and out destroy the competition in the overall value department. Their MAG (Msi Arsenal Gaming) take their Pro lineup and pretty them up for more aesthetically appealing options. Last, but not least, is their MPG (Msi Performance Gaming). The MPG options combine a hearty list of value-added features, without the same panic attack inducing price tag of the MEG line. Put simply, the MPGs are the 'every man option' which have enhanced many a build over the years, and in recent years have been the board(s) to beat in the mainstream motherboard arena.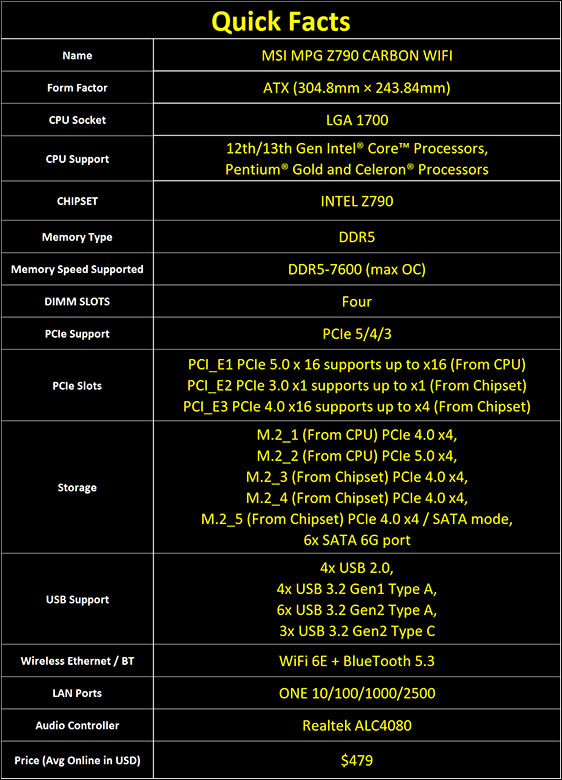 The secret to the MPG line-up's success is simple. They offer all the features of the competition, but then add in a little extra… and at the end of the day the difference between 'ordinary' and 'extraordinary' is that little bit extra. Take the focus of today's review for example: the MSI MPG Z790 Carbon WiFi. This motherboard has its sights firmly set on eliminating the ASUS Republic of Gamers STRIX Z790-E from serious consideration… and making justifying an ASUS Maximus motherboard an even thornier endeavor than it was last generation.
On the critical VRM "power" front MSI did not opt for a 16-way 70 amp solution like the Strix Z790-E D4. They did not opt for 90 amp 16-phase VRM like the Strix Z790-F. They did not opt for an 18-way 90 amp solution like the Strix Z790-E (DDR5). They opted for a nineteen phase VRM solution that makes use of 105 amp smart power stages. A VRM solution so extreme that in order to find its better in ASUS' line-up one has to look at the Maximus Hero (arguably inferior 20-phase 90A configuration) or even the (obviously superior) Maximums Extreme (24-way 105A)… motherboards which cost significantly more than the MPG Z790 Carbon WiFi. Equally important these are not 'phase doubled' phases but legit, actual 19 phases… as the Renesas RAA229131 all digital controller is a 20-phase controller (with the last phase being used for the DIMMS).
On the included features all the usual bases are covered and then some. Much like the ASUS Strix Z790-E, the MPG Z790 Carbon WiFi includes five M.2 ports. M.2 ports that include both double sided heatsinks as well as a quick installation configuration ('EZ M.2 clip'). However, unlike the STRIX models MSI includes six SATA ports instead of just four. Much like the ASUS Strix Z790-E, the MPG Z790 Carbon WiFi includes a dedicated clear CMOS and BIOS flashing options baked right into the rear I/O panel. However, unlike ASUS, MSI has made these critical buttons actual buttons. Large and easy to press buttons. Then they have added in their SmartButton which can be end-user configured to be a reset, a safe boot, turbo fan, or even EZ LED button.
Last but certainly not least is the asking price. With an average online asking price, at the time of this review, of $479 the MPG Z790 Carbon WiFi is a full twenty dollars less than what the $499 the Strix Z790-E demands.
On paper that certainly sounds like MSI continuing their trend of encroachment into territory once firmly held by ASUS. Let's take a closer look and see if all the various parts combine to create a finished product that is (at the very least) the sum of its parts… and who this motherboard is right for.