$440.45
$479.99
in stock
22 new from $440.45
17 used from $238.23
as of December 1, 2023 6:02 pm
Last updated on December 1, 2023 6:02 pm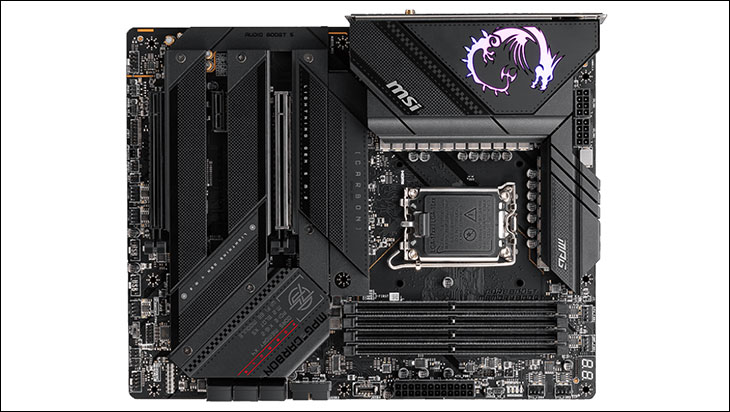 While other companies continue to conflate enthusiast with teenager, MSI has gone their own way… and realized those with the capital required to be PC Enthusiasts in '22 are older, wiser, and generally more conservative than Adderall addicted teenagers. Thus, it should come as no surprise that their MSI Enthusiast Gaming ("MEG") series is intended for professionals, not children.
As such those expecting their new motherboard to induce epileptic seizures in unsuspecting victim… err… light up like a Christmas tree… err… be covered in LEDS, 'cool' looking graphics that just scream "I AM A GAMER!!", or equally aggressive-to-garish 'aesthetics' will be severely disappointed in the tastefully (near) mono-chromatic aesthetic of the MPG Z790 CARBON WIFI.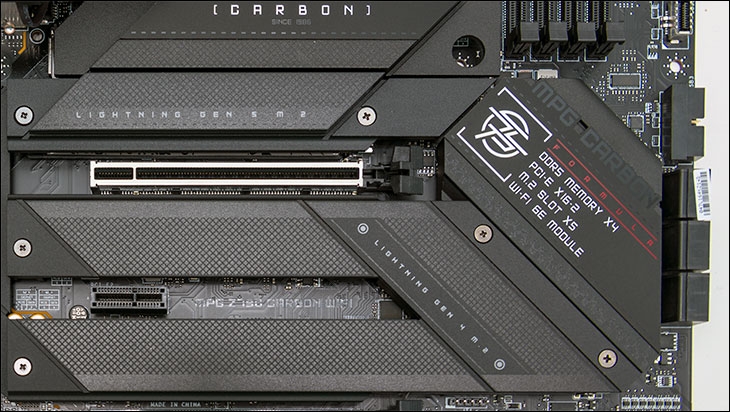 With the sole exception of the "Formula" text painted red this is a classic black and white motherboard. So much so that even then the red will be covered by a 2-slot video card. This is how you do color schemes correctly. Keep it simple. Keep it classy… and black with white font works with the vast, vast majority of builds.
Make no mistake. When we say this is a conservative and classy looking motherboard that is not the same as saying it is bland or boring. MSI has included their 'carbon fiber' aesthetic that they have been using since the first Carbon branded motherboard was released. They just have (further) toned it down compared to past generations – and it is better for these refinements. These improvements include removal of the glowing 'Carbon' logo near the PCH / secondary x16 slot, and swapping out the large faux carbon white blocks for smaller gray faux carbon dashes.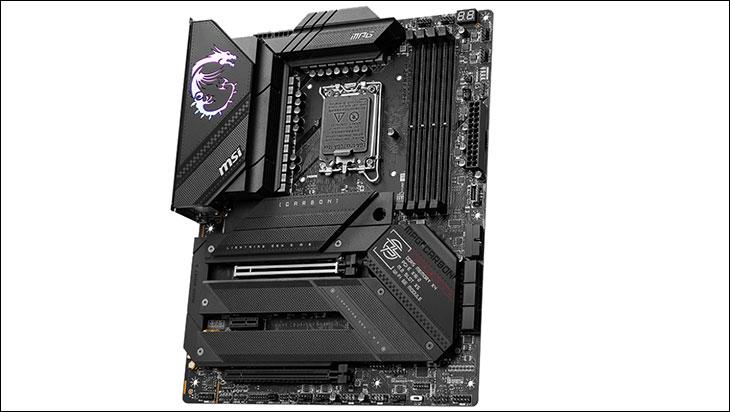 In a nod to RGB LED enthusiasts, the large 'dragon' logo over the rear I/O and heatsink area is now a moderately sized LED diffuser cutout (and not just tracing outline cutout) whose hidden LEDS can (once again) be tuned to any one of 16.7 million colors. Including 'off'. Simply put, the combination of large cutout for the 'Dragon' logo with more realistic looking 'carbon' graphics is more aesthetically appealing than previous generations. Especially when said glowing logo is set to off. We understand why they included an integrated LED lightshow we are just grateful that when off it becomes much versatile in the number of build designs it can 'work' with.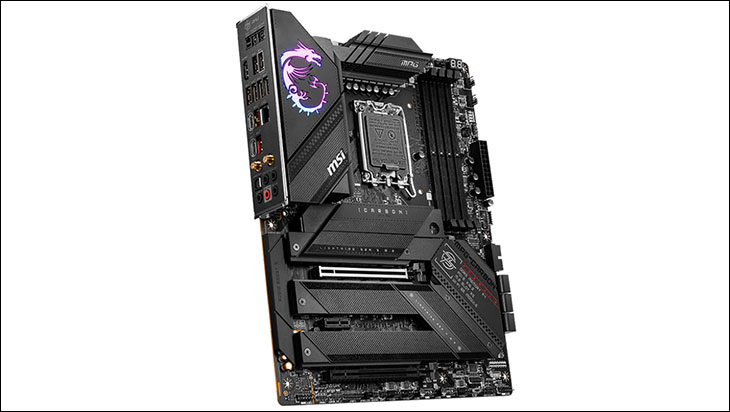 We just wish that they had transferred over the MEG Z690 ACE's mesh with solid dragon logo for this critical area. Of all the Z690 motherboards we worked with, the Z690 ACE easily had the best design for this portion of the motherboard – and was the epitome of "Keep it simple. Keep it classy".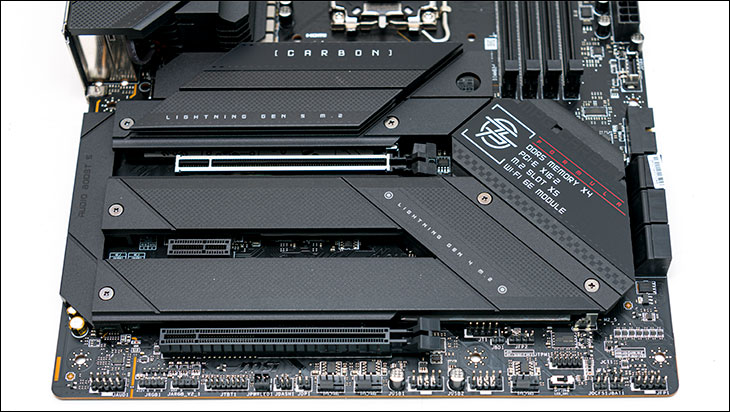 Moving on. The other major noticeable change in the aesthetics department is the fact that only the topmost PCIe slot gets the 'PCI-E Steel Armor' treatment. Not the top and middle ones. Later we will go why this was changed, but we are of two minds on this. On the one hand, steel armor covering does (somewhat) improved the PCIE slot from both a rigidity and EMI protection point of view so the loss is a bit disappointing. On the other, the middle PCIe slot is rarely going to be used as 3-slot video coolers are considered small by RTX 4000 standards.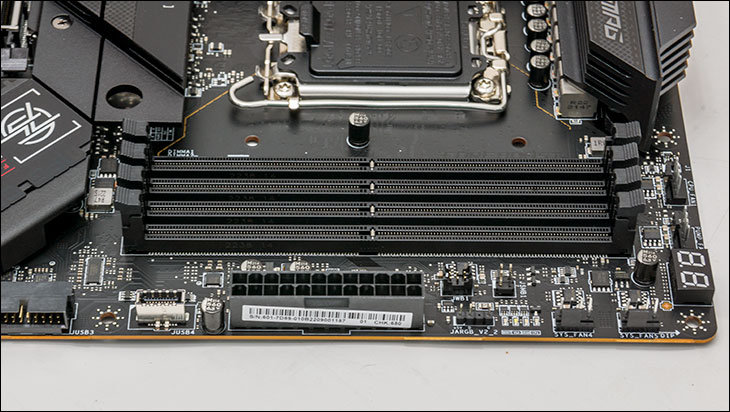 We are also of two minds on the lack of Steel Armor on the four DIMMS. Admittedly this is a 'missing' feature that has been 'missing' from MSI motherboards for a couple generations now. With DDR4 it never made much sense; however, due to increased data transmission speeds, DDR5 suffers from signal degradation even worse than DDR4… and anything that helps (even to a miniscule amount) reduce signal degradation is a Good Thing ™.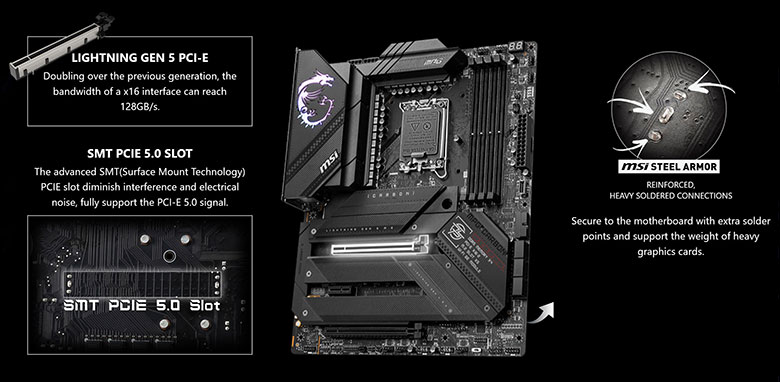 On the other hand, it was miniscule improvements we are talking about… and basically was only included for aesthetic purposes. Purposes which in our opinion never worked – regardless of the name of board manufacturer it was used with. Instead, it made the DIMMS look rather garish – with virtually no RAM heatsink coloration working optimally with silver… except silver. Which is pretty much the definition of 'niche'.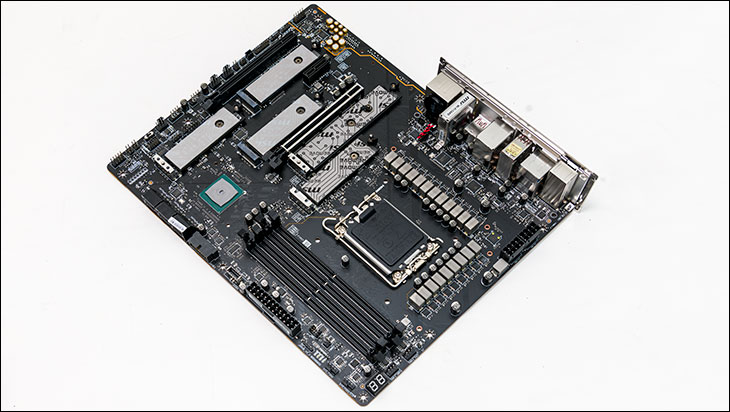 With (most of) the fascia, the VRM, and M.2 heatsinks removed we can get a better look at the motherboard. As you can see it is extremely well laid out (especially for a five M.2 capable ATX motherboard) with an excellent job done on soldering, component mounting, and (generally speaking) component selection. Now let's zoom in at take a closer look at all the components MSI has chosen for this generations MPG Carbon.