$440.45
$479.99
in stock
22 new from $440.45
16 used from $238.23
as of November 30, 2023 5:52 pm
Last updated on November 30, 2023 5:52 pm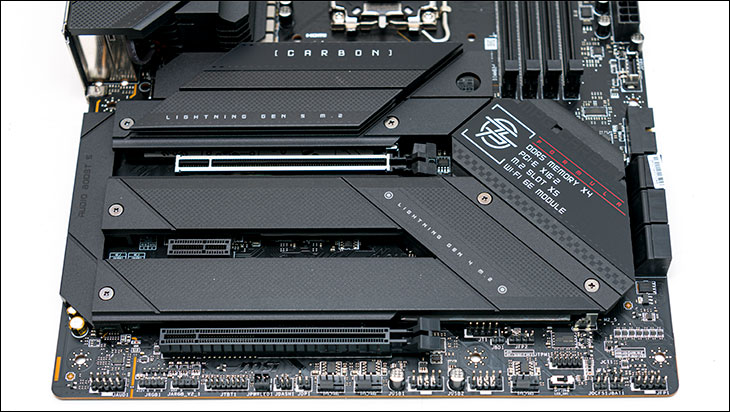 In the last generation MSI, like most motherboard manufactures, opted for only one of the M.2 slots getting the dual sided cooling treatment (or what MSI calls their "M.2 Shield Frozr" technology). With this 'technology' the special M.2 port has a full-length chunk of alloy and a thermal transfer pad directly under the length of the M.2 zone. Then the entire top zone is covered by another chunk of alloy (and thermal pad).
With such a configuration dual sided M.2 drives have access to a veritable ton of thermal mass to dump their heat in to – and thus can run cooler longer than bare M.2 NVMe drives. They can even run cooler than the majority of heatsink equipped M.2 SSDs… and in fact you can save a bit of coin by opting for the nekkid variants over the more expensive factory heatsink variants. Sadly, with only one getting this treatment the other drives inserted into the other M.2 slots only got the top side of the board (and components) cooled… resulting in uneven and variable performance compared to a drive installed in the heatsink sandwich port.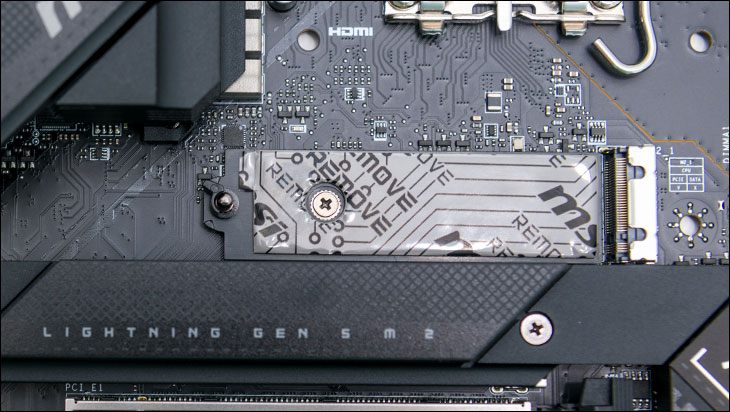 For the Z790 generation MSI has corrected this oversight and made all five ports dual sided cooling ports. This change alone makes it a worthwhile upgrade for storage enthusiasts. However, MSI did not stop there. All five ports also get the EZ M.2 clip upgrade (instead of just three in the last gen). This may not sound like much but if you install enough M.2 drives… at some point you are going to lose one of those itty-bitty screws. With their EZ clip configuration one no longer has to worry about it. So sure, it may save you only a couple minutes in the grand scheme of things, but it is a Quality of Life improvement. An improvement that brings much needed parity with the slightly more expensive STRIX-E competition.
Yes. One can argue the integrated heat pipe cooling the STRIX-E's topmost M.2 port is superior… but not really. It is not like it is attached to a fin array / cooling tower. Instead, it sits over the top of the primary heat spreader. Compare and contrast that with the MSI Z790 Carbon's heat spreader that tips the scale at an impressive 86.4 grams (3.05oz), and comes with an integrated cooling fin… and the real-world abilities are not going to be dramatically different between heat spreader w/ fin vs. heat spreader w/ heatpipe. Furthermore, for less than 20 USD one can buy a heatpipe based fin cooling tower with integrated fan M.2 heatsink off AliExpress (search for "M.2-THREE M2" for big and low noise but some compatibility issues or "M.2-TWOM.2" for more noise but lower chance compatibility issues). For about the same one can use a 120/140mm spot fan to actively cool both the PCIe 5.0 port and your GPU backplate (use your own fan and search for "A5 side blowing support" or "DIY multi directional cooling bracket" or "PCI bit fan cooling bracket"). To us either option is a more optimal use of your money.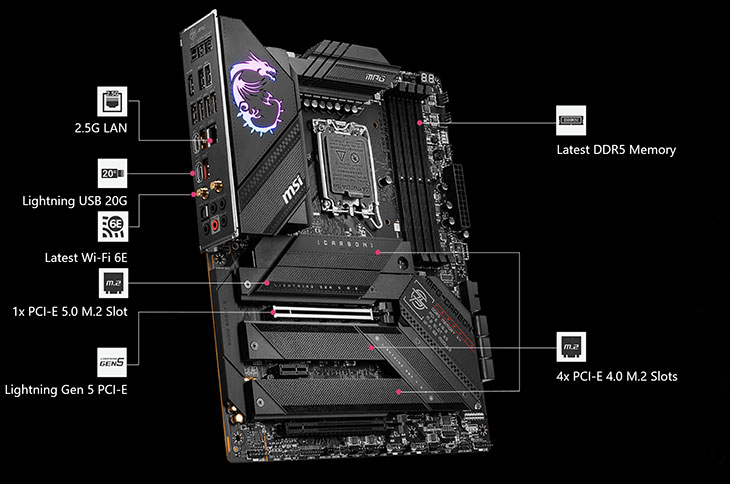 The last major upgrade from the Z690 generation is while the number of M.2 ports has not changed, their capabilities have been upgraded. With the Z690 Carbon buyers got four PCIe 4.0 x4 M.2 ports and a single PCIe 3.0 x4 M.2 port. With this new generation buyers once again get access to four PCIe 4.0 x4 M.2 ports, but the fifth has been changed from PCIE 3.0×4 to PCIE 5.0×4. Right now (with a grand total of zero PCIe 5.0 drives available) this upgrade does not matter all that much, but in the coming months it will… and enthusiasts who own the last gen will be a bit green with envy. Especially when you weight the other M.2 heat spreaders. The PCIe 5.0 M.2 port's top heatsink weights an impressive 60g (~2.1oz) and the tri-M.2 heat spreader tips the scales at 131.5 grams (~4.64oz).
Also improved, is how the M.2 ports are connected internally. With the last generation only one was directly attached to the CPU and the other four first went through the Z690 PCH. In this generation two are connected directly to the CPU and the other three get routed through the Z790 PCH first. This means one can have their OS and 'game' drives connected with the lowest latency connectivity possible… Instead of having to choose between shaving a bit off their app and/or game load times vs. superior OS performance.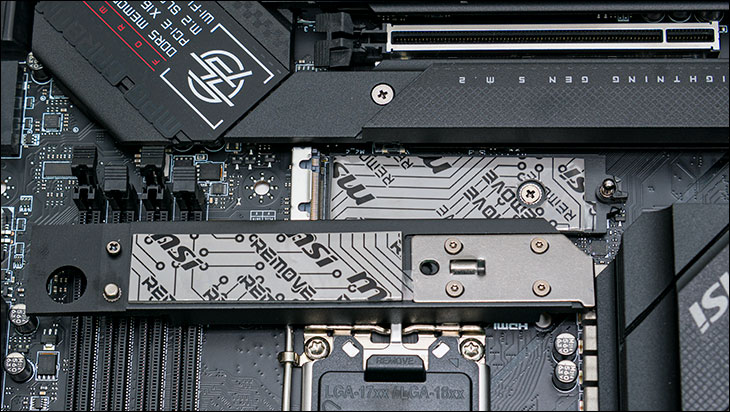 The last big 'wow' feature that have been included with this generations Carbon series is the topmost M.2 port not only features screw free installation but tool free installation of the top heatsink. Yes, instead of screws this bad boy uses a latch mechanism to lock it in place. The only downside to this change is it takes up more room than the last generation shield, and this increase in footprint means the rear most 4-pin fan header "had" to be removed. We personally think it is worth the tradeoff (and sincerely hope all five get this latch mechanism in the next generation). You may feel differently.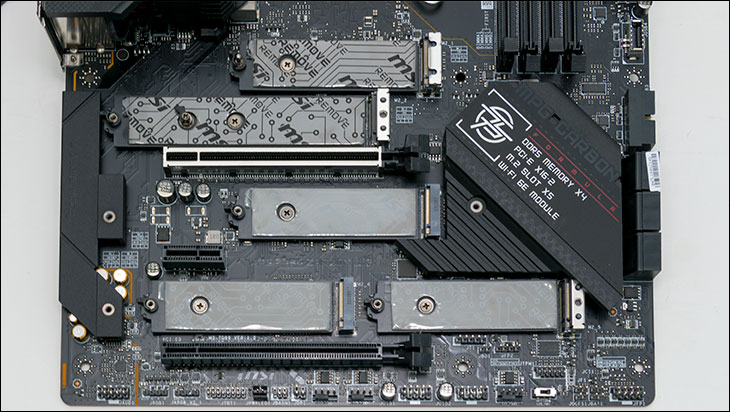 The other downside, that once again may or may not impact you, is the number of M2 22110 (i.e. 22 wide by 110mm long) drives supported by the Carbon series has been downgraded from two to one… and the lone 110 capable port is the PCIe 5.0 port. That is sub-optimal… even if it still is parity with the STRIX -E board (which also only has one 110'er M.2 port that is also the PCIE 5 capable M.2 port). Plenty of people own 4TB SSDs, but the chances of plenty of people owning 4TB PCIe 5.0 drives in the next year is… minimal. If such things concern you as much as they do us… this generation's ACE not only includes two 22110 ports but neither is the PCIe 5.0 port. Thus, neatly eliminating a dilemma some storage enthusiasts are going to face – including ourselves.
Unfortunately, while the M.2 slots have gotten a lot of care, attention, and love, MSI still has not opted to include any "EZ" options for the PCIe slots. It may not sound like much, but a quick release button for the top PCIE x16 slot can be a major QoL feature. Especially when dealing with a board that has over two pounds of metal covering said board. Put bluntly, ASUS' take on this Quality-of-Life feature ('Q-Release') works and works well… mostly. It certainly is not a 'must have' feature, but it will make life less stressful if in a year or three you decide to swap out 3-4 slot RTX 4090 for a new card.
This is an area MSI's conservative nature is a detriment. Hopefully, just like the inclusion M.2 quick install clips for all the M.2 ports, and dual sided heatsinks for said M.2 ports were included for this generation… the next generation will get such a feature. We assume the holdup is over concerns of longevity with plastic button 'n' gear failures – which has happened to us already with PCIe Q-release equipped motherboards.
Moving on. The number of SATA ports has not changed from the last generation to this generation and still stands at six (versus four the STRIX -E offers). We really would have liked to have seen this number increased to eight the Z790 chipset officially supports… but it has been many generations since mainstream boards have offered eight SATA ports. On the plus side, at least there are six included. Unfortunately, only 4 of the 6 are via the Z790 PCH and MSI has once again used a ASMedia ASM1061 dual SATA controller for two of the ports (block of two nearest the bottom of the board, and labeled A1 and A2).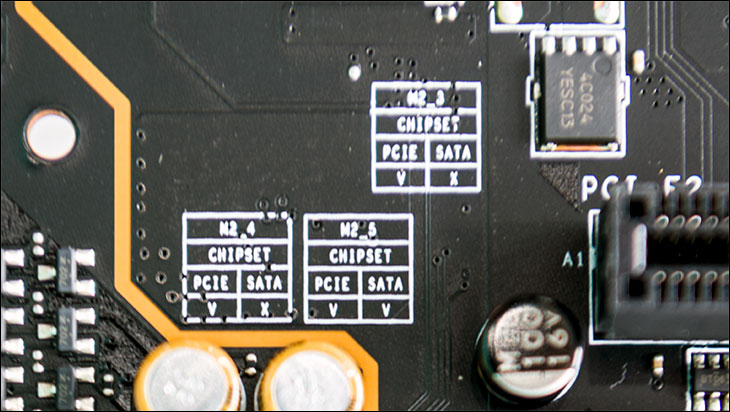 Firmly in the win category, you can actually use the dual keyed SATA/NVMe M.2 port (M2_5) in SATA mode without worrying over it disabling any of the SATA ports. Which is a nice little QoL improvement over the last generation.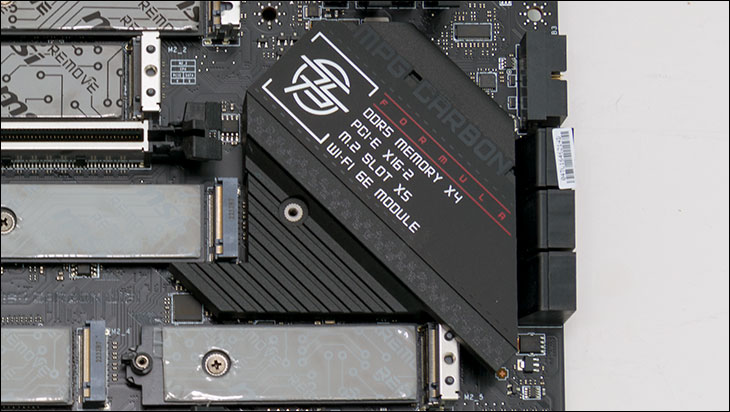 The size of the (Z790) PCH has also been increased over the last generations (Z690) PCH. We personally thought the last generation heatsink's footprint and cooling potential was adequate… but obviously MSI did not want to stop at 'adequate'. As such they made it bigger and beefier. To be precise it now weighs 131.5 grams (~4.64oz)… aka the same as what cools three hot running M.2s on this board. Thus, minimizing most concerns over it. The downside to this change is twofold. Firstly. It explains the downgrade from 22110 to 2280 compatibility for the M.2 port located nearest the PCH. It, sadly, also explains the lack of a second "USB 3.0" front heater. As such, it is fair to say that Asus kept theirs smaller (but included a second USB front header), and MSI made theirs bigger (but did not keep parity with their main competition). Only time will tell which decision was the correct one. This is one area we think ASUS may have made the correct tradeoff… as everyone with four USB 3.0 front ports on their case will instantly notice the difference, but few will notice a hotter running PCH until years from now (if ever).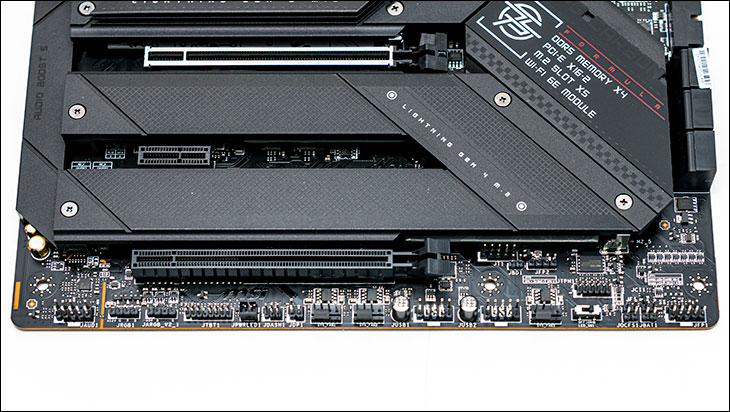 Running along the bottom edge of the motherboard is your typical assortment of headers. Three 4-pin fan headers. Two USB 2.0 headers (for a total of four USB 2.0 'case' ports). Audio front header. Various other odds 'n' sods including the critical front header connectivity cluster. Once again MSI has not included anything like an Asus "Q-Connector". Of course… ASUS doesn't include one with their STRIX series and instead as limited that valuable Quality-of-Life enhancement to their Maximus line-up. Quite honestly, that little adapter is a 'nice to have' not a 'pay Maximus prices to have it' feature. Either way it is a missed opportunity for MSI to release their own take on it and increase the lead their Carbon motherboard have over the STRIX series.
As you can see the PCIe slot's layout for this generation is different than the last. The last generation Z690 Carbon had three 'x16' PCIe slots. The top two got the 'PCI-E Steel Armor' treatment and offered PCIe 5.0 bandwidth (x16/x0, x8/x8 capable) via the CPU. The bottom most was actually a PCIe 3.0 x4 slot and was powered via the z690 PCH. For this generation the only PCIe slot connected to the CPU is the topmost one (the one that gets the Steel Armor treatment). The middle is a PCIe 3.0 x 1 slot (obviously as it is an x1 slot) that is connected to the Z790 PCH. Sadly, the bottom one is also fed from the Z790 PCH and is a PCIe 4.0 x4 slot.
There are pros and cons to such a layout. The downside being that the bottom most PCIe slot is not an x8 and as such the last gen's 8/8 configuration (when both are used) offers not only twice the lanes but four times the bandwidth to that "secondary" PCIe slot (as it was/is PCIe 5.0 x8 not 4.0 x8). The latter does not matter all that much as four PCIe 4.0 lanes is plenty for everything from 10GbE NICs, to high-end sound cards. It however is only a x4 slot. Not x8… and some capture cards and the like do not always play well in x4 mode.
The flipside of all that is… you can use both the top and bottom at the same time without worries over your video card being bottlenecked by x8 mode. Yes, it is only a couple percentage difference between x8 and x16 mode on a modern GPU. That however is a performance penalty that this generation's MPG Carbon neatly avoids. Whereas the Z690 Carbon motherboard made one choose between using only the topmost slot or taking a hit on performance. For those keeping score, this is exactly how the STRIX does things too… they just use an x16 form-factor instead of an x1 for the x1 capable PCIe 3.0 slot. The same is true of the number "armored" slots it includes (1). However, when you use the M.2_1 slot (i.e. the only PCIe 5.0 capable M.2 slot) on the Strix -E… your PCIe 5.0 x16 slot's bandwidth is cut in half and it runs in x8 mode. Thus 'GPU performance' vs 'storage performance' tradeoffs is a 'thing' with the STRIX -E but it is not with the Z790 Carbon WiFi. Making MSI's configuration obviously superior.