$154.99
$179.99
in stock
24 new from $154.99
2 used from $104.54
as of December 5, 2023 6:25 pm
Last updated on December 5, 2023 6:25 pm
Much like for their 25Th Anniversary, the wizards over at Cooler Master have released a series of limited / 'special' edition products to help celebrate their 30th anniversary of dominance in multiple marketplaces. Whiles these special edition models range from keyboard and mice, to oh so sweet Cosmo cases, the (other) standout in the 30th Anniversary Edition line-up is MasterLiquid PL360 FLUX. Aptly dubbed the "MasterLiquid PL360 FLUX 30th Anniversary Edition", this 360mm radiator based All In One cooling solution promises to be as powerful as it is silent. As pretty as it is potent. As… well, you get the idea.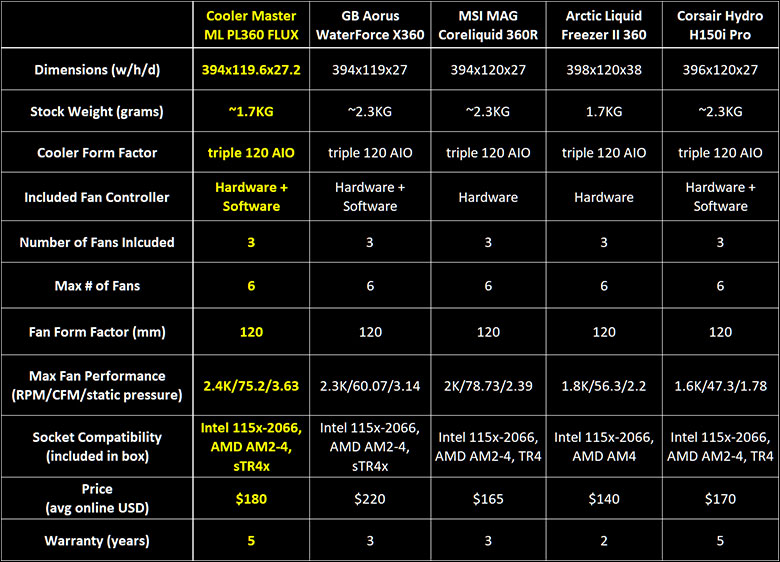 Unlike most companies, whose marketing we take with enough salt that we should take blood pressure medication, Cooler Master is a company known for their innovative approach to cooling solutions. As they should. They are one of the grand daddies of the 'AIO' cooling industry. So, when they say that they set out to create an AIO cooling solution that distills literally decades of experience into one cohesive package… we tend to be willing to give them the benefit of the doubt.
Make no mistake. No one here at RealHardwareReviews has gone soft. Even just a quick glance at the specifications the MasterLiquid PL360 FLUX 30 A.E. boasts proves that Cooler Master has indeed put time, effort, and money into making their 30th Anniversary Edition special. Everything from the excellent fans designed from multiple fluid dynamic studies, to a unique pump, to custom aesthetics proves that this AIO is not your typical AIO.
With that said, this 360mm class AIO has to be something special as it is priced like the Special Edition it is. To be specific, with an asking price of $180 USD the MasterLiquid PL360 FLUX 30 AE is somewhat expensive compared to the typical Asetek dross that continues to flood the market. It is also priced higher than what an Arctic Liquid Freezer II 360 A-RGB will set one back. As such, it is going to have to go above and beyond if it has any hopes of justifying its asking price. Let's see if Cooler Master baked in enough magic to do just that.