$74.99
in stock
2 used from $50.99
as of September 29, 2023 10:02 am
Last updated on September 29, 2023 10:02 am
Due to the requirements of our job we, like many in similar situations, are always on the lookout for portable storage solutions. Good storage solutions. Over the years we have used, abused, thrashed 'n' trashed countless models from untold number of different manufactures. Through hard won experience we have boiled down what we look for in hard disk drive based models into a few key areas. Durability, Dependability, (relative) Performance, and Practicality. These are the pillars of portability that we judge all HDD based models on before we even think about buying. Specifically, we judge them on their individual merits and then against their asking price… as at the end of the day overall value is king. Most fail one or more of our tests. Over the past few years Silicon Power is one of the few that dedicate time, effort, and money catering to likeminded consumers with numerous models that typically pass with flying colors our tests. Dubbed the "Armor" line these models may be more expensive than some, but they embody the underlying philosophy behind our benchmarks for greatness. Their latest model dubbed the A65B promises to not only live up the reputation of the A66 we reviewed recently but expand upon it.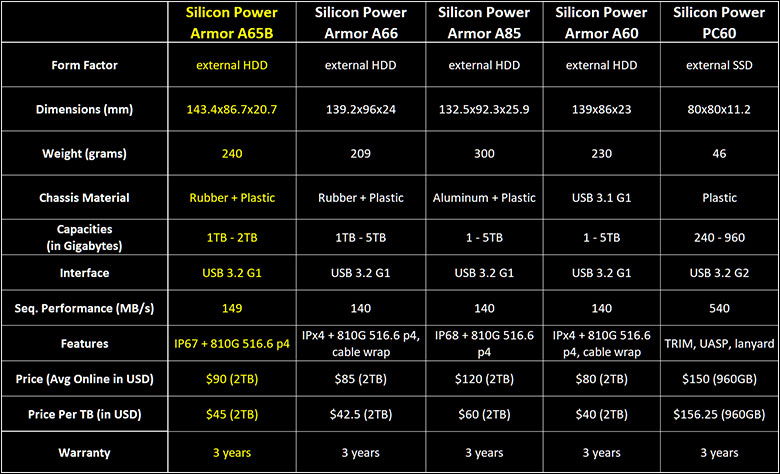 On the durability front Silicon Power has once again opted for a design that is IP67 rated. As such, damage from things like dust and even small objects (like an errant screwdriver in our tool bag) are non-issues. It will shrug them off without any asterisks or caveats required. Water damage is also basically a non-issue. While it is 'only' rated to be waterproof to 1M (or ~1.422 PSI of pressure) that is deeper than what a puddle, or equally likely water based death scenario, will be.
On paper the Armor A66 also appears to tick all the right dependability boxes. After all, when you combine a known (albeit old) controller, with a known good 2.5-Inch hard drive (Western Digital Blue) and then wrap the results in not one, not two, but three layers of protection worries over vibration induced early death, slips, falls, and other equally likely real-world issues are more than covered.
With dimensions (143x86x20mm) that a tad on the large side for 2.5-inch model, and an asking price of $90 (for the 2TB variant we will be reviewing today) our primary concerns are mainly related to Performance, Practicality… and Value. After all, a portable device needs to be portable and offer enough performance to justify its asking price. All of which are question marks with this model. As such, while we put this model under the microscope we will be paying careful attention to whether or not it can justify its asking price and if we can see ourselves wanting to use it versus more… firmly established lines such as LaCie's Rugged series. So, lets dig in and see what makes the Armor A65B tick.