$79.92
$91.99
in stock
2 new from $74.99
1 used from $128.68
as of May 28, 2023 2:29 pm
Last updated on May 28, 2023 2:29 pm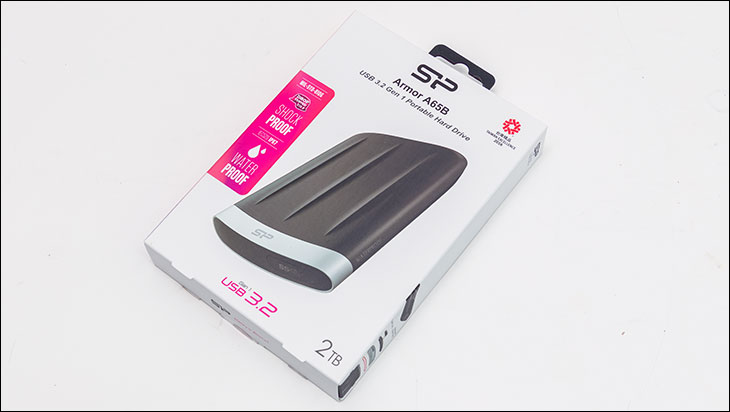 Like the majority of Silicon Power portable storage devices we have looked at in the recent past, the A65B comes in a very decent shipping container. For some it will be a touch understated for their tastes; however, in a marketplace full of garishness the combination of (nearly) all white box with a nearly full-size color image on the front means that it will grab buyers attention and make them want to take a closer look. When they do, the information will allow (nearly) any buyer to make an informed decision rather quickly. All of which are the hallmark of proper shipping box design.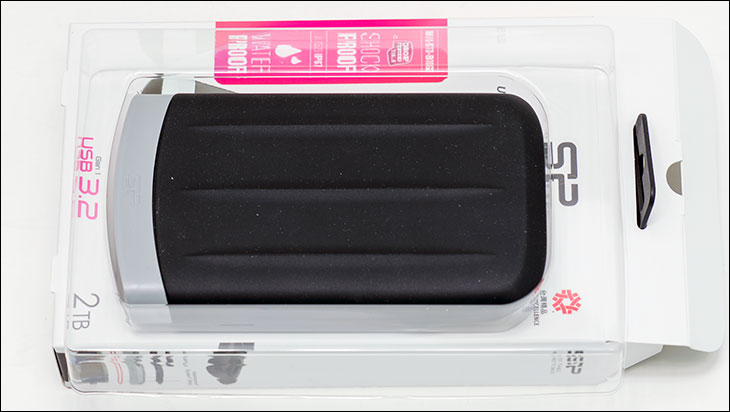 Also, like many we have reviewed in the past, Silicon Power has gone for the tried-and-true half clamshell approach to protecting the A65B while in transit. While not the absolute best, as it provides no protection to the 'top', the fairly wide 360+180 degree crumple zones combined with reasonably thick carboard exterior is more than enough to shrug off the typical bumps and bruises all parcels encounter while in transit.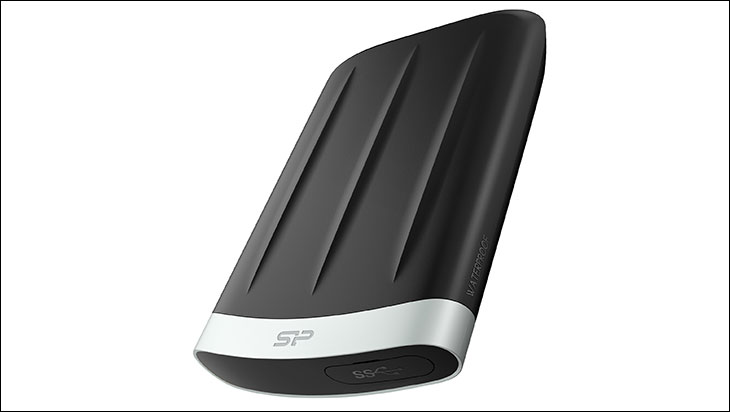 Moving on. We have said this numerous times in the past, but it does bare restating. Silicon Power's Armor engineering team are obviously fans of Neil Poulton. Much like LaCie's Rugged line, the Armor A65B combines copious amount of soft exterior rubber with hard internal plastic protection and then mixes in a nice dollop of aesthetics – in this instance with its graceful curves the A65B just plain looks fast… almost as if it was an Italian designed sport car or motorcycle. Great looks aside, this is a combination that made LaCie famous back in the day (and a big reason why Seagate purchased them). So yes. It is a tried and true combination. However, unlike LaCie, Silicon Power then upped the ante with a third interior soft rubber layer that further improves the survivability of the A65B in today's modern urban environment.
That however is getting a touch ahead of ourselves.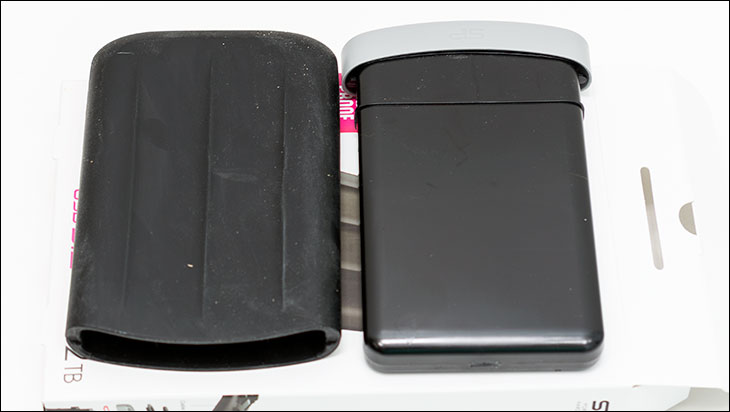 As previously stated, the exterior is mostly made up of a soft black rubber material; however, if you pay careful attention the reason the 'top' or 'front' (depending on orientation) portion of the A65B is made up of hard silver plastic is because the rubber majority is actually a removable sleeve. This combination of sealed hard plastic with a soft covering is why it can not only boast of having 2M drop protection (via Military standard testing procedures) but also why it can boast of having an IP67 rating.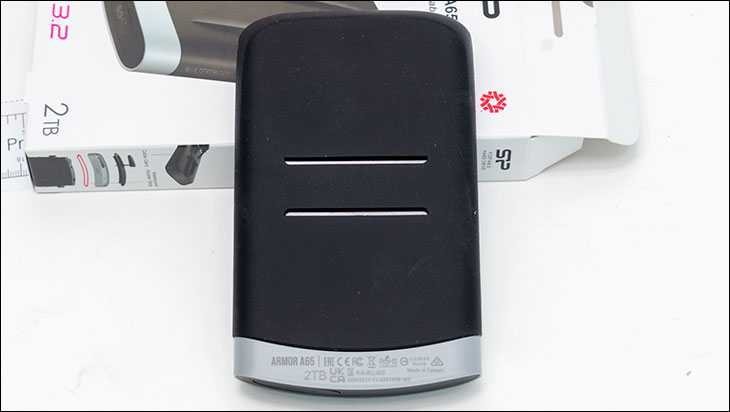 It is also why the sleeve itself can do double duty as a cable caddy without compromising the integrity of the unit. Unfortunately, and much like some LaCie models, this soft rubber is a dust and lint magnet. So much so that ours came with a bit of lint and the like already attached to it in the shipping container… and even just taking picture of it we could see dust almost be sucked in and on to it – and we have whole home HEPA filtration! Thankfully, it is waterproof so a damp cleaning cloth will not harm the drive… and one should get used to the idea of needing to clean it.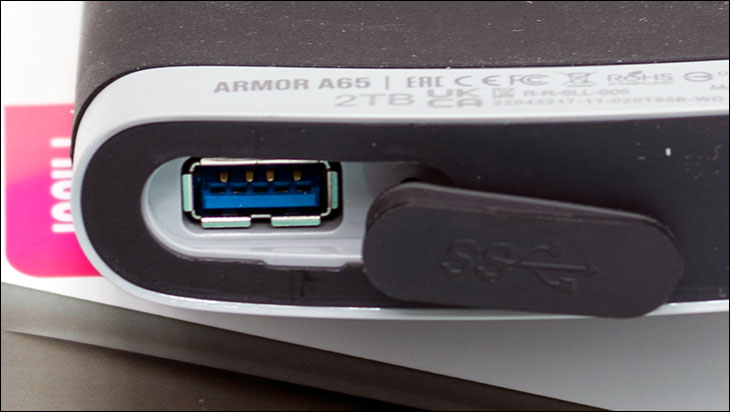 Obviously, in order to make it water and dust 'proof' Silicon Power did have to use a large rubber 'cap' to cover the USB port. Some people dislike caps as it is an extra step one has to complete before they can even start using the device; however we do not mind the fact it is covered, in fact we like it. This cap works well at both keeping dirt/water/etc. out of the port, and yet comes with enough slack so that it easily gets out of your way when you want to use the port… and cannot be easily lost. That is a lot to like. Extra step required or not.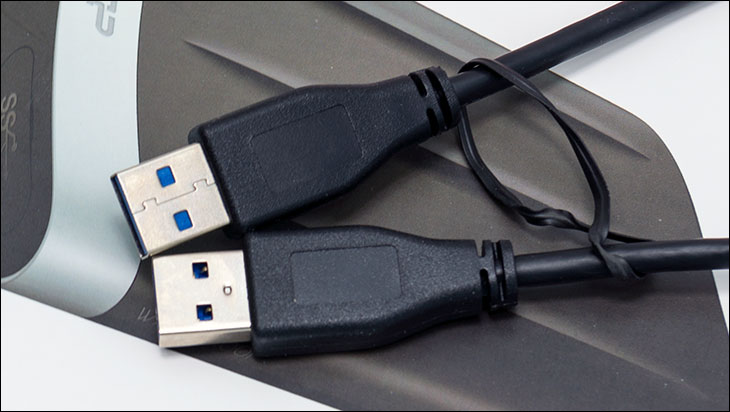 Sadly, on the less-than-optimal side of the scale is the fact that Silicon Power has once again opted for a Type-A size port. Not a smaller Type-C, or even older micro-USB 3.0 port. On its own this is not a deal breaker, but it does mean that unless you have a Type-A to Type-C adapter… the included Type-A to Type-A cable is going to be a royal nuisance to replace. This is one of the largest negatives with purchasing a Silicon Power Armor device instead of the competition. Worse still, this is an ongoing issue with Silicon Power and we are puzzled by their stubbornness to not adapt and keep up with the rest of the marketplace. Seagate, Western Digital, even Samsung all use smaller USB ports these days and Silicon Power needs to follow suite ASAP. Otherwise, they will lose sales that should not have slipped through their fingers. All over an antiquated port.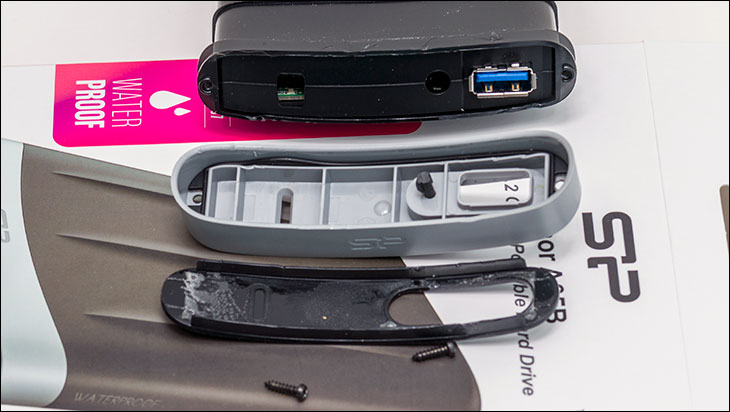 Moving on. If for whatever reason you just must take the A65B apart, it is a fairly straightforward task. First pry off the front fascia (the back portion in the silver exterior). This plastic "topper" is held in place with glue and is a big reason why the A65B is waterproof… but not too waterproof. Put simply it does pop off fairly easily. So, if in a year or three from now it 'falls off'. A healthy line of waterproof sealant will get your water and dust protection levels back up to snuff… and maybe even improve things slightly.
With that removed you will notice two recessed screws. These screws not only secure both portions of the hard external case together, they compress a gasket that also allows the A65B to be even more waterproof. Once again, if it does fail a thin line of waterproof sealant will make it right. Though to be fair we have yet to see a gasket on a functioning external storage solution fail – as they are pretty much idiot proof these days.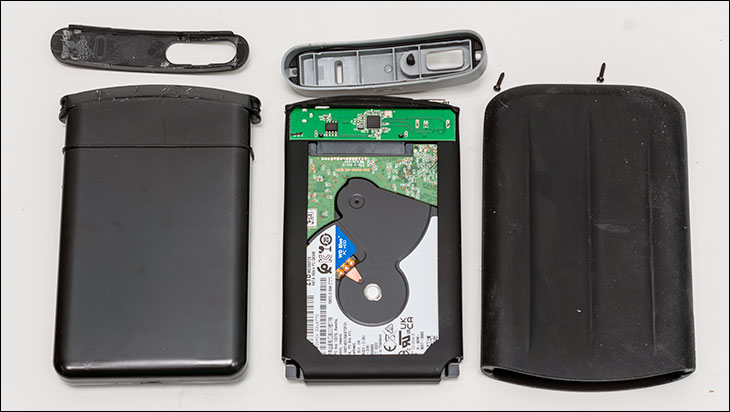 This is where we came to our first surprise of the A65B design. The third level of protection. We say that as instead of the expected plastic HDD caddy / suspension carrier you can see that Silicon Power has opted for the same(ish) design as the "hard on the outside, soft on the inside" approach they used on some of their earlier models. This wrap around rubber sleeve not only provides blunt force trauma, but also reduces drive killing vibrations (which as an added bonus allow the A65B to even quieter than the external soft rubber layer would lead one to believe).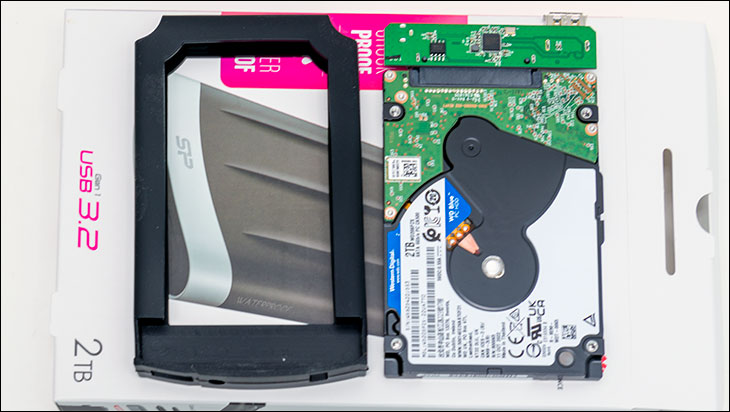 Its inclusion is a big deal. Very, very, very few models these days go for a three-layers deep protection strategy… as it costs more than the typical dual and is overkill. Overkill is a good thing. Overkill can make the difference in edge cases between a device filled with your crucial data surviving… and one that dies.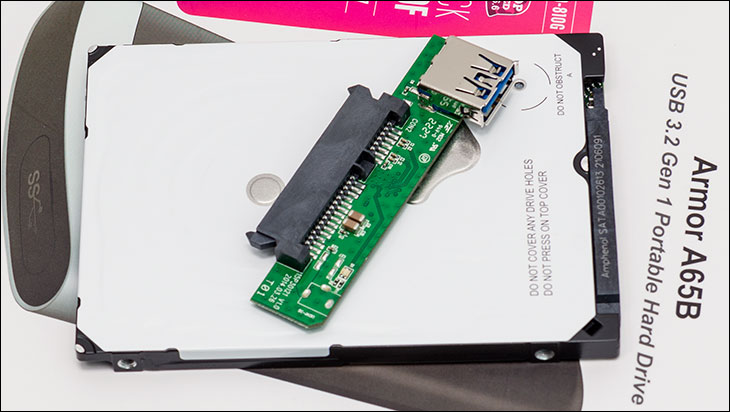 Unfortunately, when you do peel this impressive, rubber sleeve off we can see that Silicon Power still does not believe in securing the SATA to USB adapter bridge in place. Instead, only friction and the sleeve keep the board from detaching. Yes. In 99.99 percent of cases this is 'good enough'. Good enough on a device that shows obvious care and attention to detail put into it… is sub optimal. Even just one screw and a slight elongation of the adapter board would have made things a lot more impressive. Impressive and truly robust.
The board and its components are also nothing special… and are honestly a bit of a letdown. All that effort put into ensuring the A65B can shrug off damage that would kill most drives and yet they still have opted for the ancient ASMedia ASM1153 controller?! Is this controller 'good enough'? Sure. It is good enough. It however will shave a bit of performance off the potential of any drive attached to it.
In this case that means a very good Western Digital Blue. To be precise this Blue may be a 5,400RPM model but it is actually a very good example of what can be done these days with Shingle Magnetic Recording technology. Put bluntly it is one of the best 5,400 SMR drives available today for its class. So, it is a good upgrade over the previous Seagate HDDs Silicon Power (rightly) loved to use. It just will not be showing its full potential thanks to the older bridge controller Silicon Power is still opting for.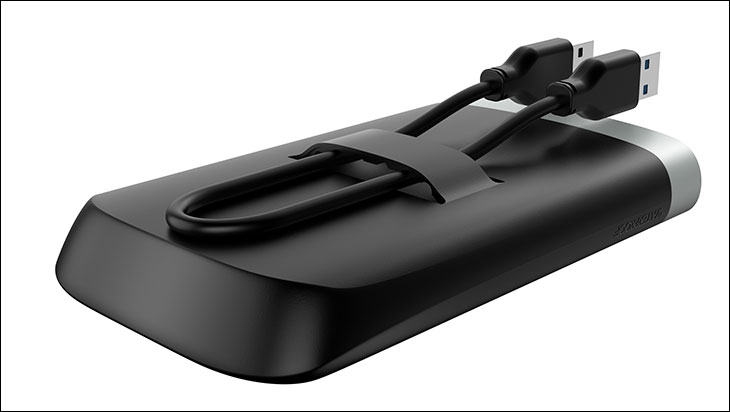 Overall, the Silicon Power Armor A65B is a rather good example of how to do (most) things right. There is still a lot of room for improvement. Improvements that will bring Silicon Power back into alignment with the rest of the marketplace and industry. With that said, it does easily justify both the asking price and its slightly oversized dimensions.