$179.99
in stock
3 new from $179.99
4 used from $134.07
as of March 19, 2023 12:29 am
Last updated on March 19, 2023 12:29 am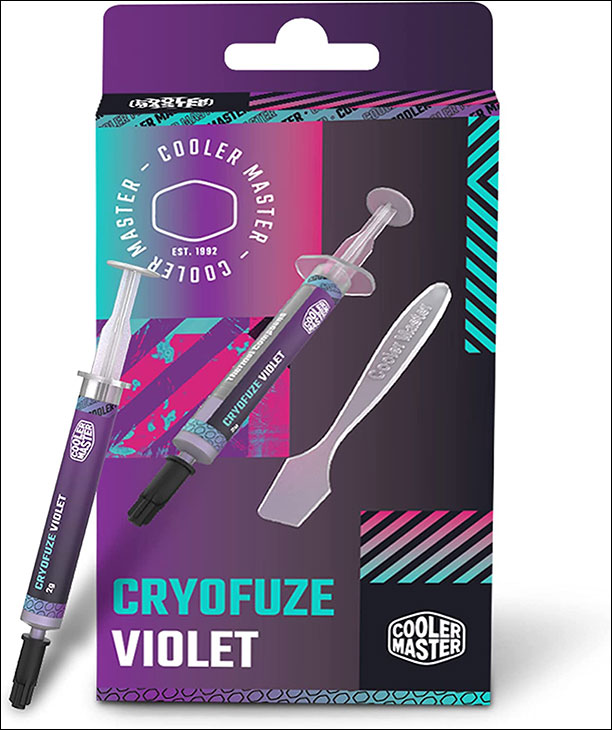 Before we move on we do have to mention a product that may not come with the PL360.. but is worthy of taking the time to add to your cart before pulling the trigger on 'just' the PL360. We are of course talking about Cooler Master's Cryofuze Violet Thermal Interface Material.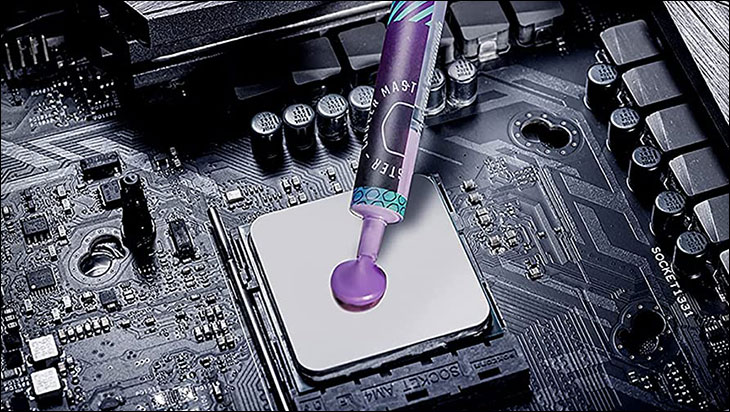 While this TIM is rather pretty… it is not just a pretty face. Instead the violet color is important and helps improve ease of use. Most TIM's are gray. Gray that is applied to a silver-gray Integrated Heat Spreader (IHS). Sure, if you are using the older, some would say out-dated, 'grain of rice' application method the color doesn't really matter. With modern CPUs (especially AMD and their holes in the IHS design choice) a dab in the middle is sub-optimal. Instead you want to spread a thin for full coverage layer of the entire IHS. With it's unique color the Cryofuze Violet is already ahead of the curve – especially where they include a nice little spudger to easily get even coverage.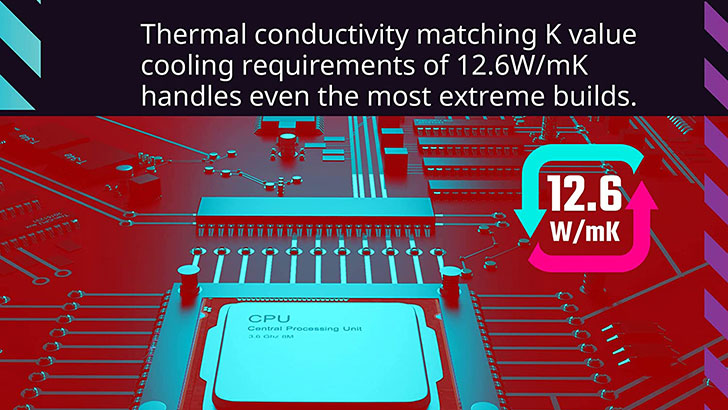 This however is only the first part of what makes Cryofuze Violet so good. Beyond color, and ease of installation, the TIM itself is also rather good. With an impressive 12.6W/m-K the Cryofuze Violet is right up there with some of the best (non-conductive, non-exotic based) TIM's going. For example Artic's cult classic MX-4 has a 8.5 W/m-k, their MX-5 is 5.0 W/m-K, and their MX-6 is 7.5. Furthermore, it not only offers excellent thermal conductivity, and is non-corrosive, it is also rather stable. Cooler Master states it is temperature stable from -50C (for all you sub-zero fanatics out there) to 240C. In testing this combination of better cooling and improved stability does indeed help. It can shave a degree or two off your existing overclocking temperatures and that may just mean the difference between a successful overclock and one that hit the "thermal wall".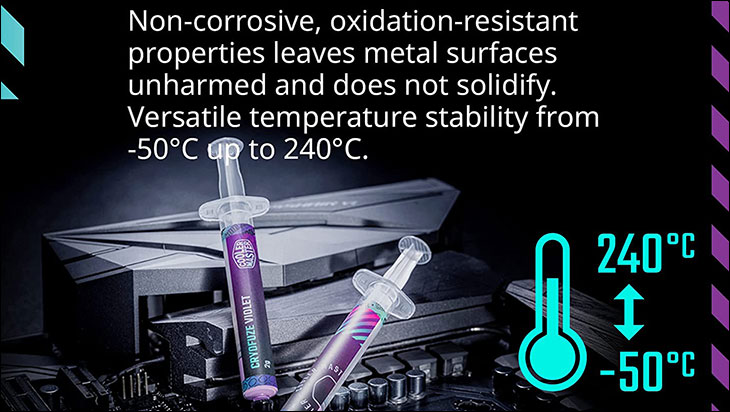 Of course, there is no such thing as a free lunch. In the case of the Cryofuze Violet the down side is two-fold. At about five dollars (USD) for 2g tube.. it is (gram for gram) nearly twice the price of what MX-4 costs. That is hardly worth talking about as it is down right cheap compared to typical 10+W/m-K TIMS costs. The other issue will be a bit more of a sticky wicket for experienced users. To be blunt, it is thicker than MX-4 and the like. Noticeably thicker. Needless to say, you will want/have to use the full coverage spread method. Either way we think the Cryofuze Violet easily justifies its asking price and then some. Color us impressed.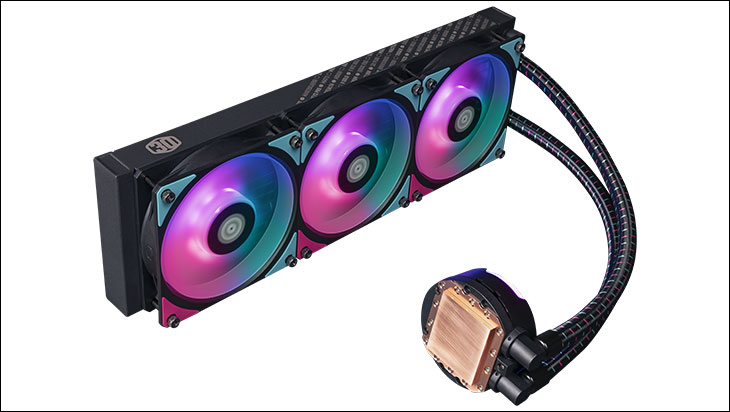 Let's start with the blatantly obvious. This is a drop dead gorgeous looking All In One cooling solution. It literally looks like the Special Edition it is. It is packed with advanced, and unique features, that put it a cut above the Asetek competition. So much so once you dig into the specifics you can easily tell that the people who designed, spec'ed, and built it all love their jobs. All of which is as it should be… as it is a premium priced product.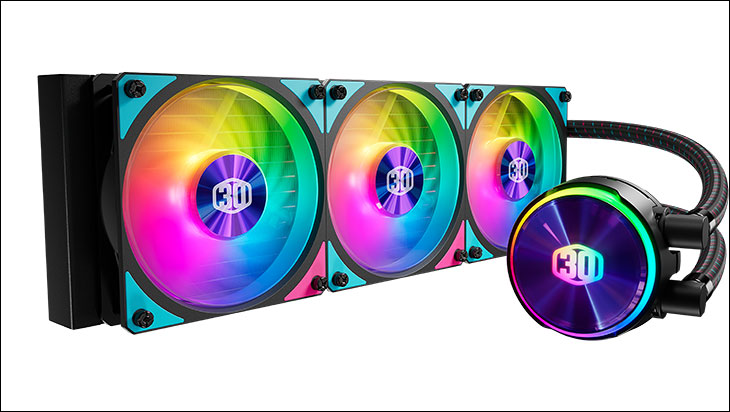 That however is getting well ahead of ourselves. As we have stated many times in the past there are four, arguably five, critical areas that makes up a simple Closed Loop Cooling solution. These are the radiator. The waterblock+pump combination unit. The Tubing. The fans. With advancement in LED technology allowing AIOs to boast of advanced lightshows the fifth area is arguably the included controller.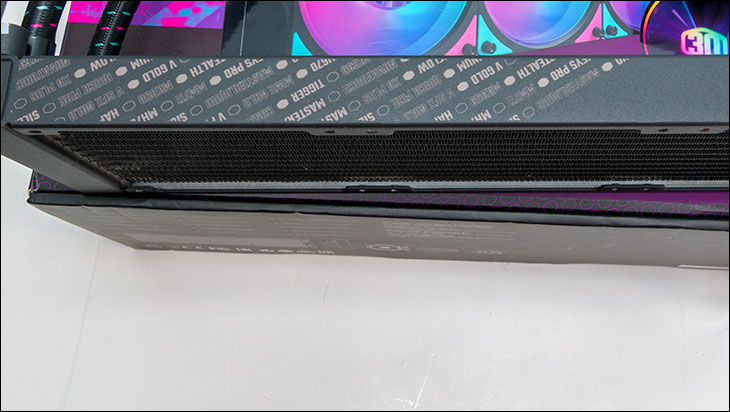 We have already gone over the RGB controller, and consider it best in class. So, lets start with the radiator. Like many 360mm class All In One cooling solutions the PL360 FLUX AE makes use of a pretty standard 'off the shelf' Cooler Master "thin" radiator. For those who do not build open loop water cooling rigs, what this means is Cooler Master has taken a pretty much standard ~27mm (27.2mm to be precise… though our calibrated & certified Miyamoto mic' puts it at 27.32mm) radiator than can accommodate three 120mm fans.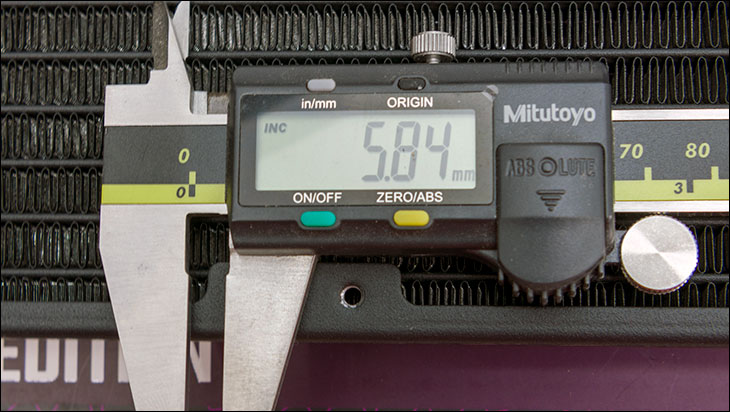 Like any good, if thin, radiator the PL360 FLUX AE's integrates fan shrouds right into the design. These standoffs (average of 5.85mm, with minimum found being 5.84mm) remove each of the fan hub's "dead zone" where no air movement typically can take place, as well reduce the overall static pressure required of the fans to actually push or pull air through said radiators cooling fins. The downside to having an above average standoff distance (Asetek based units use 5.5mm) on a thin radiator is it means even less space for water channels, cooling fins… and basically reduces the overall cooling abilities of the rad. Thankfully, the difference between 16mm (Asetek) and 15.5mm is a rounding error. Especially when the 'thinner' radiator is more advanced.
For instance, we measure 19 folds per inch for this rad's fin array versus the more typical 18 found on Asetek. This increase in overall surface area easily overcomes the minor depth differences… and then some. However, with all that said… it is less than what even a simple Open/Custom Water Loop will have to offer. It will be lower because a good custom loop radiator will be thicker (to varying degrees) and be copper cored. Not aluminum cored. This AIO will also be a lower performer than say an Arctic Liquid Freezer II, Alphacool Eisbaer, or EK AIO. All of which use thicker radiators. It will however be better than the 95percent of 360-class All In One coolers… as all those are using the same Asetek rad as they are Asetek AIOs. Just with a different label and LEDs slapped onto the same core design.
Also on the positive side, the PL360 FLUX AE will be just as easy to work with as that ~95 percent of AIOs. It will be easier to work with because it is thinner than say a Liquid Freezer II 360 (and its ~38mm thick radiator). If you are building inside a Corsair 7000 the extra ~11 millimeters of freedom the PL360 FLUX AE has to offer will not matter. It will however matter in the vast majority of cases. Especially if you install this in the front (or heaven help you bottom) of a typical mid-size case. Then you will love those "extra" millimeters of wiggle room.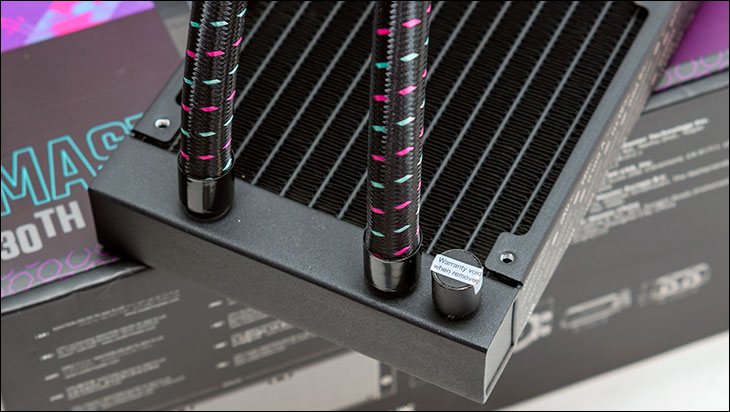 The same holds true of the third "fill" port found on the radiator. While yes using said port will void your warranty (unless you are good at removing "warranty void if removed" stickers)… in 5 years and a one day after purchasing this unit its inclusion makes refilling, cleaning, and typical maintenance a possibility. Including 'burping' the loop to remove air bubbles. Something that most Asetek units do not offer… and trust us. The tubing may be low loss, high retention rubber but over time some cooling fluid is going to evaporate and a certain amount of noise making air bubbles will work they way in. Then you will once again fall in love this rad all over again.
Before moving on there is one more unique feature that we need to address: the rad aesthetics. Typically, an AIO's radiator is black. Solid black. With about as much personality as Gaston Glock's famous creation. Cooler Master has not only included a nicely stylized '30' into the side they have also included stylized writing on the side that basically lists all the 30th Anniversary Edition models. While on paper that sounds… crass… garish… in desperate need of a rattle can paint job. The reality is the light and dark bronze lettering in conjunction with the bronze color 30 combine to in such a way that just plain works. At a distance you will not be able to read the writing, instead the 45-degree lettering creates an nicely stylized 'candy stripe' type effect. So much so we just wish the tubing got the same black and gold / black and bronze color effects.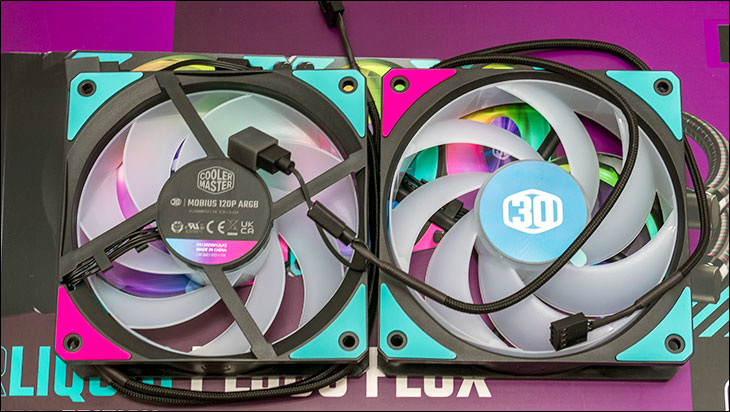 Moving on. With the fin pitch being decently tight a typical fan probably would not cut it, and certainly would not be optimal at cooling this rad. They would either have to spin faster and create more noise, or spin slower and cool worse. Cooler Master did not like either option so they have include three of their gorgeous Mobius 120 fans.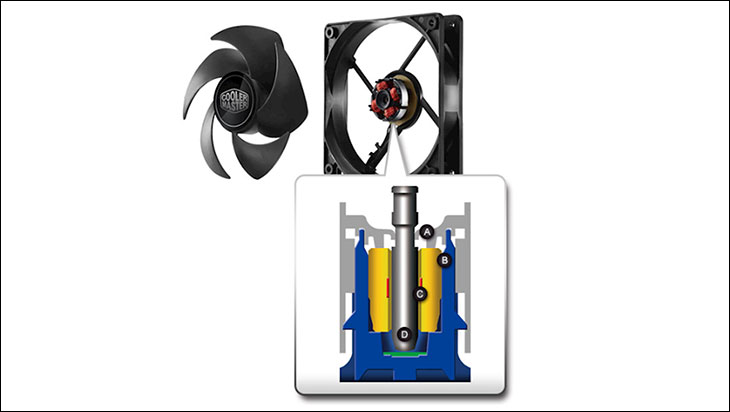 Even excluding the advanced LEDs baked into these Mobius fans, they are an impressive feat of engineering. First and foremost is they use what Cooler Master calls "Loop Dynamic" bearings. Which is an advanced form of the old school "rifle" bearing (in that the rotation of the fan's shaft cycles fresh oil in and over said shaft). Where they differ is in a few key areas. The first is unlike rifle bearings, LDB's have an oversized reservoir of advanced combination grease and oil "fluid" that not only extends the timeframe before the friction reducing oil evaporates but allows said fluid to cool down in between cycles over the shaft. This combination is why these fans can boast over 200,000 hours MTBF rating… and why even at full rotational speed of ~2400 RPM they can be whisper silent.
The next advancement over typical fans is in the blade department. As you can see all the blades are attached via an outer ring of plastic. This does a few things. Firstly… it allows the LEDs to create a much crisper looking lightshow when viewed off axis (i.e. how most people will view a running system in the real world). This is more of a fringe benefit as this additional material dramatically improves the rigidity of said fan blades. This in turn reduces blade flex which in turn creates fewer aberrant vibrations, and air pockets slamming into the radiator… which in turns makes for a quieter fan. The outer ring also dramatically improves the flow of air and helps focus it downwards – instead of having some skate along the edge of the blade, hit the fan frame and then bounce up and out. That is why these fans can hit a rather impressive 3.63mm of static pressure while still being extremely silent. Furthermore, the noise they do make is much easier to ignore as the pitch and tonal shifts are minor with no whine type noises noticed during testing.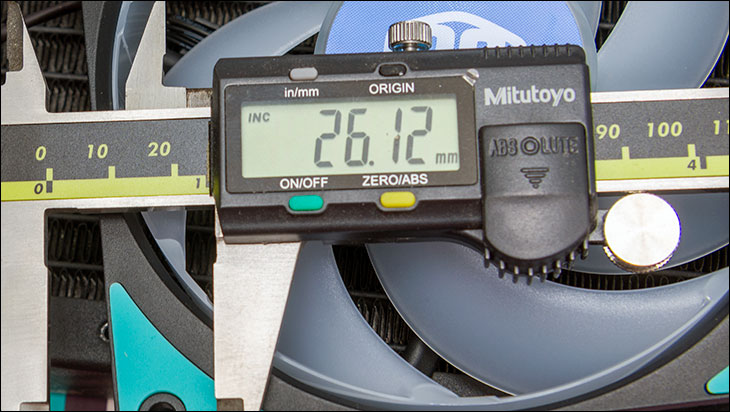 The one downside to this advanced fan is it is a tad oversized compared to most "25mm" fans… because it is not a 25mm fan but a ~26.1mm (frame thickness sans anti-vibration pads varied from 26.09 to 26.12mm) fan. When you mix in the anti-vibration pads that bumps it up to about 27mm thickness. Or about 2mm thicker than one would think they would be. This is not enough to matter in most instances, but certainly should be something Cooler Master's literature should state… lest someone buys a Mobius equipped AIO for a shoebox build and have it not fit.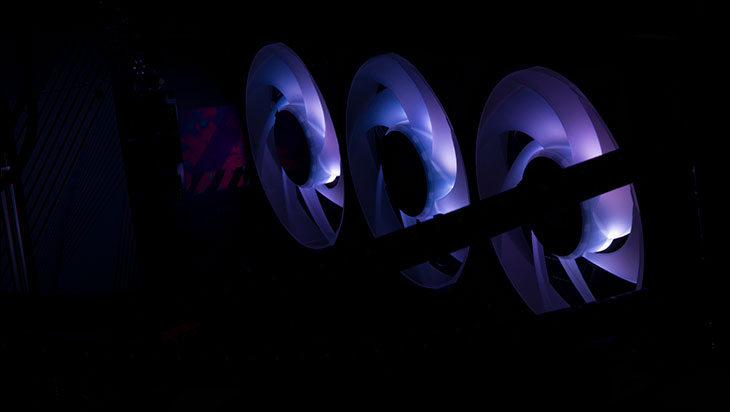 Of course, we can not fail to mention that they are LED equipped fans and they can make some rather advanced color effects. Furthermore, these A-RGB gen 2 fans default to white when not being controlled via their included header. Just the way we like it.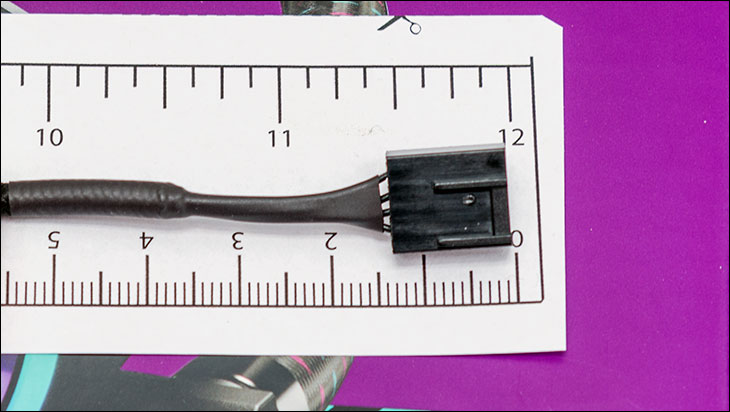 On the cable front, both the 4-pin power and ARGB cable header are about 12-inches in length, and the ARGB is a double headed cable allowing you to daisy chain all three (or six for that matter in a pinch) fans together. Thus, only one header on the motherboard or the included (fantastic) controller is needed. Overall, these are some of the nicest fans we have seen come standard with an AIO in quite some time. So much so we really wish this 30th Anniversary Edition AIO came with six of them. Also on our wish list, we sincerely wish Cooler Master had not made half the anti-vibration pads seafoam green, and the other half pink. In the future, please pick one color and stick with it so as to make integrating said color into a build easier than trying to blend pink and blue-green into a build.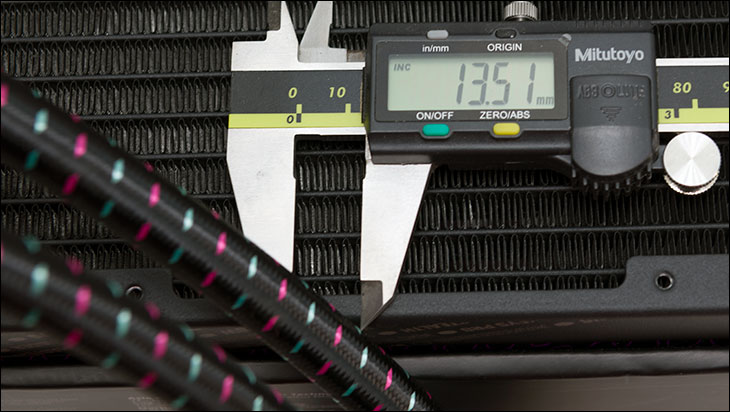 The same somewhat holds true of the tubing. On the one hand it is large ~13mm OD tubing that contains more fluid than earlier Cooler Master AIOs, offers a bit less flow resistance, and can extend the equalization time frame between when you actually start pushing the CPU and when your loop reaches temperature equilibrium. It also is fairly flexible (making installation easier than some units), and is covered in a tightly braided nylon covering. Unfortunately, with its combination of black background with "digicam" styling consisting of that selfsame seafoam green and pink square "pixels" said nylon may indeed have more personality than most AIO's tubing it is a little bit too funky for our tastes. We much rather preferred it be entirely black or carried over that nice light gold / bronze the 30Th anniversary logo and lettering the radiator boasts.
On the positive side, Cooler Master does give about ~14 inches worth of tubing. So even if you do use this in a full tower case you should have no problems installing it in the top or front of said case. In smaller mid-towers cases you probably will even have enough to reach the bottom of it for a 'bottom mount' configuration – which we strongly recommend against as you want the rad to be higher than the pump, lest air bubbles get into the pump and create much more noise as well as wear n tear of the motor.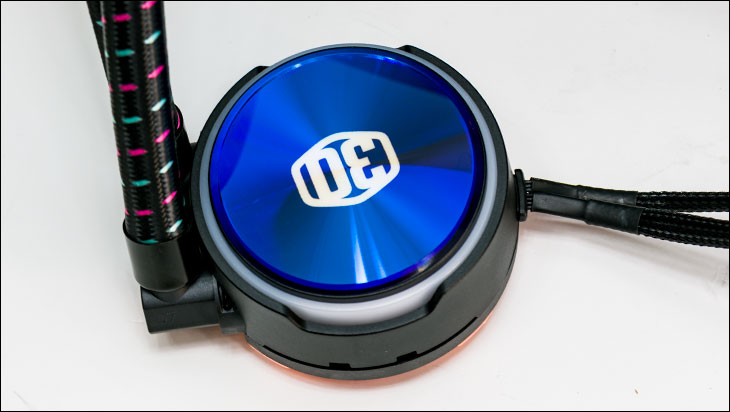 This brings us to the star of the PL360 FLUX AE show. The combination waterblock and pump. For the 30th Anniversary Edition Cooler Master has taken their famous dual chamber pump from the standard 360FL model and given it a custom topper. To be specific it's a rather cool looking topper with the '30' logo in the middle and depending on the angel you look at it… its either purple or blue. Needless to say, we like this combo unit a lot.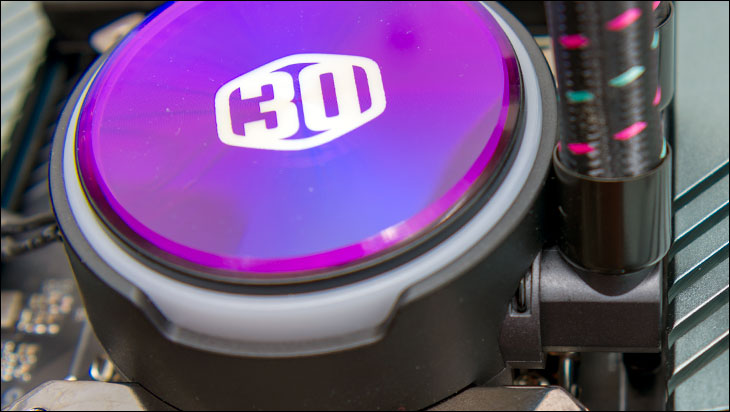 Though to be fair it is not just because it is good looking, nor the fact that it is decently low profile. Instead, it is because it is rather advanced – enough so that it makes Asetek blocks look antiquated in comparison.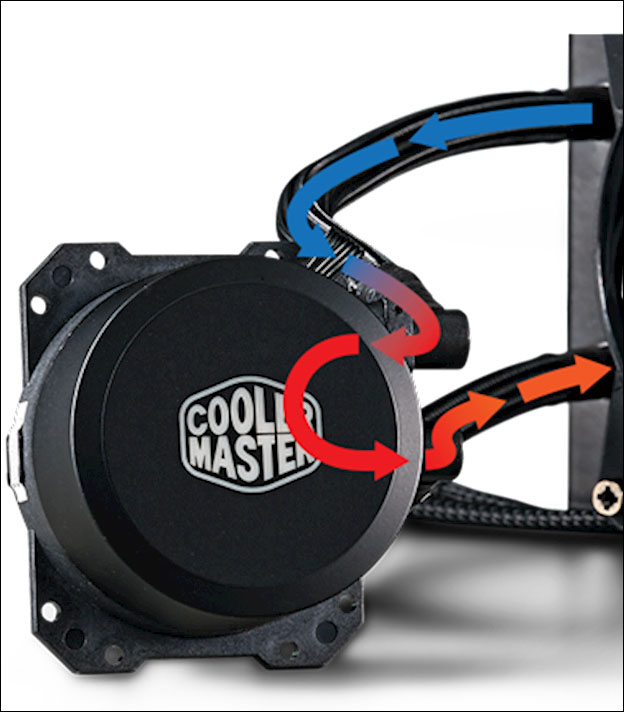 To start, the dual chamber design means that hot water coming off the internal micro-fin copper array does not mix with the cold water coming back from the radiator. Instead, both are separated by plastic chambers. Thus, cooling abilities of this AIO are maximized.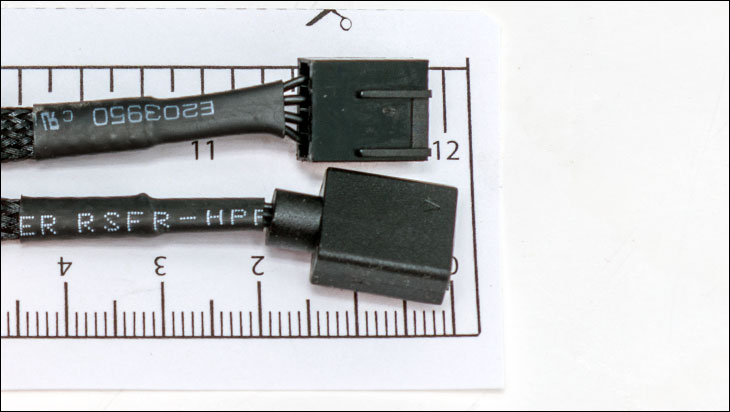 Next, the copper block is indeed advanced with an optimized micro-fin-array that both offers excellent heat exchange abilities but without needlessly increasing back pressure put on the pump. Also, unlike Asetek, the waterblock on this bad boy is not round. It is rectangular in shape. With the long end measuring 46.6mm and the short sides measuring 41.3mm. Considering AMD AM5 socket is 40×40, and Intel's LGA1700 socket is 45mm x 37.5 this waterblock is more than big enough to offer full coverage. Something the round Asetek's really can not do. By the same token, even though Cooler Master mention (and include the necessary mounting hardware) for AMD's ThreadRipper sTR4 socket… it will not provide full IHS coverage (TR4 is 58.5mm x 75.4mm). Still better than Asetek units, but quite honestly not good enough to be comfortably used on bigger core count ThreadRipper beasts. The same is also somewhat true for the handful of people still using Intel 2066 CPUs. 2066 is a beefy 52.5 x 45mm so while it will not offer full, full coverage it is fairly close. Close enough that in testing it really makes no never mind, but still not perfect.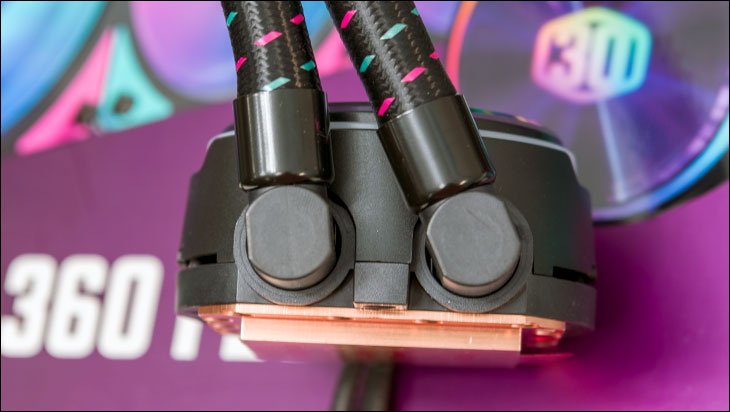 Firmly in the win column is that this waterblock combination unit not only is LED equipped (default color is blue when not controlled via software) it only has two cables sprouting from it. Both cables are ~12inches long and nicely braided. One is a 4-pin "fan" header that powers the pump and the other is a ARGB 2.0 cable.
Yes. This does mean that you can not custom tune the pump speed (or fans speed) via software… but with modern motherboards nearly ubiquitously coming with such a feature the need to waste a USB 2.0 header for your AIO is neatly sidestepped. Sidestepped with little downside to doing so. More importantly with only two cables to worry about, the cable tidying process is a breeze with no worries over cables snaking one way, with other(s) snaking another. Furthermore, with only two cables to worry about you can mount this block in any orientation you want (at least on Intel based systems) to further minimize cable clutter. Little things like that are what separate professional system builders from "shady tree" system builders.
Overall, the Cooler Master MasterLiquid PL360 FLUX 30th A.E. is one well built unit, with a ton of little features added to make a build go easier, increase performance, or simply increase final build's aesthetics. Color us impressed. Even if there are still a few areas with room left for improvement.