$36.49
$38.99
in stock
8 new from $36.49
as of December 7, 2023 8:42 pm
$39.98
in stock
5 new from $39.95
as of December 7, 2023 8:42 pm
$35.64
in stock
as of December 7, 2023 8:42 pm
Last updated on December 7, 2023 8:42 pm
ASUS Presents Zennovation at CES 2017
Introducing ZenFone AR, ZenFone 3 Zoom, and the latest lineup of lifestyle, business, and Republic of Gamers (ROG) gaming innovations
KEY POINTS
ZenFone AR is the world's first Tango-enabled and Daydream-ready smartphone, enabling incredible AR and VR experiences
ZenFone 3 Zoom has a 12X-zoom dual-camera system and is the world's thinnest and lightest 5.5-inch phone with a large, 5000mAh battery
Latest lineup of lifestyle, business, and Republic of Gamers (ROG) gaming innovations showcased in demo area
Las Vegas, USA (4th January, 2017) — ASUS Chairman Jonney Shih today unveiled the ASUS ZenFone AR and ZenFone 3 Zoom smartphones during the Zennovation press event at Caesars Palace in Las Vegas. ZenFone AR will be the world's first smartphone that is both Tango-enabled and Daydream-ready. Tango is a set of sensors and computer-vision software by Google that enables smartphone augmented reality. Daydream is Google's platform for high-quality, mobile virtual reality and supports Daydream VR apps. ZenFone 3 Zoom is built for photography and extended use with the world's best smartphone camera and a large, 5000mAh battery.
ZenFone AR is also the world's first Tango-enabled device to be powered by the latest Qualcomm® Snapdragon™ 821 processor, and is designed to deliver cutting-edge smartphone augmented reality experiences. ZenFone 3 Zoom is powered by the Snapdragon 625 processor.
Cristiano Amon, Executive Vice President, Qualcomm Technologies, Inc., and President, QCT, joined Chairman Shih onstage to provide more details about the processors in ZenFone AR and ZenFone 3 Zoom, and highlight the strong relationship between ASUS and Qualcomm Technologies.
"The Snapdragon 821 processor is a perfect fit for a flagship Tango-enabled device like the ZenFone AR," said Amon. "You need a powerful heterogeneous computing and power-efficient chip to handle the intensive processing and complex features needed to optimize and deliver rich augmented reality experiences. We congratulate ASUS on this exciting new product and are excited to now have Snapdragon processors powering devices across their lineup."
Also onstage to reveal more about ZenFone AR and Tango, as well as demonstrate some of the amazing augmented reality experiences available through innovative mobile apps and games were Erik Hermanson, Head of Content & Brand Marketing at ASUS, and Johnny Lee, Director of Engineering for Tango. "Our phones already assist us in our day-to-day lives, but we believe they can do even more.
We're excited to see Tango technology incorporated into ZenFone AR, making its capabilities available to more people," said Mr. Lee. Jeff Kirwan, Global President of Gap, then demonstrated DressingRoom by Gap, an augmented reality app that allows Gap customers to model clothes on a virtual mannequin and view it from any angle.
Following the announcements, ASUS hosted a demo area showcasing ZenFone AR, ZenFone 3 Zoom, and the latest lineup of lifestyle, business, and Republic of Gamers (ROG) gaming products. New lifestyle and business products include the ZenBook UX490 laptop, VivoPC X desktop PC, ProArt PA32U monitor, and ASUSPRO B9440 business laptop. New gaming products include the ROG Maximus IX Extreme motherboard, ROG Gladius II mouse, ROG Rapture GT-AC5300 router, and ROG Strix Magnus gaming microphone. Additionally, several desktop and laptop PCs updated with the latest 7th Generation ('Kaby Lake') Intel® Core™ processors were also shown, including the Zen AiO ZN270 desktop, ROG GT51CH gaming desktop, and the ROG GX800VH and G752 gaming laptops.
ASUS won eight CES 2017 Innovation Awards, with products across four competitive award categories honored for outstanding design and engineering innovation. The award-winning products include: ZenFone 3 Deluxe, Designo Curve MX34VQ, Vivo AiO V221, ZenBook 3, ROG GX800, ROG Maximus IX Apex and ROG Maximus IX Hero, and an upcoming powerful ROG gaming laptop.
All ASUS and ROG products will be on display at the ASUS Media Suite at the Trump International Hotel in Las Vegas, from 4:00pm–6:00pm on January 4th, 2017, and from 9:00am-6:00pm on 5th-7th January, 2017.
ASUS ZenFone AR
ASUS ZenFone AR is a next-generation smartphone that represents a significant advance in mobile virtual-reality (VR) and augmented-reality (AR) technologies. It is the first smartphone that will be Tango- enabled and Daydream-ready. Tango is a set of sensors and computer-vision software by Google that enables unique AR user experiences on a smartphone, such as AR gaming, AR utilities, and indoor navigation1. Daydream is Google's platform for high quality, mobile virtual reality and supports Daydream
VR apps. ZenFone AR was developed in close cooperation with Google to deliver the best Tango and Daydream experiences.
1  Coming soon to select locations
ZenFone AR is the thinnest and lightest Tango-enabled device. This breakthrough in size and weight is made by possible the innovative ASUS TriCam™ system, a three-camera system consisting of a 23MP main camera, motion-tracking camera, and depth-sensing camera. Unlike three-camera systems in other devices, the design of the ASUS TriCam system clusters its array of cameras to reduce their footprint within the phone, enabling the entire phone to be thinner and lighter.
ZenFone AR features a powerful Qualcomm® Snapdragon™ 821 processor that is optimized for Tango, and is the world's first smartphone with 8GB of RAM. ZenFone AR's powerful performance and innovative camera work in conjunction with Tango to enable smooth and compelling smartphone AR experiences. A beautiful, 5.7-inch WQHD Super AMOLED display and a new five-magnet speaker makes Daydream VR apps, games, and videos more immersive and entertaining. Android™ 7.0 'Nougat' lets users get the most out of ZenFone AR with new multitasking features and other enhancements that deliver a great mobile experience.
ASUS ZenFone 3 Zoom
ASUS ZenFone 3 Zoom is a 5.5-inch smartphone designed to excel at photography with a dual-camera system that captures gorgeous photos and videos. It is also the world's slimmest smartphone with a high- capacity, 5000mAh battery, giving users extended usage times without compromising style and portability.
ZenFone 3 Zoom's innovative dual-camera system comprises two 12MP cameras, one with a f/1.7- aperture, 25mm wide-angle lens and a second with a 56mm lens. Users can instantly switch from the 25mm primary camera to the 56mm camera, giving them a 2.3X optical zoom that is perfect for portraits and capturing distant subjects. An improved TriTech+ autofocus system automatically chooses among three autofocus technologies — Dual Pixel PDAF, subject tracking autofocus, and second-generation laser focus — depending on the situation to achieve accurate focus in just 0.03 seconds, even when photographing moving subjects.
ZenFone 3 Zoom is also the first ASUS smartphone with SuperPixel camera technology that enables it to focus incredibly quickly and capture clear photos at night or in low-light environments. ASUS-exclusive hardware and software enhancements boost sensor light-sensitivity by up to four times by intelligently adjusting ISO levels while shooting and applying noise reduction in post-shot processing. SuperPixel technology enables the camera on ZenFone 3 Zoom to have 2.5-times (2.5X) greater light sensitivity than Apple®  iPhone® 7 Plus 2 and 10-times (10X) that of an average smartphone.
2 Compared to the iPhone® 7 Plus main camera (f/1.8 aperture, 1.22µm pixel size)
3 Compared to average smartphone cameras (f/2.0 aperture, 1.0µm pixel size)
ZenFone 3 Zoom has a high-capacity 5000mAh battery that is sculpted to fit in the phone's super-slim, 7.9mm full-metal body. The phone weighs just 170 grams, yet with its large battery and powerful, efficient Qualcomm® Snapdragon™  625 processor it provides users with up to 42 days of standby time on a 3G network. The high-capacity battery also complements ZenFone 3 Zoom's photographic capabilities, allowing users to shoot more photos, enjoy power-intensive operations like time-lapse photography, and capture up to 6.4 hours of continuous 4K UHD video on a single charge. ZenFone 3 Zoom can also double as a high-speed power bank for charging other devices.
Demo area
ASUS ProArt PA32U monitor
The 32-inch ASUS ProArt PA32U is the world's first professional direct-lit LED 4K UHD HDR monitor, delivering breathtaking levels of detail. It has a full-array LED backlight with the all-new ASUS LED- driving technology, featuring 384 LED zones and capable of a peak brightness of 1,000cd/m2, which offers a wide range of dynamic luminance for a much richer, nuanced image. The use of quantum dot technology provides a wide color gamut, enabling ProArt PA32U to deliver 99.5% Adobe RGB, 85% Rec. 2020, 100% sRGB and 95% DCI-P3 color-space performance for high-end video editing and production.
ProArt PA32U has a 40Gbps Thunderbolt™ 3-enabled USB 3.1 Gen 2 port that supports DisplayPort 1.2 connections. This port also enables display daisy-chaining, which allows users to connect two 4K UHD displays for increased productivity and more versatile viewing.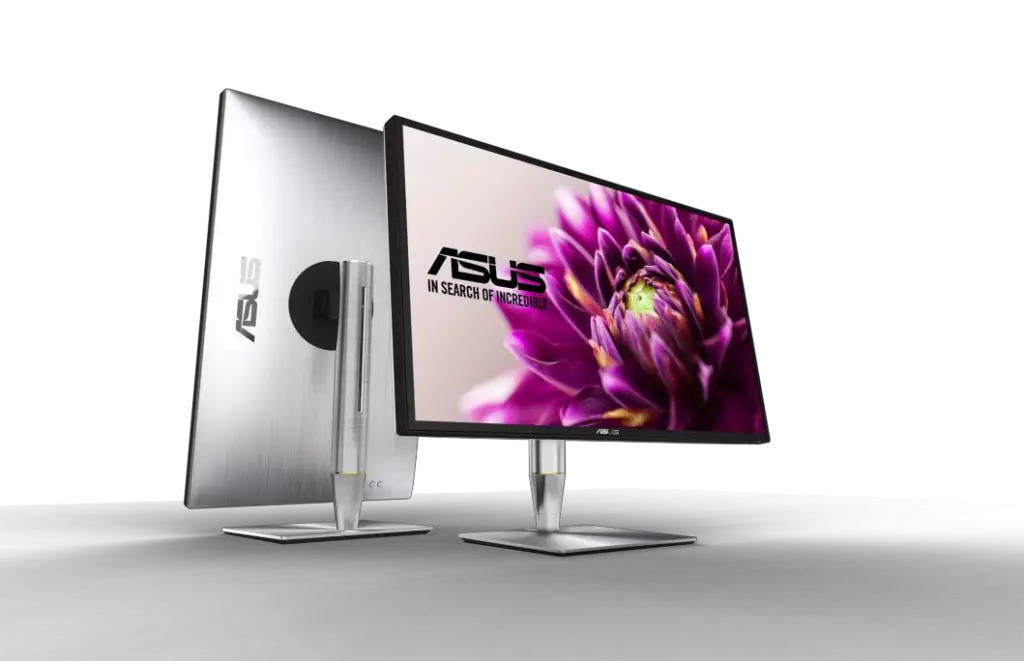 ASUS VivoPC X
ASUS VivoPC X is an elegant and compact desktop PC powered by a 7th Generation Intel Core processor with NVIDIA® GeForce® GTX 10 series graphics, and is designed for general consumers who are looking for a VR-ready PC that meets the hardware demands of VR tasks and entertainment. Its compact 5-liter chassis offers can be placed anywhere in the home; and has extensive connectivity features including four USB 3.1 Gen 1 and two USB 2.0 ports for VR peripherals and controllers.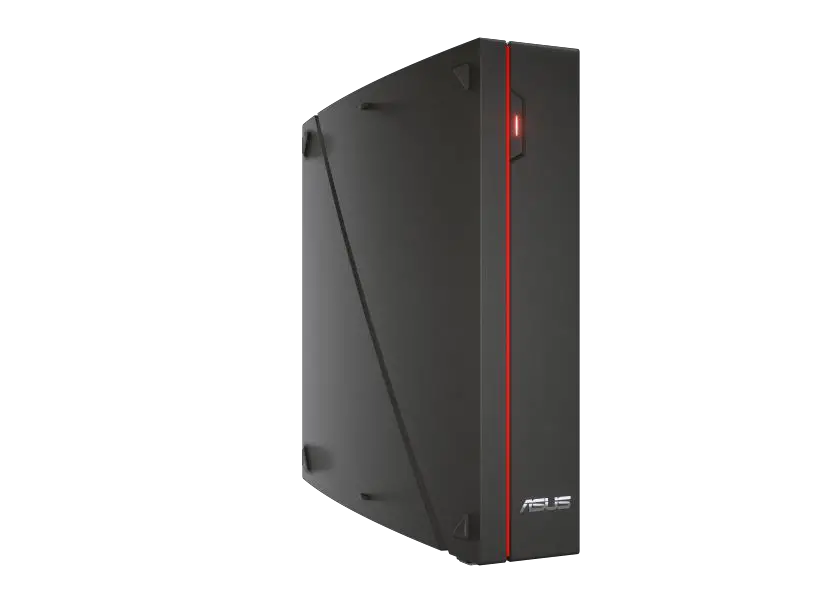 ASUS Zen AiO ZN270
The 27-inch ASUS Zen AiO ZN270 has an incredibly large and beautiful Full HD display, driven by NVIDIA GeForce 940MX graphics. With its up to 7th Generation Intel Core i7 processor, up to 16GB of DDR4 RAM and a powerful quad-speaker Harman Kardon-certified audio system, it offers outstanding performance and entertainment capabilities in a truly elegant design with a gorgeous Quartz Grey finish.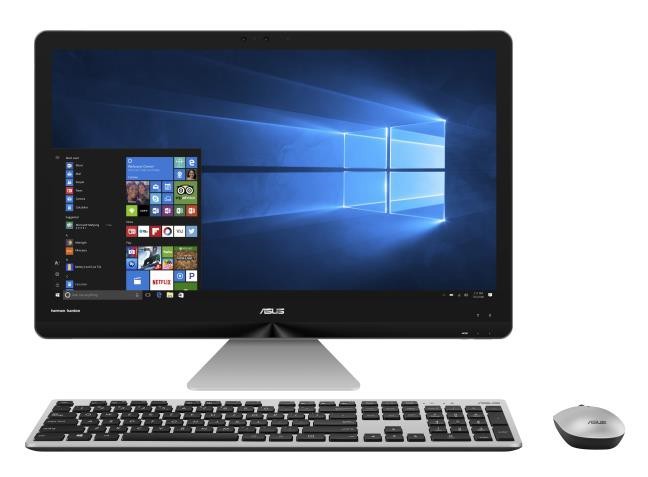 ASUS ZenBook 3 Deluxe UX490
The stunning, all-aluminum ASUS ZenBook 3 Deluxe is a beautifully enhanced version of the ZenBook 3, the world's most prestigious laptop, and has a 12.9mm-slim and 1.1kg-light 13-inch-class chassis that incorporates a gorgeous 14-inch ultra-narrow-bezel display, giving users the perfect balance between portability and productivity. The ZenBook 3 series is designed to deliver unprecedented performance, and ZenBook 3 Deluxe takes this to the next level with the latest 7th Generation Intel Core processors, up to 16GB of 2133MHz LPDDR3 RAM and a blazingly-fast up 1TB PCI Express® (PCIe®) SSD — one of the largest-capacity SSDs available. Unrivaled expansion capabilities are provided by the two USB Type-C™ (USB-C™) ports, which are Thunderbolt™ 3-enabled with support for 40Gbps data transfers, dual 4K UHD external displays, and power delivery.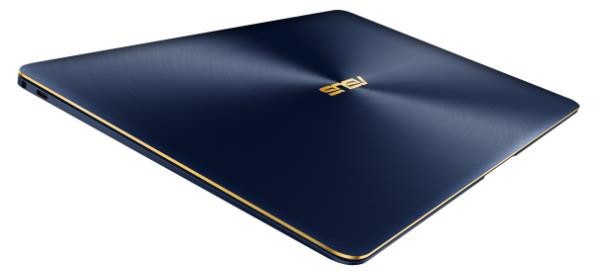 ASUSPRO B9440
ASUSPRO B9440 is the world's lightest 14-inch business notebook. Designed for discerning on-the-go professionals and weighing just 1kg, B9440 has an ultra-compact design with a footprint no larger than many 13-inch notebooks, making it the ultimate take-anywhere notebook for business productivity.
ROG GX800VH
ROG GX800VH defies convention to change the game, with the unique Hydro Overclocking liquid-cooling system for extreme overclocking performance, plus NVIDIA GeForce GTX 1080 in 2-way SLI™ for powerful, desktop-like performance. GX800VH is also the world's first gaming laptop with an 18-inch panel and NVIDIA G-SYNC™ technology for real 4K UHD gaming visuals. It also has the MechTAG mechanical-switch keyboard, which features anti-ghosting with 30-key rollover, and customizable ROG Aura RGB LED effects for each key.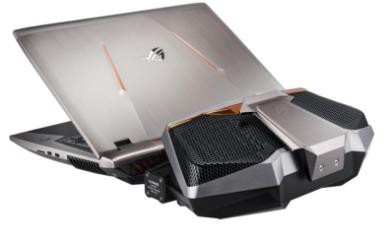 ROG G752
ROG G752 is built to win with unbeatable performance, driven by an unlocked Intel Core i7 processor and a VR-ready NVIDIA GeForce GTX 1070 GPU. G752's high-speed DDR4 DRAM is overclocked to run at 2800MHz. It also offers HyperDrive RAID 0 and the latest NVM Express™ (NVMe) and PCI Express technologies for blazing-fast storage speeds, ROG-exclusive 3D Vapor Chamber for effective and efficient cooling for up to 7°C-cooler GPU temperatures, and a 120Hz panel with NVIDIA G-SYNC technology for super-fast 120Hz refresh rates on its wide-view panel. The world's first backlit anti-ghosting keyboard with 30-key rollover complete G752's roster of headline features.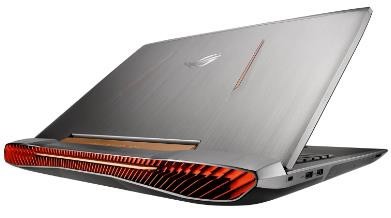 ROG Maximus IX Extreme
Tailored for water-cooling enthusiasts, Maximus IX Extreme is the world's first motherboard with an integrated monoblock, expertly manufactured by Bitspower. Maximus IX Extreme is packed with ROG innovations that refine traditional solutions: the monoblock detects the flow rate of the water coolant, and has dedicated circuitry to detect both the inlet and outlet temperatures as well as leakage. The monoblock also integrates the neighboring M.2 heatsink for unmatched heat-dissipation to eliminate throttling, improving both reliability and enabling greater performance.
To showcase the design and performance of Maximus IX Extreme, case modder Stephane Beauliu "Snef" from Quebec built the White Shadow case mod. This stunning case highlights the motherboard's Aura Sync RGB lighting, performance, and water-cooling features with a design featuring touchscreen controls and white-pastel coolant that glows in the same colors as the RGB lights.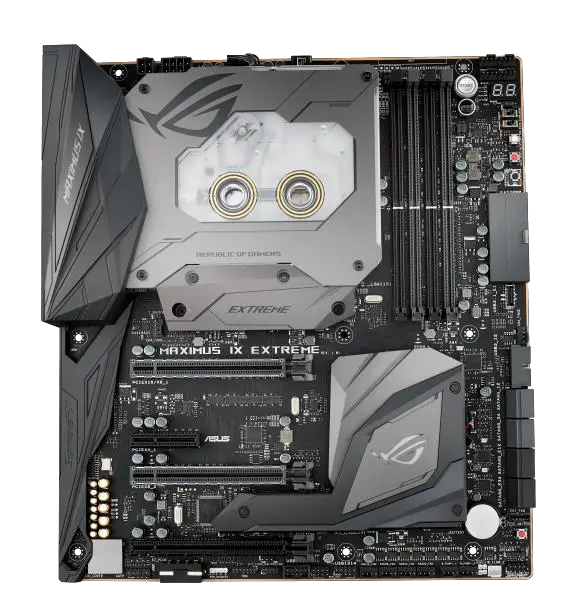 ROG Gladius II
ROG Gladius II is an optical gaming mouse optimized for FPS games, with customizable Aura Sync RGB lighting and durable 50-million click Omron® switches. Featuring the exclusive easy-swap switch socket design, ROG Gladius II gives gamers the freedom to customize click-resistance and extend the life-span of the mouse. Gladius II also has a DPI button to toggle sensitivity and a DPI target thumb button for short bursts of instant precision.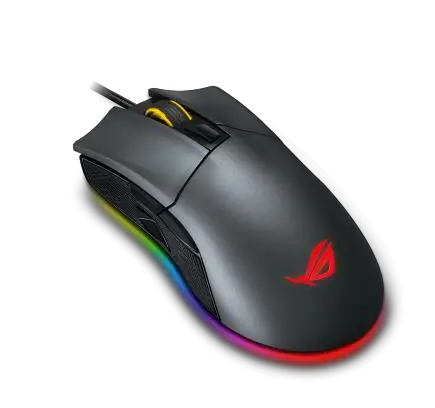 ROG GR8 II
ROG GR8 II is the smallest gaming PC built for VR, and has the most advanced graphics in its class — offering full-on performance with a desktop-grade ASUS-customized NVIDIA GeForce 1060 GPU, 7th Generation Intel Core i7 processor, and 32GB DDR4 memory. The PC is housed in a tiny 4-liter chassis and includes Aura Sync for stunning RGB light shows that can be synchronized with a variety of ROG peripherals, and with 10 different effects. GR8 II can be specified with blisteringly-fast M.2 PCIe SSDs and a 2.5-inch SSD/HDD storage for both increasing game boot-up speeds and hosting a large game library. Two VR-friendly HDMI ports enable simultaneous connection of both a VR headset and a gaming display.
ROG GR8 II has a specially-tuned cooling system with an optimized airflow design, copper heat pipes and dual fans to purge heat from the system. Cleverly-designed vents and dedicated chambers for the processor and graphics card ensure the right amount of airflow to each component to provide you with stable performance for non-stop gaming marathons. GR8 II also comes with renowned audio performance with ROG SupremeFX, Sonic Studio III, and Sonic Radar III. In addition, GameFirst IV and Intel Gigabit Ethernet provide gamers epic gaming experiences.

ROG GT51CH
ROG GT51CH is an extremely powerful gaming desktop PC featuring an overclocked 4.8GHz Intel Core i7-7700K processor, NVIDIA GeForce GTX 1080 2-way SLI graphics, and 64GB of fast DDR4 2800MHz memory to let gamers enjoy the latest games with blistering performance and beautiful, stutter-free 4K UHD visuals. Exclusive Aegis III three-way overclocking technology enables easy and safe CPU, GPU and memory overclocking for even better gaming performance and also provides the ability to monitor system stats in real-time. ROG GT51CH features dynamic ASUS Aura lighting effects for its central air intake and motherboard-mounted LEDs. Gamers can customize Aura with different lighting colors and effects to reflect the feel of the game that is currently being played, or to show their own unique style.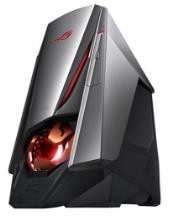 ROG Rapture GT-AC5300 
ROG Rapture GT-AC5300 is the first ROG router, designed specifically for gaming and featuring tri-band Wi Fi, eight-port gigabit-LAN, and its own powerful PC-grade, 1.8GHz 64bit quad-core CPU to enable incredibly fast and responsive network gaming. GT-AC5300 also includes two ultra-fast USB 3.0 ports.
The new router benefits from a number of innovative features to make gaming easier, and gameplay faster and smoother than ever. It has the Gaming Center for an instant overview of the gaming network, Game Boost to prioritize gaming traffic for the best networking speeds and Game Intrusion Prevention System (Game IPS) to offer integrated security based on Trend Micro™ technology to provide robust front-line protection for gaming networks.
ROG Strix Magnus
ROG Strix Magnus is an all-new gaming microphone with three studio-grade condenser capsules for enhanced clarity and sensitivity — and the very first mic from ROG. Designed for live-streamers and avid gamers, Strix Magnus is both compact and stylish, and is also the industry's first gaming microphone to offer both environmental-noise cancellation (ENC) and customizable Aura RGB lighting effects. The new gaming mic has an auxiliary port for recording audio from a musical instrument or smartphone, and comes with an external USB hub for connecting additional devices.
AVAILABILITY & PRICING
ASUS product availability varies by country and territory. Please contact your local ASUS representative for further information.
About ASUS
ASUS is one of Fortune magazine's World's Most Admired Companies, and is dedicated to creating products for today and tomorrow's smart life. Our comprehensive portfolio includes Zenbo, ZenFone, ZenBook and a range of IT devices and components, along with AR, VR and IoT. ASUS employs more than 17,000 people worldwide and over 5,500 world-class R&D talents. Driven by innovation and committed to quality, the company won 4,368 awards and earned approximately US$14 billion of revenue in 2015