Last updated on December 5, 2023 7:22 pm
Very recent we took a long hard look at the hunter orange-clad LaCie Rugged SSD 1TB and walked away very impressed with what LaCie had created. That model was a USB 3.1 gen 2 beast. One which it was as rugged as it was fast. As we made mention in that review the LaCie Rugged SSD was not the premier/flagship 'rugged' model, rather the LaCie Rugged SSD Pro took that honors. Thanks to the good people at LaCie's we can show you what this $399 (USD) 1TB model has to offer that the LaCie Rugged SSD series cannot.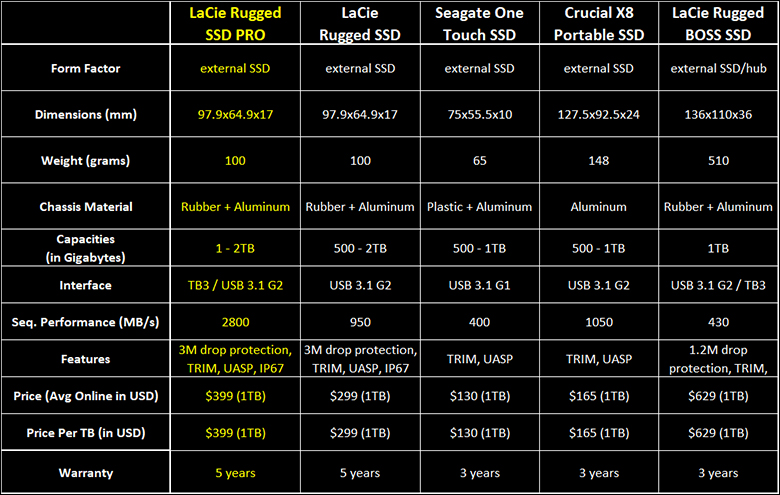 Without going too deep into things just yet, these differences vary from the subtle (better data protection) to the blatant (Thunderbolt 3 instead of USB interface) and are how LaCie was able to create a 'Pro' model which takes nothing away from the non-Pro variant. Instead is in and of itself a unique model worthy of its own special 'pro' moniker. This is rather refreshing as usually when companies create a pro and non-pro model variants… it is nothing more than a cash grab with only slight differences separating one from the other.
That is not the case with the LaCie Rugged SSD Pro. There are indeed a lot of similarities but the obvious time and attention to detail makes this a new and different external storage device. Different in a good way. We will go over the ins and outs of what has and has not changed, but with an asking price a hundred dollars more than the non-Pro model, the burning question everyone will have is simple: is this price difference justified? Is this model really that much better than the LaCie Rugged SSD? Considering how potent and robust the non-Pro model is that is indeed a rather high threshold to clear. By the end of this review you will not only have a firm idea on what each model has to offer, but which will be right for your personal set of circumstances, needs, requirements… and even wants. So, without further preamble let's take this beauty for a spin.