Last updated on September 23, 2023 10:02 am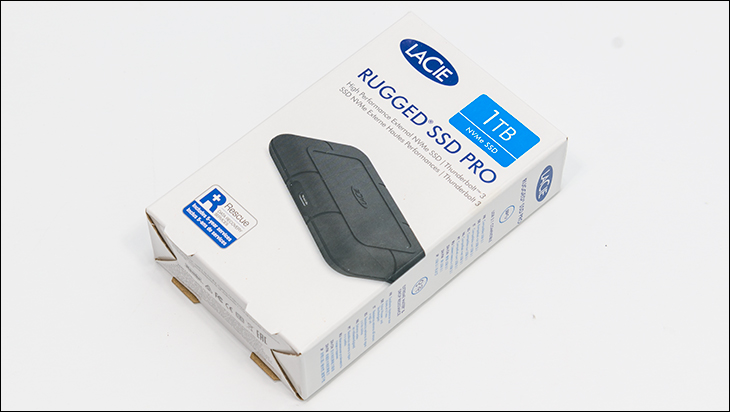 The shipping container the LaCie Rugged SSD Pro comes housed in is the exact same one that the non-Pro variant uses, with just two exceptions. The first difference is the word 'Pro' is liberally sprinkled throughout the literature, and the specifications are also different.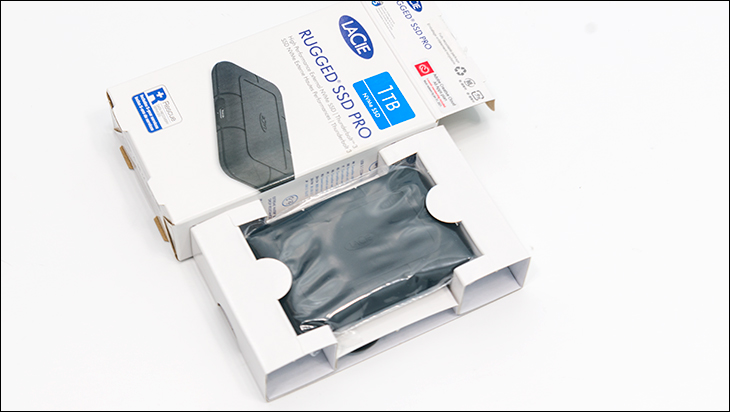 The internal protection is also the same and consists of a form fitting carboard inner-container that allows the LaCie Rugged SSD Pro to securely 'float' in the center free of from worry over blunt force trauma as well as fairly deep cuts in the shipping container. In both cases, pardon the pun, this is not a bad thing. The exterior shipping container's aesthetics are top notch, the included information makes making an informed decision a breeze, and the internal protection it offers is second to none. Put another way there was no need to fix what was not broken. The only issue is that if the LaCie Rugged SSD Pro and non-Pro are on store shelves next to each other, it is rather easy to pick up the wrong one by 'mistake'… and we are sure plenty of people will use precisely that excuse when they 'accidentally' purchase the Pro version instead of the less expensive LaCie Rugged SSD model.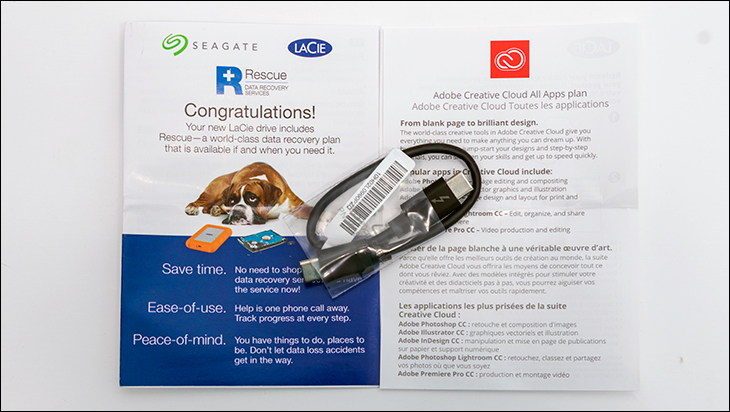 The accessories which come with the LaCie Rugged SSD Pro are also somewhat similar to that of the LaCie Rugged SSD series. As with the LaCie Rugged SSD, you get Seagate's legendary Data Rescue Plan which covers the full five-years of the warranty period. The only fly in the ointment is that it is good for only one free in-lab recovery (after that you have to buy a new plan on your own dime). Mix in a free one-month complimentary membership to Adobe Creative Cloud All Apps Plan (MSRP of $53) and the Rugged SSD Pro certainly comes with an excellent assortment of software accessories.
Also included is a nice instruction pamphlet as well as a single short Thunderbolt 3 to Thunderbolt 3 cable. Though quite honestly… it basically is a Type-C to Type-C cable with a fancy label (though one could argue the opposite and say Type-C is just a fancy labeled TB3 cable). One that is very, some would say 'suspiciously', reminiscent of the cable that comes with the standard LaCie Rugged SSD models. This is because TB3 and USB 3.1 gen 2 Type-C ports are the same… it is just how the data is transferred across the various pins that differs. This is also why LaCie does not include a secondary USB Type-C cable – as it is not needed.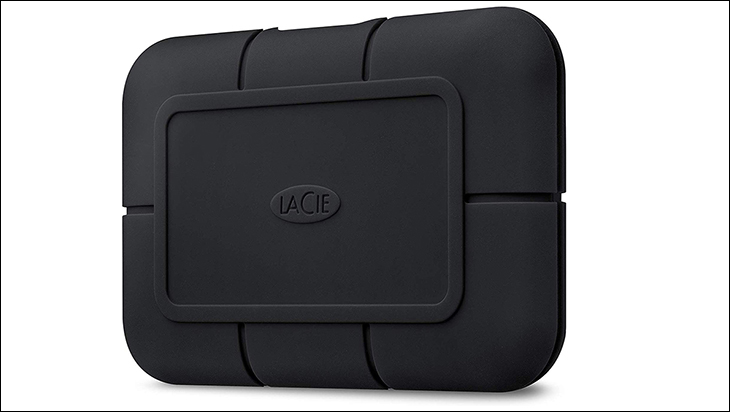 This new model may indeed be sold as a Thunderbolt 3 based device… but it also works over USB 3.1 gen 2 buses. This is because the LaCie Rugged SSD Pro makes use of Intel's 'Titan Ridge' 7440 TB3 controller. As part of the change from the 6000-series to 7000-series Thunderbolt 3 controller lineup Intel added in a 'Alternate' or 'Fallback' mode to the controller. One where the controller stops thinking in Thunderbolt 3 language and instead switches over to USB 3.1 gen 2. Of course you will not get any more speed via USB 3.1 gen 2 with this model vs the LaCie Rugged SSD version – as the bus is the limiting factor, but it does give much needed flexibility that LaCie Rugged SSD Pro would have lacked if LaCie had opted for the earlier 'Alpine Ridge' 6000-series controllers.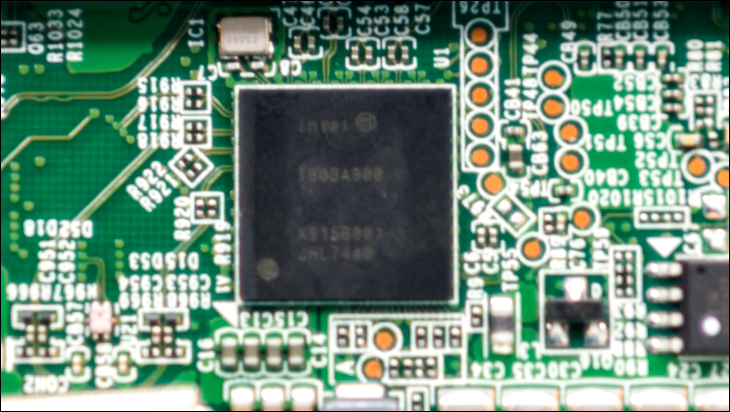 With that said, while it is technically 'sideward' compatible with USB 3.1 controllers in 'Alternate' or 'Fallback' Mode not all USB controllers will play nice with Titan Ridge. For maximum compatibility you will want to use a Type-C USB 3.1 gen 2 port on your system using the latest USB 3.1 gen 2 controller your system has… and make sure it is running the latest firmware. Otherwise you may get a Windows error message telling you something went wrong and the device will not work. So older USB enabled systems are basically a non-starter. This still is pretty darn good, and impressive considering the LaCie Rugged SSD Pro is only 10 cents per GB more expensive than the LaCie Rugged SSD 1TB model.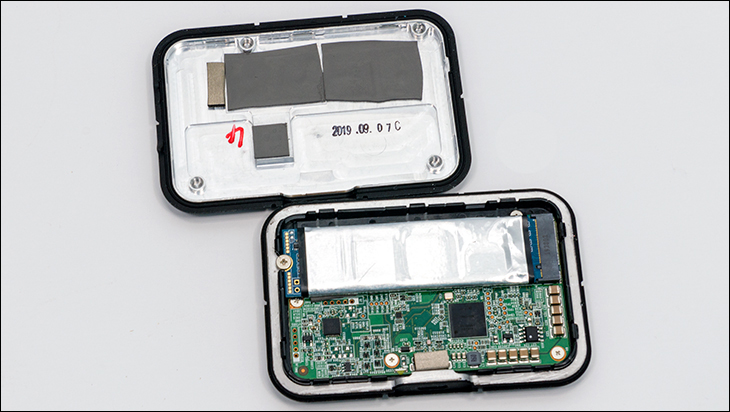 As Intel's design team made the assumption these controllers would be used as a peripheral controller and not the main processor in a device (i.e. the Titans are severe overkill for a 'mere' external storage solution) LaCie has included a secondary Cypress CY7C652 controller this USB to asynchronous serial data (UART) controller provides the LaCie Rugged SSD Pro serial communication abilities. This is required as the Titan Ridge controller really needs a secondary controller for firmware upgrading (and multiplexing) as they do not like updating themselves. It does not however provide any USB 3.0 or USB 2.0 connectivity options. It simply is there so that you can update the firmware as LaCie releases it.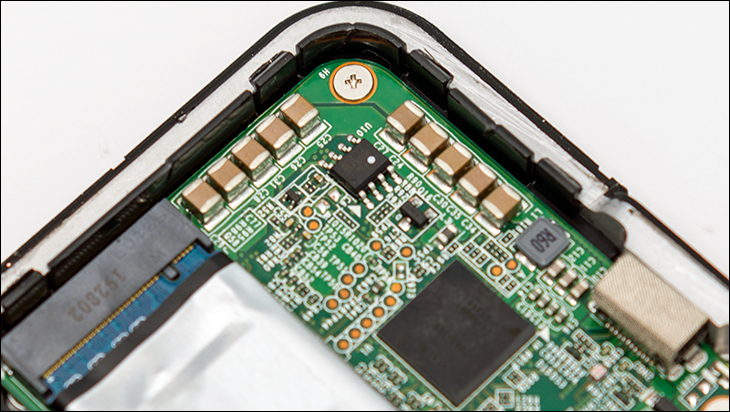 If you pay careful attention to the small 'L' shaped PCB the FireCuda 1TB M.2 NVMe SSD is connected to you will notice one more significant change from the LaCie Rugged SSD to LaCie Rugged SSD Pro. This change is rows of super-capacitors. Yes, this portable storage solution comes equipped with a physical level data protection rarely seen these days. In a nutshell, what these caps offer is colloquially called 'Flush In Flight' (FiF) protection. What this means is that it has enough onboard power to flush any 'in flight' data from the onboard RAM buffer before doing a graceful shutdown. In other words, if you remove this device from a system before all the data is securely transferred from the onboard RAM cache to the NAND it will complete these write requests before it gracefully powers itself down. The LaCie Rugged SSD Pro really is one of the very, very few external storage devices which goes to such lengths to protect your data.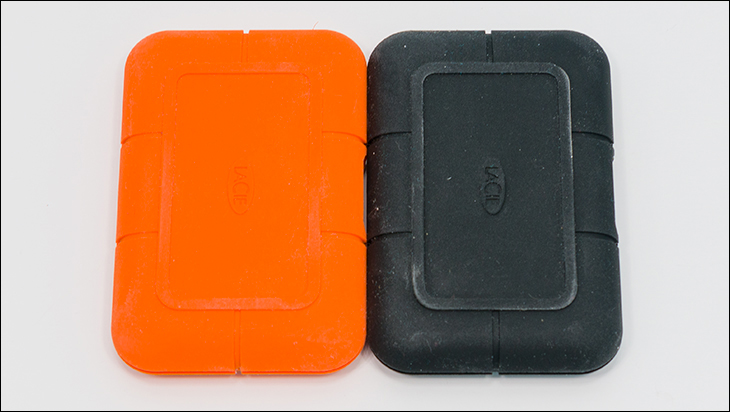 Not changed from the LaCie Rugged SSD series is the aluminum chassis that surrounds the PCB and M.2 card. Once again it is machined from a solid chunk of aluminum. This in turn allowed LaCie's design team the luxury of building in contact points for the various hot running components… and turning the entire LaCie Rugged SSD Pro chassis into one large heat spreader. Albeit one covered in thick rubber.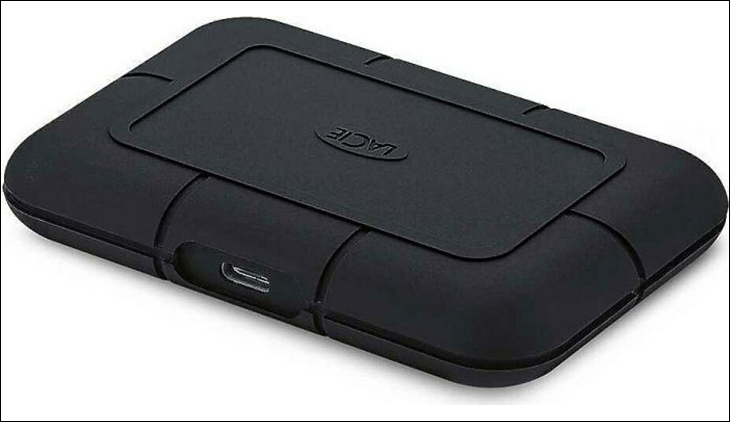 This rubber and thick metal combination is also why the LaCie Rugged SSD Pro also boasts an IP67 certification, as well as 3-meter drop protection… and can even shrug off being run over by a car. Of course, the latter two scenarios will beat the ever-living hell out of the rubber, but your data will be safe and sound. The only thing we wished LaCie had upgraded was including a silicon cap for the Type-C / TB3 recessed port. This would have allowed the LaCie Rugged SSD Pro to boast an even higher IP certification.
On the positive side, while the thickness and durability of the rubber exterior coating has not changed, LaCie has done away with the hunter orange color scheme that the LaCie Rugged SSD's series 'boasts'. In its stead is a much more elegant 'basic black' color. So while still may be a lint and dust magnet, it will blend into a wider array of environments… and nicely negates one of the few issues we had with the LaCie Rugged SSD series.
Overall LaCie really has taken an excellent blueprint (LaCie Rugged SSD series) and made numerous improvements to it. Improvements that net real world benefits and easily justify the use of a 'Pro' moniker.