out of stock
as of September 29, 2023 8:12 am
Last updated on September 29, 2023 8:12 am
In Seagate's ongoing Sisyphean struggle to meet the market's insatiable demand for storage it should come as no surprise that last year's 'Exos X18' and its whopping 18TB capacity was going to be surpassed via an even bigger model rather quickly. Every 12 to 18 months (in this case about 16) Seagate, just like Western Digital, once again try and push the boundaries of how much data can fit inside a standard 3.5-inch form-factor HDD. For this generation the "known limit" has been pushed back to a whopping 20 Terabytes. Twenty Terabytes. In a single 3.5-inch form-factor chassis. Just let that number sink in for a moment… as that is a number so large it demands respect all by itself. Then realize that it will barely put a dent in the additional 20 Zettabytes of expected data to be created in 2022. Yes, when dealing with a projected need of nearly 100 Zettabytes of 'stuff' out there in need of storage for 2022 and an extra 20 to 40 ZB forecasted for the following years… 20TB hard drives don't sound so much like a luxury but a necessity. This need is why many enterprise purchasing agents will not even blink at the asking price of $670 USD… even if that is a full $175 more than the launch day asking price of the Exos X18.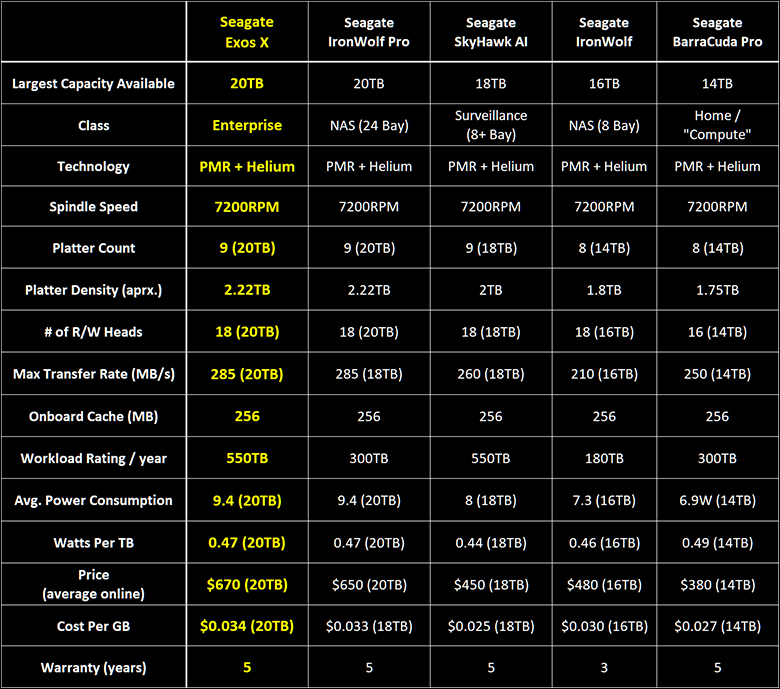 Yes, that certainly sounds well outside of reasonable for many but when compared against the competition and their WD Gold 20TB ($685) and UltraStar HC560 20TB ($700) it actually is a bargain… or at least a bargain when purchased at the truck load level. Make no mistake, lower asking price or not the Exos X20 is not a bargain bin drive. It is not filled with Chinensium. Instead, it is meant to go toe to toe with the 'other guys' more expensive offerings in both performance (a whopping 285MB/s vs. 269MB/s), workload rating (550TB vs 550TB), warranty period (5 vs 5 years), and even MTBF (2.5M vs 2.5M). It just 'looses' in the amount of onboard ram (still 256MB and not 512MB like the competition) and/or NAND (which it has none as it needs none). It does all that and yet costs less.
So no. The reason Seagate can come in at lower asking price than the competition is not because it is 'slow(er)'. It is because Seagate has not opted for exotic Heat Assisted Magnetic Recording technology (aka HAMR, or what WD calls Energy Assisted Magnetic Recording / 'EAMR'). Instead, this next gen Exos is once again 'only' Conventional Magnetic Recording based… and that certainly will shock some people. After all, HAMR was 'supposed to' be hitting with the 20TB mark… just as it was 'supposed' to land last generation at the 18TB mark. Yet, once again Seagate feels that the time is not right and have pushed it off another generation.
Yes, that is going to be frustrating for many. We personally have had numerous MC Hammer bi-line ready for ages, and yet all those memes are going to go to waste for another generation. Jokes aside, the 'lack' of HAMR is going to be an interesting, and eyebrow raising, revelation for many. One that may impact trust in buyers when Seagate does drop the HAMR (see… these jokes write themselves). That however is for the future, and when you are behind the eight ball on meeting your data centers capacity requirements, the future is not what matters. What matters is what is available today. So to answer the obvious questions (e.g. what has changed, why is it still CMR, etc.) we will be putting a pair of X20's through their paces to see precisely what they have to offer, and if Enterprise buyers may want to skip a gen and go for the 'small' X18 instead.