out of stock
as of December 1, 2023 2:22 pm
Last updated on December 1, 2023 2:22 pm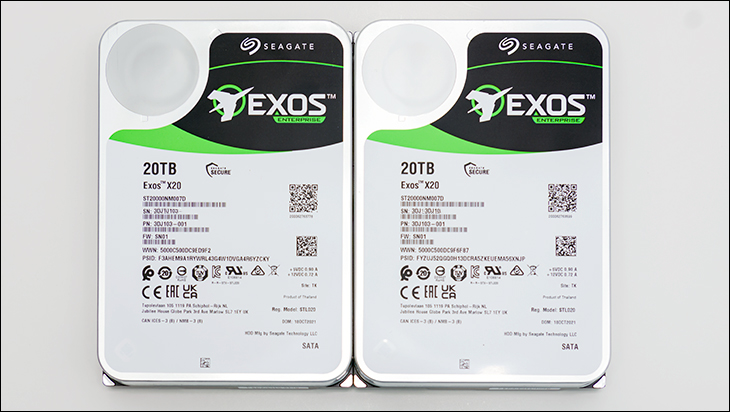 We have said it in the past, and we will say it again. Seagate are conservative by nature. They take their position as the founder of the modern storage device seriously and they take their Enterprise customer's needs even more seriously. They understand these kind of models are being sold to an ultra-conservative lot who look at major changes with a very jaundiced eye. So much so that anything that even remotely hints at risking a reduced up-time does not get defenestrated out the nearest window… it gets nuked from orbit. As that is the only way to be sure.
Yes, Enterprise storage buyers do not like paying for the privilege of being guinea pigs. We like consistency. We like letting others prove that newer technology is better technology. Then when it has a proven track record maybe it can be used in our nearline storage servers and then when it proves to not be a drama queen it gets to live in online storage systems.
This combination of nearline and online storage requirements with proven reliability basically define the Exos series to a 't'. They are intended to be either hammered with deep queue depths in main storage arrays or live their lives as nearline storage with higher sequential but lower queue depth demands. Above all else, they are expected to Just work. No fuss. No muss. No drama. Just slam one into a degraded array and let them do their job. That is a lot to ask from one model. Yet, this is what the Exos series excels at.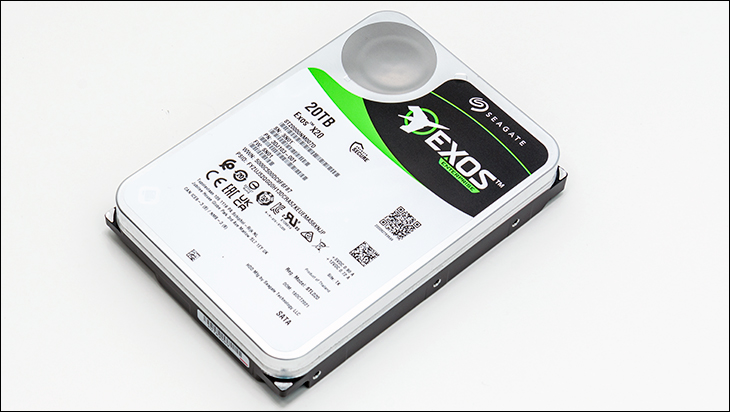 We mention all this as once again the differences between the X20 and the X18, or even X20 vs X16, are more in line with refinements on a theme rather than paradigm shifts. Much like the X18, the X20 offers the same excellent 550TB per year workload rating. Same MTBF ratting of 2.5M hours. The same controller. The same 256MB worth onboard cache for the MTC to work its magic (albeit it is now Samsung DDR3-1600 branded instead of Micron DDR3-1600). Same Helium filled chassis. Same underlying PMR+ technology. Same vibration sensor hardware.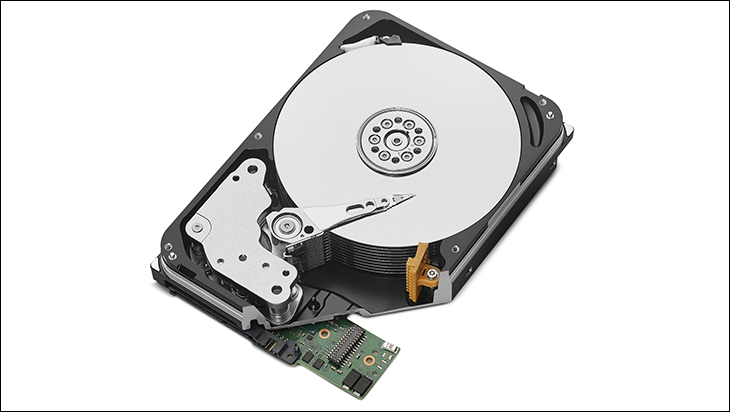 About the only things that have changed from one generation to the next is the size of the PCB (now even smaller and yet fancier looking) and the density of the platters. With the X16 generation Seagate used (up to) nine platters with a density of a bit over 1.8TB per platter. With the X18 that density was boosted to 2TB per platter. For the X20 Seagate has pushed it to 2.22TB… or an amazing 1.11TB per side or an aerial density of 1.3TB per square inch.
This density is made possible without the use of exotic write technology because of Seagate's Two-Dimensional Magnetic Recording (TDMR) technology… and it is really starting to pay dividends. It is the star of the show and will continue to do so for many a generation in the future. We say this as the bit size is getting small when dealing with such high density without going down the Shingle Magnetic Recording (SMR) route.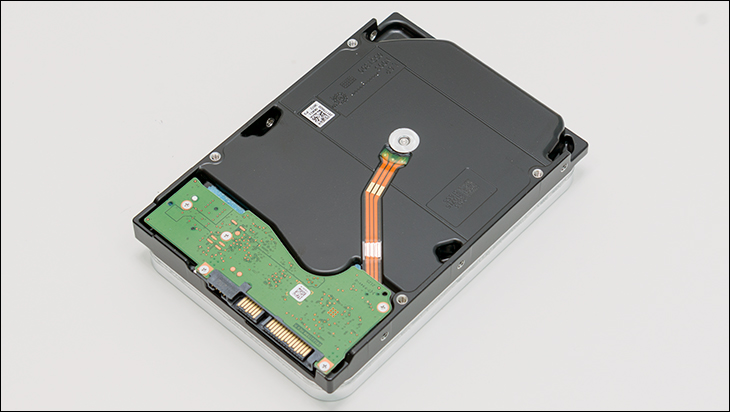 As we have gone over in the past, TDMR uses a dual r/w head configuration with a 'detector' signal processor in between the main drive controller and the read/write heads. the two heads are slightly offset with one read head over the central track being read and partially over the track 'above' it, and the second read head offset so it is mainly on the central track and the one 'below' it. This allows for a more sensitive read on a given bit, allows for eliminating the interference from the bits surrounding the actual bit being read, and generally improves the signal to noise ratio (aka SNR which the main culprit of false errors). It also gives the drive controller two chances of reading the bit properly for a single pass.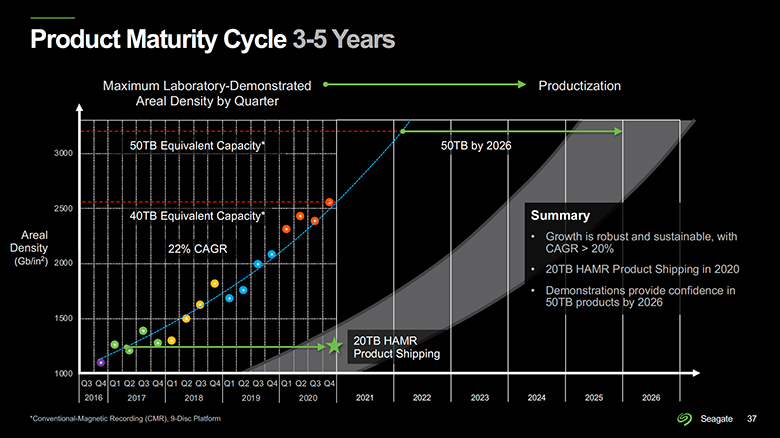 This tech, in conjunction with HAMR and BPM (Bit Patterned Media… aka glass platters with iron platinum alloy film 'recording' media… and yes that future tech does have shades of IBM Death… err "DeskStar" vibe to it) is how Seagate plans on hitting 50TB by 2026 and 1000TB by 2030. Yes, the next few years are going to be one hell of a ride for storage enthusiasts… assuming that Seagate eventually gets out the HAMR and starts nailing those deadlines.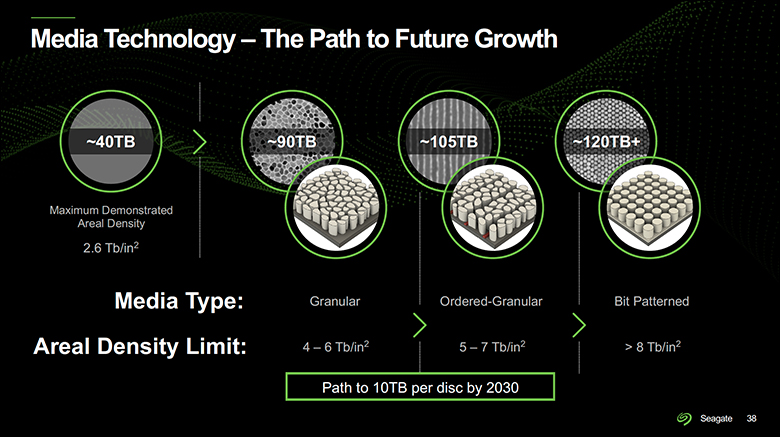 In the meantime, the X20 uses 'only' PMR/CMR (parallel magnetic recording / conventional magnetic recording)… yet, somehow without the need to first heat the palters to 450 Celsius Seagate can offer both massive capacity and massive performance. How fast is the X20? It starts out at about 285MB/s and stays above 250 mb/s to basically the 6TB mark (read is slight faster than write). Hits at or above 200MB/s out past the 13.75TB mark. Still clocks in at 150MB/s or better to the 18TB mark… and only drops down to about ~125MB/s when entirely filled. Small file performance has also been boosted and in testing you can also expect to see a small but noticeable performance boost over the already peppy X18. Put another way, overall it is about 5 percent or so faster than its predecessor the X18 and about the same when compared to Western Digital's HAMR/EAMR 20TB offerings.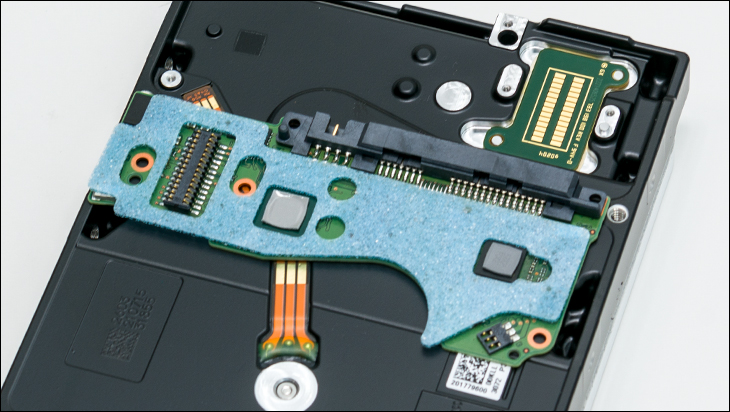 Now with all that said, not everything is sunshine and lollipops. The major downside to this further enhanced capacity is the ECC ratings and yearly write ratings have not scaled along with the increased density. This is an ongoing trend with the entire storage industry and one that is not impressive. Yes, TDMR allows a 2.22TB per platter drive to offer a maximum non-recoverable read error rating of 1 per 10E15 bits (aka .125 Petabyte) and 550TB writes per year… but that is the exact same rating as the X18 before it and the X16 before it… and the X14 before it… and… etc. etc. Bluntly stated, 125TB's is nothing when dealing with 20TB drives as that is only a bit over six full drive reads before an error happens.
Thankfully, 1 bit is a nothing burger for RAID to handle but this ongoing degradation of reliability specifications is not a trend anyone in the Enterprise market wants to see. Furthermore, it is puzzling. These newer drives are at least as reliable as the older models and yet Seagate is not willing to push the stats up to where they should be. Instead, just like clockwork we see a 11.11 percent reduction in reliability specifications with every new generation. Seagate, just like Western Digital who are doing the exact same thing, need to refresh their warranty so that their reliability specifications match reality. Yes, this will cost them more money but at some point they are going to have to do precisely that. No Enterprise admin in their right mind will allow any HDD with nearly a 1-bit error per full drive read to get anywhere close to their precious storage arrays. Yet, that is what we are going to be looking at in less than a decade if the industry does not start pushing the HDD manufacturers to actually test and certify their drives properly like they used to.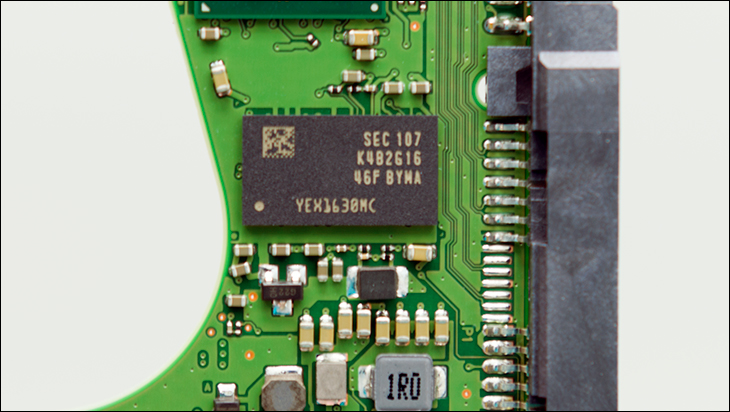 The other 'downside' to all EXOS models is that their firmware has been heavily optimized for RAID scenarios, not home environments. The most obvious is the reduced time it will spend on ECC error recovery before it stops and asks the 'raid controller' to repair a bad bit/block/etc. Western Digital calls this feature TLER (Time Limited Error Recovery), Seagate calls it ERC (Error Recovery Control). Basically anything business, enterprise, or intended to be used in a RAID environment will have this time limited ECC set to a shorter period of time than on a home user model. Typically it is in the 7 or 8 seconds(ish as it varies from model to model and manufacture to manufacturer) range. Once upon a time you could manually configure the TLER/ERC. These days… not so much as changing the firmware is not for the faint of heart and if something goes wrong with their tool they are on the hook for the replacement costs. We are not going to show you how to mod a drives firmware to do so. We typically do not bother these days. Your Mileage May Vary.
So what happens when this timer goes ping! and stops the ECC recovery process? Well since you probably do not have a RAID controller in your home PC system… the OS pukes out and marks whatever file that bad sector was part of as corrupted. This sounds scary but with modern ECC and modern controllers our personal opinion is that if it takes more than a couple seconds to recover it… it probably is not going to recover it no matter how long the ECC tries. This is why RAID controllers rarely bother with letting the drive's controller and drive level ECC deal with it. Instead, they almost invariably move to the RAID parity stripe and its ECC to recover it when asked to do such a thing. Since you will not have that parity stripe(s) to fall back on, keep a second copy of anything important on the drive somewhere else. Preferably in a grandfather/father/son backup routine and another copy on your NAS… just as you should be doing already with any important data. After all, if a file is important enough to make you see red if it becomes corrupted it is important enough to be backed up in multiple locations. That is the optimal answer to concerns over ERC/TLER… and quite honestly is going to be a non-issue for the vast majority of people and drives used in a home environment.
In either case, when you mix in some low-level tweaks to the MTC formula you have a good idea on what Seagate has done in order to create the X20. To put it another way, not much has changed, but what has changed is mostly for the better… and certainly offers fewer question marks than the 'other guys' 20TB offerings.