$209.95
in stock
41 new from $209.95
1 used from $232.72
as of September 29, 2023 10:23 am
out of stock
as of September 29, 2023 10:23 am
$205.29
$227.99
in stock
47 new from $176.99
as of September 29, 2023 10:23 am
Last updated on September 29, 2023 10:23 am
It is a safe bet that nearly every storage enthusiast has fond memories of their 'first' and how it changed the way they look at things… their first high performance SSD that is. It is also a safe bet that a lot of those fond memories feature Crucial and their MX series. Even today, with the MX500 being well over 3 years old a veritable ton of MX500's are still being sold. The secret to the 'elder statesman' MX500's success is simple: not every system needs its storage performance to measured in GB/s; rather for a lot of builds the price per Gigabyte of capacity matters more… and that is where the MX500 series is hard to beat. With that said, and even including the recent'ish 1TB silent upgrade, it still is a rather dated model in desperate need of an overhaul (or retirement). So, it should come as no surprise that Crucial has indeed refreshed the MX line with a new entry. A big entry. One that should highly interest those still buying SATA SSDs. We are of course referring to the recently released MX500 4TB capacity option.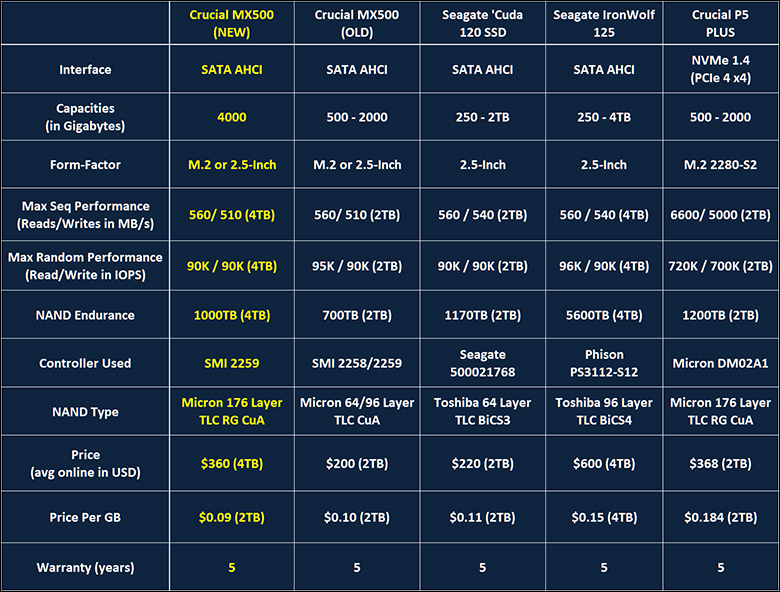 We must admit that we are surprised that the MX500 4TB is being called a MX500… and not a MX600. Typically, when a 'series' gets a new controller with (slightly) better performance specifications… it gets a new model name. That however did not happen when Crucial refreshed the 1TB (fairly) recently so it is not that surprising. With that said when a Solid State Drive not only gets a new controller, new amount of RAM, but also new NAND… well… call us crazy but we expect it to get a new model.
That in a nutshell is what the MX6… err… the MX500 4TB brings to the table. A new(er) Silicon Motion SM2259 controller (instead of SM2258 used in the OG MX500s). A 'new' controller that has been paired with only an eighth of the amount of onboard RAM per TB of NAND capacity of the original MX500's (512MB for 4TB… or the same as what the original 500GB MX500 rocks). Obviously new firmware ('44 vs '33 vs '22). Even different NAND… as Micron has ramped up production high enough that even their SATA drives are now getting Micron 'B47' Replacement Gate TLC NAND – NAND that has been dominating the NVMe marketplace since its debut.
That is a lot of changes. Enough changes that the old "The ship of Theseus" thought experiment does spring to mind. After all, if you change out Every. Single. Component. Is the end result the same drive or is it an entirely new 'ship'? For experienced storage enthusiasts who have been burned by 'silent upgrades' this also begs the question on if it is indeed an entirely new SSD with entirely new performance variables… is it an improvement or a down-grade? That is a lot to unpack, but let's dig in and see what makes the new MX500 series tick.