$440.45
$479.99
in stock
22 new from $440.45
16 used from $234.50
as of November 29, 2023 5:42 pm
Last updated on November 29, 2023 5:42 pm
Let's face facts. Every motherboard in existence has its own set of quirks. Life is a series of trade-offs and so too is building a motherboard for the mainstream market. So yes. We fully expect to run into a quirk or twelve when pushing a motherboard hard. That is why we were pleasantly surprised by how calm, consistent, and stable the MSI MPG Z790 Carbon WiFi really was… or at least it was once we got over the fact that this board acts much like a 'stealth' motherboard. Basically, when you first finish building your shiny new system and plug the PSU into the power mains… Do. Not. Panic. There will be basically zero indications that it actually is getting power.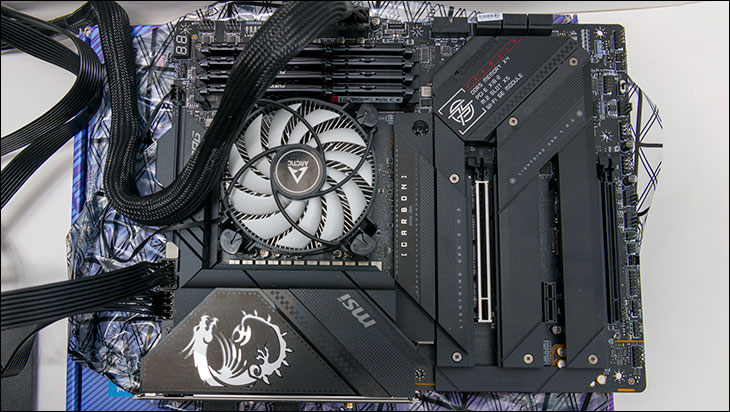 Yes. It will look like a 'dead' board. One that got killed in transit. That is what we thought and assumed it to be the case. If you are experienced enough you too will think it was a DOA motherboard. As such, when you finish your build and do not see any LEDs glow to life. Don't worry about it. No need to go into troubleshooter mode… and check the cabling, replace the PSU, reset the CPU, swap out the ram, swap out the cooler (just in case wonky heatsink pressure invited Mister Murphy to your build party)… sacrifice a virgin under a blood moon. Do darn near everything we could think of. It was only after doing all the standard troubleshooting that we went 'meh, might as well try hitting the on button'. Just. To. Have. It. Fire. Up…. Probably after laughing at us and your antics. Yes. We assumed and were an ass with umption because of it. Sigh.
This is the first quirk. A quirk that will impact experienced builders more than novices. The next quirk is that the BIOS really does not have much in the way of 'auto' overclocking opitons. Basically, it boils down to allowing you to add a 100Mhz to the CPU cores. Put another way, the MSI MPG Z790 Carbon WiFi will allow you to turn a 12th Generation Core i9-12900K into a Core i9-12900KS. By modern standards that is quirky, arguably even lacklustre compared to what ASUS offers on their motherboards. This is an area MSI need to work on and offer more options than just a +1 to speed modifier.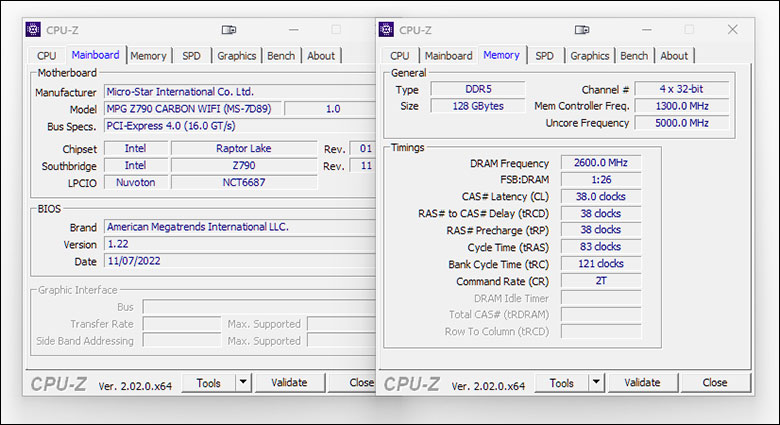 Thankfully… that is the entirety of the negative quirks that the MSI MPG Z790 Carbon WiFi offers. On the positive side, it will work right out of the box (or at least did with our 13600K and 13900K) with four 32GB stick of ram. Yes. This bad boy laughs at 128GB configurations and will power up and pass all memory testing without zero input needed from your end. The only quirk is it will power up 128GB of DDR5 RAM at DDR5-4000 frequencies. Considering we were using 4 sticks of Hynix based DDR5-5600 RAM that is a bit of a quirk. Thankfully, XMP also works. Works with basically no major downsides. So one click (on activating XMP profile 3) in the BIOS got us DDR5-4800… and another got us (on activating XMP profile 2) got us DDR5-5200. With the i9 we actually got higher than that in 2DPC 2R configurations… but we are conservative and used the lowest common denominator between our two CPUs. This is not something we can say about every motherboard, and in fact few and far between Intel Z690 and Z790 boards are as well mannered when dealing with 128GB configurations as the MPG Z790 Carbon.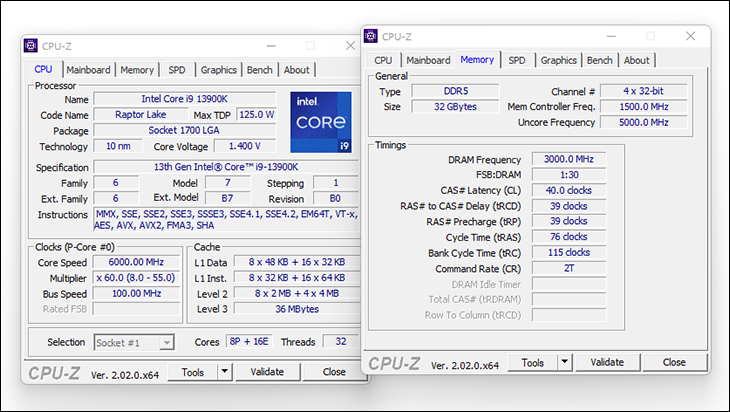 On the CPU overclocking front, there is not much to report. It works. It works well. It will come down to your CPU more than anything. With that said, we can report that the new VRM and heatsinks are as beastly as they are made out to be in MSI's product literature. So much so that unless you are pushing insane amounts of voltage to an i9 the two VRM heatsinks will barely get warm. This lack of quirks was actually not expected. Hoped for, as the last gen Carbon was a rather good board, but not expected. Put bluntly MSI have massively improved their Carbon series over the already good standards used in the last generation. As such with the exception of overclocking record seekers we legitamtly doubt many will be disappointed with what this board has to offer. Just expect it to not offer much in the way of automation, and instead expect it to expect you to do all the "hard" work. Do that and it will be a downright fun experience.