$440.45
$479.99
in stock
22 new from $440.45
16 used from $234.50
as of November 29, 2023 5:42 pm
Last updated on November 29, 2023 5:42 pm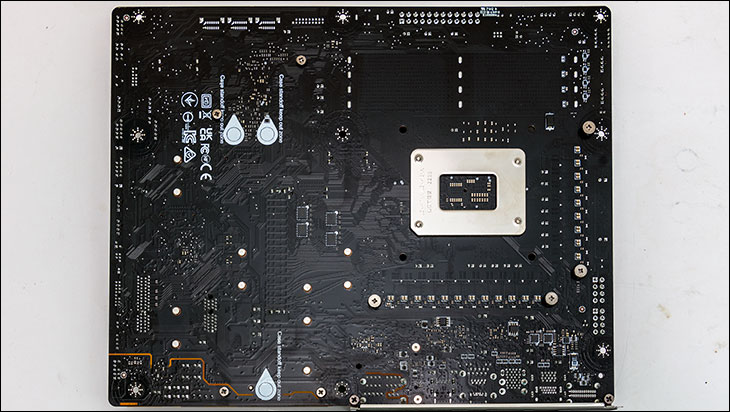 Given the absolutely bonkers (for a mid-range motherboard's) VRM the back of the board is actually relatively clean and clutter free, with very few components on the back. This was not fully unexpected as the last generation board was equally well laid out and designed. Also like the last generation, MSI has taken the time, effort, and expense to silk-screen the 'no go zones' around each standoff's cutout in the board. Many a novice have learned the hard way to gently lay a board in place lest they accidentally cut a tracing / pathway. With these nicely sized and extremely easy to see warnings such worries should be minimized for all but the most ham fisted of system builders (and / or Mr. Murphy party goers). We just wish MSI would include a backplate so that such silkscreened no-go zones was not needed in the first place.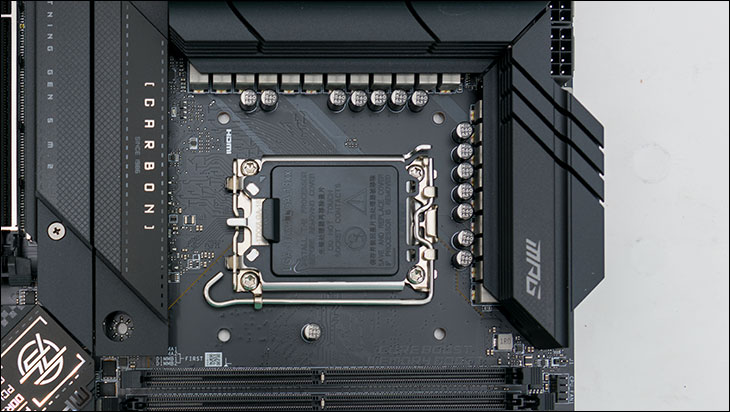 Flipping the board back over and taking a closer look at the star of the show (the socket area) a few things do pop out. First the bad. Much like its Z690 predecessor the next generation MPG Z790 Carbon has only Intel LGA 1700 mounting holes cut into the board. As such, anyone with an older Generation 11 cooling solution will have to either find/buy/source the LGA 1700 mounting hardware… or purchase a new cooling solution. At this point in Intel's LGA 1700 lifecycle that may rub a few people the wrong way… as next generation Intel CPUs will be (once again) moving to an entirely new (and bigger) socket. Making any new cooling solution purchased now a "one 'n' done" proposition (unless they can source out new hardware for their existing cooler in 3-5+ years' time).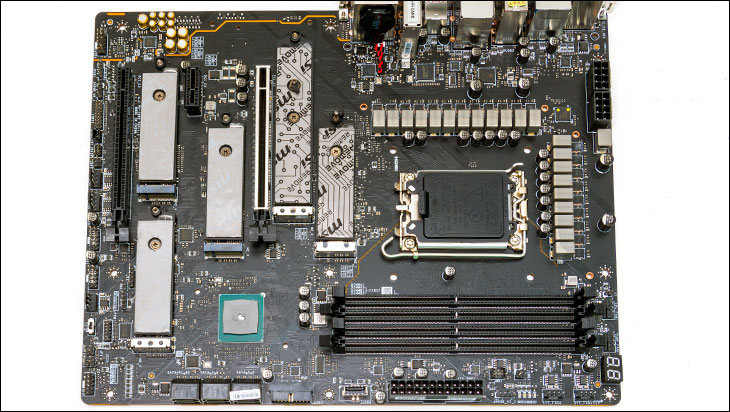 By the same token, we do understand why MSI opted to not include both 1200 and 1700 mounting holes. It not only takes up more room (i.e. less room to spread out the tracings and pathways to/from the CPU) but also weakens the board. Compromises such as dual mounting holes are by their very nature just that. A compromise. As such this should not be a deal-breaker for many (but is something that ASUS STRIX Z790-E does offer if it interests you). Also of note, while there are Japanese capacitors encroaching in the socket area they are only on three sides (versus all 4 sides for the Strix -E), all respect the z-height restrictions in this area, and by socket 1700 standards things are well above average in this regards.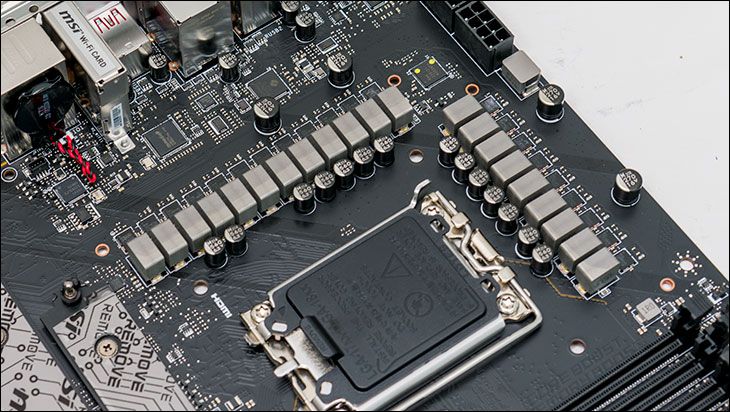 Like all Z790 (and Z690 for that matter) the socket itself is capable of handling all 12th generation and 13th generation Core-I processors. With that said, just because you 'can' does not mean you 'should'. One need pay careful attention to the VRM subsystem lest they hear 'popcorn' sounds coming from it when they try and use an i9 in their B660 or H670-series hooptie motherboard. This really is not something anyone has to be overly concerned with when it comes the Z690 and Z790 motherboards. The last generation Z690 Carbon came with a rather chonky power delivery subsystem using 18(+1+1), 75 Amp Renesas RAA220075 on an all-digital 20-phase Renesas RAA229131 PWM IC. It was big, it was rather beefy, and it was more than up to the task of handling last gen i9s at moderately high overclocks. It however did get a bit poo-poo'ed in certain circles. Circles with unrealistic expectations from mid-range motherboards… and no memory for how things were back in the HEDT days (e.g. ASUS 'Tuf' with a VRM that was maybe a third as capable as the MSI Z690 Carbon's VRM).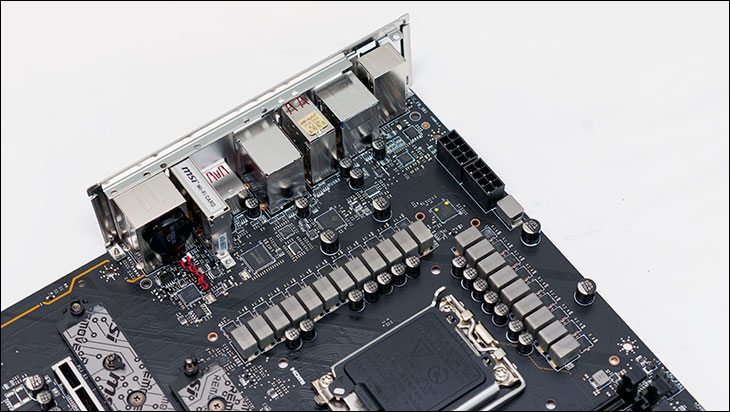 In either case… MSI's design team took it personally. Therefore, this generation not only increases it from 18 phases to 19, the 75 Amp Renesas have been swapped out for 105Amp Renesas RAA2201054'ers. AKA a similar configuration to what MSI used on their Z690 MEG ACE motherboard. Put bluntly, we ran many an X299 system pushing overclocked (~450 watts) CPUs on motherboards that had poorer VRM than this board has. Needless to say, it is noticeably better than the Asus STRIX Z790-E and its relatively wimpy 18-phase, 90Amp configuration.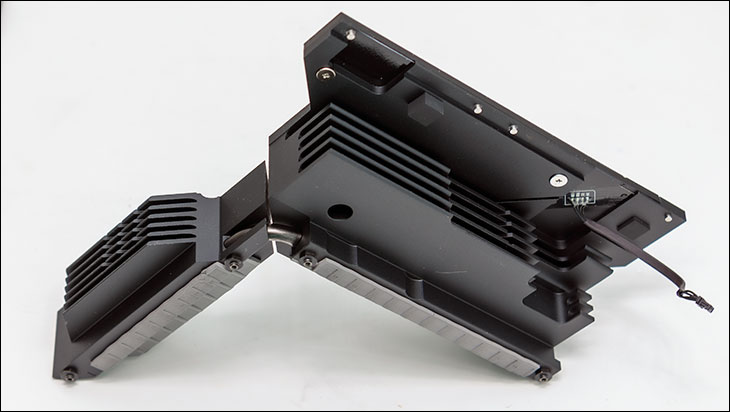 To further keep things cool, calm and collected MSI has further increased / enhanced the VRM heatsinks (but kept the four already good 7W/mK thermal pads). As with the past gen they are connected to each other via a heat pipe, but the mass of them has been increased for this generation. To be precise the VRM heatsink tips the scales in at 476.25grams (or 1.05 pounds). Increased mass + increased size means lower temperatures inside cases with even a semblance of decent air flow.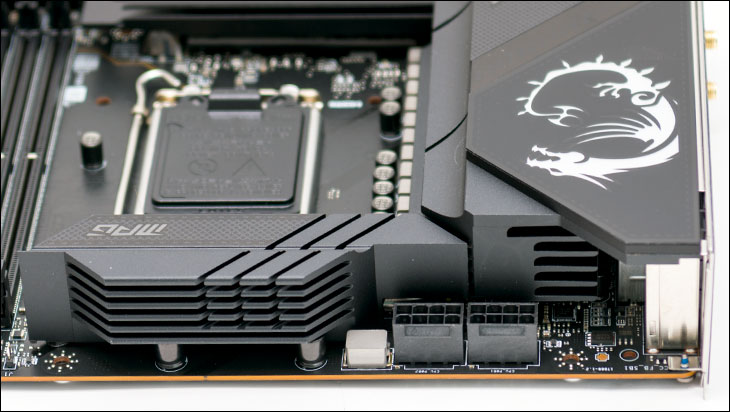 Moving on. As you can see MSI has once again made the wise decision to use dual 8-pin (4+4) headers for power delivery. We have zero issues with that, as in a pinch you can run it with only one… while you get either a better PSU or a second 4+4 'CPU' cable for your existing PSU. Either way, make sure your PSU offers dual 8-pin 'CPU' connectivity (as some older models only include 1). We just wish the Carbon series got the ACE treatment and moved this closer to the end of the motherboard – as that makes working with large AIO's in mid-size cases so much easier.
We do wish that the GODLIKE's 90 degree 24-pin power connector would trickle down to mere mortal motherboards… but considering their ACE still does not include that nifty (cable clutter reducing) feature, it should come as no surprise that the MPG Carbon doesn't get the royal treatment either. It's not a massive deal, as ASUS STRIX line-up does not include it either, it just is a feature that should have become the 'gold standard' generations ago – and thus is a pet peeve of ours.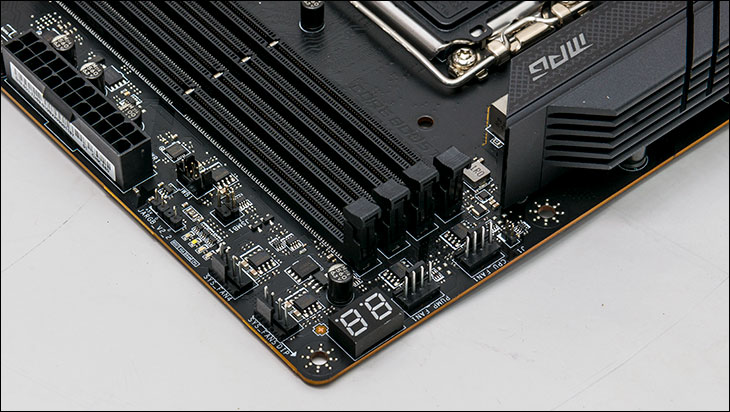 Also fully into the pet-peeve end of the spectrum, MSI has once again not included onboard Power or Reset 'button' on the board. Such Quality-of-Life features really need to become standard on mainstream boards. Yes, most will never use it. But those that do will be annoyed by this missing feature. A feature ASUS has been including on the STRIX boards for many a year now. On the positive side, at least MSI does include a 2-digit "EZ Debig LED"… aka the troubleshooting tool of choice for quickly narrowing down a gremlin.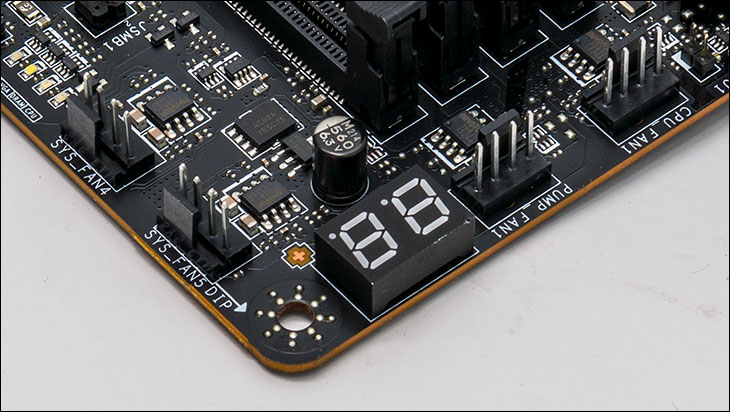 Also in the "annoyances" category, MSI has slightly reduced the number of onboard 4-pin fan headers. Specifically, they have removed the 4-pin fan header by the rear I/O port that typically feeds power to your case's rear fan. Yes. There are still seven 4-pin fan headers located on this board (1 CPU + 1 water pump near the socket, 2 near the DIMMS, and 3 at the bottom). However, having to route another cable from the back of the case to the front of the motherboard is an almost unnecessary annoyance. We will go over why we understand why MSI did what they did, but it will add an extra minute or two to the final build's cable tidying time.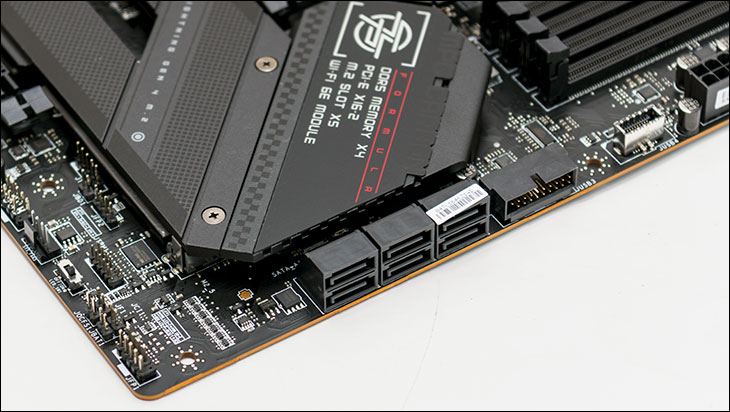 Falling firmly into the sub-optimal category, MSI has once included only a single USB 5Gbps front header (aka USB 3.0, aka USB 3.2 Gen 1). Yes it is has been 90 degree mounted and this is an upgrade over the last generation which did not have it "laid on its side"… but many a case come with four USB 5Gbps headers. With the Carbon you will need to either run two in USB 2.0 mode or stick a cheap USB card into the bottom PCIe slot to get four. Both are suboptimal solutions given the fact that ASUS and their STRIX -E board figured out how to tuck a second header underneath their PCH heatsink.
Moving on. The four DIMMS themselves have not changed much and rather this generation simply allows for even higher overclocking. In a very, very nice move (that is sure to be appreciated by system builders around the world) MSI does not just include the frequencies the Carbon supports… it breaks them down by configuration. In 1 DIMM per channel populated with single rank DDR5 ("1DPC 1R") ram you can push all the way past 6666Mhz (Z690 Carbon's limit) to DDR5-7600. With two sticks of dual rank installed ("1DPC 2R") it goes to DDR5-6666 (versus last gen's 6000). With two DIMMS per channel populated with 1R memory it supports up to DDR5-6400; and with four sticks of dual rank (2DPC 2R… aka 128GB of RAM) installed the board will let you go to DDR5-5600… which is the same as the last generation.
More importantly than any improvements (which mainly boil down to Intel IMC improvements) these numbers do show that MSI has done their very best to optimize the memory pathways to/from the CPU as well as ensuring as little ripple as possible is introduced into the DIMMS themselves. This includes using SMT(Surface Mount Technology) welding to improve the solder joints of the DIMMS and reduce their resistance. Furthermore, the Z790 Carbon (like all premium motherboards) allows you to control the voltage be supplied to each DIMM… instead of it being "all DIMMS get the same voltage". When chasing down gremlins that (almost) always go along with 128GB configurations that one seemingly small QoL feature can make the difference between a successful "overclock" and a failure – remember with 13th Gen Core-I series anything above DDR5-4400 is in overclocking territory when it comes 2DPC 2R configurations.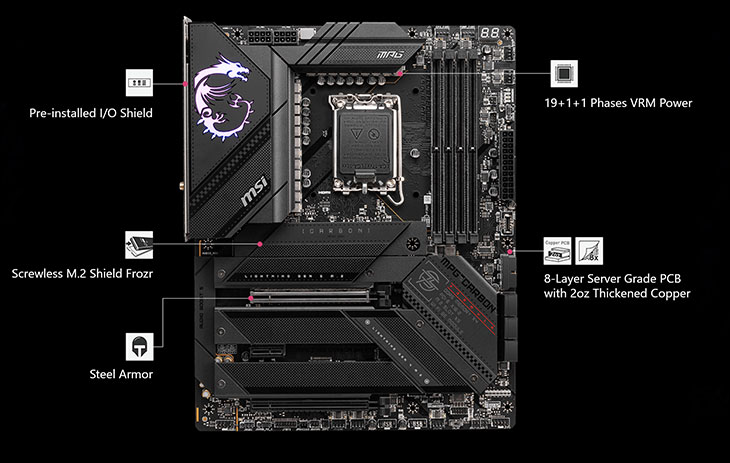 In this vein we are glad to see that MSI has once again used an 8-layer PCB design with upgraded 2oz copper. While MSI does not give it a fancy name like 'TuF', or call it 'milspec', they do proudly state this is server grade… as it is server grade. When you peel back the marketing speak, one quickly realizes how big a deal that feature really is. Higher grade PCBs, with upsized heat dissipation baked right into the board's DNA started life out as a server / enterprise feature. One designed to help 24/7 stressed systems handle the heat loads a heavily worked server are routinely placed under. To be perfectly candid… we have worked with a lot of "military grade" devices over the years, and we have worked with a veritable ton of server / enterprise gear over the years. Of the two we will take server standards over military standards… as the military is always lowest bidder "good enough" specification; whereas in the enterprise arena "good enough" is rarely good enough. So to us, it is a higher standard and one that should comfort you a lot more than "military standard" claims.