$220.93
$269.99
in stock
14 new from $208.00
25 used from $139.83
as of December 1, 2023 7:12 pm
$6.46
$10.67
in stock
as of December 1, 2023 7:12 pm
$330.33
in stock
9 new from $329.99
2 used from $299.00
as of December 1, 2023 7:12 pm
Last updated on December 1, 2023 7:12 pm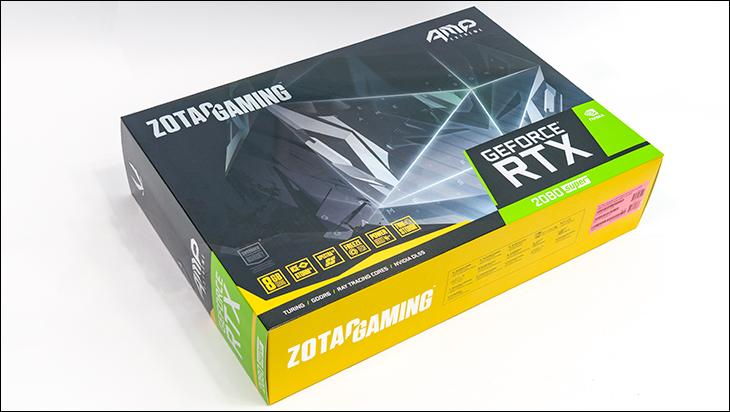 Zotac has really stepped things up a notch when it comes to their shipping container. Just as with previous generations the exterior is as attention getting as it is informative.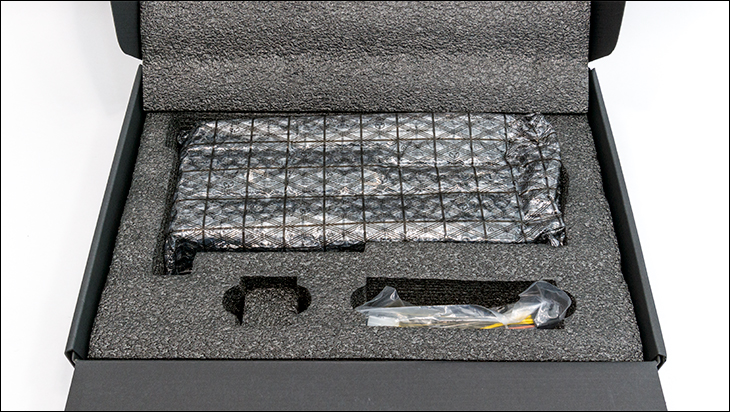 The interior protection is also top notch – just as was the last generation.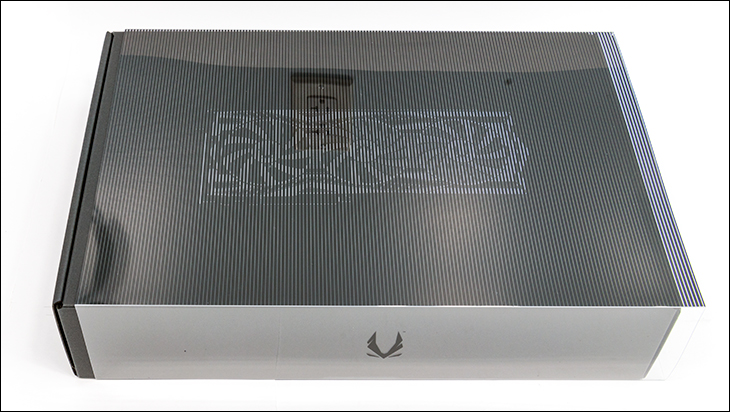 What really sets it apart though is the inclusion of the plastic slip cover. It may be entirely irrelevant but sliding it off and watching the fans 'spin' is a great way to make a first impression. It certainly made us smile and is almost guaranteed to make you as well.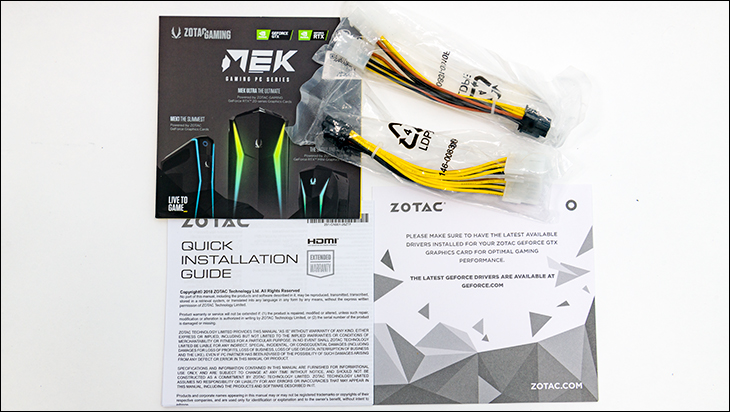 The accessories are pretty typical for Zotac. That is to say all the bases are covered, but some will find the lack of gewgaws and trinkets disappointing on a nearly $800 (USD) video card. Others will be disappointed by the lack of a driver disc. Personally we feel the two dual 6pin to 8pin adapters is more than good enough, we dislike gewgaws on general principle… and always download the latest drivers from the Internet. You may feel otherwise. It will be a subjective call on which of the two ends of the spectrum you fall into.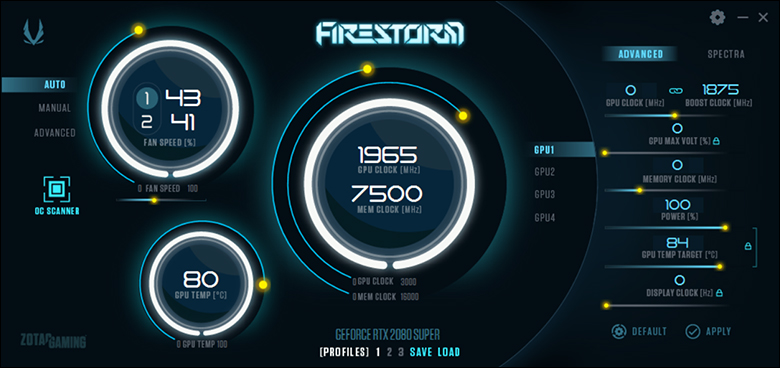 It should come as no surprise that the latest version of Zotac's FireStorm is fully compatible with their new cards – and any manufacture's Super RTX 2080-series for that matter. While it may look simplistic on just a quick glance, FireStorm does contain a lot of useful features in just one page. For example, the small button in the middle of the right-hand side labeled 'OC Scanner' allows for one-click overclocking that will take about 20 or 30 minutes to complete but should result in rather decent overclocking profile.
Front and center are a real time display of both the core frequencies as well as the memory clock (just remember to double the memory speed listed as GDDR6 is 8 times not 4 times the actual frequency of the RAM like GDDR5 was… and FireStorm still uses GDDR5 multiplication internally). The left of it is where you can easily set power limit, voltage limit, base and boost clock frequencies, and all the basic tweaks a successful overclock is built upon.
In the top right corner is where you can control the two fan zones on the card. While we would have liked to have seen a third zone (as this card is a three fan model) that really is not a software issue, instead it is how Zotac configured the three fans at a hardware level. Also nice is with a single click you can create custom fan curve profiles that will instantly be implemented.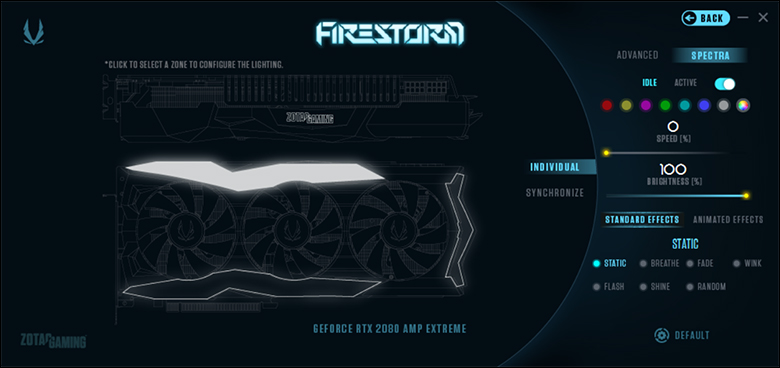 In the top left corner is the 'Spectra' button which when activated allows you to tweak the on-board LED colors and timings. Everything from static to advanced effects are nicely covered. The ability to treat each zone as separate configuration or as part of a whole board is a nice little touch sure to please the OCD enthusiasts who really want to dial in their color scheme of their new system. The only major negative of this software is it can only control the first four video cards installed so miners need not apply. For everyone else, it is worth a download before you opt for your 'tried and true' software solution of choice.
Closer look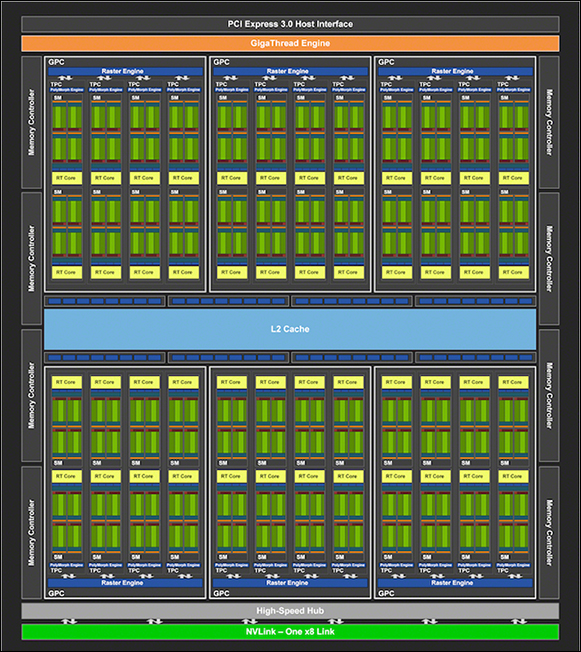 Before we start a tiny bit of background information is required. As stated in the introduction the NVIDIA GeForce RTX 2080 Super is based off the their TU104 core design, just as the GeForce RTX 2080 non-super was/is. However, unlike the TU-400 the TU-450 the RTX 2080 Super uses has nothing disabled but still is a TU104 and not TU102 core. This means 256-bit wide bus. This means 8GB of GDDR6 memory instead of 12GB. It also means these new 'Super' cores are not the equivalent of last generation's 'Ti' models… which is a good thing as the GeForce RTX 2080Ti already exists. So instead of thinking of these as "this generations Ti" think of them more like upgrades to the existing line. Think '1060 6GB vs 1060 3GB'.
We are sure that if it has been possible NVIDIA would have used this TU104 variant if they could have for the 'O.G. RTX 2080 line'. The reason they did not, possibly could not, use the a fully enabled TU104 core in the first place is due to low production output per wafer. TSMC may not precisely had to work out a ton of kinks to fab'ing these big cores… but output was low. Now with all the teething issues the 'proper' TU104 is ready for primetime. Once again early adopters pay a hefty fine for being early adopters. Though to be fair the differences between the old and new is not going to be drastic. Noticeable… but not enough to justify upgrading a nearly new GeForce RTX 2080 to a GeForce RTX 2080 Super. Now on to the meat of the review.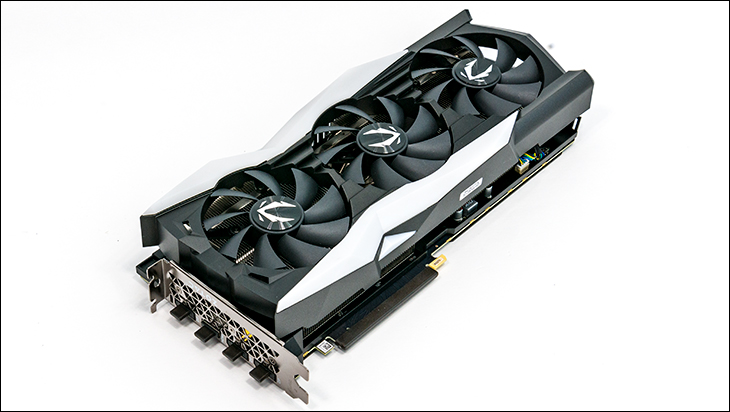 As expected, the Zotac Super RTX 2080 Amp! Extreme… is a large card. Those thinking about using this beast from the east in an itty-bitty case will be disappointed. Of course, trying to fit a typical high-end card into a shoebox build may not be precisely in the same league as "pants on your head" but is close. This is why manufacture's make 'mini' cards. This is not a mini card.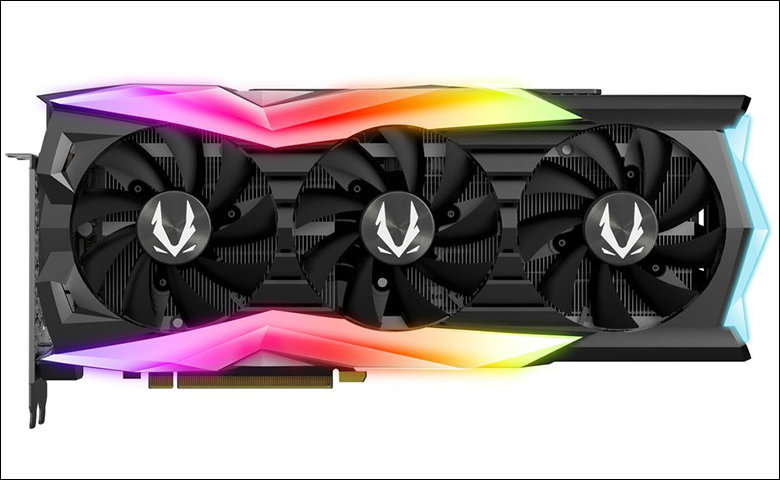 With all that said this card is actually not that big. Big enough you need a good case, but not so big a 'Super Tower' case is necessary. This should come as no surprise as this card is basically the Zotac Amp! Extreme RTX 2080 with faster memory and a bigger core. Zotac could not only 'get away' with recycling a lower TDP card's design, but easily justify doing so because the Zotac Amp! Extreme RTX 2080 was one of the most over-built RTX 2080's on the market.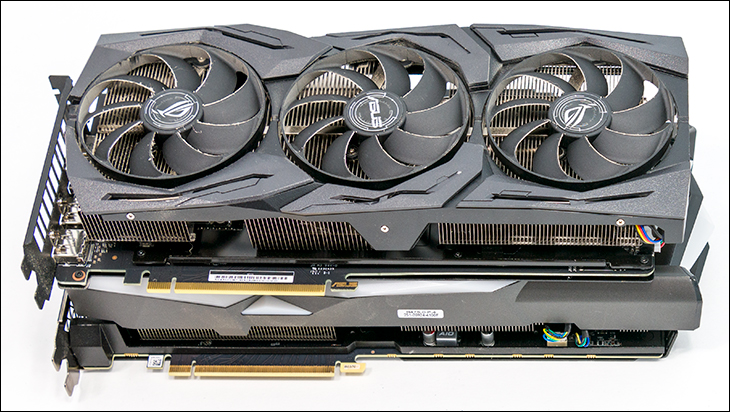 The downside is it still is big – 3-fan, 3-slot wide big (though Zotac official calls it 2.5-slots… it really is more like 2.75 edging in on 3 slot dimensions). So yes, it may be slightly smaller than the Zotac GeForce GTX 1080Ti Amp! Extreme but it is big (for reference the card on top of it is an ASUS GeForce GTX 1660Ti OC… which is not a small card by anyone's definition). These 'new' dimensions are because Zotac wanted to ensure temperatures and noise levels were not just held in check but as low as possible while at the same time ensuring there were also not too many case installation issues… and the IceStorm 1.0 design would simply not be good enough. Thus, the new IceStorm 2.0 was created.
The foundation of the IceStorm 2.0 is IceStorm 1.0. They did not throw the baby out with the bathwater. Nor did they – obviously – simply scale up the dimensions of their previous design and call it good enough. In other words it may not be bigger, but it is better. Better in numerous ways.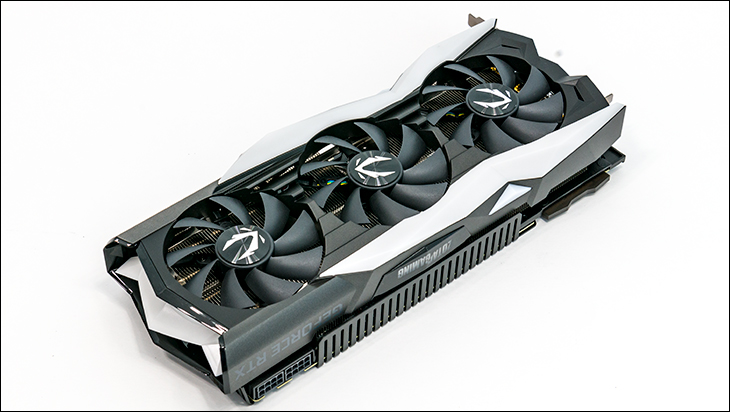 The most obvious is the dimensions of the card and its fascia, heatsinks, and backplate. In the X, Y and Z axes Zotac has maximized the dimensions right to the edge of what is practical… or at least sane. To be specific instead of 325 x 148 x 56.6mm (GTX 1080Ti Amp! Extreme), the RTX 2080 Super Amp! Extreme is 324mm x 136mm x 59mm.
These new dimensions were chosen after careful consideration. Put simply, any bigger than this and Zotac's design team would have had to explain to management why they made another card that will not fit inside some cases. Which probably is what happened when people who did not do their homework bought the last generation GeForce GTX 1080Ti Amp! Extreme and could not easily install it in their case.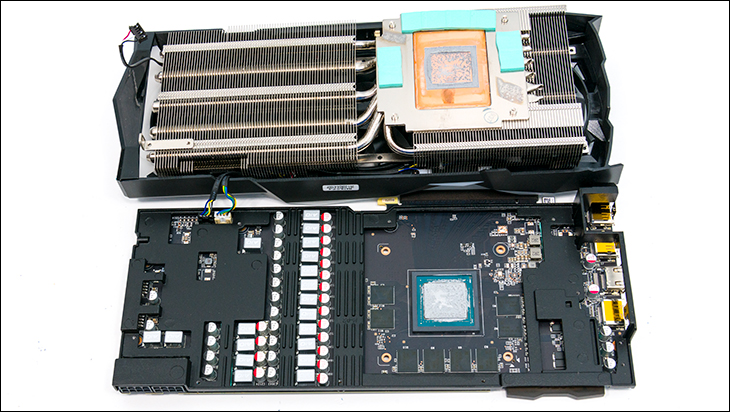 This increase in depth, when combined with six large U shaped heatpipes, allows the new IceStorm 2.0 design to take full advantage of the 3 powerful fans the Super RTX 2080 Amp! Extreme comes equipped with. This increase in cooling not only keeps the higher clocked GDDR6 RAM cool, but it in turn means the TU-104-450-A1 core runs cooler. The cooler a NVIDIA core runs… the higher the frequencies it will 'auto overclock' itself to.
In testing the core frequency under load bounced between 1950 and 1960Mhz on average, and peaked at 2025Mhz for short durations. At stock settings. No extra voltage applied, no increase in stock power limit levels. That is indeed impressive considering this is a 250watt TDP class card. Equally impressive is the fans never really got above 50 percent and instead spent most of their time in the high 30 low 40 percent range. At this rotation speed they were not only whisper quite bordering on silent they still were able to keep temperatures below 70-degrees Celsius.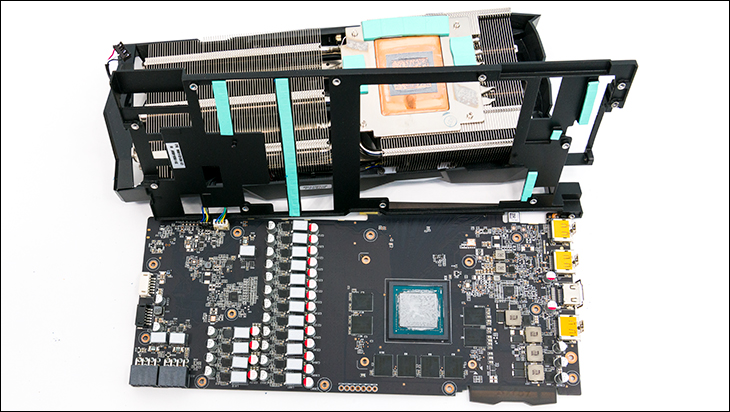 To ensure the power delivery subsystem was also kept nice and cool, IceStorm 2.0 also comes with a secondary heatsink underneath the main or 'core and memory' heatsinks. While Zotac calls it is a 'die-cast metal jacket brace' this is an actively cooled heatspreader. It comes with numerous heat pads for the VRM and air from the three fans are pushed through the two large radiators, then they hit this heat spreader (cooling it in the process) and then and only then is the air allowed to escape. Therefore, it is a heat spreader. If Zotac had included some more cooling fins one could even consider it a heatsink.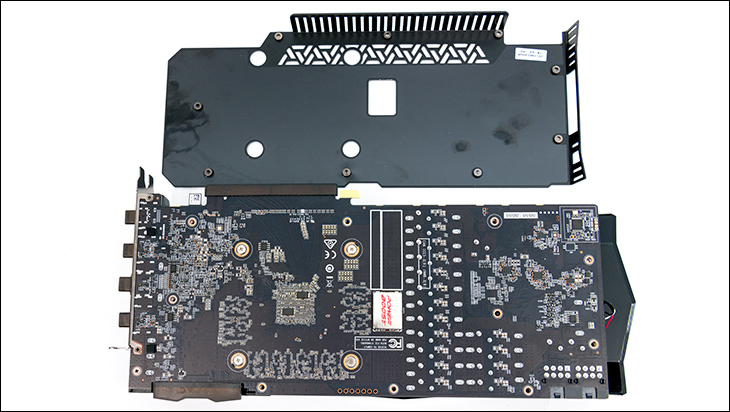 As with previous generation designs, though to a bit more limited extent, the backplate curves up and over the front and top of the PCB. It is unfortunate that Zotac does not include heatpads on the backplate to also convert it into a tertiary heat sink; but as there is really not major hot running components located on the back of the PCB that could be easily connected to the backplate it is not really an issue. Instead the backplate is meant to act as a wind tunnel and funnel waste air over and around the large "Power Boost" super capacitor – whose job once again is to reduce ripple and vDroop when pushing the boundaries of sanity during overclocking adventures.
To help buyers push that self-same envelope (and even go all the way past insanity to plaid) Zotac has also carried over the extremely beefy 16+4 all digital power delivery subsystem… which is actually more than what many companies use on their RTX 2080Ti 'overclocking' cards (and while their Amp! Extreme GTX 1080Ti came with 16 phases for the core it only had 2 phases for the memory). To harness all these phases Zotac has opted for two uP9512P controllers. One is for the core itself and the other is dedicated for the RAM. This is a very, very good 8-channel controller that may be 'overkill' for the memory and its four phases but the core controller is able to double up phases for the each of its channels. This helps spread the load out keeping everything cool running as well as reducing ripple and random voltage droops.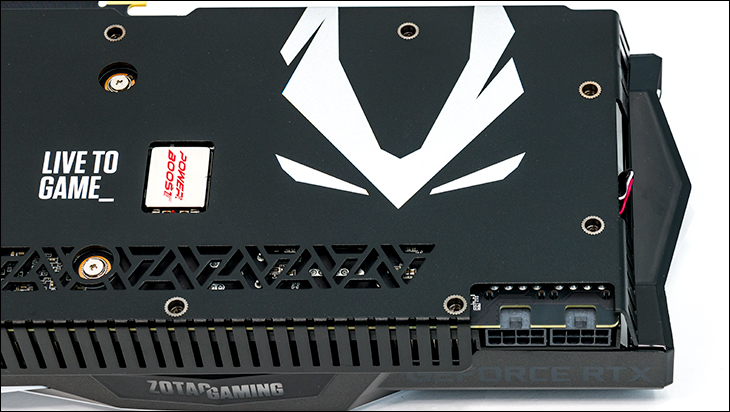 To feed this power delivery subsystem, Zotac has opted for dual 8-pin connectors which when combined with the 75 watts from the PCIe allows for up wards of 375 watts of power to be fed into the card. Of course, it is doubtful that this 250watt TDP class card will demand that much – unless it is hardware mod'ed and intended to eventually catch fire. Instead it gives the card plenty of wiggle room for calling on 300 watts of power when overclocked and set to 120 percent. This will reduce stress on the motherboard's power delivery system, and allow the Super RTX 2080 Amp! Extreme to easily be run on a riser card without worry over properly powering it.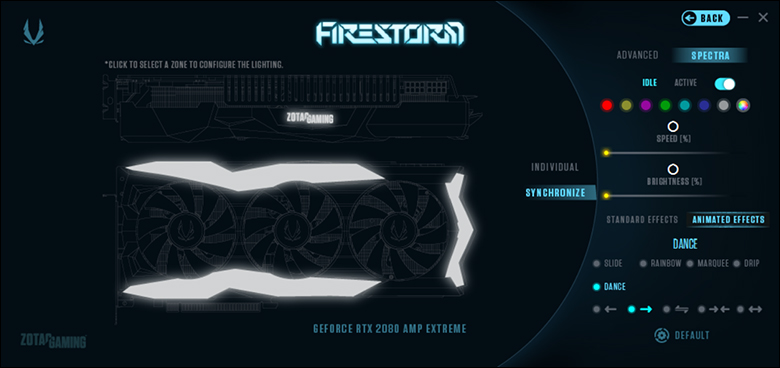 Moving on. Ironically enough, some people felt that the amount of lighting Spectra 1.0 designs offered was insufficient for their needs. Thus Spectra 2.0 was created to fill this perceived need. The end result is even more LEDs and a total of three lighting control zones… and a fourth if you use a Zotac NVLink Bridge. Since the NVLink bridge is not included the three default/stock controllable zones are left, right, and end of the card. These zones can either be set to independent mode (for really advanced lighting) or combined into one massive array of LEDs. Unlike Spectra 1.0 based cards the left and right light diffusers are not small sections of the top fascia. Instead they run about three quarters the length of the card.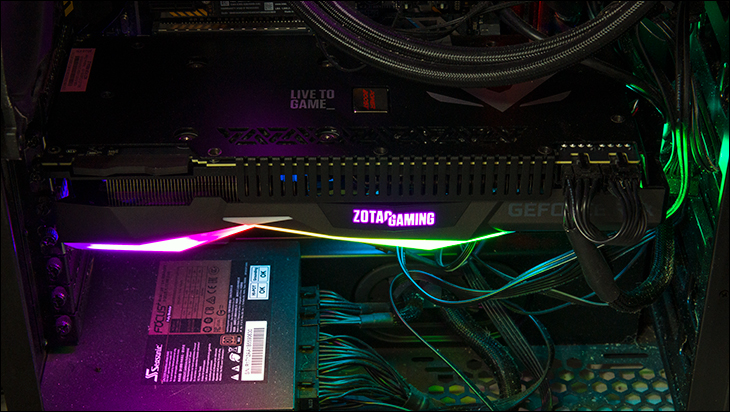 There are two issues we have with the new Spectra 2.0 design. The minor, more nitpick, is that the fans themselves do not glow. They are sold black and so too is their frames. There is not even any LEDs underneath the fascia to allow the fans to appear to glow. We doubt any one will care, as there are literally too many LEDs to count already on this card. Instead, most people will like the fact that once again these fans will stop spinning when possible thanks to Zotac's inclusion of their 'Freeze' technology. Also helping to alleviate this very minor nitpick is the fans can be somewhat individually controlled. Albeit via two groups, not three. The left and center fans are grouped together (via FireStorm software where they are ironically labeled 'Fan 1') and the right most fan is a second 'group' or 'Fan 2' in the software.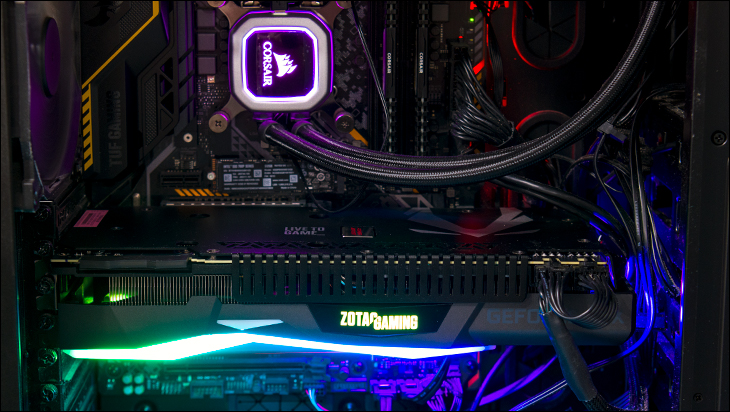 What is a touch disappointing is the front light diffuser. With its aggressive angular design, it may indeed help complete the overall look of this card, but it does needlessly increase the overall length of this card. Length really is what is going to be the limiting dimension for many cases. So, while this is an aggressive looking card that is huge, some of the footprint is not due to increase cooling dimensions and rather was done solely for aesthetics. We prefer function over form, not form over function. Thankfully, this light bar does not stick out all that much so there are few 'edge cases' where the Super RTX 2080 Amp! Extreme edition would have fit if not for that diffuser. It is however something that Spectra 3.0 should fix.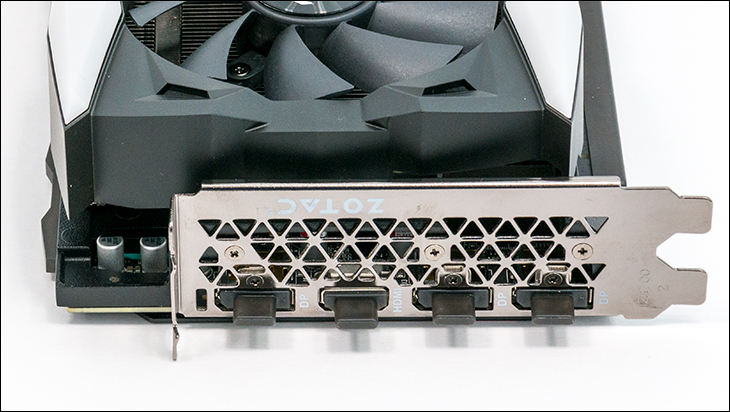 The only minor disappointment with the all new Super RTX 2080 Amp! Extreme edition card is the fact that the display ports on the back has been reduced from that which comes with the original GeForce RTX 2080 Amp! Extreme edition. Basically, Zotac has gone from a dual slot configuration to a single slot layout for the ports. This necessitated the removal of the USB Type-C port from the list of options. Thankfully, for those who are interested in VR, there still is the VirtualLink connector on the back. Since the VirtualLink connector is basically USB-C (with USB-PD) combined with DisplayPort routing… all the bases are covered…ish. You just cannot plug in a USB Type-C monitor directly to this card. We doubt (m)any buyers will consider this a great hardship as there are three full-sized DP 1.4a ports, and a HDMI 2.0b port… and the DisplayPort 1.4a ports now natively support Display Stream Compression ('DSC') for 8K resolutions at 60Hz.
Overall this is one impressive card that for many potential buyers will easily justify its extra $80 asking price.