Last updated on September 29, 2023 11:12 am
In the world of Solid State Drives, especially NVMe based models, the market is in state of constant flux. With every manufacture constantly striving to outdo the rest. To become bigger, faster, better. Mix in the fact that the price per Gigabyte NVMe drives (which are not QLC NAND Based) are falling like a proverbial stone and it is a great time to be a buyer. One such company that may not be a name brand in the solid state drive corner of the marketplace, but is none the less a veritable 800lb gorilla in the storage arena, is Seagate. For many years now Seagate has been quietly working hard on refining their firmware team's skills, as well as hunting down and singing contracts with other SSD component manufactures. This combination usually results in what we call 'synergy'. Where the sum can sometimes be much greater than its base parts. Today we will be putting the all new Seagate BarraCuda 510 SSD NVMe series is indeed a great example of Seagate's behind the scenes hard work.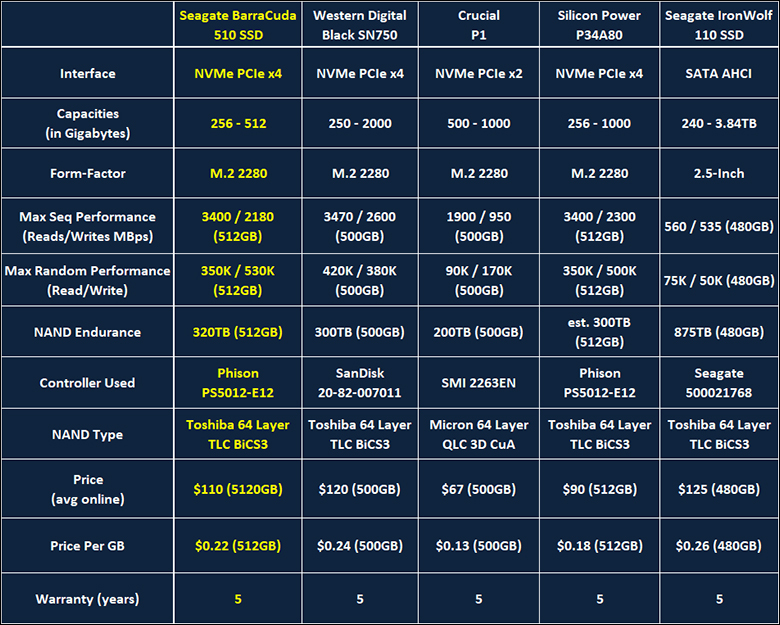 As the name suggests, the Seagate BarraCuda 510 series in not orientated towards network attached storage devices, nor business consumers. Instead it, just like all other 'BarraCuda' branded models, is meant for the average joe consumer. Albeit one that has a need for speed, but is still on a limited budget. To satisfy these two seemingly diametrically opposed requirements Seagate has opted for one of the better NVMe controllers to power this new model: the Phison 'E12'. This controller made quite the splash in late 2018 and has been garnering quite the track record in the upper main-stream and enthusiast corners of the marketplace. A track record founded on excellent performance with an asking price that is hard to beat. So, while the 'Cuda 510 series does not use an 'in house' Seagate controller, it is a very good choice and really not all that surprising. Seagate 'in house' controllers are being built more with Business and Enterprise devices in mind, whereas Phison is a leader in consumer orientated controllers.
Considering the sheer size and scope of the contract Seagate has with Toshiba it should also come as no surprise that the Seagate BarraCuda 510 series uses 64-Layer Toshiba BiCS 3 TLC NAND. As we have stated in the past this is some of the best TLC '3D' NAND available (with only more expensive BiCS 4 truly surpassing it). It is fast, it is relatively durable, and when bought in large enough qualities it is also rather reasonable on a price per GB basis. This too is how Seagate has been able to create a drive that is both fast, and yet does not require a second mortgage on a house to pay for it. To be precise the 512GB capacity Seagate BarraCuda 510 variant only costs $110 (USD). Not that long ago such a device could have retailed for twice that… and no one would have batted an eye.
So with its combination of excellent choice of components and rather reasonable asking price (for its class) the all new Seagate BarraCuda 510 series has its sights firmly set on the likes of Western Digital and their SN750 series ($120 for a 500GB capacity variant), as well as putting pressure on the 'low end' NVMe models like Crucial P1, or Intel 660p. Both of which cost about $65 (USD for the half Terabyte capacity models) and thus is only 45 dollars cheaper than this new Seagate 'Cuda drive. Needless to say, this is a very exciting entry into the cut throat NVMe SSD marketplace and we do have high hopes for this model.