$191.91
$269.99
in stock
12 new from $191.91
17 used from $122.44
as of September 29, 2023 11:12 am
$33.99
in stock
as of September 29, 2023 11:12 am
$284.99
$339.99
in stock
21 new from $284.99
21 used from $239.99
as of September 29, 2023 11:12 am
Last updated on September 29, 2023 11:12 am
Between the lack of Ray Tracing enabled games and the increase in asking price from the last generation of NVIDIA video cards, the GeForce RTX 20-series certainly has gotten off to a rocky start. Thankfully, now that NVIDIA and TSMC has worked out all the various production and software related bugs which always crop up, NVIDIA has now turned their focus to brining a good dose of value to what many critics, ourselves included, considered the weak-link in the RTX 20-series: the GeForce RTX 2080. Not that long-ago NVIDIA released the RTX 2060 Super and RTX 2070 Super additions to their lineup which provide near 2070/2080 performance at near 2060/2070 prices. In a move that was well telegraphed in advanced, a third of these 'Super' RTX 20-series models is now available: the NVIDIA GeForce RTX 2080 Super. Today we are starting our investigation into this highly intriguing addition to the GeForce RTX 2080 Super series with one of the better examples of what this new model has to offer. Specifically, we will be putting the all new Zotac Gaming GeForce RTX 2080 Super AMP! Extreme under the microscope.
This model was chosen as, while it certainly will cost buyers bit more than the typical level RTX 2080 Super models, Zotac's Amp! Extreme models have historically been some of the best cooled, best looking, and most user-friendly models available in the marketplace. While it does have an MSRP of $769.99, this is only seventy dollars more than NVIDIA's MSRP of $699 for a 'reference' RTX 2080 Super card. More importantly this is not only a lot less than what other manufactures are demanding for their 'flagship' GeForce RTX 2080 Super cards, it is less than what a good GeForce GTX 1080Ti will set buyers back… if you can even find one that is. To help put this card's performance in perspective we will not only be comparing it to a reference GeForce RTX 2080 but also to a EVGA GeForce GTX 1080Ti FTW3.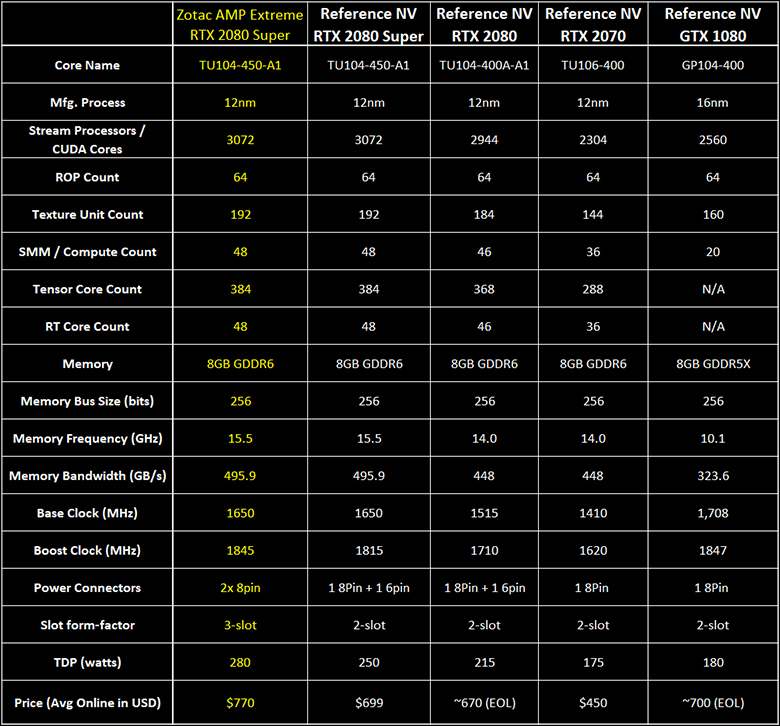 On the surface the Zotac Gaming GeForce RTX 2080 Super AMP! Extreme (or 'RTX 2080 Super Amp! Extreme' as we are going to call it for the sake of brevity in this review) certainly does appear to tick a lot of the right boxes. Like all GeForce RTX 2080 Super cards, the heart of the Zotac Gaming GeForce RTX 2080 Super AMP! Extreme relies upon the all new fully enabled TU104-450-A1 graphics processor. This new '450' variant is the fully enabled TU104 and comes with 3072 Cuda cores (instead of 2944), 384 Tensor cores (instead of 368), and 48 RT cores (instead of 46)… which should indeed provide a noticeable real world performance boost and help tip the scales back into 'value' territory.
As this is a premium 'flagship' version Zotac has not followed NVIDIA's recommendations on core frequencies. Instead 1650 base + 1815MHz boost rating, Zotac has increased this to 1875Mhz boost… and since this shiny new Turning core is being cooled by a 3-slot, 3-fan, Ice-Storm 2.0 custom cooling solution… these frequency specifications are nothing more than a mere suggestion. In testing it routinely peaked at 2020Mhz and typically was running at 1950Mhz… and was dead silent while doing it. Mix in improved 'Spectra 2.0' onboard LED lighting, 16+4 (core/memory) phase based solid state power delivery subsystem, 8GB of GDDR6 running at 15.5Ghz (effective) speed and this might just be the perfect card for those who want a lot of performance, but do not… cannot justify the RTX 2080Ti's asking price. So, with that little teaser out of the way, let's dig in and see what this bad boy can do.