Last updated on September 29, 2023 12:03 pm
When the MSI Titan X landed many consumers drooled over the thought of the Maxwell (GM200-400) architecture 'unleashed'. Sadly not everyone can afford the asking price of those powerhouses. Then NVIDIA did what most seasoned enthusiasts knew they would do: released a slightly cut down version, called it a 980Ti and unleashed it upon the unsuspecting public. In its reference state the GeForce GTX 980Ti is rather impressive as it boasts 2,816 Cuda Cores, a 384-bit wide memory bus, and 6GB of GDRR5 RAM. However, as we all know NIVIDIA is very conservative in their reference specifications and this leaves a lot of room for the manufactures to capitalize upon…and improve upon.
[youtube
https://www.youtube.com/watch?v=NDzu5NXGfek[/youtube
For many years now MSI has been known and respected for their custom heatsink and fan designs. Specifically their Twin FROZR designs have cooled many an enthusiasts' overclocked video card over the years, and now the latest version, aptly called the Twin Frozr V, intends to continue this enviable tradition. However, this new generation has a few tricks up its sleeve to make the MSI Gaming 6G 980TI even more enticing to consumers. For you see not only does MSI's heatsink boast 6 massive 'SuperSU' heatpipes, and two independently controlled TORX fans, but this massive heatsink is so potent that when the GPU is idling those low noise fans actually stop spinning. Yes that is correct, this heatsink is so capable of cooling an overclocked GTX 980Ti core, that it can actually do it passively. That is indeed impressive and gives the MSI Gaming 6G 980TI a major leg up over the competition.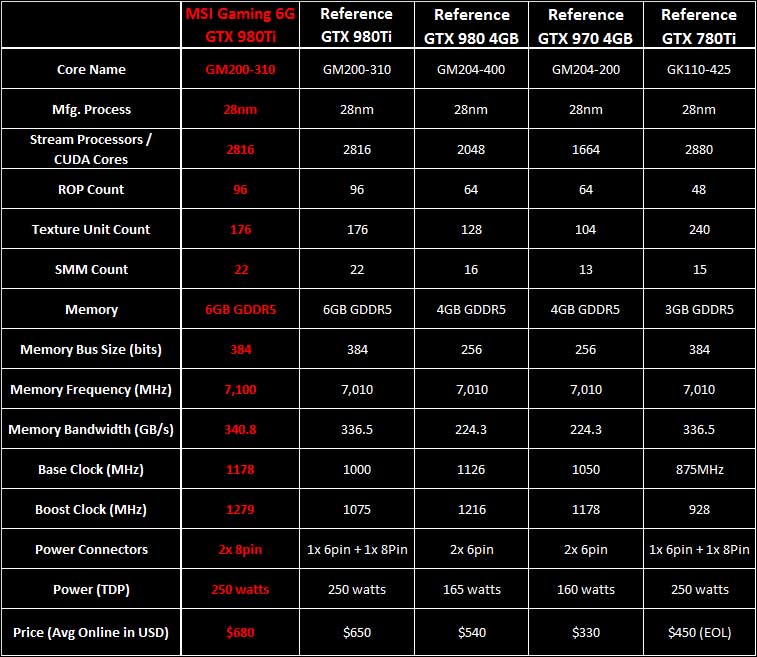 As expected the MSI Gaming 6G 980TI is also not just about being low noise, and boasting a very impressive factory overclock. As we said, NVIIDA is very conservative in their settings and a 'reference' GeForce GTX 980Ti has the nearly fully function GM200-310 set to run at a clock speed of 1000Mhz that can be boosted to 1075Mhz, and the memory speed is set to an effective 7,010Mhz. The MSI Gaming 6G 980TI on the other hand has a base clock of 1178MHz, a boost of 1279MHz. As an added bonus MSI has also boosted the memories effective speed to 7,100MHz. Equally important, as the MSI Gaming 6G 980TI has that massive custom heatsink this card is able to stay in boost mode longer before thermal throttling occurs.
Mix in an aggressive Red and Black color scheme, and a 3 year warranty and on paper the MSI Gaming 6G 980TI is one very potent video card. However, MSI has one more trick up its sleeve to make this high performance video card even more enticing: the asking price. Right now a reference GeForce GTX 980 will set you back about $649. For only $31 more, consumers can instead get this factory overclocked MSI Gaming 6G 980TI ($680), making it also a potentially great value. That certainly is a lot of expectations to have riding on one card, but MSI has an enviable reputation for consistently doing just that. So let's see if the MSI Gaming 6G 980TI can indeed live up to its potential.
MSI Gaming 6G 980TI – Specs & GTX 980 Ti Explained
GeForce GTX 980Ti explained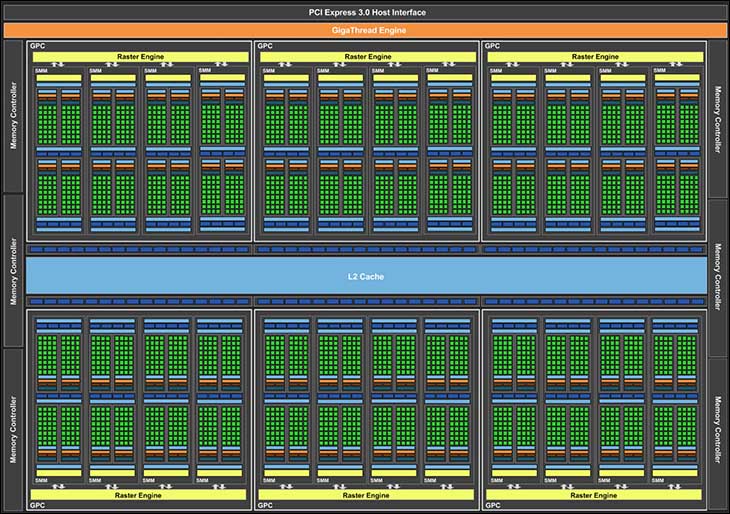 For anyone who is just starting out on their quest for their next high end video card, the GM200-310 can be considered a slightly cut down version of Maxwell core that powers the GeForce GTX Titan X series. To envision this, imagine Titan X's 'GM200-400' core, aka the 'fully enabled' version of the Maxwell GM200 core, with its 6 Graphic Process Clusters (GPC). Each of these GPCs is made up of four streaming multiprocessor (SMM) 'blocks', one 64-bit memory controller and one Rasterizer engine. Each SMM block consists of 32 CUDA cores, 8 Raster Operation Pipelines (ROPs), and 8 Texture Units – plus other low level goodies.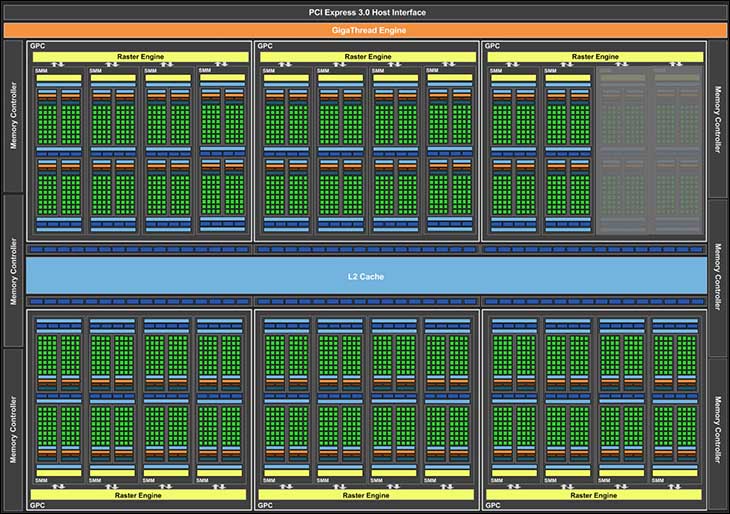 Now imagine that fully enabled core and simply disabling two of the SMM's, but leaving almost everything else intact, including the ROPs, L2 cache, and memory bus bandwidth. In fact, with the exception of the two disable SMM's units, the only thing cut from the 'full' GM200-400 core is the 64bit- memory controller in each GPC has had its abilities slightly degraded from 2GB per controller to a 'mere' 1GB.
That is what the 980Ti (aka GM200-310) is. A 2816 CUDA core, 176 Texture Unit, 96 ROPs, 3072K L2 cache beast with a 384-bit wide bus that can handle 6GB of GDDR5 memory. Equally important, the clock speed and boost speed of 1000MHz / 1075MHz has been left the same as the Titan X series. In other words consumers trade 256 Cuda cores, 16 Texture units, and 6GB of Memory for a 131% reduction in asking price. IE you literally can get two GTX 980Ti's and have money left over for a better motherboard compared to purchasing just one Titan X. That is a good deal no matter how you look at it.
While some people will cry foul over NVIDIA waiting so long to release this version of the Maxwell architecture (we have heard people say that the Titan X should have been the 980Ti and the 980Ti should have been the GTX 980) the fact of the matter is the fabrication process is only now mature enough give high yields of 'full' GM200 processors. Yes this means early adopters of GTX 980 video cards have now been pushed down the food chain, but the 980Ti is not meant to compete against the stock GTX 980. Instead the 980TI is meant to be the consumer orientated version of the Titan X. This is why reference 980Ti's were released with a MSRP of $649 compared to the GTX 980's $549, and Titan X's $1499 price points. As an aside, most consumers looking at the 980Ti will probably be 780Ti owners looking to upgrade, so we would be remiss if we didn't mention that this MSRP of $649 is $50 less than what the 780Ti's MSRP was when it was released.
On the surface of things a stock 980Ti is indeed a marvelous piece of engineering, but it didn't take consumers long to realize that while the clock rates may indeed be the same as the Titan X, they are noticeably slower than a 'reference' 980's 1126/1216Mhz settings. Of course with so many extra Cuda Cores, Texture Units, and even ROPs, even heavily overclocked 980's stood zero chance catching up with the GM200-310. It did however leave consumers wanting even more…and this is where the MSI Gaming 6G GTX 980TI enters the equation.
MSI Gaming 6G 980TI – Closer Look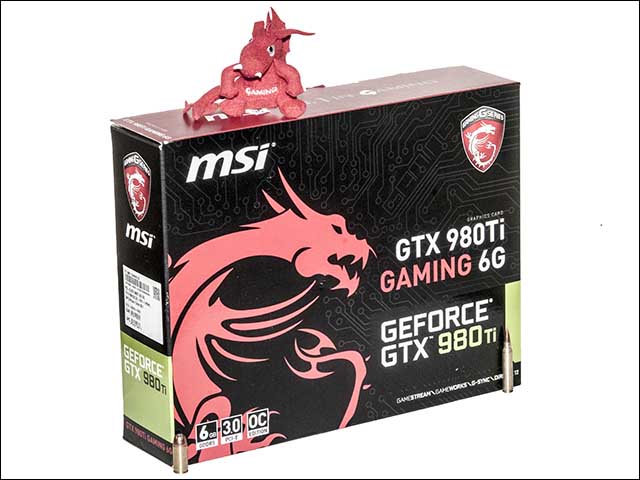 The shipping container for the MSI Gaming 6G GTX 980TI closely resembles most of the other models in MSI's 'Gaming' lineup – including the Gaming motherboard. That is to say it uses a black and red color scheme and along with a picture of the MSI Gaming 6G GTX 980TI itself, a large dragon takes up most of the front's real-estate. The back of the box is covered in details that will help you make an informed decision, and as such it would take effort to confuse one model for another.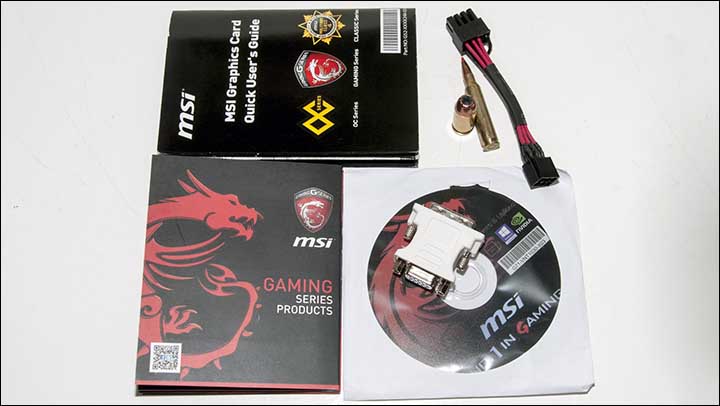 The included accessories are a touch disappointing, but are pretty much par for the course these days. In grand total you get a single 6pin PCI-e to 8pin PCIe adapter, a single digital to analog port adapter, a quick start guide, a CD with the necessary drivers, and a pamphlet going over some of MSI's other offerings.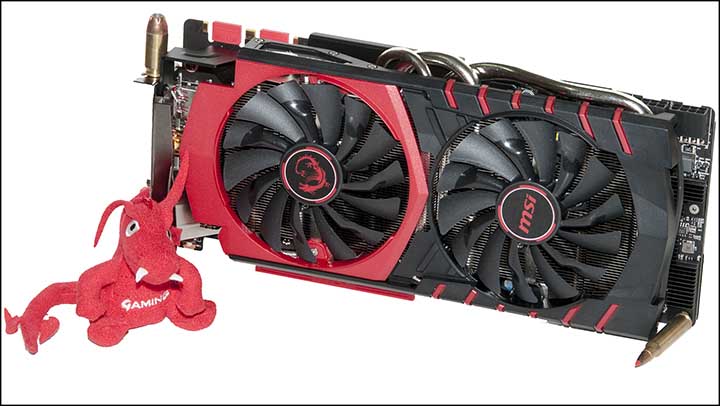 The MSI Gaming 6G GTX 980TI is not your typical GeForce GTX 980Ti card. Nearly everything about it is radically different when compared to a reference 980Ti card; and about the only things that MSI had to leave alone is the number of cores in the GM200-310 and the I/O port selection. Everything else is changed – for the better. The overall aesthetics are much more aggressive, the cooling design is completely different, the underlying power subsystem has been upgraded, the PCB is custom, even the memory and GPU core settings are higher.
This however is getting ahead of ourselves. A stock 980Ti uses the same overall aesthetics and design that really has not changed in generations. That means a metallic fascia covering a heatsink and a single squirrel-cage fan for cooling – which exhausts the head out the back of the system. Overall it is not a bad design, but it is a touch boring and a touch underwhelming in the overclocking potential it offers consumers. Instead its best said to be adequate at cooling a 250watt GPU core and its 7,010Mhz memory.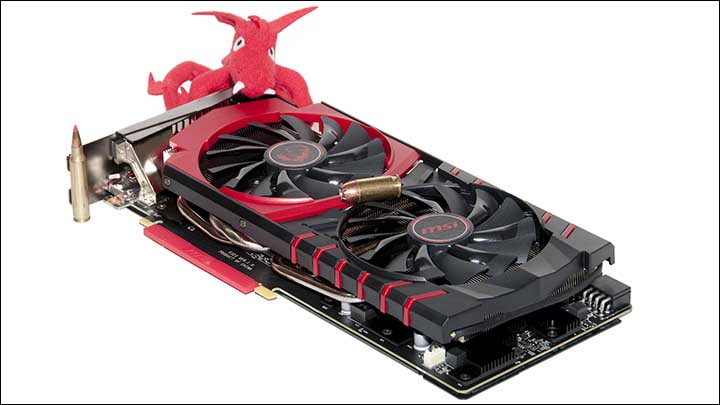 With MSI being MSI and having a reputation for doing things so differently that other companies have had to copy….err pay homage to… their FROZR designs it comes as no surprise that MSI took one look at the reference design and went 'nope'. Instead when you remove the MSI Gaming 6G GTX 980TI from its padded case you will be greeted with a much more aggressive looking card.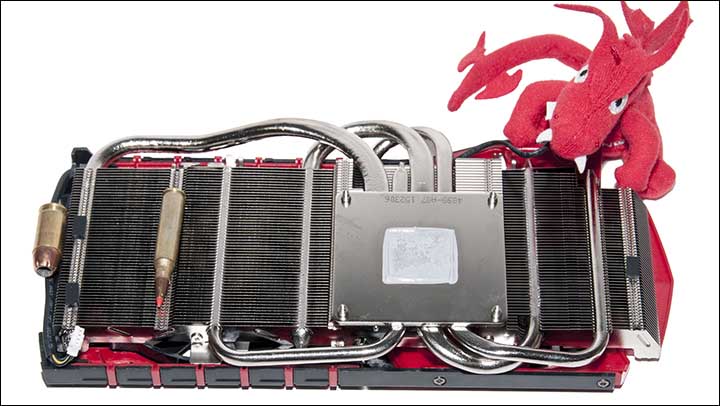 At its heart the MSI Gaming 6G GTX 980TI is the fifth generation Twin FROZR V custom heatsink and fan combination….though MSI now also calls it a ZERO FROZR and Hybrid FROZR. Regardless of what you call it, this custom design consists of six 8mm heatpipes – what MSI calls 'SuperSU' pipes – a massive aluminum fin array, two large fans and two smaller heatsinks. This however does not do this design justice, as while it may technically be a two slot design, MSI has expanded the width of the heatsink so that when installed in a case it stands about 29mm taller than a reference 980TI cooler (to be precise this card is 269mm x 140 mm x 40mm compared to 267mm X 111 mm x 40mm of a reference 980TI). This may make installing it into smaller cases difficult, but as long as your side panel is not right next to the GPU, and instead is pushed out a bit to make room for side panel fans, you will be fine.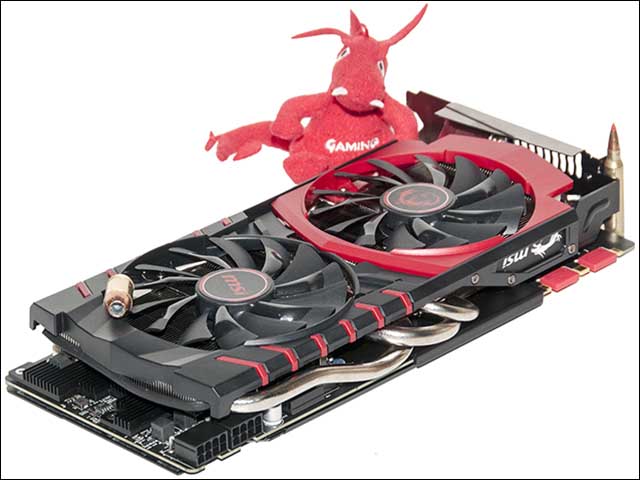 Either way this extra room has not been wasted as it allows for one monster sized heatsink…and the results do speak for themselves on what MSI was able to accomplish on the factory overclock side of the equation. To be precise MSI has bestowed upon their MSI Gaming 6G GTX 980TI' a 178MHz boost to the base clock (1178 vs 1000), 204Mhz increase to the Boost clock setting (1279 vs 1075), and turned the memory clock speed up to 7,100 from 7,010.
Put another way, that is a 1.28% improvement to the memory, and nearly 20% to the GPU. It really is a testament to that custom heatsink that during idle periods the two fans don't even have to spin in order to keep the GPU temperatures in check (thus the 'Zero Frozr' moniker). Of course, this heatsink and fan design will push nearly all that hot air into your case so if you are used to rear exhaust 'reference' designs you will need to ensure your cases internal airflow can handle the extra stress. Most should, but we would not want to try a gaming marathon with this card – or any downdraft video card for that matter – in a 'passively' cooled case. So plan accordingly and you will be fine.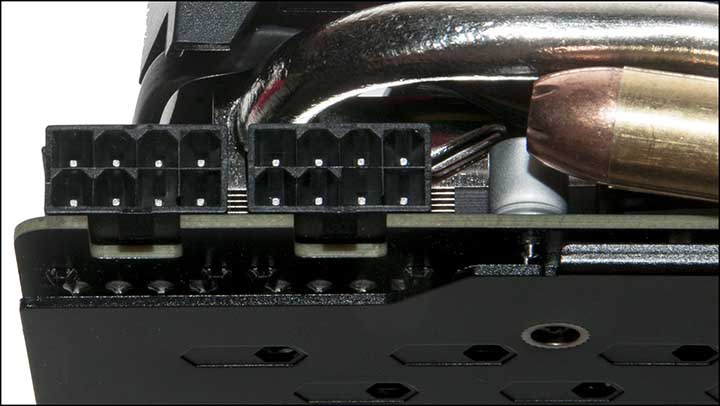 Arguably this overclock is why instead of one 6-pin and one 8-pin PCIe power connector, the MSI Gaming 6G GTX 980TI has two 8-pin connectors. Of course, the overall TDP is still 250 watts, and it could be argued that the upgrade in power connectors is more to aid overclockers rather than required at this factory settings. Either way the additional power certainly will not go to waste.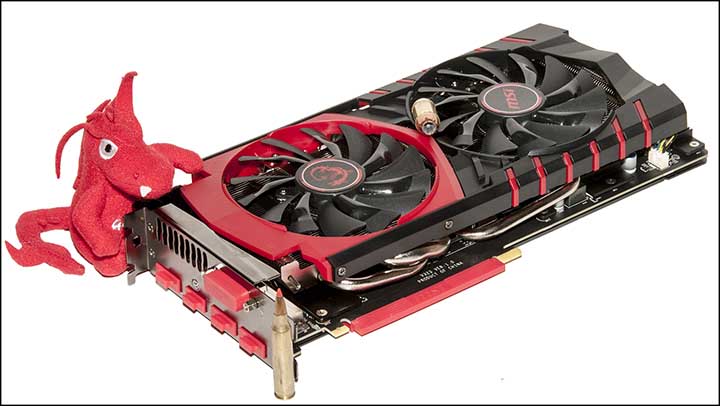 Covering this impressive heatsink is a fascia that is rather eye catching and fits nicely in with MSI's Gaming series. However, while most PC gaming enthusiasts will like the aggressive look of the MSI Gaming 6G GTX 980TI some may find the red and black motif a touch difficult to fit into the rest of their PC's custom color scheme. This issue will vary in importance from person to person, but all should be aware that this 980Ti is big, bold, and does stand out – so plan your custom build accordingly.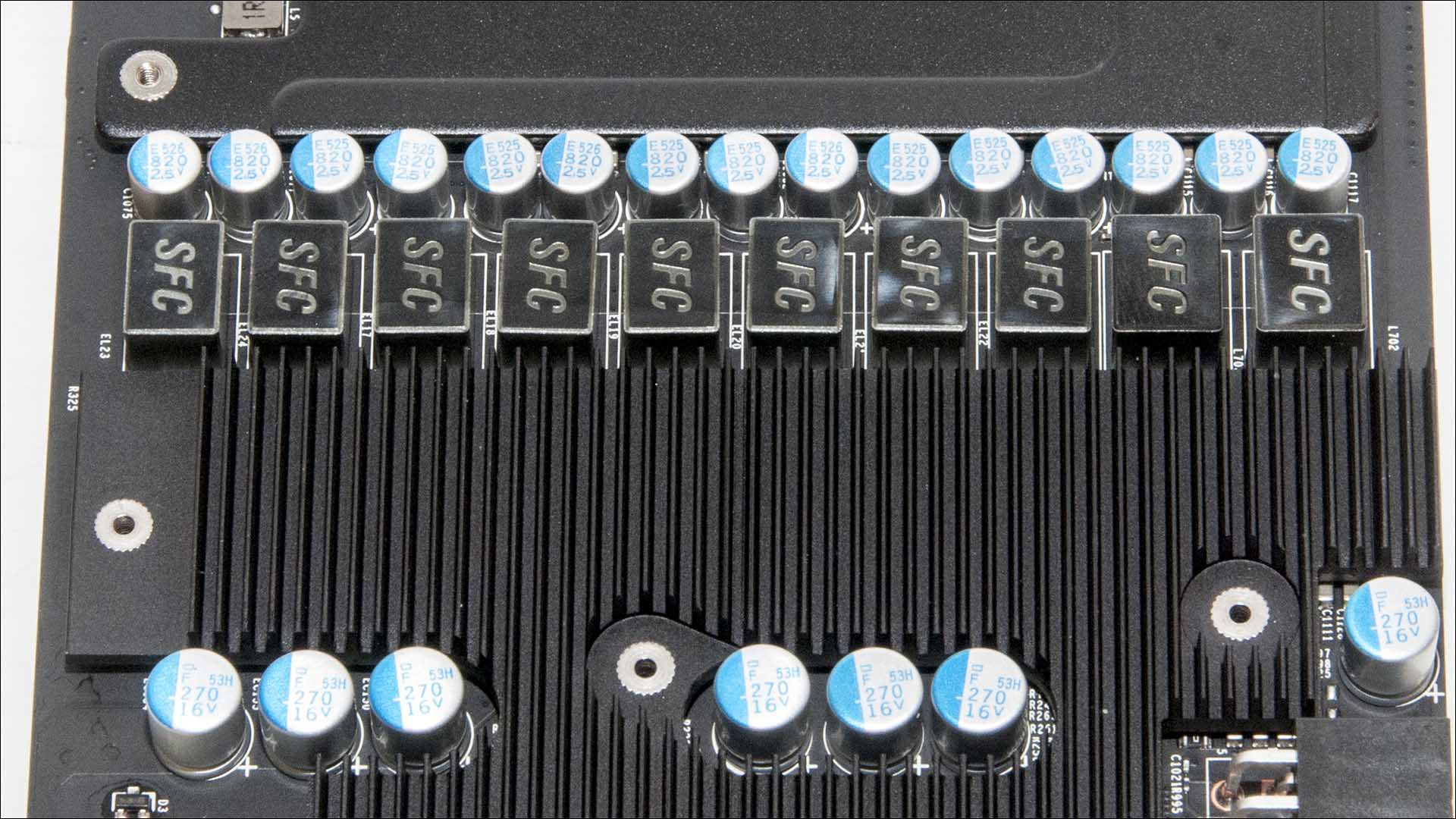 Removing that massive heatsink we can see that not only has MSI upgraded the cooling, but they have bestowed up their marvelous creation a ten phase power delivery subsystem. In fact these are the same quality level – 'military grade' – of components that MSI uses on their enthusiast grade motherboards. That is the very definition of overkill and certainly will come in handy for anyone who wants to push the overclocking to 'extreme' levels. Sadly NVIDIA has forced all manufactures to limit current to 110% so in all likelihood NVIDIA meddling will be the bottleneck and not the MSI hardware.
Further helping to keep the VRM and memory components cool and long-lived, MSI has included two secondary heatsinks that covers most of the board. To further increase cooling abilities MSI has given the forward low profile black heatsink small cooling fins which capture the exhaust air from the front Torx fan. As an aside MSI has given this cooler independent fan control so that each zone of the board is properly cooled, but in such a manner that does not needlessly increase noise. This is one of those 'little things' that show MSI's commitment to detail.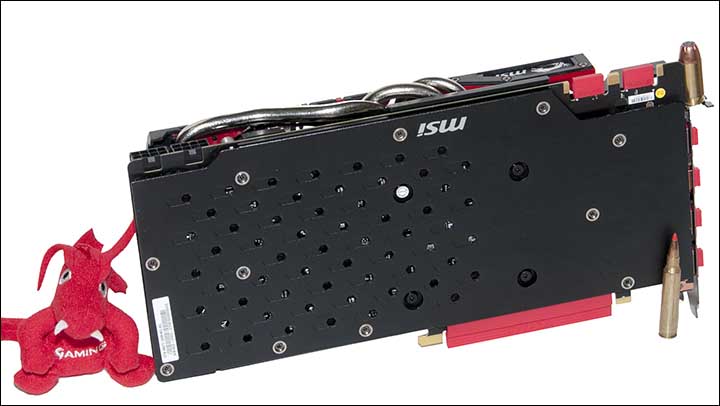 Speaking of attention to detail, we do not hide the fact that we like to see a full length backplate on a video card….and MSI delivers this nicely. Not only does MSI use a thick backplate to increase the rigidity of their Gaming 6G GTX 980TI, its gives the card a very clean look.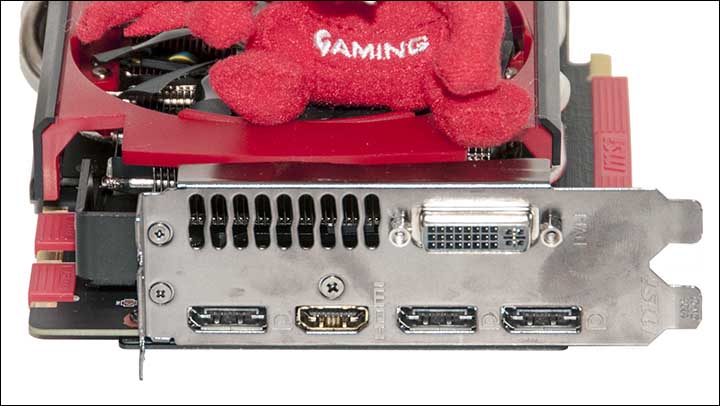 As mentioned previously, the input selection of the MSI Gaming 6G GTX 980TI is reference GeForce GTX 980Ti through and through. On the bottom row you get three full size DisplayPorts, and a single full size HDMI port; while the top row is split nearly evenly between exhaust slits and a single DVI port. Overall it is a very nice selection that should satisfy most consumers needs nicely.
MSI Gaming 6G 980TI – Testing Methodology
To fully test the abilities of a given video card, we have used a blend of in-game benchmarks and custom recorded real world game benchmarking. For custom game play we have used FRAPS to record the minimum and average frame rates and to do so for a set period of time. All tests were run a minimum of four times and the scores are the average of all four runs.
All games were patched to their latest version. The OS was a fresh clean install of Windows 7 with all latest hotfixes, patches and updates applied. All games were tested at the two of the most popular resolutions of 1080P (1920×1080) and then again at 1440P (2560×1440). This means each game's tested was run a minimum of 8 times: 4 @ 1080P and 4 @1440P. Before testing Unigine's Valley benchmark was run for 15 minutes to 'warm up' the video card. This was done to ensure that long term performance and not short term performance is being illustrated.
The games used for testing were:
Sleeping Dogs
Metro: Last Light
BioShock Infinite
Crysis 3
Batman: Arkham Origins
Tomb Raider
Battliefield 4
Assassins Creed: Black Flag
Call of Duty: Ghosts
Witcher 3
For stress testing we used Unigine's Valley benchmark.
For overclocking we used either the manufactures included software overclocking program or if necessary EVGA's Precision X program.
Drivers:
GeForce 353.30
AMD Catalyst: 15.7
Main Test System
Processor: Intel i7 5930K
Memory: 16GB Corsair Vengeance LPX DDR4-2666
Motherboard: Asus Sabertooth X99
Cooling: Noctua U12S
SSD: 1x Intel 750 1.2TB NVMe SSD
Power Supply: Corsair AX860i
Monitor: Dell U2714H
OS: Windows 7 Ultimate x64 SP1
Synthetic Game Benchmarks (SGB)
In the Synthetic Gaming Benchmarks section we will show a number of benchmark comparisons of the test card and other comparable GPUs, using various benchmarks which come included with five popular modern PC games. This will illustrate how much performance this card has to offer. To ensure that long term performance is and not short term performance is illustrated 15 minutes of Unigine's Valley benchmark was run to 'warm up' the video card. Only then were any tests run on the now warm video card.
Real World In-Game Benchmarks (RWB)
In the Real Gaming Benchmarks section we will show a number of timed real world game play results using FRAPS and five popular modern PC games. This will illustrate how much performance the card being tested has to offer, and do so in a way which cannot be unduly skewed by driver 'optimizations' which have been included for the sole purpose of improving benchmark results. While not as common as it once was such optimizing is still not unheard of by either AMD or NVIDIA. Once again Unigine's Valley benchmark was run for 15 minutes to 'warm up' the video card prior to testing.