Last updated on December 7, 2023 9:03 pm
Video Card Temperature Results
For all temperature testing the cards were used in an open test bed environment. Ambient temperature was kept at a constant 20°C (+/- 0.5°C) and if the ambient room temperatures rose above 21°C or dropped below 19°C at any time, all benchmarking was stopped until proper temperatures could normalized.
For Idle tests, we let the system idle at the Windows 7 desktop for 25 minutes and recorded the peak temperature.
For Load tests, we ran Unigine's Valley benchmark for 20 minutes.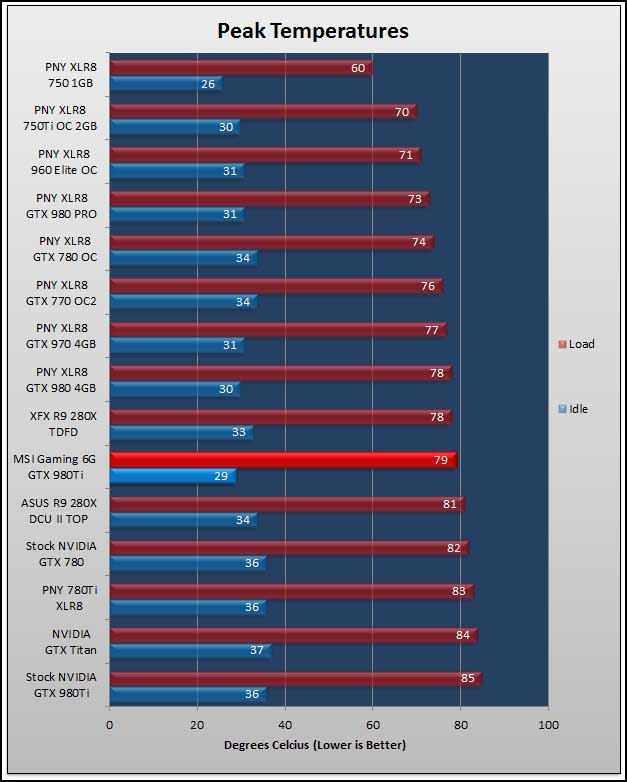 Yes that '0.0' is correct…. Yes we really, really mean that this card idles at zero decibels. Almost like clockwork, once the card entered an idle state – and the heatsink cooled – the fans would first slow down…and then stop….and stayed stopped. This might not be the first MSI to do it, but seeing such a highly overclocked, high performance card do precisely that is nevertheless grin enduring.
Sound Level Test Results
While everyone "hears" noise differently there is one easy way to remove all subjectivness and easily compare different fans: use a sound level meter. This way you can easily compare the various fans noise envelopes without us coloring the results and see what fans fit within your personal comfort level. Of course, we will endeavor to try and explain the various results – which are taken at a 15 inch distance from the GPU's fan(s) – to help you gain an even better understanding of how loud a cooler's stock fan is, but even if you discount our personal opinions, the fact remains numbers don't lie.
For Idle tests, we let the system idle at the Windows 7 desktop for 25 minutes and recorded the peak dB.
For Load tests, we ran Unigine's Valley benchmark for 20 minutes and recorded the peak dB.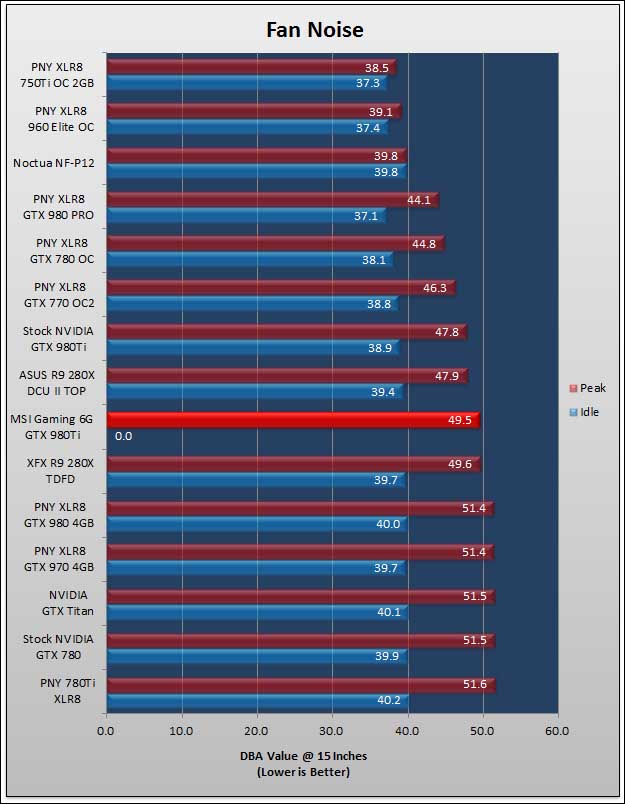 Those two large Torx fans may not be silent when running flat out, but they are about as close as you will find on a 980Ti. Better still is their noise profile is extremely easy to ignore as it is more a hum than 'whine', or 'buzz'.
System Power Consumption
To obtain accurate results we have connected the system to a Power Angle power meter that has in turn been attached to a 1500watt UPS. This ensures only 120volt power is supplied to the PSU and removes an variances that could potential crop up because of brownouts and power spikes.
In order to stress the video card we have once again used Unigine's Valley benchmark and ran it for 20 minutes to determine peak system power consumption. For idle results we have let the system idle at the Windows 7 desktop for 25 minutes and recorded the peak idle power consumption.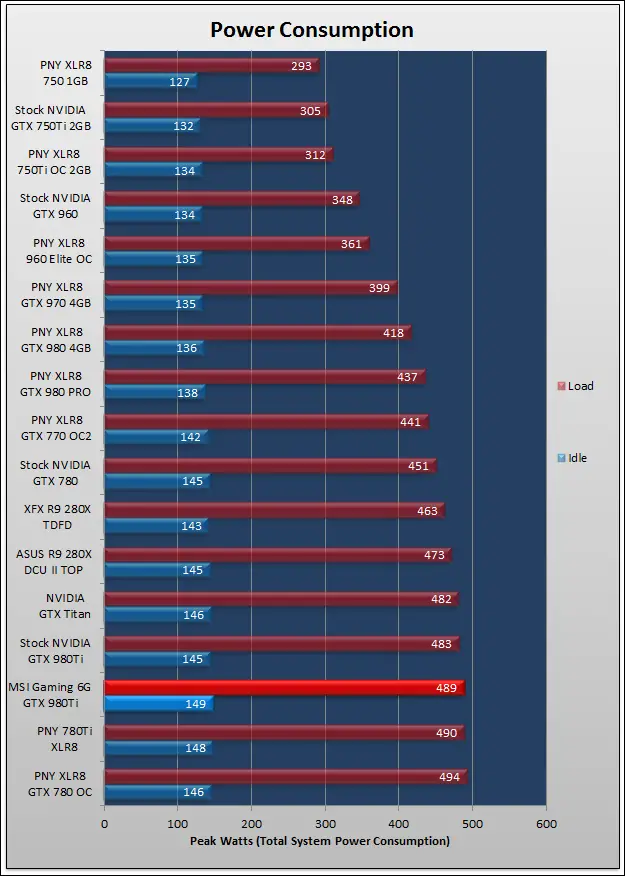 It is funny, but after seeing Maxwell after Maxwell cards absolutely dominate its almost jarring to see a 250watt Maxwell card actual give you more power than a last gen mid-range card! By the same token the amount of extra power this card requires is negligible compared to the amount of extra performance it offers. This really is Maxwell (almost) unleashed.
MSI Gaming 6G 980TI – Overclocking
Overclocking
To discover our sample's overclocking abilities we used EVGA's Precision X software and began raising power and thermal thresholds to the maximum allowed and then increased the voltage also to the maximum permitted. Then using Unigine's Valley benchmark we began stability testing.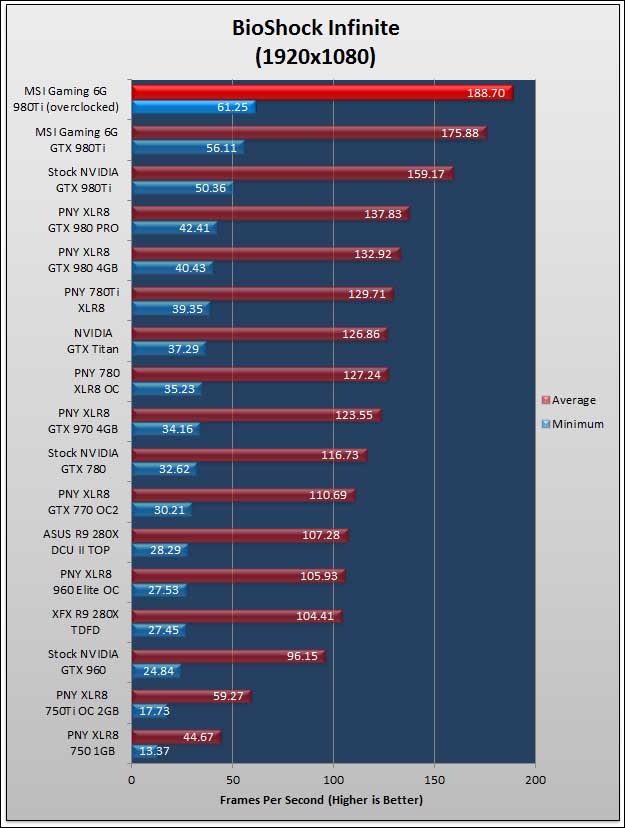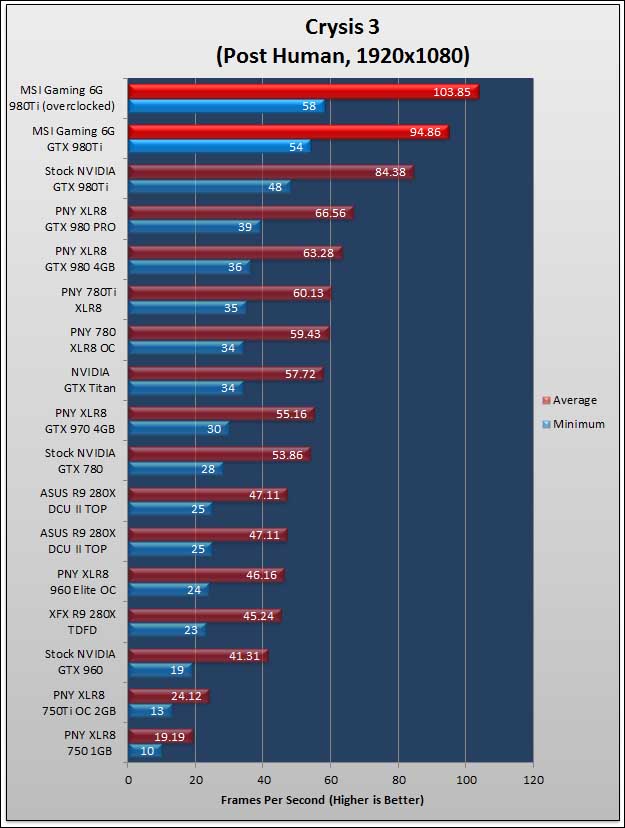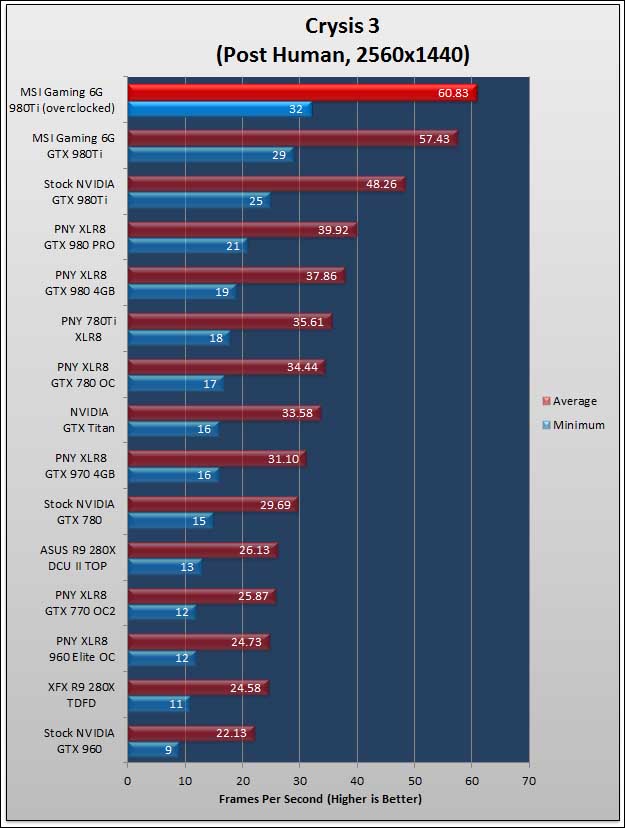 With such a high overclock applied to both the RAM and the core we really were not expecting all that much of a performance improvement. This is not because the custom heatsink the Gaming 6G 980TI comes with is suboptimal; and it is certainly not because we thought the power delivery subsystem was going to fail us. Instead we knew NIVIDA had purposely hardset the upper limit on voltages that are allowed to be applied. This is a crying shame as what this card is capable of is well in excess of what NIVIDA allows, and as expected we hit the voltage wall long before we found the true limitations of this design.
With that being said even a moderate boost resulted in even better performance. Considering overclocking this beast is as simple as can be, we recommend that all buyers take the time to do just that. Who knows you may just get a 'golden' board that allows for even more overclocking without (even) more voltage. We however got what we feel is a pretty typical Gaming 6G. That is to say we got a decent overclock, but obviously MSI has already binned these cards and tapped into most of its potential already. As such we 'only' got an extra 191Hz (1470Mhz) on the core, and a fairly typical 800Mhz effective boost on the memory (7900MHz effective).
To put that another way we turned an already 18.9% overclocked GM200-310 into a 36.6% overclocked GM200-310, and turned 1.3% overclocked ram into 12.7% overclocked ram. Even though there was still more room left for overlcocking if (if NIVIDIA had not interfered) that is still darn impressive. Better still there is another – even more impressive – way of looking at things. That is for a mere $31 more than a reference design, consumers not only get a much better built card, and a dead silent one, but also one that has most of this true potential already unlocked. We know we charge our customers more than $31 in our custom builds to overclock their parts for them!
MSI Gaming 6G 980TI – Performance Summary & TL;DR
Performance Summary and TL;DR
In an effort to make sorting through all the results as easy as possible we have combined the results all of all the game results into an easy to digest summary format. By comparing it to similar products in all the games you will be able to easily find the game(s) you are interested in, see the improvement and decide if it is the worth the investment.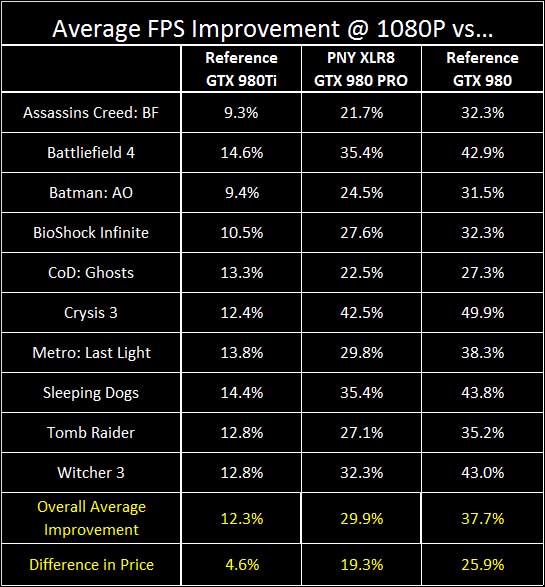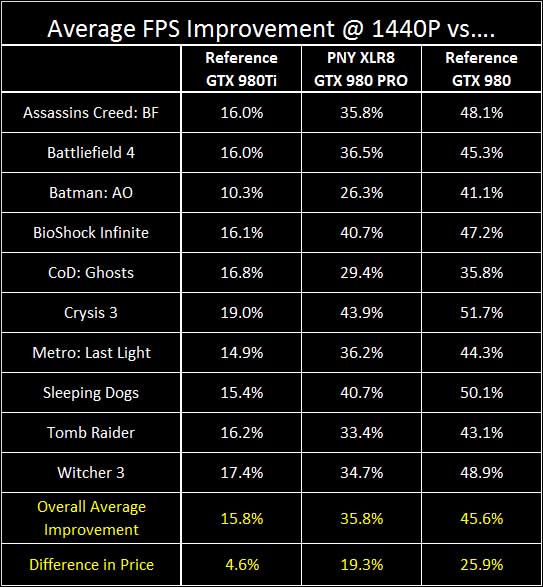 MSI has taken the already potent and powerful NVIDIA GeForce GTX 980Ti and cranked the proverbial dial not to an 'eleven' but all the way to 'twelve'. From a performance point of view there is absolutely nothing you could ask for that this card could not deliver.
Score Card and Summary
Packaging & Accessories:7 out of 10
The packaging for the Gaming 6G 980Ti is excellent. Its blend of good looks, good protection, and good information is a winning one. Sadly MSI needs to include a bit more on the accessories side of the equation – as it is a touch Spartan for this price range.
Functionality & Aesthetics: 18 out of 20
The aesthetics are a touch too much on the aggressive side for our personal tastes, but there is no denying this is still a good looking card. Mix in a 'high speed, low drag' custom design that is nothing short of gold standard worthy and the end result is going to be happy customers from a Functionality & Aesthetics point of view.
Build Quality & Warranty: 18 out of 20
If there is any area that could be improved upon it is in the warranty department. Sadly X years is merely the industry average, and is the only thing 'average' about this video card. Fortunately the over-engineering that went into the design of the MSI GeForce GTX 980Ti Gaming 6G means that it should almost certainly last well past the point of obsolesces. If you plan on running your card for ten years, then by all means subtract 3 from this score, but for most consumers it will be (almost) a non-issue.
Performance: 29 out of 30
While it may not be a 'fully' enabled NVIDIA GM200 based video card, what MSI has done is impressive. To be perfectly candid we have zero issues with this card from a performance point of view.
Value: 18 out of 20
Value is an imprecise term at the best of times, and one persons value is another wo/man's folly. If you can get past the asking price, you too will realize that for only thirty one dollars more than a reference card you get one heck of a power house. In fact, get two of these cards and you will still have over a hundred dollars left over in your budget compared to if you have just bought one Titan X. That is a good value, no matter what your opinion is on spending nearly $700 for video card.
Final Score: 90 out of 100
When you combine a phenomenal heatsink – capable of passive cooling and add in a monster overclock to an already phenomenally powerful 980Ti core the end result is nothing short of outstanding. However when you do all that and then only charge 4.6 percent more than a reference card….well the result is not outstanding but simply spectacular.
MSI Gaming 6G 980TI – Closing Statement
Closing Statement
For those of us who cannot afford MSI Titan X video cards, aka most of us, the MSI Gaming 6G 980TI is about as close to gaming Nirvana as you are going to find. Its blend of 6GB of factory overclocked ram, hefty factory overclocked NVIDIA 'Maxwell' GM200-310 core, and the extremely powerful Twin FROZR V custom heatsink, with dual fans makes for one potent combination.
Throughout testing we were simply amazed at what this card could do and how powerful a video card MSI was able to create. With that being said, it was not actually its best in class gaming performance that truly won our hearts and minds; no in the end it was how well tempered a card it was. Let's face it, usually top of the line 'high performance' video cards are not what we would classify as silent. Yes they can usually be very quiet, but for the most part they are going to be louder than your entry level cards. After all, 250watts of power is a lot of heat to disperse!
After working with this video card for literally hundreds of gameplay hours, we can say with 100% confidence that the MSI GeForce GTX 980Ti Gaming 6G is the exception to the rule. At idle – i.e. when not getting your game on – this card is not only as silent as any low powered entry level card, it is actually quieter. In fact, it is dead silent as the heatsink is big and powerful enough to handle an idling Gm200-310 core without active cooling. Yes, that is correct, this cards two large and fairly mild-mannered fans stop whenever possible. This means that if you want to make your 'Gaming PC' pull double duty as your 'Work PC' this card is one of the few that can truly do double duty.
Almost equally impressive is the fact that this card comes with a heavy factory over clock and yet even at high gaming loads was barely audible. The fact MSI was able to do that and only charge a $31 premium over a reference 980Ti is simply astounding. Performance and value in a 980Ti…what a refreshing concept – and one heck of a potent combination!
To be honest the only major area anyone can really fault this card, and that is the fact that it only comes with a 3 year warranty. A three year warranty is the industry standard, but it would have been nice if this card has been above average in all areas. Though where it is so over-built we doubt many will worry about it – we know we are not going to. In fact we are more worried about the fact that this level of performance is addictive…and once you try it you will not only want one of them but two of them! So 'beware' as we can almost guarantee that after you buy one, you will quickly start thinking of ways to justify a second. In all seriousness, we strongly recommend you take a long hard look at the MSI 980Ti Gaming 6G. It really is one of the best 980Ti's you will find on the market today.