$939.99
in stock
as of March 21, 2023 2:29 am
Last updated on March 21, 2023 2:29 am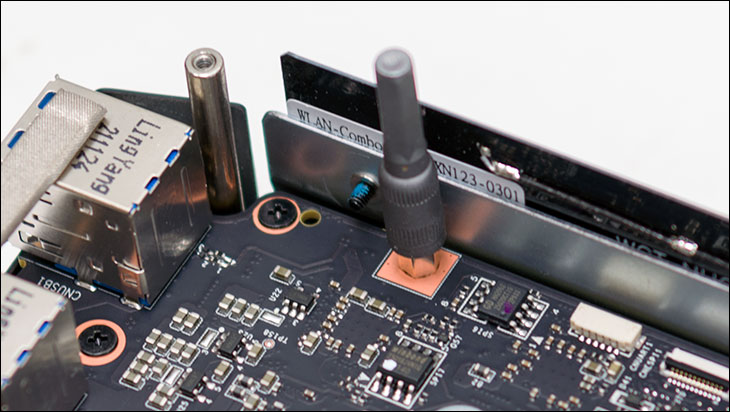 With the side fascia removed you can now turn your attention back to the motherboard and start removing bolts and stand offs. Expect to remove two "long" standoffs, four short standoffs, and five small screws. We strongly recommend taking a clear photo (or twelve) of the motherboard (and the location of all these bolts) before starting in on them.
As an aside the easiest way to get the standoffs off is to use a 4mm socket. We have seen too many people use pliers, or those cheesy socket to screwdriver adapters that come free with some cases, to not mention the right way to do things. Also as an aside, when you do put them back. Be careful. There is no good reason, let alone need, to go full ham like a Mister Hammerstein. These bolts have been loctite'd in place. They were not over-torqued. They just feel like that until you break the temporary sealant on the threads. Hand tight is tight enough. Especially considering all they are doing is keeping either the metal heatsink or plastic fascia in place. We would however recommend reapplying a dab of Loctite before reinstalling them.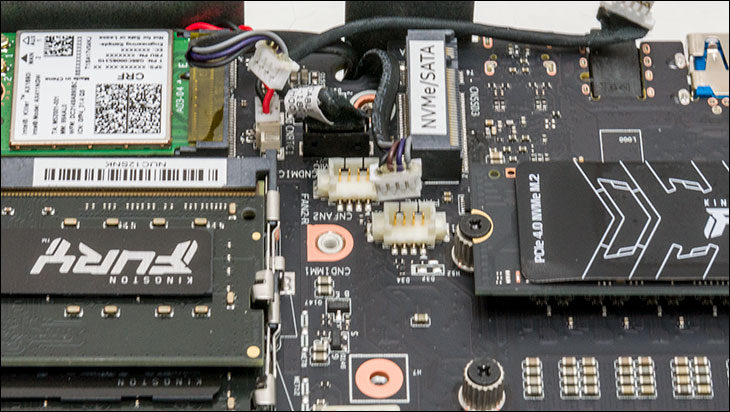 The next warning is simple. Before you go and try to lift the motherboard up and off its standoffs… please unplug the two fan cables first. They are located between the two DIMMS and the two M.2 ports' standoff.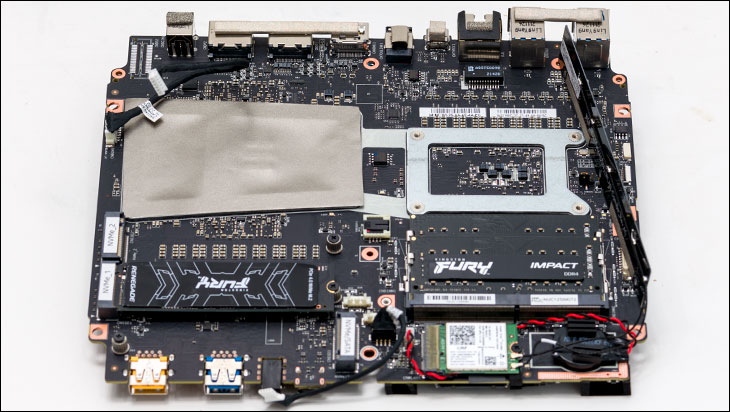 When you do remove a custom variant of the common "high performance laptop" HSB J MV-6 motherboard from its chassis the first thing that stands out is the two fans.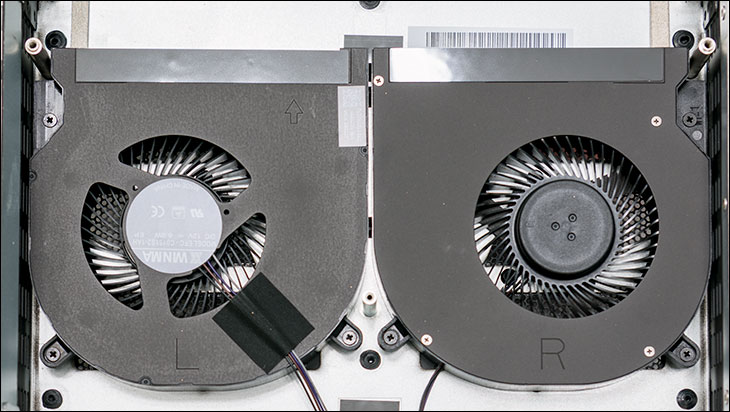 As made mention previously they are not the same. One intake is via from the "top" (i.e. internal to the NUC 12 enthusiast) and the other intakes from the "bottom". This is done to help promote some airflow over the various passively cooled discrete ICs that Intel includes.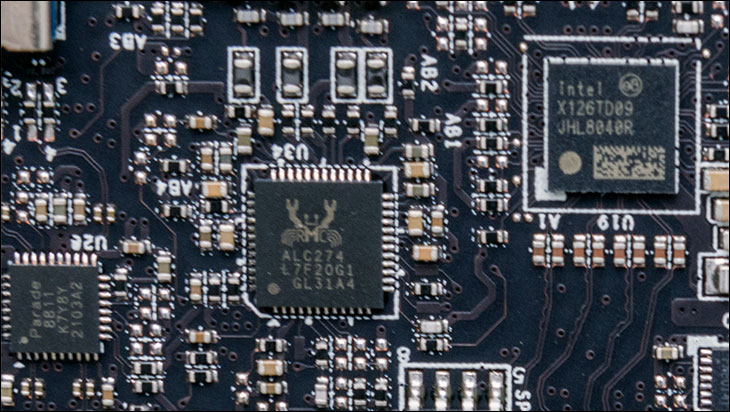 For example, the nekkid (i.e. no EMI shielding… or even separate PCB layers for the channels) ALC274 audio codec, or the Intel "Burnside Bridge" JHL8040R ThunderBolt 4 controller, or Parade Technologies 8811 USB 10Gb/s single port controller.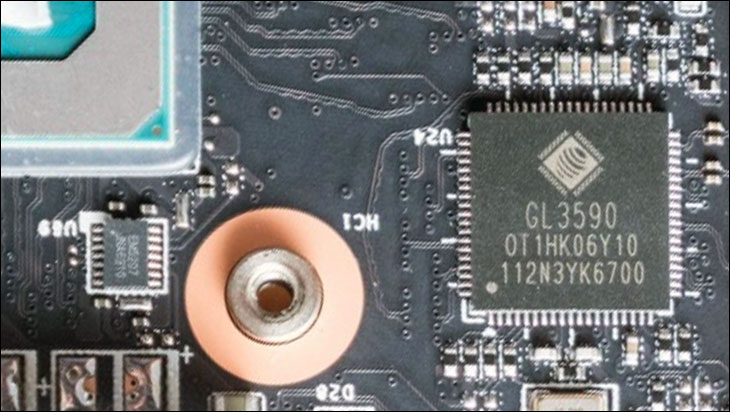 The Genesys Logic GL3590 USB 10Gb/s hub.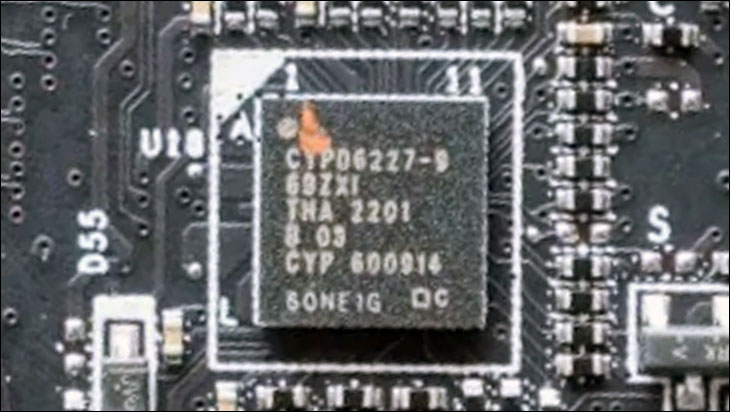 The Infineon Technologies Cypress Logic "EZ-PD" CYPD6227 USB Type-C controller.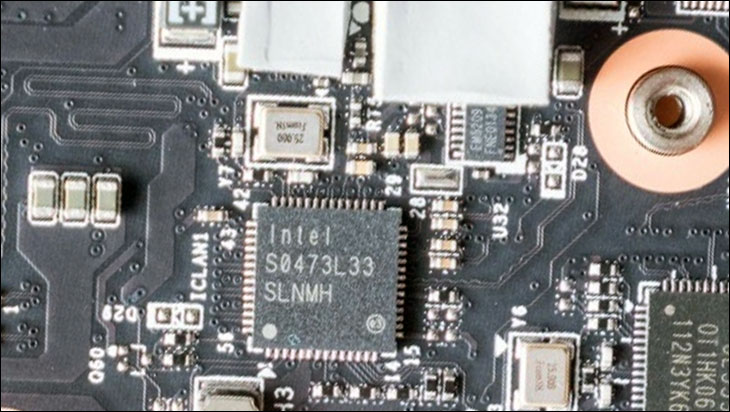 …and of course, the Intel first generation "Foxville" i225-v 2.5GbE controller. Of which we take umbrage with its inclusion. This controller is just plain wonky. Even after three revisions Intel themselves have basically given up on fixing it and instead released the i226-V. A 'fixed' foxville that does not exhibit the low-level, hardware squirreliness the i225 NIC randomly suffers from. This is a brand-new model. A brand-new model using a NIC with known issues. Worse still, is the NUC 12th generation Enthusiast edition still only comes with one NIC. If there was ever a model that cried out for a second 1GbE NIC… it is this device.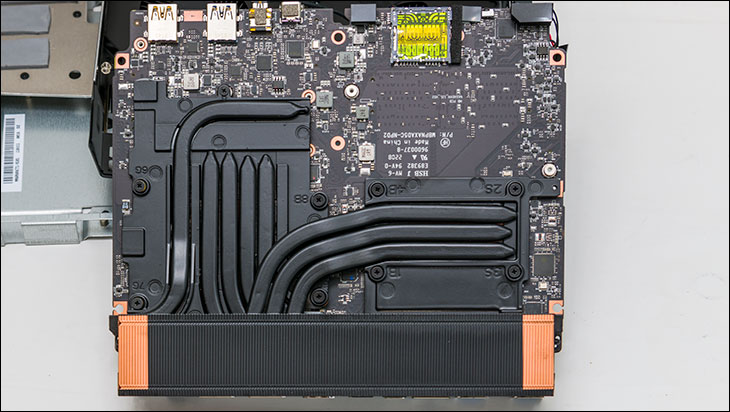 Moving on before we have to start taking blood pressure medication… Intel has noticeably improved the cooling configuration of the NUC 12th gen Enthusiast. The last generation used a ~14.5mm all aluminum cooling fin array paired with 6 heatpipes. Two for the 28 watt CPU, and four for the NVIDIA GeForce RTX 2060M video card. To be a bit more precise, two of the four for the GPU and both for the CPU were flattened 6mm heatpipes, with the other two being flattened 8mm heatpipes.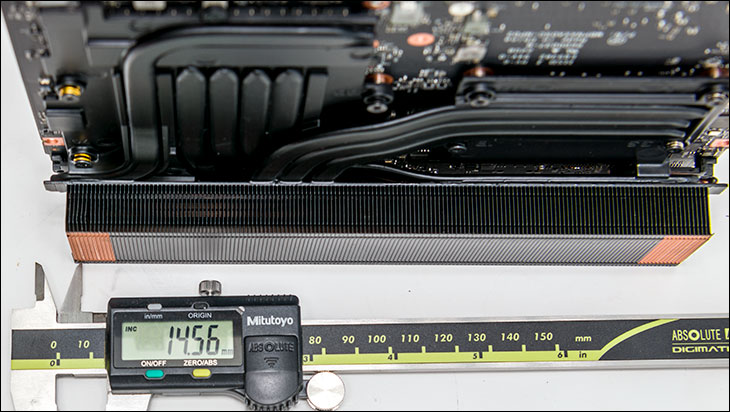 For this generation the ~14.5 (tallest part of the fold was 14.6mm, smallest was 14.4mm) fin array is made entirely from copper. Copper that has then mostly been painted black so as to reduce long term concerns over tarnishing. Equally impressive is the 2x6mm configuration for the CPU has been increased to 3x6mm, and the GPU is now cooled via five 6mm heat pipes.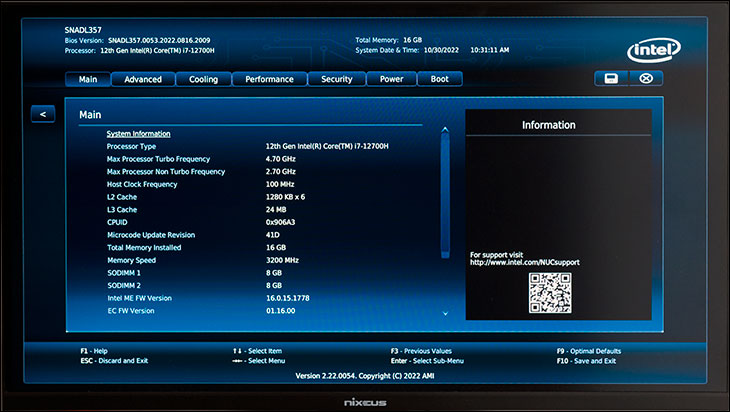 Of course, Intel had to increase cooling performance as the Alder Lake-H i7 12700H has a variable TDB of up to 115 watts. Of course, as this is a more cooling constrained device than some of the massive beasts one can find this CPU in, intel has limited it to a PL1 of 75 watts, and PL2 of 95 watts in 48 second bursts. That however is a major upgrade over what the last gen i7-1165G7 offered with a flat 28 watt TDP.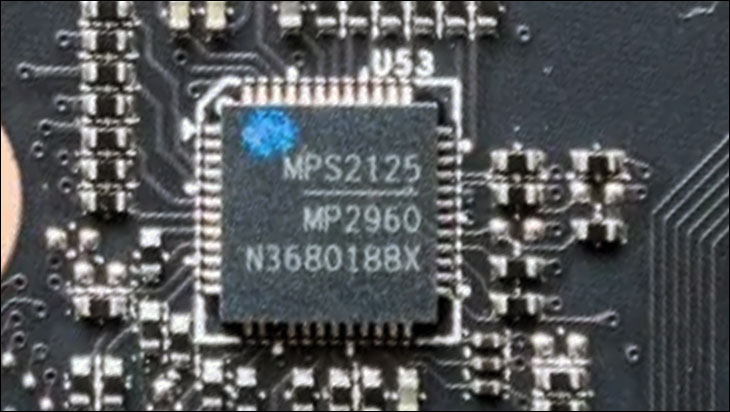 To help things out Intel uses a 7+1 VRM all digital configuration for the CPU VRM (backstopped by a Monolithic Power MPS2125+MP2960 digital IC).
Furthermore, this power has been put to good use as instead of a 4 core / 8 thread CPU running along at 'up to' 4.7Ghz, this new bad boy is based on Intel's first generation big.Little design philosophy. To be precise it offers 6 performance 'p-cores' (trucking along at up to 4.7GHz) backstopped by 8 efficiency 'e-cores' (3.5Ghz). Sadly… it is based on the first gen / 12th generation design and not Intel's latest 13th generation improvements. Thus it 'lacks' the major upgrades baked into the 13th generation big.Little design. This neatly explains why this generation runs at 'up to' 4.7Ghz on its p-cores and a sedate of 3.5Ghz on its e-cores… instead of 5+ and 3.8+ (for example). It also lacks the major cache upgrade that makes the second generation / "13th Generation" big.Little design so powerful. Obviously, people wanting a mobile 13th generation NUC will have to wait for… 13th Generation NUC series to be released. In the meantime, this is an extremely good processor with an actually useful power limits. In testing it is not only noticeably faster than the last generation it is also down right whisper quiet when more mundane tasks were being taken care of. Put simply big.Little is virtually tailormade for NUC devices.
Moving on. Technically the 12th Generation NUC Enthusiast makes use of a 'mobile' GPU. To be specific it is an Intel Arc "Alchemy" 770M that has been paired with 16GB of GDDR6 (eight 2GB/16Gb Samsung K4ZAF325BM-HC16 ICs to be precise). In reality, and much like NVIDIA's RTX 4000 series, cutting the TGP down from 225 watts to 120-150 watts has not impacted performance all that much. Much like all modern video cards the A770M self-overclocks based on temperature (and power draw). In testing Intel is being very, very conservative in their '1650MHz' specification and we routinely saw it peak at about 2,000Mhz with it typically staying in the 1750'ish range. Compare this with the 'desktop' A770 with its 225-watt TGP that usually run in the 2.3K range… and the end result is only a couple 100Mhz difference between this 'mobile' and the 'desktop' version.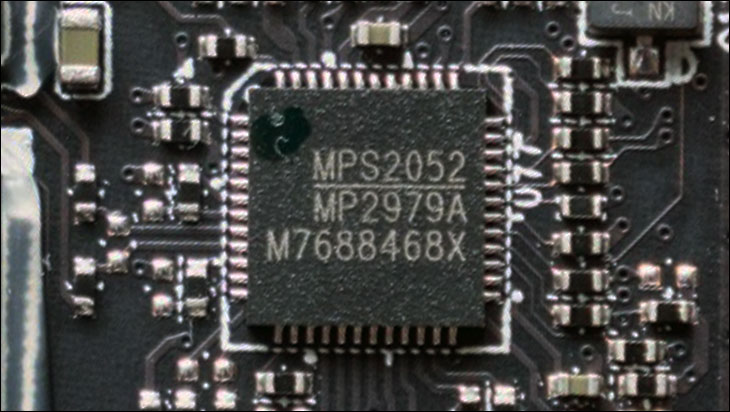 For the Intel Arc A770M Intel is using a 6+2 VRM configuration with a Monolithic Power MPS2052+MP2979 digital IC.
Overall, with the exception of the 2.5GbE NIC this is a well put together mini-PC. One that has the power, performance, and quality to satisfy most people for years and years to come.