$62.99
$99.00
in stock
27 new from $62.99
5 used from $57.95
as of September 29, 2023 11:26 am
$84.99
$109.00
in stock
11 new from $68.70
16 used from $61.99
as of September 29, 2023 11:26 am
$89.99
$99.00
in stock
11 new from $89.99
6 used from $90.00
as of September 29, 2023 11:26 am
Last updated on September 29, 2023 11:26 am
So far we have taken a close look at most of AMD's Ryzen line-up and, while there have been variances from model to model, overall both the Ryzen 5 and Ryzen 7 series have indeed lived up to expectations. Their combination of performance, price, and technological innovation means it really is hard to go wrong with nearly any Ryzen 5 or Ryzen 7 CPU… as both series offer incredible value for their perspective classes. We have however fielded many questions about their lower priced Ryzen 3 siblings.
These questions run the gamut from what AMD has changed to which model would be right for a given budget build. Well today we are going to investigate theses smaller Ryzen siblings so as to provide insight into what makes them tick – and who they are right (and wrong) for. To be precise we will be putting the $130 (USD) Ryzen 3 1300X and the $110 (USD) Ryzen 3 1200 to the test. Then when the dust settles you will not have to take our word for it and rather will be able to clearly see if these down right inexpensive CPUs are right for your next build. Conversely you will be able to see if moving up a step to a Ryzen 5 makes more sense overall for your particular needs.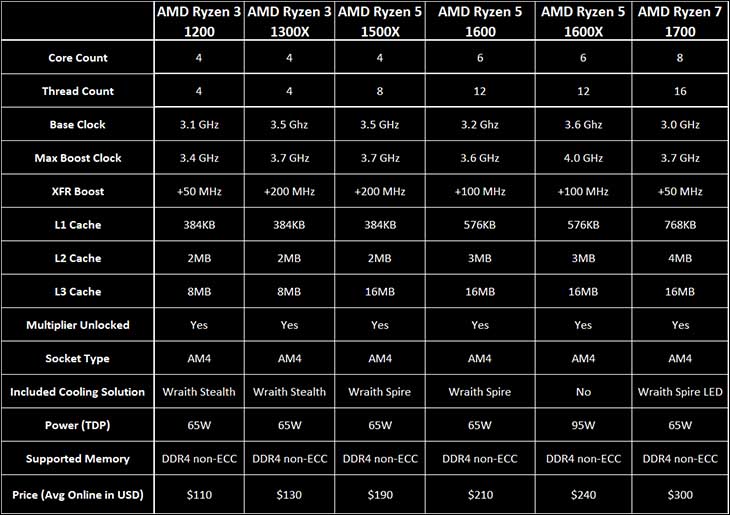 While we will go into greater detail later in the review, for those who have not been paying close attention to AMD's more recent Ryzen releases a brief overview is called for. The Ryzen 3 1300X is basically a 4 core Ryzen 5 with its native multi-threading disabled. To make up for this halving of threads compared to its Ryzen 5 and 7 siblings AMD has given it a base clock rate of 3.5Ghz, a maximum Turbo speed of 3.7Ghz, plus a XFR boost of 3.9Ghz. That is the same as AMD's Ryzen 5 1500X and is one of the highest XFR speed you will find in the entire Ryzen lineup. Though unlike the Ryzen 5 1500X AMD includes a low-profile CPU cooler – the Wraith Stealth – instead of the higher performance Wraith Spire. In other words, the Ryzen 3 1300X is focused in on budget constrained consumers who usually opt for Intel's lower priced i3 options… but want even more performance that can only come from having four cores and not 2 cores that – thanks to 'HyperThreading' – can handle four threads simultaneously. For $130 that is a lot of performance potential to say the least.
The Ryzen 3 1200 on the other hand is aimed squarely at those who are only interested in a budget build for low demanding tasks. For example, those interested in a basic word processing, web-surfing, java game playing system. Make no mistake this is a huge portion of the market and AMD were wise to offer a solution tailor made for these consumer's needs. This focus on the 'bottom line' means that the Ryzen 3 1200 is not going to be a speed demon… but not exactly slow by modern standards either. After all, four cores clocking in at 3.1Ghz that can boost to 3.4GHz or even 3.45GHz (via XFR) is nothing to sneeze at – especially when you get all this for a mere $110.