$62.99
$99.00
in stock
27 new from $62.99
5 used from $57.95
as of October 2, 2023 11:44 am
$84.99
$109.00
in stock
10 new from $68.70
16 used from $61.99
as of October 2, 2023 11:44 am
$93.99
$99.00
in stock
15 new from $151.00
6 used from $90.00
as of October 2, 2023 11:44 am
Last updated on October 2, 2023 11:44 am
Ryzen is choke full of performance improve nets with everything from native SMT – that is arguably better than Intel's 'HyperThreading' – on down to eight physical cores. There are however two new technologies that are really, really exciting and deserve to be highlighted and showcased. These two technologies are of course XFR and Precision Boost.
Let's start with Precision Boost. For many, many years now CPU's come with two speed specifications: stock and boost. In a nut shell the 'stock' speed is what the CPU can do on all cores all the time, while 'Boost' (or 'Turbo Boost' as Intel calls it) is a higher clock speed that a couple of the cores can do. The CPU does this by increasing the multiplier a couple extra levels on an 'as needed basis' but usually only on a couple cores. In practical terms this means single and dual threaded tasks get more speed and
for people who are unwilling to manually adjust the multiplier… the CPU does it for them. Of course, the boost in multiplier is a lot less than what you can do manually but it too was a game changer back when it first hit the scene.
The downside is that this 'boost' is extremely course in its adjustments as it only can go in 100Mhz– ie 1 CPU multiplier – increments. Thus on systems that are right at the ragged edge of cooling the boost number is a pipe dream. This is how Intel does it and how AMD did it. Ryzen on the other hand is a new and much more elegant take on things as Precision Boost allows for much, much finer grained core speed control.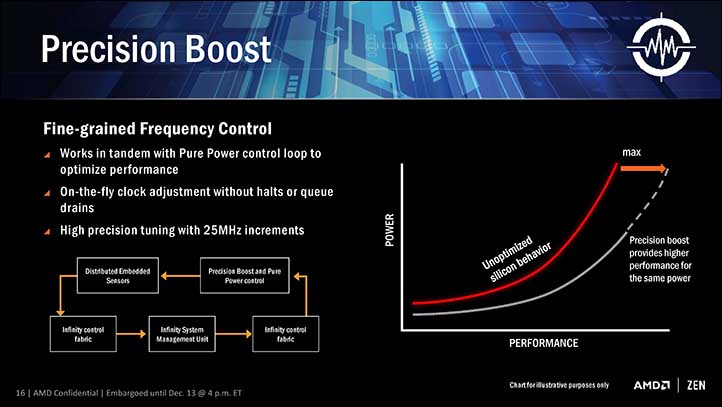 This is because, just as the Ryzen design team borrowed their 'building block' idea to processor design from the APU and GPU team, the design team also borrowed precision frequency adjustment from their GPU team. Basically, the boost speed can vary from core to core in real time based upon actual loads upon the cores, can be adjusted in 25Mhz increments, and allows up to 0.6miliVolts of additional voltage to be fed to each core… all in real-time.
Of course, there is a few caveats to this new and improved Boost. First and foremost, Precision Boost is smart enough to actually not fry the CPU cores. So while it will Boost speeds there is two hard limits baked in. First it will start lowering CPU core speed (especially on those that don't need the extra performance) when the CPU starts demanding 128 Watts of power (in the case of the 95 TDP modes… expect it kick in much lower with the lower TDP variants). The other one is actually more troubling for the average consumer… as Precision Boost will start lowering core speed once Tcase (i.e. the CPU temperature via its integrated thermistors) hits 60-degrees C.
Sixty degrees is not all that hot and for most consumer it will be the real limiting factor. Thus cooling is very, very important to overall system performance and consumers who over-build with a high performance cooler will be rewarded with better real-world performance compared to those who stuck the cheapest cooler they could find on it. Lastly Precision Boost speed is different from all core boost speed. Basically, don't expect to get a Boost speed of say 4.0Ghz on all cores all the time. The CPU would probably pull more than PBoost allows. So its really more like a 1800x or 1600X will routinely do 4.0Ghz on two cores, with others running at lower core clocks… and maybe do more than 2 cores if power draw and cooling limitations are not hit first. This is still pretty darn decent as PBoost does adjust each core based on individual needs in real time so the cores that need the speed now get it while cores that don't… don't and needlessly raise the overall CPU temperature or pull more electricity than they need.
AMD however did not just stop there as they also included an entirely new boost mode. Basically, on top of Precision Boost AMD also offers XFR. XFR, or Extended Frequency Range, is designed solely for low core demand scenarios and only does a small boost on the max Boost specification. Basically Ryzen 'X' models will hit 100 (most X models) to 200 Mhz (oddball ones like the 1500X and 1300X) higher than their Boost rated speed, while non-X models will only go 50Mhz (most) to 100Mhz (oddball ones like the 1600) faster. Of course, cooling is once again the real limiting factor. So if you routinely are seeing 60-degree plus temperatures… swap out the cooler for a bigger, better model… and it in theory the CPU will reach its 'true' potential.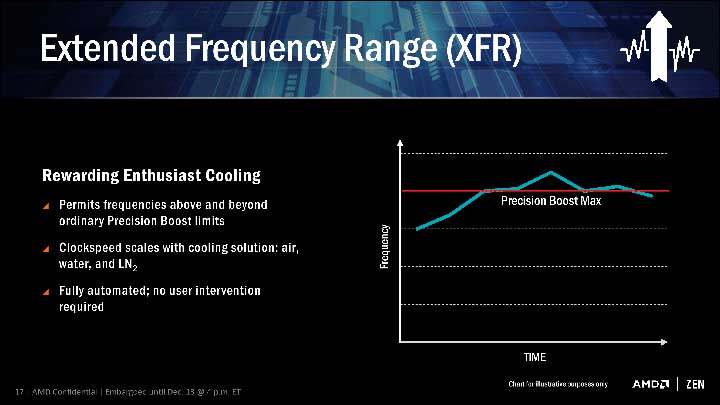 XFR is indeed a potential game changer but 50 to 200Mhz at most (depending on the model in question) is a bit of a disappointment… and something AMD did not do a great job of explaining in prelaunch. Which to be fair is to be expected as it is brand-new way of looking at things and they didn't want to give Intel time to prepare.
Will this change much as time goes by and Ryzen matures? Possibly. But AMD has to ensure that all Ryzen's can do it – even the 'worst' of them. Thus, XFR is not going to (entirely) replace manual overclocking… as with manual you the owner find and set the core speed limit. As such, XFR is very interesting technology but it does have that 'fresh from the oven' smell. Its enticing, but even it in conjunction with Precision Boost it may leave you wanting even more.