$62.99
$99.00
in stock
24 new from $62.99
5 used from $57.95
as of October 1, 2023 11:42 am
$84.99
$109.00
in stock
11 new from $68.70
16 used from $61.99
as of October 1, 2023 11:42 am
$93.99
$99.00
in stock
14 new from $126.96
6 used from $90.00
as of October 1, 2023 11:42 am
Last updated on October 1, 2023 11:42 am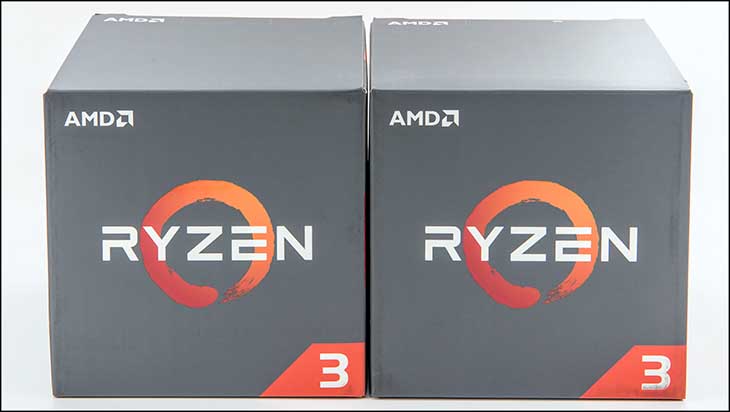 Much like its higher priced brethren buyers of a Ryzen 3 can expect to find a nice sized shipping container that looks just like all other Ryzen shipping containers… just with a '3' instead of "5′ or '7' on it. Inside this shipping container is housed the CPU in a nice little cardboard box and plastic clamshell holder, and a CPU cooler. Some of the Ryzen 5's and Ryzen 7's actually don't come with a cooler so this is a nice little bonus that further boosts their overall value.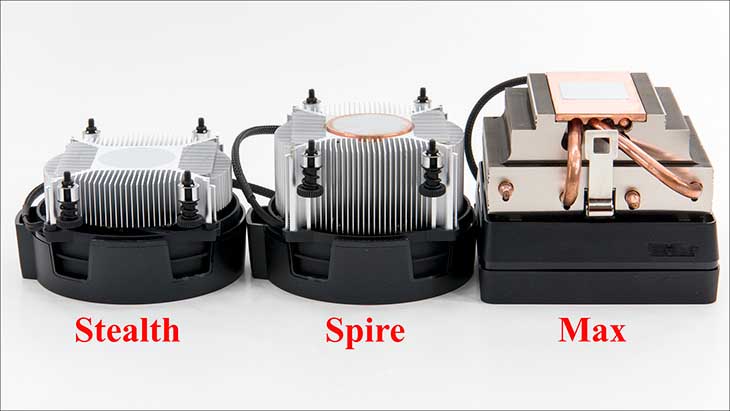 With that being said this CPU cooler is not in the same league as what ships with Ryzen 5s (the Wraith Spire LED) let alone the Ryzen 7's Wraith Max. It is still very decent for but it is a lower profile, and less capable cooler (as it solid aluminum, is missing the copper core of the Spire, and has only about half the heatsink mass of that AMD cooler). Basically, the Wraith Stealth is a dead ringer for Intel's i3 and i5 stock cooling solution, so while it is not as impressive as the Spire, let alone Max, versions it still is more than enough to keep a 65 watt TDP cooler like the Ryzen 3 1300X happy… at stock settings. So is this change in cooling solution worth sixty dollars of savings? Only you can decide… but we will show you thier impact later in the review.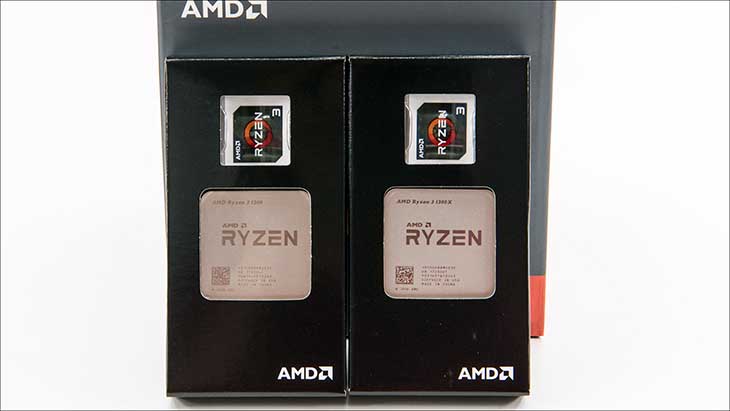 As we went over in the previous page, Ryzen 3s are the last to come out of the factory testing. They consist of the Ryzen chips that failed to make the grade as a Ryzen 7 or 5. This is not to say that they are bad, rather that they are simply made up of the chips that could not be sold as higher priced models. This is perfectly fine as they are working processors, just ones that will be somewhat inferior to their higher priced brethren.

To be precise both the Ryzen 3 1300X and the Ryzen 3 1200 consists of two CCXs which only have two working cores in each CCX and only half the amount of L3 cache enabled. Furthermore, in order to pass factory performance levels they have also had their native simultaneous multi-threading (SMT) deactivated. That is basically where the similarities between these two Ryzen 3 processors end.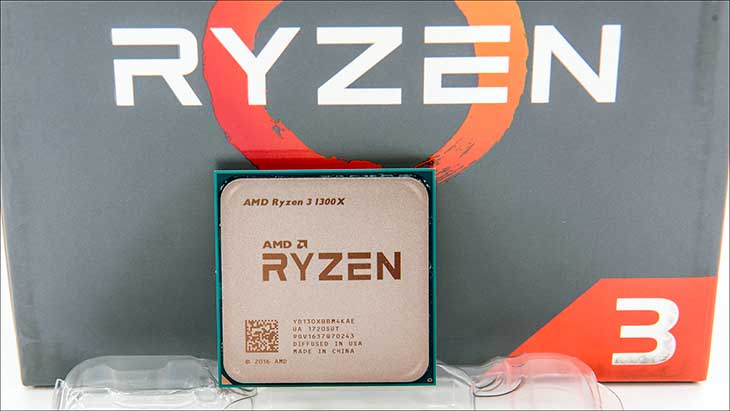 The Ryzen 3 1300X is for all intents and purpose a Ryzen 5 1500X that passed its frequency testing but failed in either the L3 or the SMT testing stage. To keep model numbers down all Ryzen 5 1500X's that fail either of these tests become Ryzen 3 1300X CPUs. What this means is that for a mere $129 buyers of this processor get four cores which may be lacking SMT but come with a rather high base clock of 3.5Ghz, a Turbo rating of 3.7Ghz… and even a 200Mhz XFR boost setting. This is literally the exact same frequency settings the $189 Ryzen 5 1500X boasts. In other words, for a whopping 46.5 percent reduction in asking price buyers are only asked to give up half the L3 cache (a still reasonable 8MB instead of 16MB) and can forget about SMT. For single threaded tasks neither of these two sacrifices will be overly concerning.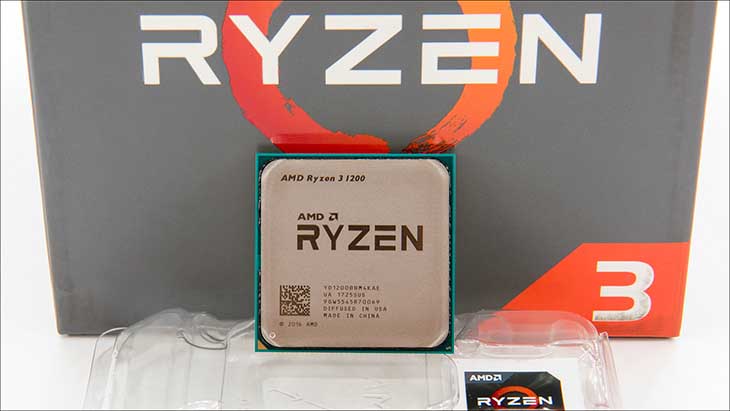 Moving on to the even lower priced – $109 USD – Ryzen 3 1200 we come to a CPU that is basically a slightly slower version of the Ryzen 5 1400 that also has SMT disabled. To be precise a $159 Ryzen 5 1400 clocks in with 8MB of L3 cache and its four cores set to 3.2Mhz/3.4Mhz/3.45Mhz (base/turbo/xfr). The Ryzen 3 1200 on the other hand has a base clock 100Mhz slower at 3.1Ghz… but all the other settings the same. The same 50Mhz XFR boost, the same Turbo rating of 3.4Ghz. Even the same 8MB of L3 cache.
This means the Ryzen 3 1200 is in all likelihood a Ryzen 5 1400 that simply was not stable at 3.2Ghz with SMT enabled. Though a few probably also needed a slightly lower base clock to ensure 100 percent stability, and others had issues in the L3 department. Once again to keep the number of model numbers down AMD combined these groups of factory binned processors into one Ryzen 3 model. In other words, they are the CPUs that only were able to pass the 'last chance' factory testing before being considered a write off. That however is only looking at the small picture and missing the forest for the trees. This processor still offers incredible value as it is a four core processor and not 2 cores plus SMT/hyperthreading… and is in all likelihood a big reason why Intel suddenly decided to make their eight gen series i3 processors… four cores. Yes this processor did send shockwaves through Intel's boardroom meetings… just like Threaripper did. Which is indeed great news for consumers!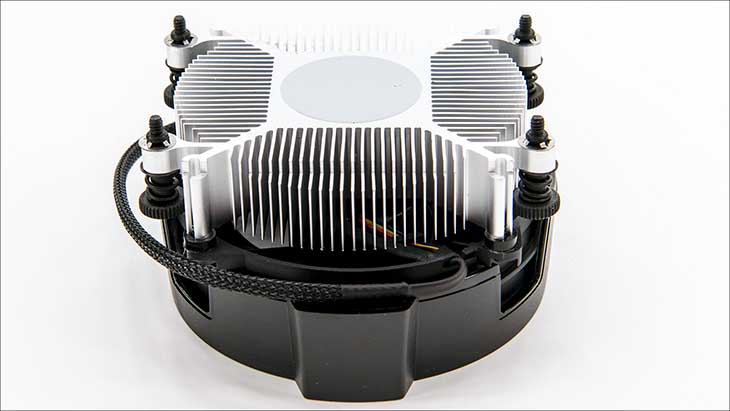 Like its slightly more expensive Ryzen 3 1300X brother, the Ryzen 3 1200 comes with the low-profile, all aluminum Wraith Stealth. However, unlike the 1300X we have little issues over the use of a low-profile cooling solution as the Ryzen 3 1200 is meant for lower performance scenarios and will be putting out a lot less heat thanks to its noticeably lower factory frequencies settings.