$939.99
in stock
as of March 17, 2023 11:29 pm
Last updated on March 17, 2023 11:29 pm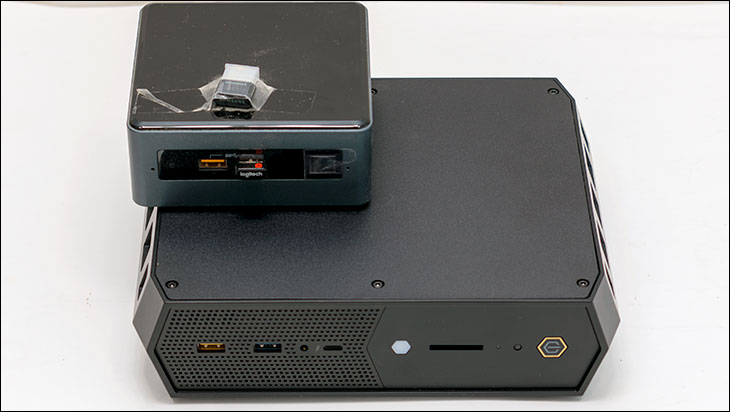 For those who have never handled, or even seen, a NUC enthusiast model in person a bit of description is in order… as pictures do not do them justice. They either make the NUC Enthusiast line look tiny, which they are not, or massively oversized. Which they also are not. Instead, they are designed around the idea of the middle path. One where they are indeed bigger than a 'standard' sized NUC but are much, much smaller than the typical mITX case. They are even noticeably smaller than the (mITX class competitor) Extreme NUC model variants. To be a bit more precise a "Pro" slim edition NUC will have about 0.5L of case volume. The Pro 'Tall' edition brings that about to three quarters of a Liter of internal case volume. An 'Extreme' NUC on the other hand typically has about 8L of internal case volume (compared to about 10 and up for a 'true' mITX case). The NUC 12 Enthusiast boasts an internal case volume of about 2.5L.
Yes. That is three to five times more than what the original philosophy behind the Next Unit of Computing was all about… but it's not actually that big. They are still small enough to fit on the back of a 17-inch monitor (albeit only if the included adapter bracket and not a proper 3rd party dual adapter is used). Basically, they are meant to be NUCs with a greater array of upgrade options and integrated features… while still not going full ham like the Extreme editions do.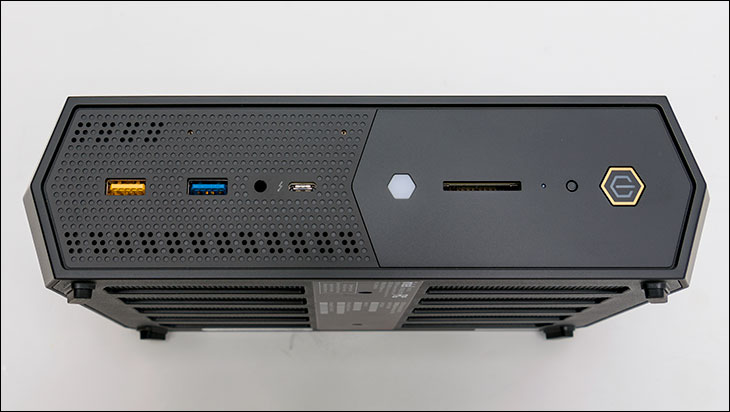 For example, on the front of a typical NUC 'Pro' (aka standard NUC, aaka what a NUC was originally designed to be) one would expect to find a stereo headphone jack, a pair of USB Type-A 5 to 10Gb/s ports (one of which typically does double duty as a BIOS flashing port and is distinguishable from the other via the use of yellow instead of blue PCB) and a power button. That's it. On the NUC 12 Enthusiast you will find all those features plus a Type-C Thunderbolt 4 port, plus a recessed reset switch, plus a SD card reader, plus an honest to god HDD (technically SSD) activity LED. Now that is a nice list of front options. So much so we have seen mITX cases boast of fewer features.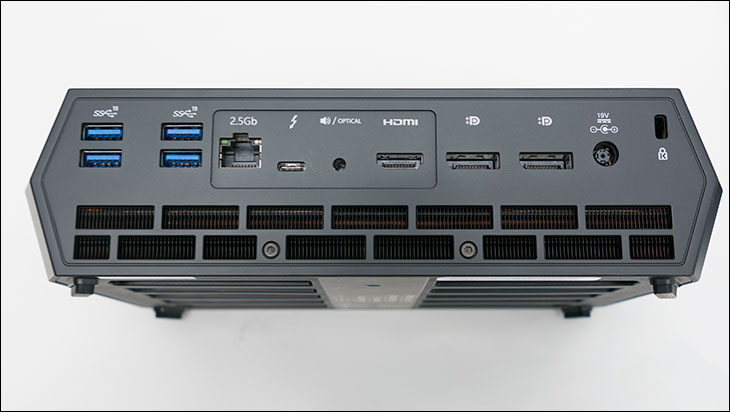 This upgrade in I/O features continues around the back as well. In a 12th gen Pro (slim or tall they both use the same PCB and thus same I/O feature set) one can expect to find a pair of Type-C Thunderbolt 4 ports, a pair of (full size) HDMI 2 ports, a single 2.5GbE ethernet port, the power in port, a single USB Type-A 10Gbs, and a lone USB 2.0 Type-A port. Which is decent and covers off most people's needs adequately. The NUC 12 Enthusiast on the other hand offers (nearly) all that and ups the ante with three additional USB 10Gb/s Type-A ports, a pair of full-sized DP 1.4 ports, and a S/PDIF optical audio out port. With that said, it does away with the second HDMI, second ThunderBolt 4, and USB 2.0 port. So while it is a much better and cohesive list of options it is not precisely an across the board upgrade… especially if you are like many that want/need/desire dual HDMI ports.
When compared against the last generation NUC 11 Enthusiast "Phantom Canyon" it's also a bit of a side grade. In the front I/O department it's the same but lacks the last generations quad-mic array… the loss of which we consider to be an upgrade. That 'Alexa' support was a major security hole and is one of the first things we disable when configuring a device for a professional environment. We assume Intel also feels the same about such spyware / security blackhole 'features' of the previous generation and that is why they got rid of it. The back however is an improvement. Not as large as one would expect from the increased dimensions (more on this in a moment) but an upgrade nonetheless. Basically, Intel swapped out the 'combo' 3.5mm audio jack (which were always a PITA when it came time to use them as an optical audio port) for an actual optical audio port, yanked the sub-optimal mini-DP ports for full sized ports, and moved the Kensington lock from the dumb as dogwater side location to the back I/O… where it belongs. Once again all are decent upgrades but hardly one that justifies the increase in MSRP.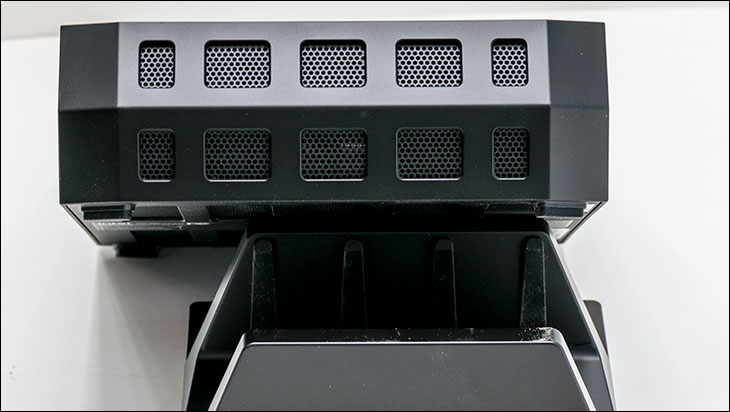 On the positive side the overall aesthetics of the NUC Enthusiast series has been massively upgraded from previous models. In the past NUC enthusiasts had the personality of a cable / satellite television receiver. Yes, they had a glowing logo but they were even more bland and boring than Lenovo – and if you have ever worked with Lenovo Small Form-Factor units you know that is saying something. This 12 generation NUC Enthusiast on the other hand has a personality and has some style. Gone is the short, squat, ugly case. In its place is a taller, wider… thicker angular case that exudes a bit of sex appeal.
To be precise the last generation were rectangular black boxes with dimensions of about 42x142x221 (or about 1.7×5.6×8.7 in hamburger units). This generation the dimensions are 60x180x230 (2.4×7.1×9.1 inches…ish). Make no mistake. As we will show in the coming pages the NUC 12 Enthusiast still makes use of a customized high-end/premium laptop PCB. It just has more room internally for more goodies. Be they cooling, or capacity related. In either case, the former is why there are so many grills located around the circumference of this snake branded NUC and why the sides are angled – as both allow for better air flow and cooling. We personally like the looks of the unit and think that it is about time Intel got serious about giving their NUC Enthusiast line a bit of personality.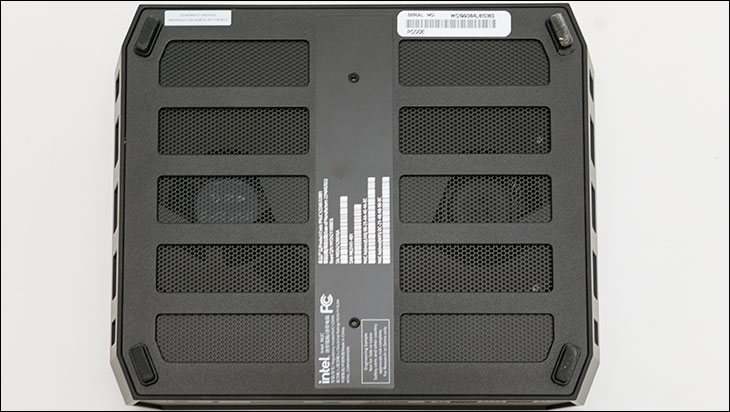 Before we move to the tear down section and have a closer look at the internals, we do have to first flip the unit over and explain why one needs to be careful when using this snazzy snake NUC with the included stand. Yes, the stand makes the footprint even smaller. Yes, it gives the overall final looks a bit extra razzmatazz. However, while it appears like both of the internal cooling fans' intakes are on the bottom that is not exactly how Intel has configured them. If you pay careful attention, you can see that the one nearest the power on/off button does indeed suck in from the bottom of the NUC 12 Enthusiast, but the one nearest the power port on the back does not. Its uses air already located inside the case… and thus promotes airflow through the left and right (bottom half) sides of the case.
Knowing this important detail is critical to one's long term happiness. For if you do use the stand and do have the power cable from the external power brick hanging up in the air you will choke off the cooling of this unit. Which in turn will cause thermal limiting and poor overall system performance to occur. As such the only proper way to use the stand is with the power on/off switch up high and the power cable down low. Remember that and you will be a lot happier.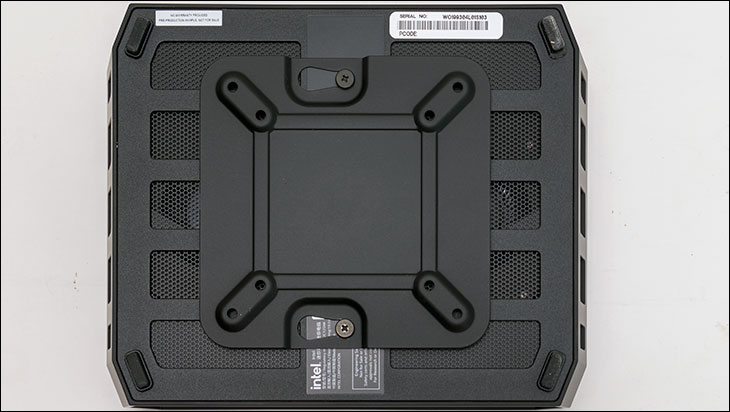 In either case, this does pose a bit of a problem when using the included wall/monitor adapter. Yes, we have another problem with this adapter. The adapter may include a ~.25-inch air gap when it is installed but it will cover half of the intake fan. So while yes, that probably is enough to not increase the static pressure demands placed on this fan, we still would have felt a lot more comfortable with this being 0.5 inch gap… and would replace the included bolts with slightly longer ones so as to give it more of an air gap. This issue however does underscore the fact that Intel never originally indeed a NUC to suck air in from anywhere other than the sides of the unit… and that is how the NUC 'pro' models still do it to this day. Intel really need to think long and hard about upgrading the included adapter bracket… as even "minor" issues like concerns over cooling should never happen on a premium (~1.5K!) prebuilt computer.
Overall, this is three steps forward, one step back… and one to the side when comparing the externals of the NUC 12 Enthusiast to that of its predecessor. So while it is a good step (or two) in the right direction there is still a lot of room for improvement for future generations to capitalize on.