$939.99
in stock
as of March 21, 2023 2:29 am
Last updated on March 21, 2023 2:29 am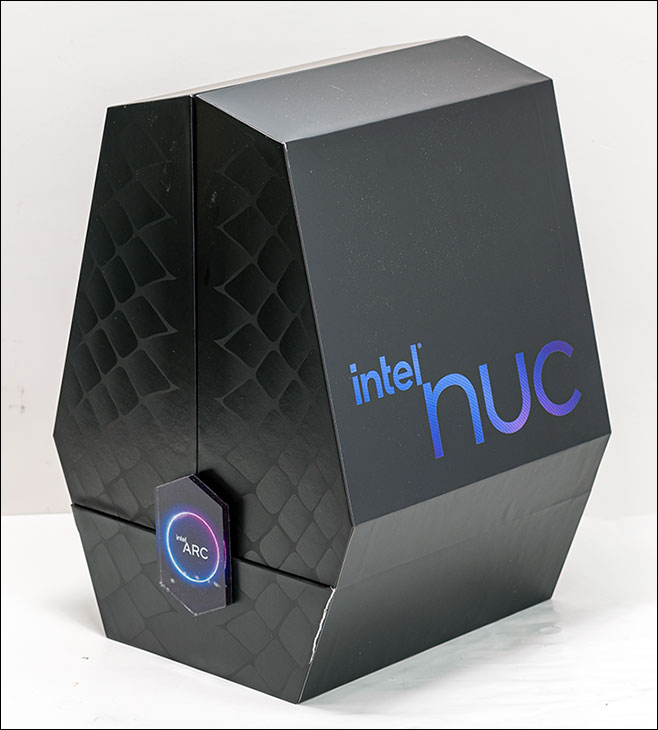 As you can see in the above photo the NUC 12 Enthusiast "Serpent Canyon" shipping container radically differs from its NUC 11 Enthusiast "Phantom Canyon" predecessor. Gone is the 'super-sized' classic NUC box and its stead is… well… an upside-down, all black coffin with faux scale graphics on the front and back. We are bit puzzled by what coffins and serpents have in common but hopefully it is not 'Shoot it! Oh shite! It's still moving, shoot it again!' like a certain family member's recent visceral reaction to seeing a big arsed sneek trying to eat our chickens' eggs (again).
All joking aside this shipping container certainly is attention getting. Furthermore, considering we got it just after Samhain (or what upstart pagan's call 'Halloween') it is kind of fitting for the season so we can give it a pass. We just hope that it is a limited-edition shipping container more intended for reviewers than end-users… as there is no possible future scenario where we would deliver this to a customer. It is simply too bold, too brash, and too odd for professionals.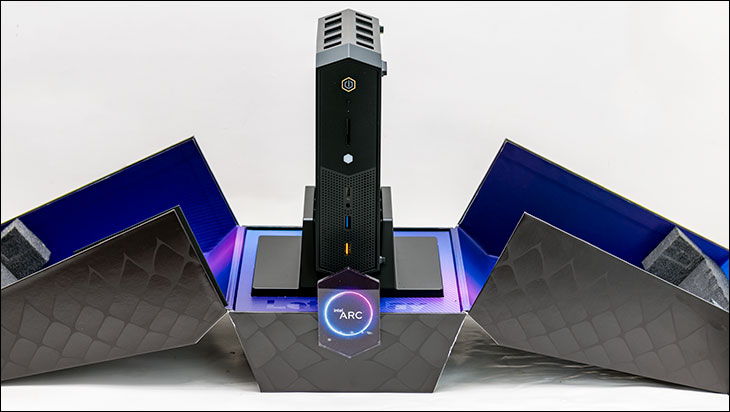 On the positive side it does get the job done – and then some – when it comes to protecting its precious cargo. Quite honestly, we have bought mITX cases that came in smaller shipping containers with worse blunt force protection than this NUC box offers. Also on the positive side, this attention getting box makes it literally impossible to not know what is inside – it states in lettering bigger than NUC 'slim' models that it is an Intel NUC and uses an Intel Arc video card.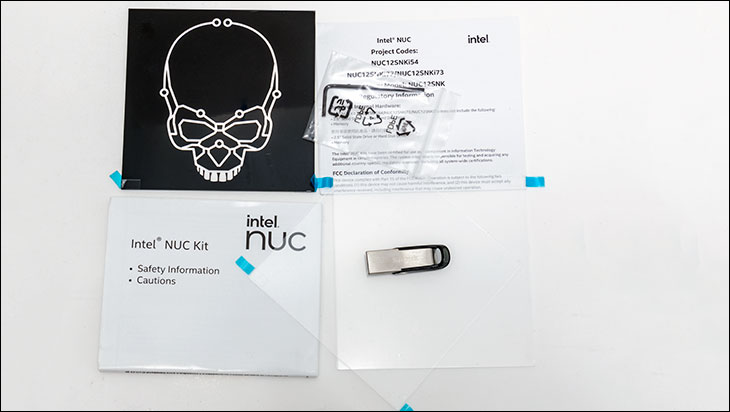 Sadly, but in keeping with previous Intel NUC models, the included accessories are a bit on the spartan side. Consisting of logo (that installs over the integrated LED diffuser – more on this later), two pamphlets, a small Allen key (more on this later)… and a USB thumb drive. Honestly the highlight of these accessories is the USB thumb drive which holds all the drivers needed to get windows 11 to play nice with the NUC 12 Enthusiast (as we are going to call it in this review for brevity's sake). Driver discs belong in the dustbin of history and any time a manufacture includes a USB thumb drive… we are going praise them for their above and beyond commitment to customer satisfaction. We just hope this is not like the shipping container and is not a limited-edition feature.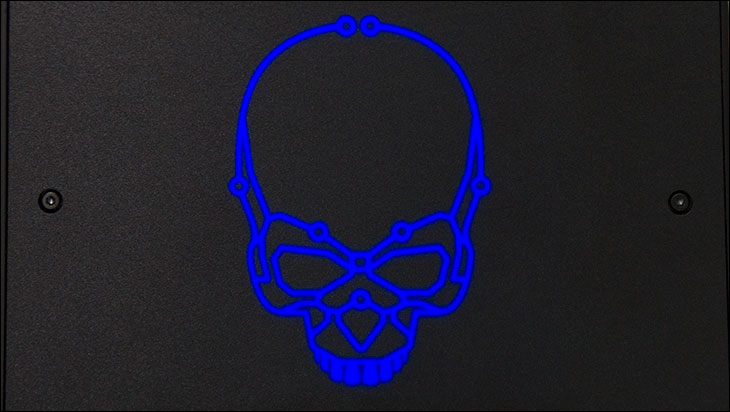 Counteracting this feel-good accessory is the skull graphics insert. We are unsure why ours came with a Skull Canyon graphic and not… you know… a serpent. Even a snake wrapped around a skull with a dagger through it would have made more sense than just recycling an old graphic insert. Hopefully, this oversight points towards this being an exceptionally good example of what Intel can do for the Small Form-Factor market – as the NUC 6 Enthusiast "Skull Canyon" was a rather impressive piece of engineering for its day. In either case, and as aside, if were to purchase one of these units we would be very tempted to make a "solid snake" logo for this diffuser. One that would let us go all in on the whole Snake Canyon nomenclature Intel is using for this generation.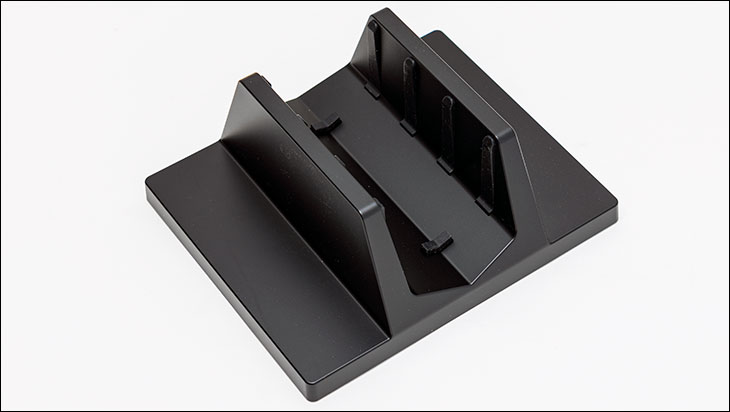 Also included is a rather good display stand which allows the NUC 12 Enthusiast to stand upright instead of laying flat. A stand this as easy to use (thanks to rubber friction fitment) as it is elegant. Bluntly stated, most people who do not opt to mount the NUC 12 Enthusiast to a wall or back of a monitor will probably be best served by using this stand… as the rubber feet on this mini-PC are tiny.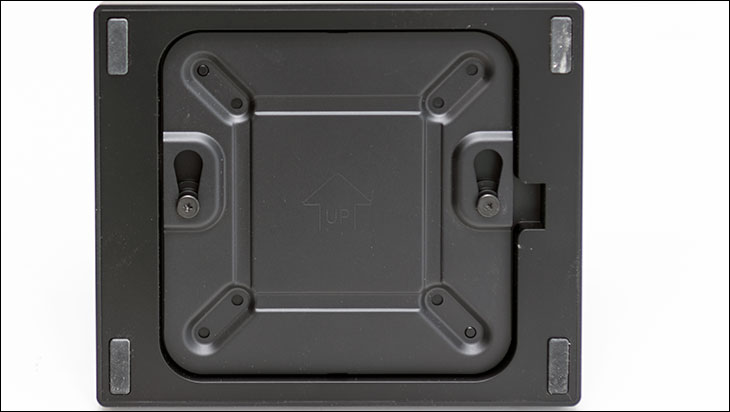 For those who do want to mount the NUC 12 Enthusiast to a monitor (or wall like we typically do with our NUCs) one simply has to flip the stand over to find the 'missing' adapter. To use it remove the two screws holding it in place, then mount it to the monitor (for example) and then using those two selfsame screws mount the NUC to it via inserting them into the two notches in the adapter… and letting it slip down to 'lock' the NUC in place. Overall, its fairly decent adapter setup, but we really would love to see Intel include a proper adapter. One that allowed a NUC to be mounted to a monitor without sacrificing the VESA bracket on the back of said monitor. Typically, these aftermarket brackets look like two Intel adapters welded together (or more precisely two of them stamped into one bigger piece of metal). Such adapters are not that expensive, allow you to still use the VESA bracket for mounting the monitor to any multi-monitor 'arm' stand and secure the NUC in place with more than just friction and notches.
As it stands the only 'enthusiast' part of this adapter bracket is it will enthusiastically make you run out and pick up a proper double NUC adapter bracket. To be fair, we fully understand that few use these adapter brackets, and instead most use the stand or lay it flat on a desk. We fully accept that a comprise adapter bracket should come with the less expensive 'Pro' models. We however, do not like seeing compromises and / or requiring aftermarket components on devices that cost well north of 1K. This is not how one makes a great first impression.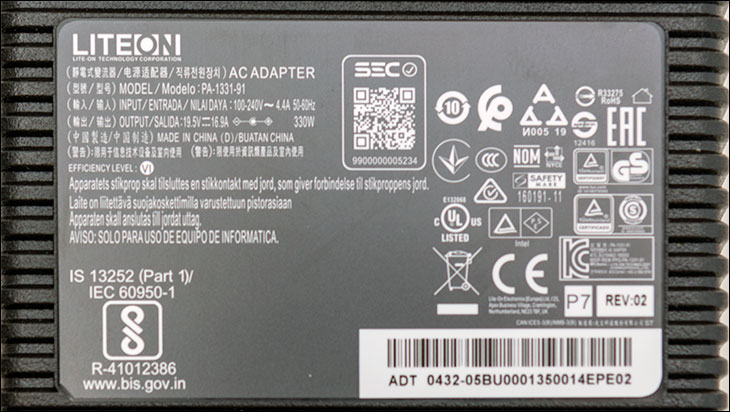 On the positive side, the last accessory included does make up for the minor misstep of the bracket. That accessory is of course the external power supply. One that literally dwarfs the power adapters that ship with NUC "Pro" models. Even compared to the 230 watt'er that the 11 gen Enthusiast came with this 330 watt adapter is a beefy boy. This is both a good and bad thing. On the positive side it is once again a Liteon made power adapter (who make very good kit) and it is a VI efficiency certified PSU. VI standard requires the efficiency of the unit meet or exceed 87% at above 250 watts. As such one can consider this external power supply to be very similar to an 80 Plus "Silver" (85-88-85 efficiency) or even "Gold" (87-90-87) internal power supply. Albeit, in a "you need to squint" sort of way… as external power supplies really do not 'do' the whole 20-50-100 percent efficiency rating scale. Instead, it's all about efficiency at a given power consumption level and at idle.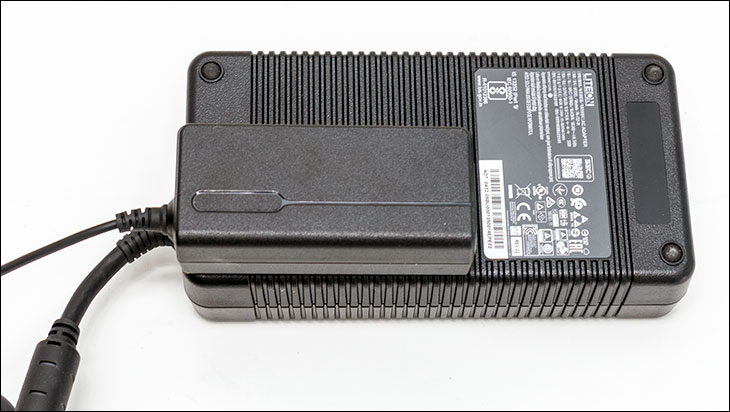 On the downside, it is a three-hundred-and-thirty-freakin-watt external power supply. For a NUC. A series that used to be all about as being as small, compact, and easy to work with as possible. Needless to say, this PSU is rather heavy and comes with a rather thick cable. Quite honestly, one will have a tougher time hiding this brick than they will hiding the NUC 12 Enthusiast edition itself. Which should be expected from an enthusiast class device. These days everything is being supersized, and if you have recently purchased an 'enthusiast' grade (aka premium priced) "gaming laptop" this PSU will fit right in – as it comes with many a gaming laptop. Color us impressed for Intel not cutting corners where it really matters. Even if it means the PSU weighs more than the device it is powering.