Early last year Micron made the decision to do some much needed internal housecleaning of their various brands. While it was indeed sad to see the era of Micron's Ballistix RAM come to an end, the resulting changes in Crucial's line-up can be considered nothing other than a Good Thing™ for buyers. The first major change was their Value series which dropped the Value branding but changed the very definition of what value orientated products must bring to the table in order to be consider actually good value options. Next came their Solid-State division with a reorientation away from just focusing in on the value and middle of the pack consumers via their 'P' and 'MX' options. Instead, for the first time in a long time, Crucial's SSD team would offer a third option. One intended to sit above all the rest in the new Crucial product stack. The first of this newly dubbed "Pro" lineup are the Crucial Pro T700 PCIe 5 NVME SSD models, which come in a wide variety of capacity ranging from a 'small' 1TB all the way to 4TB capacity variants.
To be clear, and as the name suggests, the Pro T700 is not really meant for novices or even mainstream buyers like the "P" series. Instead the T700 is more geared towards professionals using workstations that cost more than a used car, and enthusiasts… also using systems that cost more than a used car. No. This new T700 is not your daddy's Crucial offering. Gone is are the days where Micron were more concerned with showcasing what their new NAND tech could do rather than offering cutting edge enthusiast class storage devices. Instead, this is the dawning of a new age for Crucial. One where they will no longer be content with taking a backseat to the likes of Western Digital, Seagate, Corsair, or even Samsung.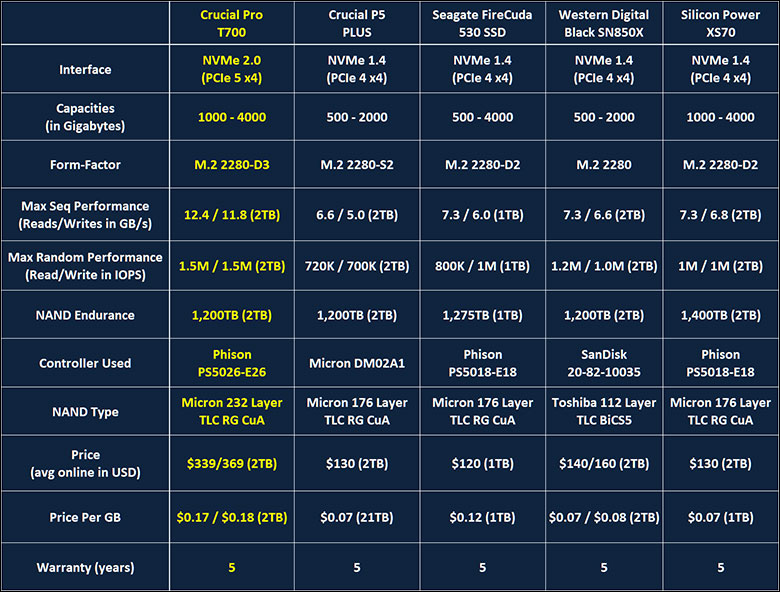 This new focus on the performance crown is why Crucial has bestowed the T700 with the fastest available variant of their cutting edge "B58R FortisFlash" 232 Layer Replacement Gate 3.0 TLC NAND (or '232 RG NAND' for brevity's sake). NAND which, unlike what is being currently used by the coemption, does not come in at 1,600MT/s and instead is clocked at 2,000MT/s – aka 2GB/s of performance per NAND deck… aaka 20 percent faster than is used by anyone whose name does not start with a C and end with an L. It is why the T700 2TB variant comes with a whopping four Gigabytes of blazing fast LPDDR4-4266 RAM cache (instead of DDR4-3200) to help feed the hungry PHISON E26 beast – aka the fastest PCIe 5.0 NVMe controller available today. It is why said controller's TDP has been dialed back up allowing the T700 to consume in excess of 12 watts of power – aka over 14 percent more power than is used by anyone whose name does not start with a C and end with an L. It is even why Crucial for the first time is releasing an OEM heatsink variant actually worthy of consideration over the 'standard' (aka denude) version.
Yes. On paper no expense was spared in the making of the T700 series. So much so we do have to wonder aloud about the T700 and not T800 branding. As on paper this new NVME SSD sounds like an OG terminator sent back in time to kill off the PCIe 5.0 competition even before they are born. Hopefully, this is just a missed opportunity and not truth in advertising as we need all the competition we can get if consumers ever hope to see reasonably priced PCIe 5.0 drives. After all, this king-killer T700 stacks on an additional ~17 percent to the MSRP over the competition's already (relatively) high asking prices. Needless to say, with an MSRP of $339/$369 this is a series that has to impress like no other drive… as anything less will make it impossible to justify for the majority of enthusiasts. Let's see if it can indeed do just that.