The older we get the more we are fascinated with how fast people are to jump on any bandwagon. Good, bad, or even if it makes little to no sense. People love to be outraged these days. Yes. "Leather Jacket Man Bad" and "NgreedIA" were arguably justifiable memes when the GeForce RTX 4090, 4080… and even 4070 were released with jacked-up MSRPs. However, the 4060Ti series is the first to keep the same price as the previous two generations. Given the intervening years of inflation that should have garnered a bit more enthusiasm or at least less anger. Instead, the YouTube generation is still ready to tar and feather them for having the audacity to offer a better card for no additional cost. That is just puzzling, to say the least. What is even more puzzling is when a company releases a customized / factory overclocked edition of said series for less than what their last generation launched for and yet still gets no love for it.
Take for example the MSI GeForce RTX 4060 Ti Gaming X Trio 8GB. The card we will be reviewing today. This card launched with an MSRP of only $450. On the surface that is indeed a full $50 over the MSRP of the GeForce RTX 4060 Ti Founders Edition model and does explain some of the surface-level antagonism. However, even with just a quick perusal of the specifications the increase in MSRP becomes obvious and justified. After all, MSI's 3-fan, 5 heat pipe based 'TriFrozr 3' cooling solution is sheer overkill for a 160TDP class card. Even a card that does come with one of the highest factory overclocks available on launch day – 2670Mhz. Equally impressive is the increase in MSRP is less than the MSRP for the slower ASUS TUF OC Edition (2655MHz), or Gigabyte Aorus Elite (2665Mhz). Furthermore, the last generation MSI GeForce RTX 3060 Ti Gaming X Trio 8GB launched with an MSRP of $470. A full $70 over the F.E. reference models.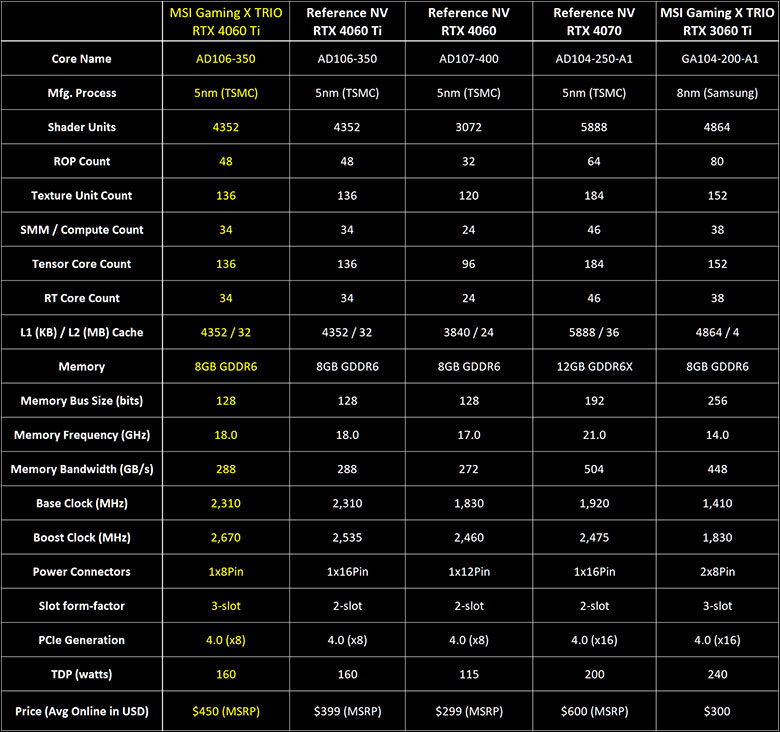 From one generation to the next. Considering how many of our mid-range builds used that specific card, that sounds like a good deal indeed. Of course, we do understand some of the confusion surrounding the entire GeForce RTX 4060 Ti 8GB series. On paper the last gen 3060Ti 8GB came with more CUDA cores (4864 vs 4352), more Ray Tracing cores (38 vs 34), a much wider bus (256 bit vs 128-bit!), more "DLSS" Tensor cores (152 vs 136), and even a higher TDP (200 vs 160).
On paper that does indeed sound like a significant downgrade… as this is the first x60Ti to get less than the previous generation. However, things are not quiet as cut and dry as certain (AMD) influencers would lead you to believe. Forget about the (Samsung) 8nm vs (TSMC) 5nm node change. Each generation is simply more efficient at crunching numbers than its predecessor. While how more efficient is hard to quantify, what is not is the fact that Ada cores are clocked much higher than Ampere cores – 1.6K vs 2.5K (stock vs stock) and come with much greater amounts of L2 cache – 32MB vs 4MB. Mix in things like faster GDDR6 RAM (18 vs 14 Gbps), as well as better native encoder support (AV1!), and while it is obvious NVIDIA gave AMD's marketing department a lot of ammo than seems healthy… things are not as bad as they first appear. So much so this sounds like the perfect card for "living room" PC builds that do double duty as media centers, and just not gaming centers. Let's see if NVIDIA's generational improvements are indeed up to the task of justifying the RTX 4060Ti being called a 4060 Ti… and not a 4050.