Last updated on November 29, 2023 7:52 pm
Gskill TridentZ DDR4-3400 16GB Kit
With the supply of older Z97 motherboards and Intel LGA-1150 socket CPU's all but gone – and AMD still relegated to the more entry level corners of the marketplace – DDR4 RAM is certainly here to stay. While this certainly will greatly annoy consumers who have a big enough stockpile of DDR3 sticks to make a little mountain out of the now useless RAM, the upside is that DDR4 prices are finally starting to become much, much more tolerable. In fact, 16GB of DDR4 will now only set consumers back slightly more than DDR3 would and yet offer noticeably higher performance, and overclocking abilities.
One manufacturer known for creating RAM kits that are both reasonably priced and high performance is G. Skill. G. Skill became a veritable household name amongst enthusiasts in the DDR3 days, and based on their offerings so far they plan to not only continue this highly laudable tradition but actually improve upon it in their latest DDR4 models. The reason G. Skill became so wildly popular is whether it is their lower profile RipJaws or high profile Trident series, consumers can rely upon G. Skill to push both the performance andvalue envelopes in each and every model they offer. Equally impressive is G. Skill are also known for making RAM kits that are not only perfectly stable but are also extremely attractive – making them perfect for custom system builders and enthusiasts alike.
[video id="ka4rJsFIbiE" site="youtube"
[/video
Their latest addition to the Trident series is the 'TridentZ', and much like where the DDR3 Trident X series left off, the Trident Z series is easily some of the most attractive sets of DDR4 RAM kits available today. While looks is certainly a nice bonus, with kits ranging in size from 16 to 64, and speeds from DDR4-300 to DDR4-4133, the Trident Z is quickly gaining a reputation amongst knowledgeable consumers as being even more impressive than its predecessor. Today we will be placing a 2x8GB (16GB) Trident Z DDR4-3400 kit under the microscope (aka F4-3400C16D-16GTZ) and will be seeing how much of this reputation is fact and how much (if any) is based more upon wishful thinking.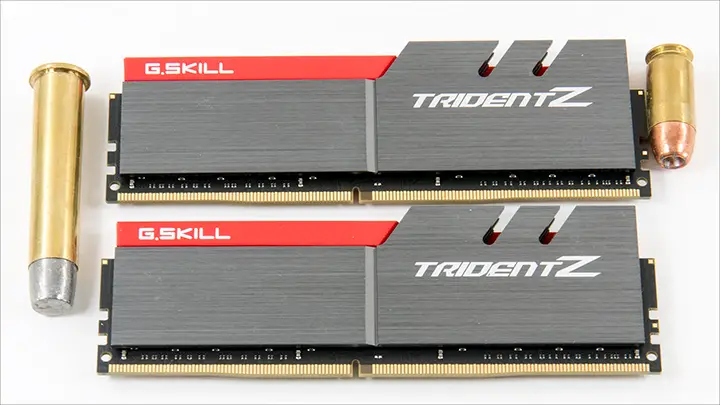 This DDR4 CL16 kit is very interesting as it is more towards the base end of the TridentZ lineup on shear capacity, but on the performance side is more towards the top of the heap. This is a combination that many performance orientated consumers opt for as it satisfies most of their need for speed, as well as their capacity needs. As such its asking price of $110 not only makes it very reasonable but actually is better than most offerings from Kingston, Crucial, Corsair and others. Put another way this blend of performance and value is pretty much a siren call for experienced consumers in desperate need of some new RAM. Needless to say it will be interesting to see what makes this kit unique and how G. Skill were able to do what few other manufactures could do: offer high performance kit without the high price tag.