$179.00
$204.95
in stock
6 new from $179.00
3 used from $130.77
as of December 1, 2023 5:52 pm
$219.95
in stock
1 used from $149.99
as of December 1, 2023 5:52 pm
$179.00
$204.98
in stock
8 new from $179.00
3 used from $194.95
as of December 1, 2023 5:52 pm
Last updated on December 1, 2023 5:52 pm
System Boot Time
When it comes to hard drive performance there is one area that even the most oblivious user notices: how long it takes to load the Operating System. While all the other tests were run with a Windows 7 operating system, this particular test uses another older test bed's "day to day" OS (copied over to our new testbed) which has accumulated a lot of crud over the months from installs and removals. We chose the Anti-Virus splash screen as our finish line as it is the last program to be loaded on start up.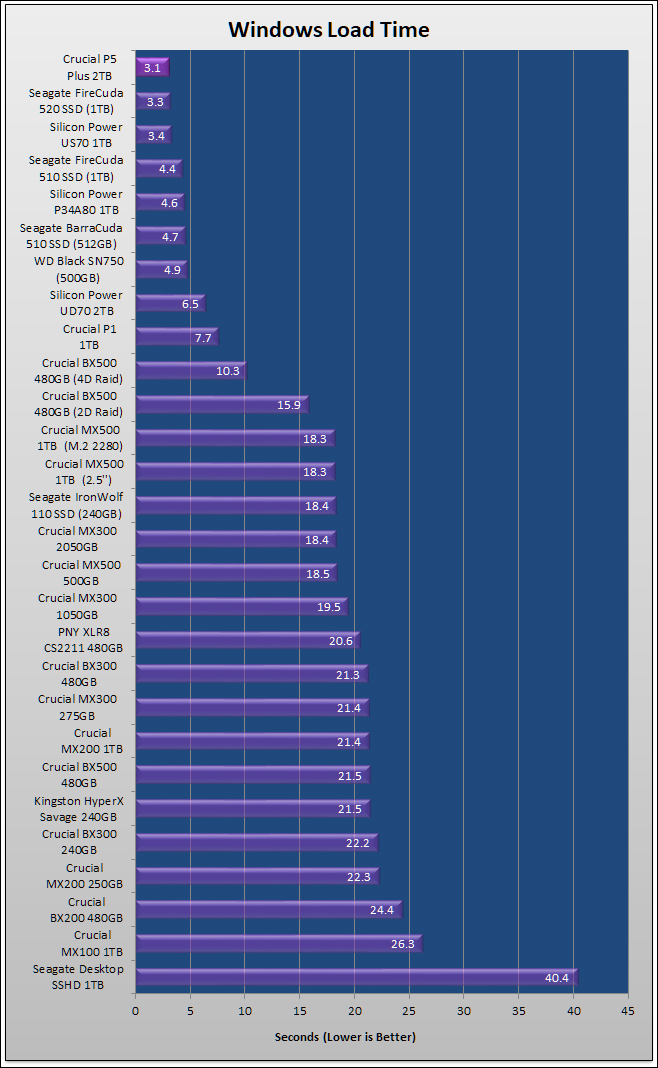 Real World Data Transfers
No matter how good a synthetic benchmark like IOMeter is, it cannot really tell you how your hard drive will perform in "real world" situations. To this end we will be running timed data transfers to give you a general idea of how its performance relates to real life use. To help replicate worse case scenarios we will transfer a 30.00GB contiguous file, then a folder containing 1200 subfolders with a total 36,000 files varying in length from 200mb to 100kb (15.00 GB total).
Testing will include transfer to and transferring from the devices, using MS RichCopy and logging the performance of the drive. Here is what we found.