Last updated on December 7, 2023 6:42 pm
TerraMaster, a professional brand that specializes in providing innovative storage products for home, businesses and enterprises,presents the high-end and compact D16 Thunderbolt 3 tower storage solution for smooth DIT workflow. The standard for quality content rises each year as technology pushing innovation for high-definition audio and visual experiences. Today, 4K and 8K videos are in demand with more and more users capable of enjoying such high-definition content with modern displays. However, producing 4K and 8K content can be very taxing to content creators.
Ultra-high-definition such as 4K and 8K videos accumulate vast amounts of data storage. The speed requirement of uncompressed 4K video images can exceed 300MB/s. Certain scenes a require higher frame rate, and the data volume may reach 1.5GB/s. While for 8K video, the speed requirement and data volume are exponentially increased.
Meeting Demanding Needs
4K and 8K video production require a vast amount of storage, one with the fastest speeds possible for a smooth workflow. The TerraMaster D16 Thunderbolt 3 provides a high-speed 40Gbps connection, delivering speeds of up to 2817MB/s when fitted with 16 SSDs in RAID 0 array mode on Windows OS. In RAID 6 mode, it can deliver speeds of up to 2480MB/s.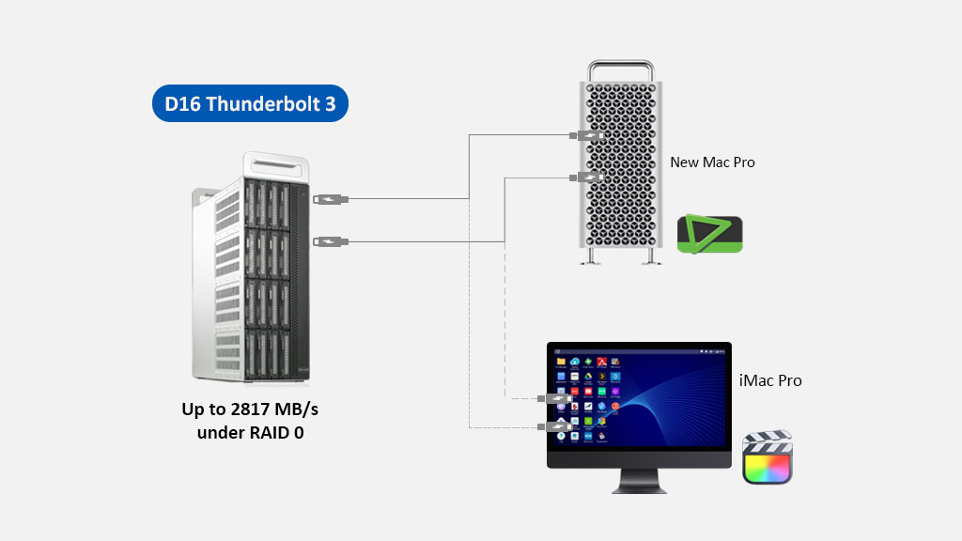 TerraMaster D16 Thunderbolt 3 has 16 bays for 3.5″ SATA disks or 2.5″ SSDs wherein it can be configured to achieve a total storage capacity of up to 288TB (18TB HDDs x 16) to create a massive storage server. Furthermore, users can link together up to six D16 Thunderbolt 3s in one cable to create an enormous 1-petabyte storage capacity. Users can also connect either two 4K displays or a single 5K display via Thunderbolt 3 to create a smart workspace.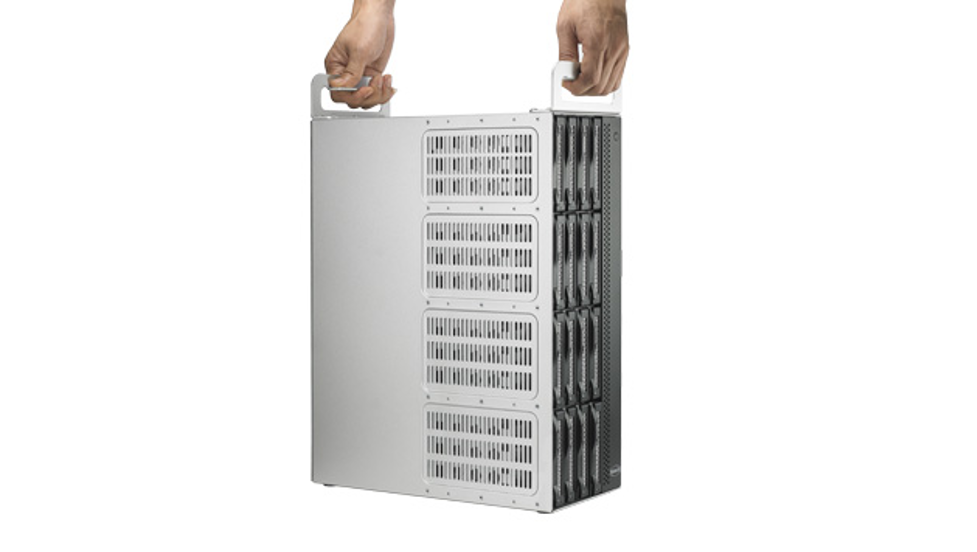 Perfect for Video Editing
Meeting the minimum requirements for low-latency professional non-linear video editing is no easy feat. Otherwise, stuttering and frame loss may occur, which greatly affects the work efficiency of video professionals.With 40Gbps connectivity, users can transfer several hours of footage from a Blackmagic® device to Adobe® Premiere Proquickly. In turn, with uncompressed HD 10-bit and 12-bit video, users can edit the ProRes 422 (HQ), ProRes 4444 XQ, and other data streams. Thumbnails and preview rendering are significantly more responsive when using large items with numerous high-definition clips.
In order to facilitate the non-editing and DIT operations of the video production team, the TerraMaster D16 Thunderbolt 3 adopts a compact design.It comes with specially designed handles for portability making it convenient for out-of-home production, demonstrations, and project delivery.
To learn more about TerraMaster D16 Thunderbolt 3, please visit TerraMaster
Follow TerraMaster in the following social media channels below:
Facebook: https://www.facebook.com/terramasterofficial
Twitter: https://twitter.com/TerraMasters
LinkedIn: https://bit.ly/3wKrjmr
YouTube: https://bit.ly/3dMXGIK
About TerraMaster
TerraMaster is a professional brand that focuses on providing innovative storage products, including network attached storage and direct attached storage that has become increasingly popular in over 40 countries and regions. The brand has been developing storage technology for 10 years, addressing the needs of customers such as home users, small/medium businesses, and enterprises.