Last updated on December 1, 2023 8:13 pm
BIOSTAR Debuts RACING B150GT5 Motherboard
Let's Party with Vivid LED DJ
January 14th, 2016, Taipei, Taiwan – BIOSTAR is proud to introduce its exciting new motherboard from the new RACING family: the BIOSTAR RACING B150GT5. The BIOSTAR RACING series of motherboard introduces the Vivid LED DJ feature which allows control over the lighting of the motherboard.
The BIOSTAR RACING B150GT5 motherboard features customizablie lighting on its heatsinks and PCB and are fully customizable via the included Vivid LED DJ software, exclusively availble for Biostar RACING series motherboards. The Vivid LED DJ software works with both onboard LEDs and external LED strips connected directly on the board via the 5050 LED Fun  feature of the BIOSTAR RACING series. LED strips using compatible 5050 headers can connect directly with BIOSTAR RACING series motherboards for tons of DIY lighting possibilities.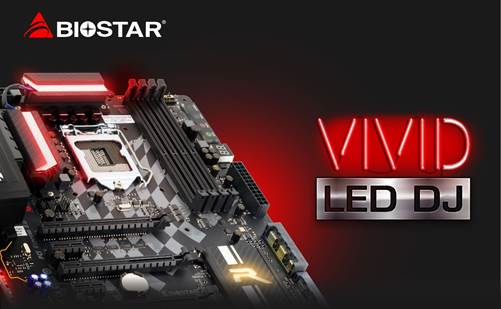 BIOSTAR Vivid LED DJ features customizable lighting profiles for Normal, Eco, and Sports mode accessible via ECO Touch and Sport Touch onboard buttons.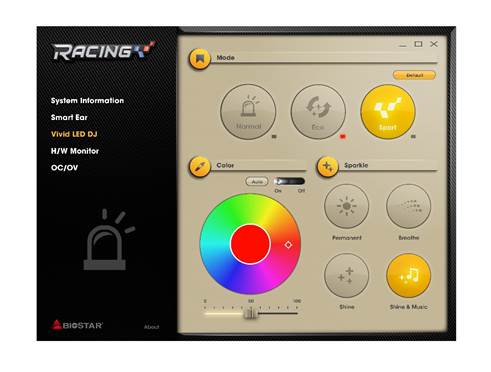 Impress your friends and foes in LAN parties or show-it off online with BIOSTAR's unique Vivid LED DJ inside your rig, exclusive to BIOSTAR RACING series motherboards. Enjoy gaming with a stylish and flashy rig like only BIOSTAR RACING motherboards can offer.
The BIOSTAR RACING B150GT5 series motherboards feature more interactive lighting controls than most motherboards like constant lighting, breathing and sparking effects complimented via the user-friendly Vivid LED DJ software. Also available is the unique music-reactive effect which harmonizes the LED effects to your audio, giving you a party inside your rig.
Vivid LED DJ + 5050 LED FUN Demo Video: https://www.youtube.com/watch?v=JVKP6HZv2XI
The BIOSTAR RACING B150GT5 supports the latest 6th-Generation Intel Core processors and features the Intel B150 chipset. The board supports up to 4 DDR4-2133 memory modules and dual PCI-E x16 slots for multi-card configurations.
Super 5 Design
BIOSTAR has built the RACING series motherboard from the ground up, taking into consideration the ever-changing needs of gamers and enthusiasts. The new BIOSTAR RACING Series is proud to introduce the Super 5 Design Concept:
Super Face – all new RACING design theme for visual appeal
Super Power – powerful hardware design
Super Sound – signature BIOSTAR HI-FI audio experience
Super Easy – User- friendly design and accessible touch control
Super Fun – unique DIY concept for enthusiasts and modder

The BIOSTAR RACING B150 GT5 features support for legacy PS/2 peripherals as well as USB2.0 for your gaming peripherals. Video display options include support for VGA, DVI and HDMI output. Four (4) USB3.0 ports are available at the rear I/O together with a LAN port powered by an Intel i219V LAN for superior stability. Hi-Fi 7.1 channel audio is provided by six audio jacks.
BIOSTAR RACING SERIES FEATURES
 
 
Design your own LED effect with BIOSTAR Vivid LED DJ. Control your motherboard LED light via VIVID LED DJ utility including special effects like music-reactive LED animation.
 
Expand your chassis looks by connecting 5050 header-equipped LED strips directly on the motherboard and control it via the VIVID LED DJ. Perfect for DIY fans and modders.
 
GT Touch features one-touch mode selection: Sports mode for a performance boost and Eco mode for optimized energy consumption.

 

Designate onboard LED configuration for each profile individually VIVID LED DJ software.

 
BIOSTAR motherboard protection via DUAL BIOS technology ensures recovery during failed main BIOS removing the need for factory repair when corruption or BIOS failure occurs.
BIOSTAR RACING B150GT5
CPU
LGA 1151 Processor
Power
7phase
Chipset
B150
Solid cap
100% Solid
Memory
4xDIMM, support DDR4-2133
Expansion Slot
2 x PCI-E x16 3.0

1 x PCI-E x1  3.0

3 x PCI

Audio
7.1ch Blu-ray Audio w/ Double Hi-Fi
LAN
Intel i219V
Storage
4 x SATA 6Gb/s

1 x SATA Express  16Gb/s

Video
DVI-D , HDMI, VGA
USB  3.0 / 2.0
6USB3.0  (2+4)

6USB 2.0 (4+2)

Feature
Vivid LED DJ/ Smart Ear/
BIO-Remote2 / BIOS Online Update
BIOSTAR 6+ Experience
The new BIOSTAR RACING Series will carry on the exclusive BIOSTAR 6+ Experience feature set which delivers the best BIOSTAR has to offer: Speed+, Audio+, Video+, Durable+, Protection+ and DIY+.
For more information on the RACING B150GT5 go to http://www.biostar.com.tw/app/en/mb/introduction.php?S_ID=823
Brand: BIOSTAR
Website: http://www.biostar.com.tw
Where to buy: http://www.biostar.com.tw/app/en/wheretobuy/index.php
Model: RACING B150GT5
MSRP: USD 94.9