$67.99
in stock
6 new from $67.99
as of December 7, 2023 9:03 pm
$26.99
$34.99
in stock
9 new from $26.99
as of December 7, 2023 9:03 pm
$79.99
$109.99
in stock
7 new from $79.99
as of December 7, 2023 9:03 pm
Last updated on December 7, 2023 9:03 pm
Very recently we took a look at Lexar's latest SecureDigital line: the UHS-ii 2000x, and walked away very impressed by what it had to offer. One question though that we could not answer, and was quickly brought to our attention by numerous readers, was how does UHS-ii stack up in non-full size storage devices. After all, for every 'standard' or 'full size' SecureDigital device there are easily the same or better micro-SD only models. In fact, many consumers have swapped over to only micro-SD card as with a simple adapter can be used in standard SD slots – something that standard cards can no do in the reverse!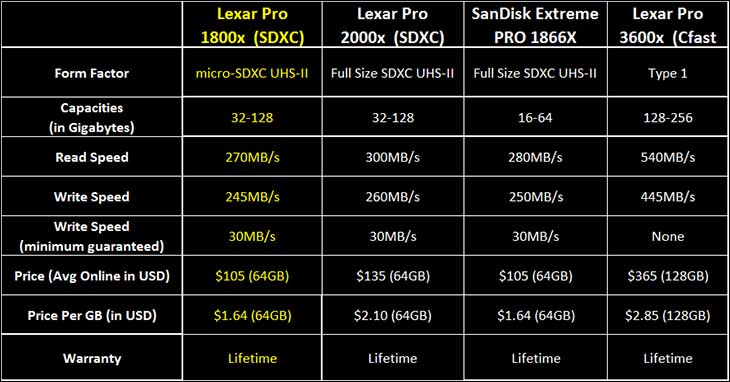 RHR and Kingstons HyperX Cloud Headset and HyperX Fury Mouse pad Giveaway
Since we were unable to answer this burning question we once again reached out to Lexar and obtained a sample of their fastest microSD line: The Lexar Professional 1800X series. To be precise we will be putting the 64GB size under the microscope to see how it stacks up against no only SD but CFast and even CompactFlash storage devices!
This certainly will be an interesting question to answer as this extremely small unit has specifications that are very, very close to the 2000X line, but in an extremely compact package. To make things even more interesting the 1800X costs only $1.64 per Gigabyte whereas the 2000X series costs $2.10. If that was not enough to grab our attention the fact that it not only comes with a micro-SD UHS-ii to standard SD-UHS-ii adapter, but also a micro-SD UHS-ii capable card reader is sure to grab every ones attention. Obviously when Lexar was spec'ing out this micro-SD series they made adaptability and compatibility high on their priority list.
So how good a performer is this new series and is the seemingly small trade-off in performance worth the increase in versatility? Let's find out!