$152.59
$159.99
in stock
7 new from $152.59
18 used from $88.87
as of December 6, 2023 8:02 pm
$199.99
$217.09
in stock
9 new from $177.94
4 used from $168.49
as of December 6, 2023 8:02 pm
$157.99
$181.00
in stock
39 new from $157.99
as of December 6, 2023 8:02 pm
Last updated on December 6, 2023 8:02 pm
In the recent past we have taken a long hard look at various portable USB storage solutions by Seagate and walked away fairly impressed with their unique blends of value, aesthetics, and capacity. With that said 2.5-inch based external storage solutions are not known for their performance or cavernous capacity. Yes, the smaller 2.5-inch based drives have come along way in the capacity and even performance department but when buyers are looking for truly large external storage solutions only 3.5-inch HDD based models will do. This is why today we will be looking at the Seagate Desktop Expansion series. Specifically, the $160 (USD) 8TB variant of this venerable series.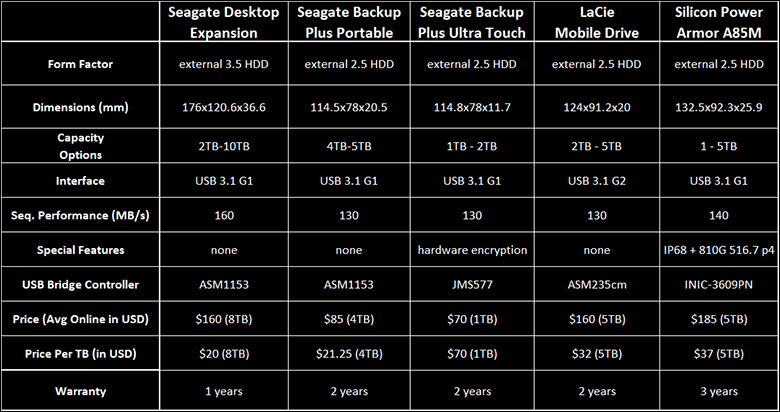 As the name suggests the Desktop Expansion series is not really meant to be all that portable… more portable than internal storage but it certainly is not a model that you will want to just throw in your laptop bag and carry around on a daily basis. Instead, this series is meant to live most of its life attached to a system and just be moved from desktop to desktop on an occasional basis. This is why it is not USB bus powered, nor does it offer the compact nature of their Portable series brethren. Instead what they offer is a ton more room at a noticeably lower price per Terabyte ratio than the more Backup Portable models.
Equally important, is by using a 3.5-inch hard disk drive the performance it has on tap will be noticeably better than what any 2.5-inch model has to offer. In the case of the Desktop Expansion series this does not mean a 7200rpm hard drive. Instead it makes use a cooler running, lower noise 5900rpm drive (Seagate Archive HDD v2 8TB) which still has a faster rotational speed than the 5400rpm 2.5-inch models we have looked at in the past. Mix in more read/write heads, large platters and not only does the Desktop Expansion series promise better performance, better capacity, and lower asking price per TB, and will stay faster long after the various smaller Portable models have gotten slow.
On paper that is a lot to like, and not much to dislike… but like everything no one model will be right for everyone. In this review we will not only go over the pros and cons of this particular model but make our recommendation on who this series is right for, and those who will find it… less than optimal. So, let's see what the latest generation of the venerable Desktop Expansion series has to offer and who it was designed for.