Introduction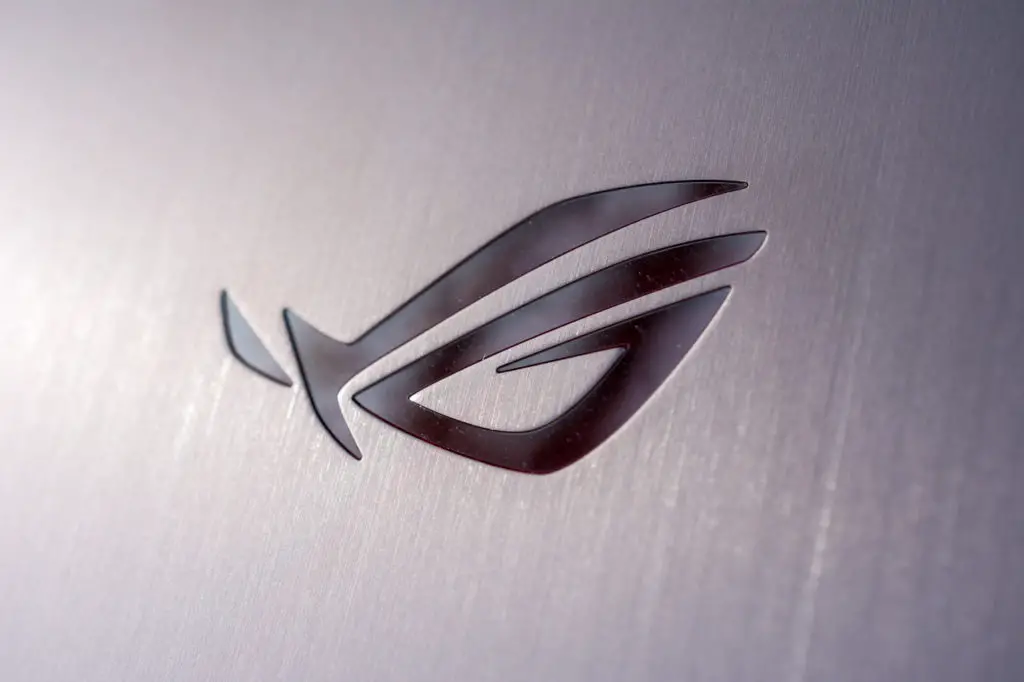 Desktop? Laptop? Why not the best of both?
Asus continues to push the boundaries of its mobile gaming offerings with the G752VS. Cramming an NVIDIA GTX 1070 into a feature packed 17.3" laptop grants you absurd power in a somewhat manageable form factor. To move this nearly 10lb laptop around, you will need to remove somewhere between $2600 to $4000 CAD from your duffel bag of money to make enough space to fit it. Is the potential for performance from one of the first Pascal based gaming laptop enough to justify the price? Read on to find out.
Specifications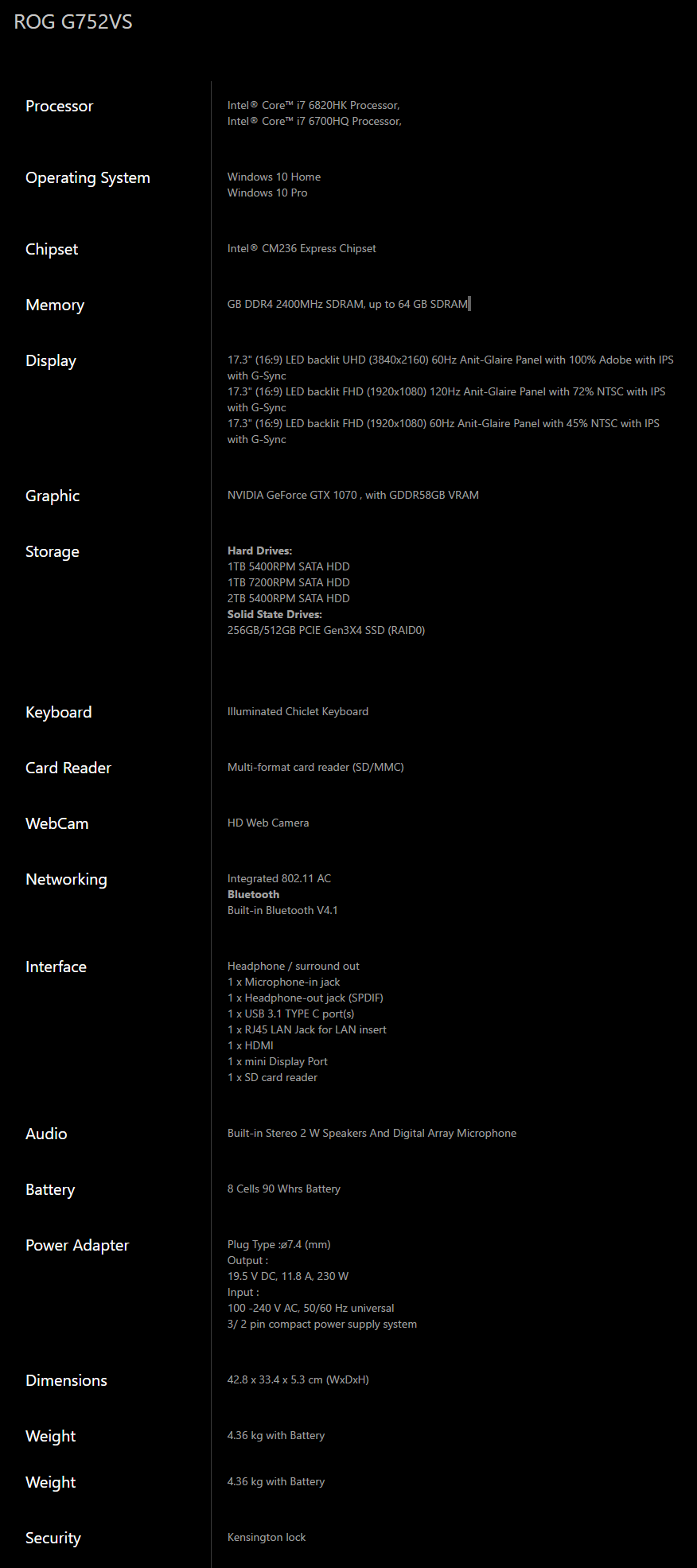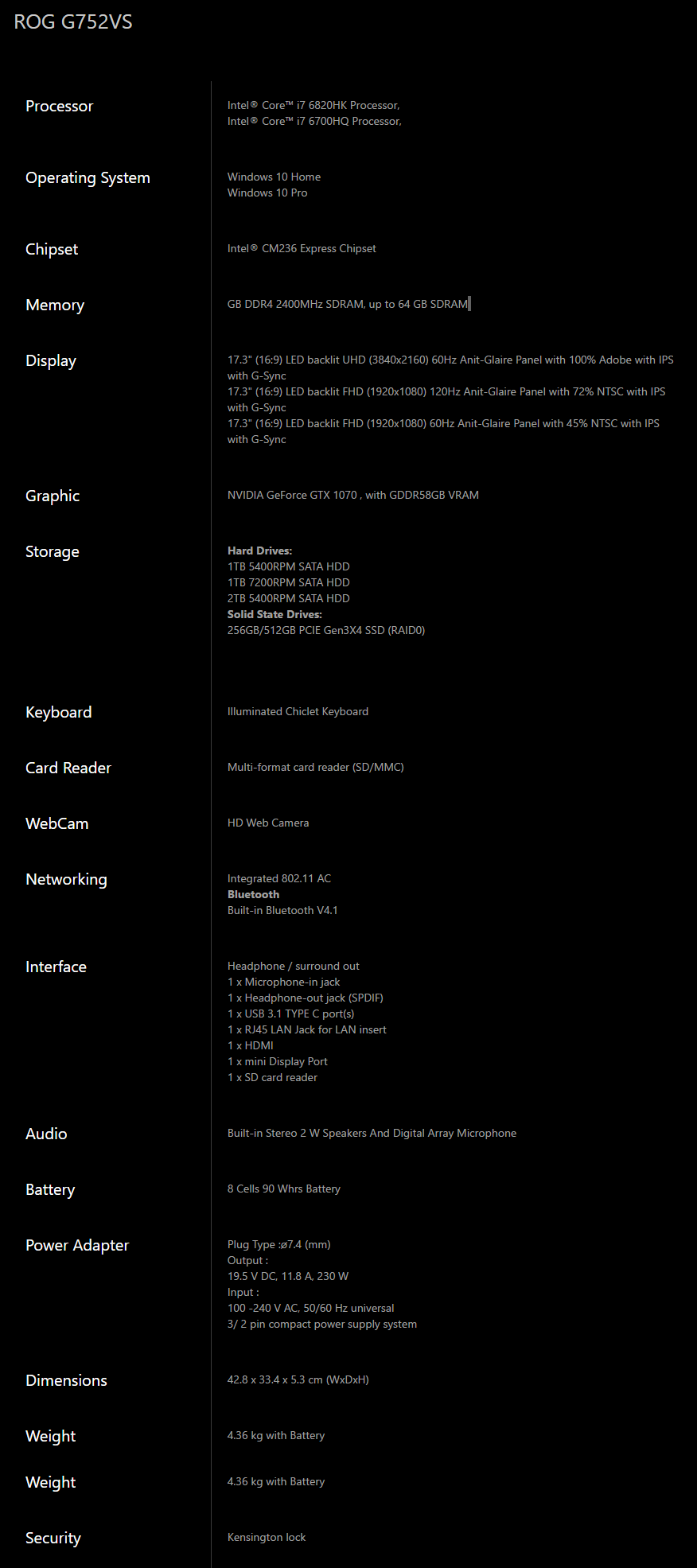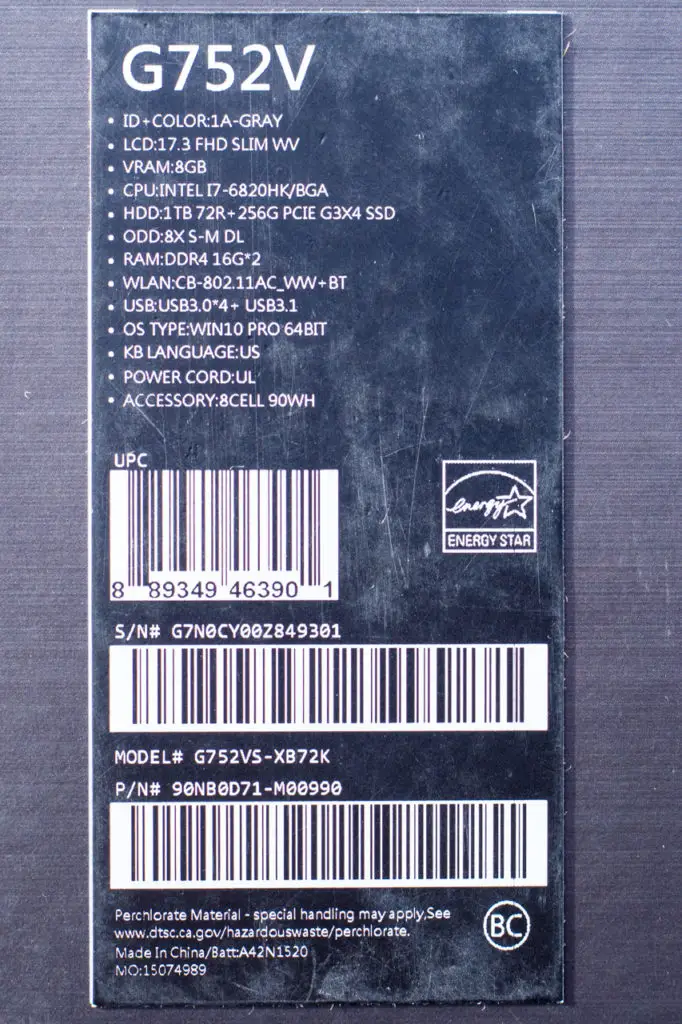 Let's get one major thing out of the way really quick. Although there is no "M" at the end of GTX 1070 model name in this laptop, it is not entirely equivalent to the desktop model. The desktop model's factory specs are 1920 CUDA cores and clocks from 1506-1683(Boost) MHz, whereas the mobile version has more cores at 2048, but slower clocks at 1443-1645(Boost) MHz. Overall, performance should stay similar between the two.
The G752VS-XB72K falls in the middle of the currently available Canadian models, giving you a slightly better unlocked processor, a 256GB NVM.e SSD as your boot drive and an extra 16GB RAM over the entry level G752VS-RB71.
Overview
The Asus G752VS rocks a brushed aluminum and orange colour scheme on top and a mostly black inside. The fit and finish is as fantastic as you would expect for this laptop's price of admission.
Asus has thrown just about all the connectivity you could want into this laptop, including four USB 3.0, headphone out, microphone in, SPDIF out, one mini-DisplayPort out, one HDMI out, one RJ45, one Thunderbolt 3.0, and an SD card reader. The right side ports are laid out specifically for VR, if that's your sort of thing.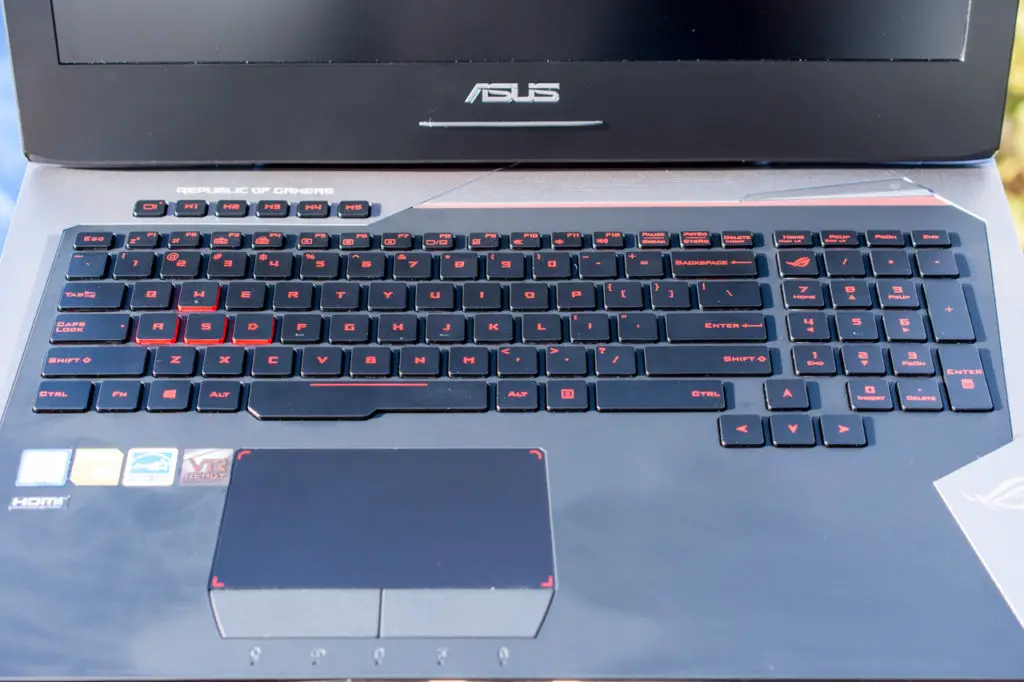 The trackpad is massive and not a rectangle, which I assume is to help keep your palms away from it while gaming. (Hopefully nobody is gaming with the trackpad on though) It is responsive to quick movements, but I had repeated trouble attempting single taps on it. Thankfully the buttons are equally as huge.
The keyboard is flat chiclet styled with red backlighting, touting a whopping 30 key n-rollover. For being scissor type keys, they don't feel mushy and have a snappy return. My biggest qualm as a gaming-centric laptop is the lack of profile to the keys, leading to accidentally spilling my fingers over from WASD while in the middle of an intense battle.
The display included with this particular model is disappointing at best. A 75Hz 1920×1080 G-Sync screen doesn't sound terrible, but at 72% AdobeRGB coverage the screen is solely intended for gaming. There is a 4K resolution panel with 100% AdobeRGB coverage listed as an option on Asus' site, which I sure hope would look much better than the review model's.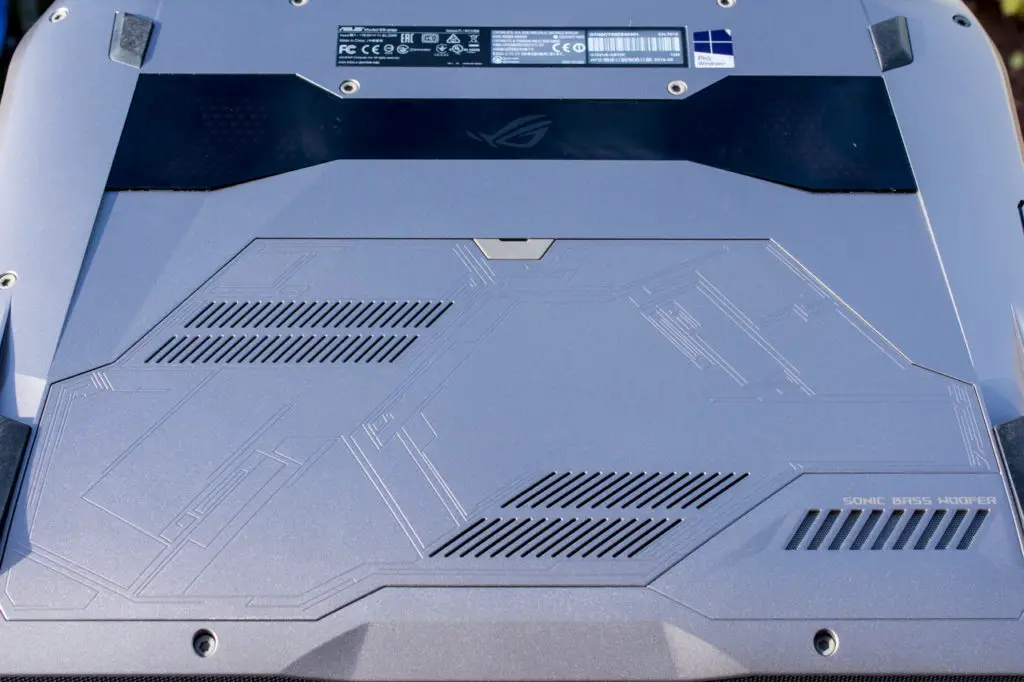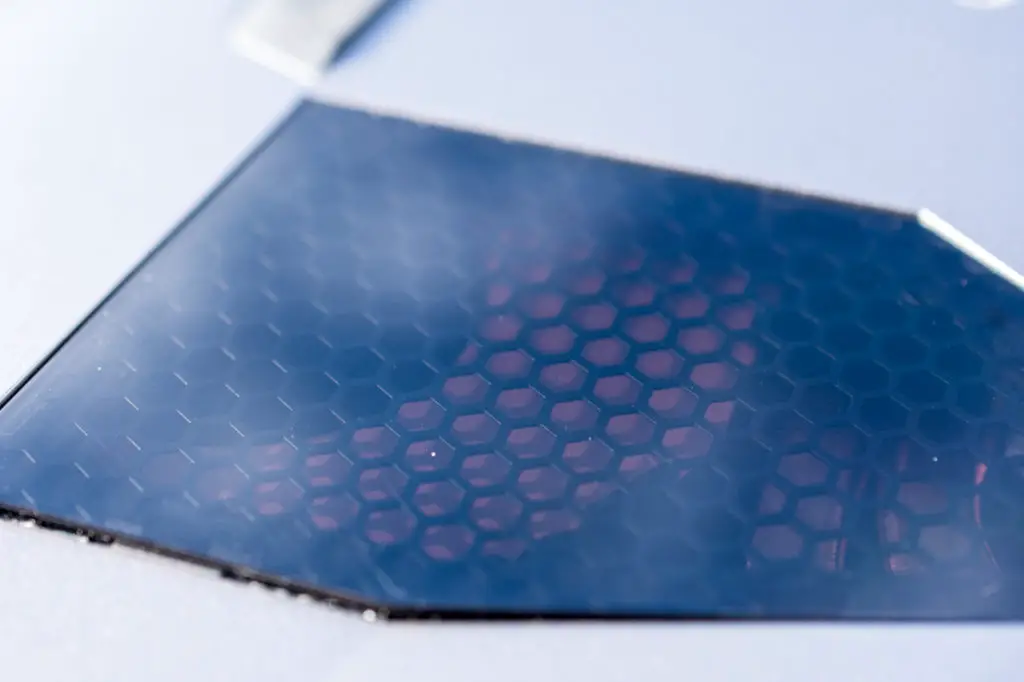 Moving to the bottom of the laptop we are greeted by a smoked window to the inside of the laptop, four massive rubber feet, and a "sonic bass woofer". While functionally nothing to write home about, the window is a nice touch to see a small portion of the laptop's internals. What about the rest of the internals, you ask? Well Asus has kept the customer in mind and allows you to pry off the panel covering the SSD, RAM, and HDD. The NVMe SSD is stuck under a heatspreader, but otherwise all parts are easily accessible for changes.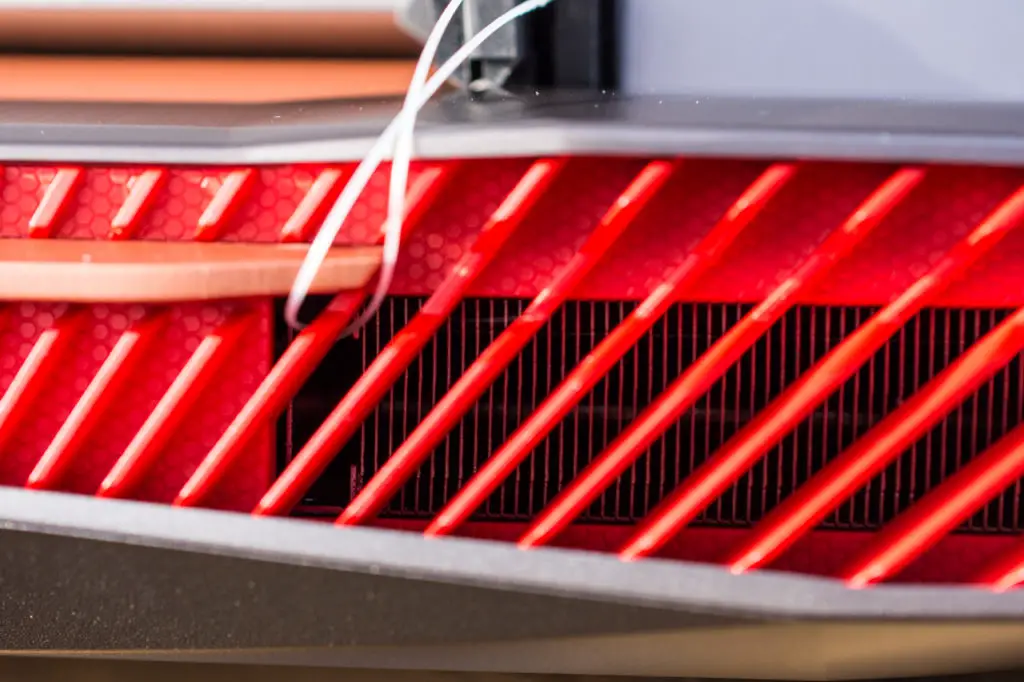 Dust is the greatest enemy of high performance laptops. Dust buildup causes heat, in turn causing slowdowns and even thermal shutdown. Asus' new heatsink design features a dust release channel to avoid that. I can't comment on the long term functionality, but if it does what it says then it should keep the G752VS running nice and cool for years to come.
Performance
Game testing was done with NVIDIA driver version 368.71, with the Asus Turbo Gear set to "Extreme".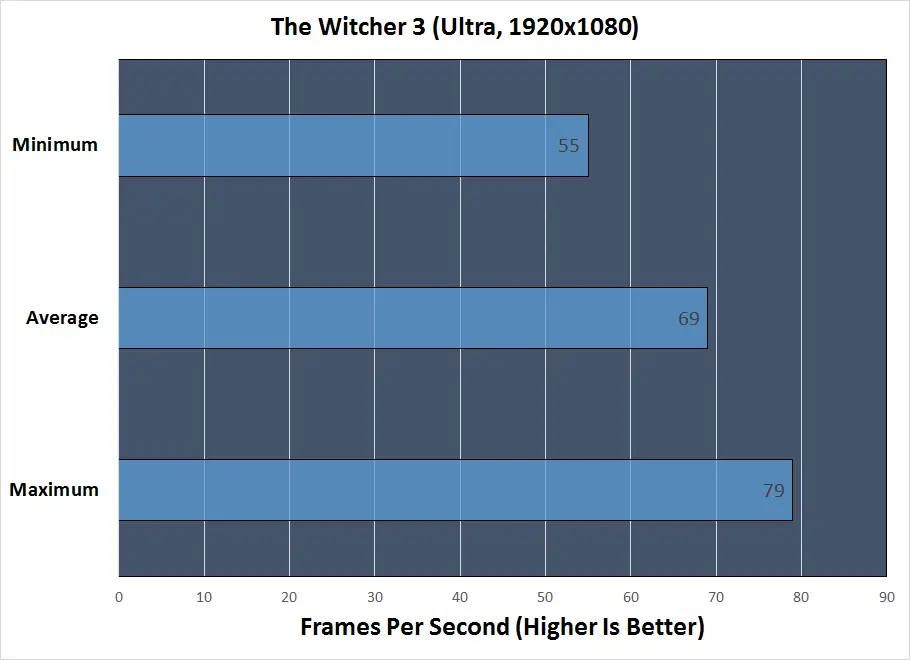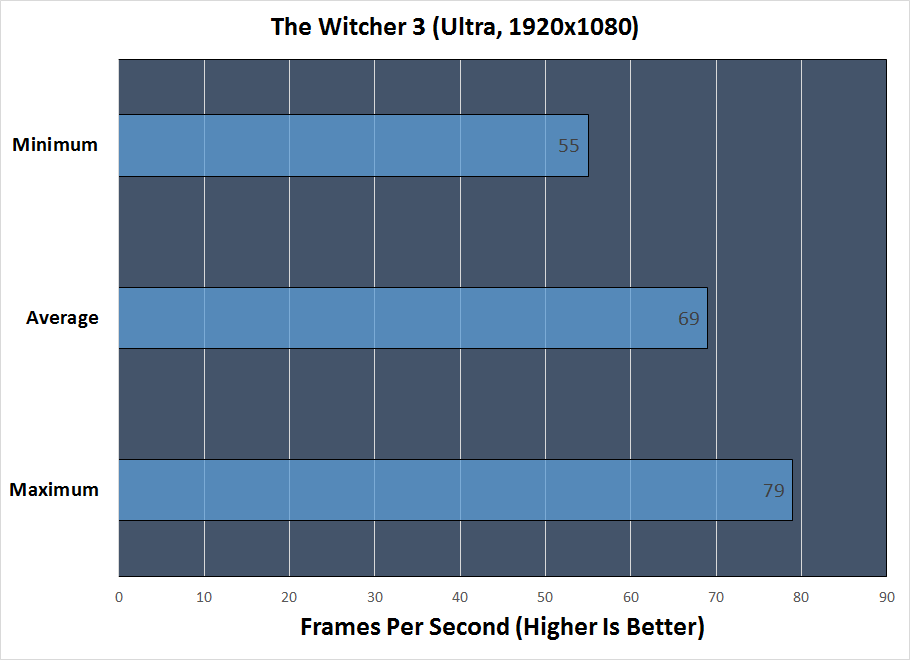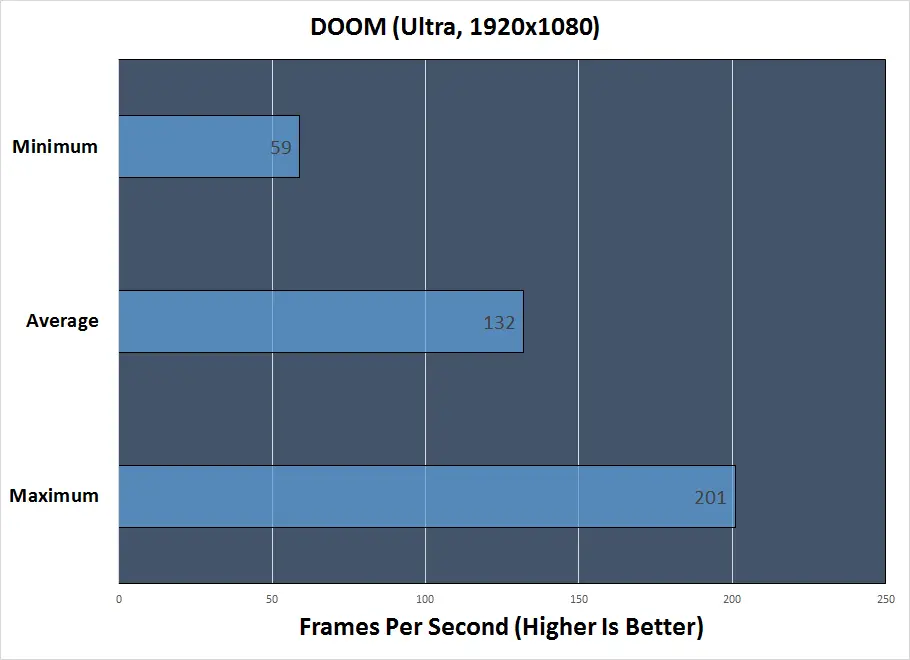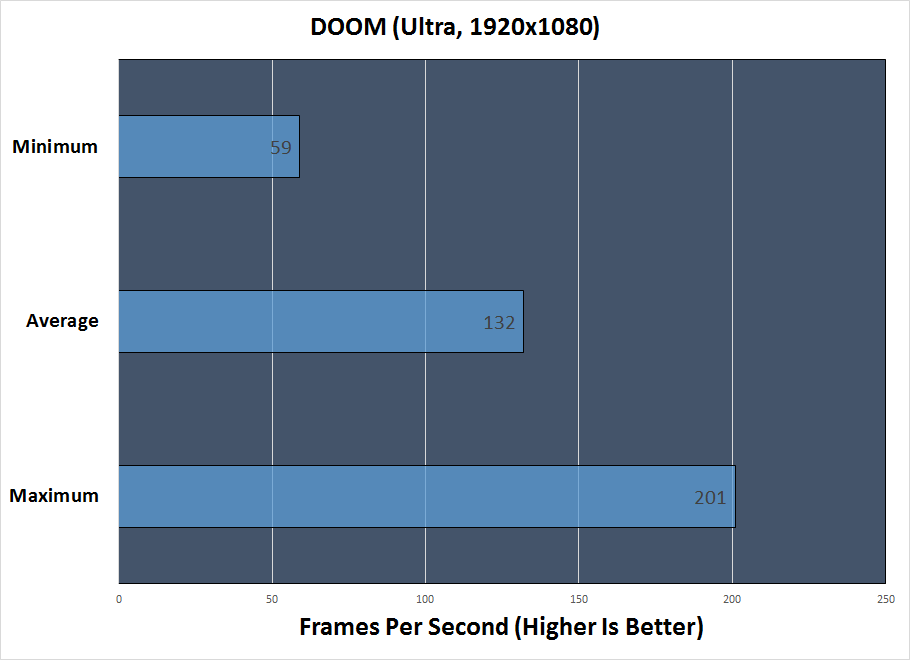 There's not much to say with those charts above. The performance crammed into this laptop is fantastic in about every regard. I had no problem keeping Doom and The Witcher 3 in playable FPS ranges, with very little dip in the minimum FPS. I noticed that although the mobile GTX 1070 is designated for 1645Mhz boost clocks, I was near constantly sitting at 1911MHz. This is all while hitting no higher than 72C during long benchmarking sessions. The fans do get moving quite wildly as the heat gathers, but Asus has managed to keep the annoying high pitched squeal and whirr found in many laptop fans away.
Battery performance is kind of terrible, but you knew that was going to be the case. It does pack a large 8 cell 90Whr battery but there is a lot of hardware to push and a lot of lighting to power. While typing my review out on the G752VS, I squeezed out just over 4 hours with the screen at 50% brightness and keyboard at the dimmest lighting setting. Throw on some intense games while on battery and you'll get about 2 hours, albeit at reduced performance due to the Asus Turbo Gear not allowing the "Extreme" preset while on battery power.
Conclusion
The arrival of Pascal has allowed NVIDIA to shove nearly full powered desktop GPUs into the hands of laptop manufacturers. Asus combining a GTX 1070 with an unlocked Core i7 mobile processor and an SSD allows you desktop levels of performance in a form factor that allows you to move around a lot more freely than most "desktop replacement" laptops of the past. You'll be hard pressed to beat the pure numbers that this laptop will crank out, but it comes at a hefty premium price.
With that all said, there are many things that I feel Asus needed to do to truly make the G752VS a leader in its role. The number one downfall is the absolutely lackluster display. While an external monitor is definitely an option, you are tacking on another extra cost and losing out on mobility. Secondly, a little bit of curvature to the keys would make the keyboard feel more gaming oriented than the plain chiclet style makes it feel. Lastly, as a personal preference, a subtler appearance would do wonders for those who want to buy a single "be-all end-all" laptop to cover everything from the office to the LAN party.
Overall if all you desire is raw performance, this laptop is everything you could imagine and more. The aesthetics and sub par panel quality may leave people looking at similarly spec'd competitors such as the MSI GT72VR Dominator Pro.