$140.00
in stock
2 new from $140.00
as of December 7, 2023 8:12 pm
out of stock
as of December 7, 2023 8:12 pm
out of stock
as of December 7, 2023 8:12 pm
Last updated on December 7, 2023 8:12 pm
Seagate has been making 'Slim' or ultra-portable external hard drive storage solutions for many years now… and we have been purchasing them almost as long. We discovered this continuously evolving series almost by accident… as we actually reviewed the first iteration of this idea many moons ago for another (now defunct) review site and it was love at first use. This is because, as we quickly discovered, they are almost as small and portable as the largest capacity NAND based storage devices. They are basically as fast as the typical-sized USB-powered external HDDs (of the same capacity), and generally, they are inexpensive enough to live most of their life in our 'PC troubleshooting Go Bag (of doom)' that we keep close for those calls for help. Put simply they are usually fast enough, small enough, cheap enough, and yet offer enough capacity to not be ignored. The latest iteration of the Seagate Slim philosophy is the Seagate Backup Plus Ultra Touch series which varies in capacity (and price) from 1TB to 2TB. Today we will be putting the moderately sized 1TB variant to the test to see how it stacks up against our high expectations.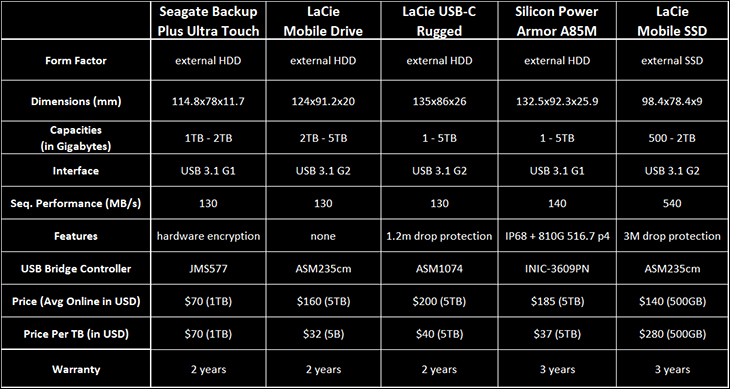 On the surface opting to look at the smaller 1TB version does seem counter-intuitive. After all the 1TB versions cost $70(USD)… and yet the 2TB variant only costs $20 more at $89. That is a rather significant difference in price per TB, to say the least. The reality is a bit more nuanced. At a mere $70 nearly anyone's budget can afford to buy one on even on a whim, yet a 1TB capacity is big enough to actually carry enough data to not seem too restrictive. Mix in the fact that it only weighs 151 grams and this really is an easy to carry 'portable storage device'.
These are all similar arguments found in previous 'Slim' designs, but the Seagate Backup Plus Ultra Touch 1TB brings to more features to the table. The first is upgraded aesthetics. With the addition of cloth to the plastic external enclosure (or what Seagate calls 'woven, textile enclosure') the Seagate Backup Plus Ultra Touch is rather striking looking. Not as striking as say the various LaCie models reviewed previously but still rather pleasing and eye-catching, to say the least. The other is the fact it comes with not only two months free subscription to Adobe Cloud Photography edition ($20 value) but also one free year subscription to Mylio's Create online photography backup and organization service (a $50 value). Put another way at a mere $70 you can get not only 1TB of fairly fast, fairly compact, portable USB storage that also looks good… but you can actually do it for free thanks to these two included bonus features. Now that is what we call an intriguing proposition to say the least.
So, let's dig in and see if such a seemingly great value lives up the expectations that the Seagate Backup Plus Ultra Touch's predecessors help create in many buyer's hearts and minds.