$59.99
$69.00
in stock
19 new from $59.99
2 used from $61.95
as of September 22, 2023 10:02 am
$94.86
$129.95
in stock
as of September 22, 2023 10:02 am
$14.99
$17.99
in stock
as of September 22, 2023 10:02 am
Last updated on September 22, 2023 10:02 am
In the recent past we have looked at numerous external storage solutions. Some were large, some small. Some had great value, others had great performance. The one thing they all had in common however was the overall trend of in industry. That is the typical NAND based model is usually based upon a 2.5-inch SATA based device… and buyers typically have to go the M.2 to USB adapter route if they really want every last drop of performance they can get from the USB 3.1 gen 2 bus. Obviously Crucial also noticed this trend and saw it as an opportunity. An opportunity to once again be the trailblazing trend setters that has made them the first choice for a lot of experienced buyers. The end result is the all new Crucial X8 Portable SSD series of external SSD based storage drives. Today we will be taking a close look at the largest capacity option available at this time – the $165 1TB X8 model.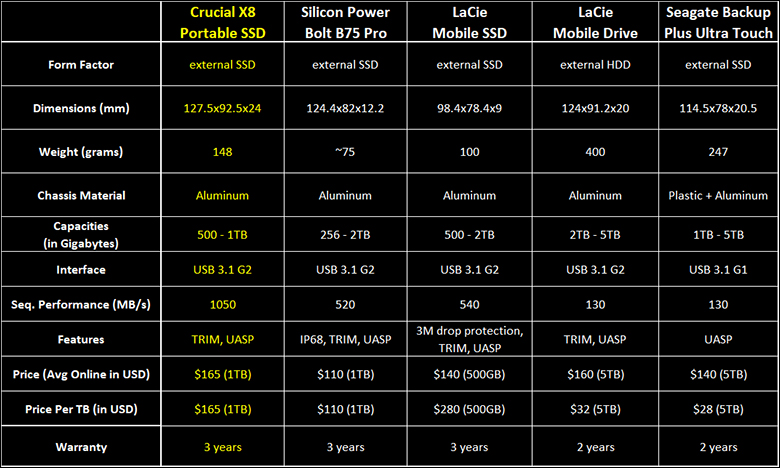 As we will show you in this article Crucial did not rush things to be first to market. Instead they leveraged their existing internal storage P1 model and their deep knowledge base to quickly and efficiently create a new and very exciting external storage solution. One that combines attractive good looks with performance, as well as portability with performance.
Make no mistake, in order for Crucial to create this X8 Portable SSD series compromises were made. Every design choice is a balancing act between competing priorities. Be they price vs performance, attractiveness vs price, durability vs price, or portability vs durability. Every choice is a compromise. The 'trick' for us consumers is picking a model that prioritized the things we consider to also be most important for a given purchase. Sometimes this means durability is key. Other times attractiveness. Sometimes price is the best way to pick one model over another. As we will show the X8's compromises for the most part is the good example on how to properly balance all of these conflicting priorities. The end result is a rather interesting model that may just be perfect for a wider range of buyers than most.