$59.00
in stock
19 new from $59.00
as of September 29, 2023 10:53 am
$39.97
$45.99
in stock
10 new from $39.97
as of September 29, 2023 10:53 am
$26.97
in stock
4 new from $26.97
as of September 29, 2023 10:53 am
Last updated on September 29, 2023 10:53 am
Overview
Sometimes the old adage of 'Go Big Or Go Home' is indeed true. One such example of this is the CPU cooling market. Specifically, models meant for the enthusiast and / or extreme overclocking crowd. In this corner of the market custom water loops and liquid nitrogen (for true boundary pushing insanity) rule the roost. Even the likes of Noctua and their D15 series is 'not enough'. Since their inception Closed Sealed Loop Cooling solutions have made significant inroads… and these days a monster sized AIO is typically more than good enough for the average buyer in this highly competitive (if somewhat niche) market. In a serious bid for the hearts, minds, and dollars of this consumer Arctic (formerly Arctic Cooling) has released their second-generation, Liquid Freezer II 360 All In One cooling solution.
With a radiator designed to accommodate three (stock configuration) or even six 120mm fans and three P12 high static pressure, high performance 120mm fans included as 'stock' Arctic certainly believes that bigger is indeed better. Make no mistake the Liquid Freezer II 360 is not just another 'johnny come lately'. As we will show in this review Arctic took a page from the Wizard of Woz era Apple and decided to… 'Think Different'.
The first and most obvious divergence from the typical AIO is the asking price. With an online average of only $120 (USD) the Liquid Freezer II 360 is not priced like a typical '360mm' AIO. In fact, its price is not only more in line with '240mm' AIOs from more firmly established 'manufactures'… but is actually less. For example, a latest gen Corsair Hydro 240mm AIO or a NZXT Kraken 240mm AIO will set you back about $130. An NZXT Kraken 280mm, about $160 or so, and their take on 360mm AIO X models?… about 2 bills.
The next is that this AIO actually concerns itself with cooling the motherboard VRMs and not just the CPU. Unlike most, the Liquid Freezer II 360 comes with a secondary (or to be accurate quaternary) cooling fan that actively cools your motherboard's VRM heatsink(s). Yes, this is not the first to do so, but it is very rare. The vast, vast majority of AIOs do not.
Last but not least, Arctic has bucked the trend and made this a non-RGB enabled device. Finally, someone 'gets' the fact that not everyone wants or even desires their cooling solution to light up like a Christmas tree… and don't even get us started on the latest craze of adding LCDs to them.
With such an intriguing asking price and host of innovative ideas the Liquid Freezer II 360 certainly does bring a few questions along with its features. Questions such as 'with an asking price so good, what corners were cut?' and 'how were they able to undercut the competition?!'. Even 'how does it perform?'. This is what we intend to find out. So, let's dig in and take this big boy for a spin.
Specifications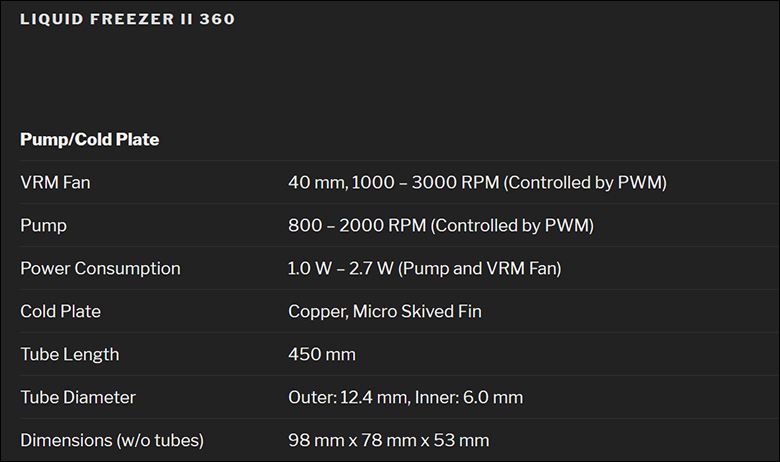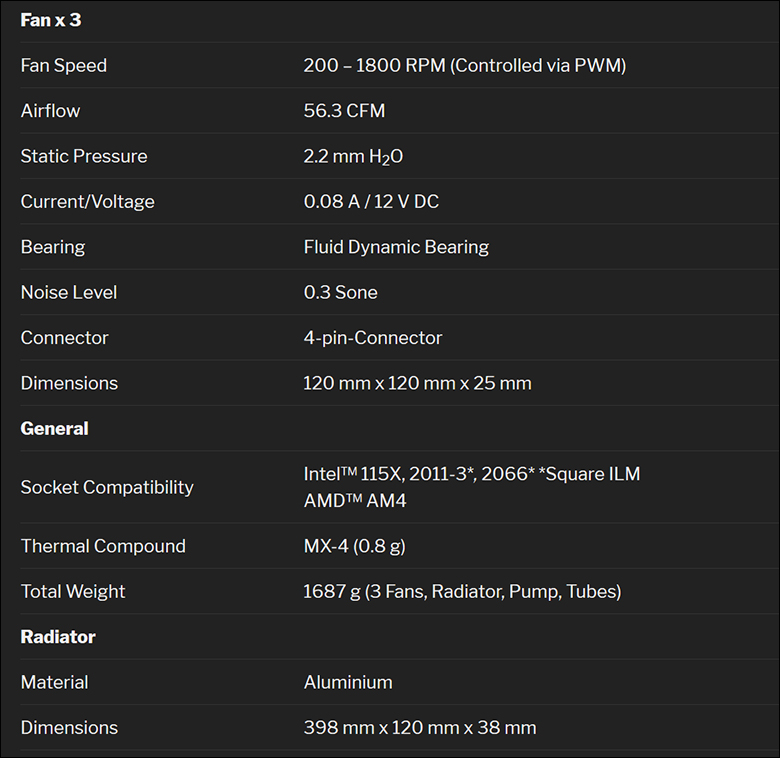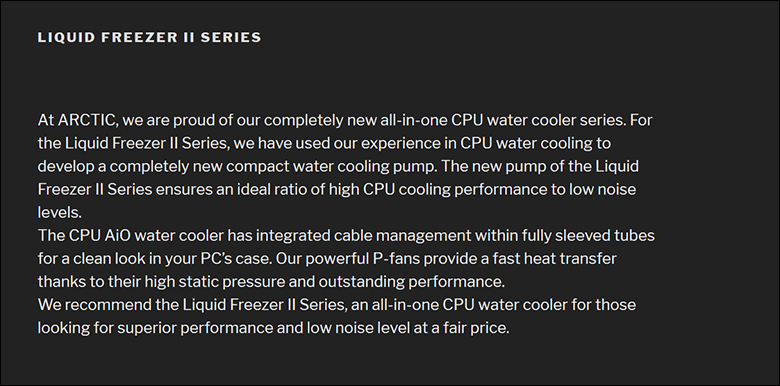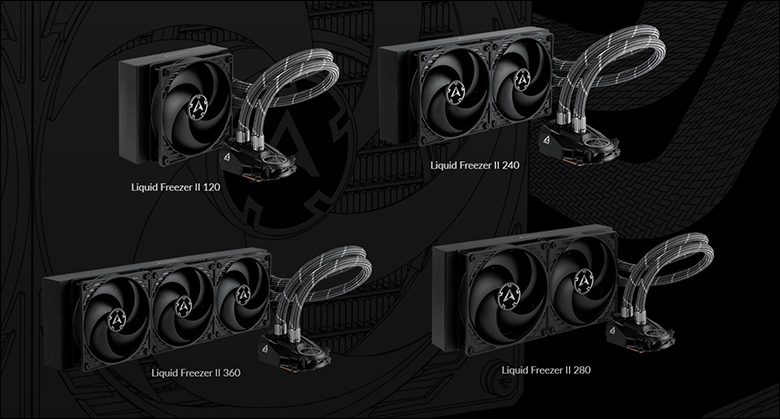 Closer Look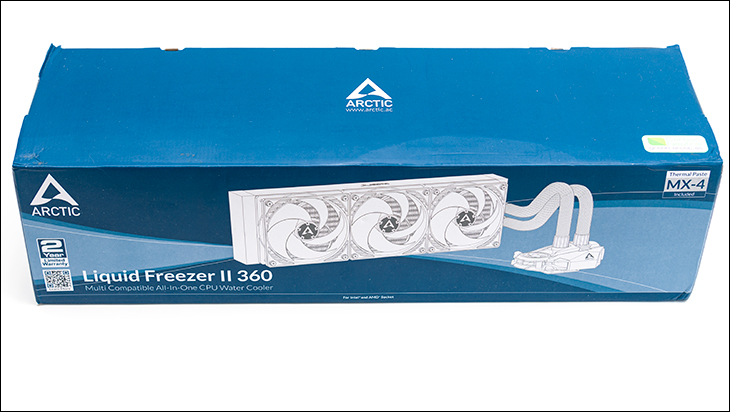 Arctic obviously spent a lot of time and effort on their marketing and it shows. Even on just a quick glance you will know this is an Arctic product. It looks, feels… and even acts like one. This is a good thing. The color scheme is attractive yet not garish – this large box will grab your attention without risking seizures in epileptics. Then once it has gotten your attention the combination of a veritable ton of pictures, details, descriptions, etc. will let you know precisely what the Liquid Freezer II 360 has to offer. This really is nearly everything we like to see in a shipping container and the Asetek ODM using competition really could learn a thing or two from it.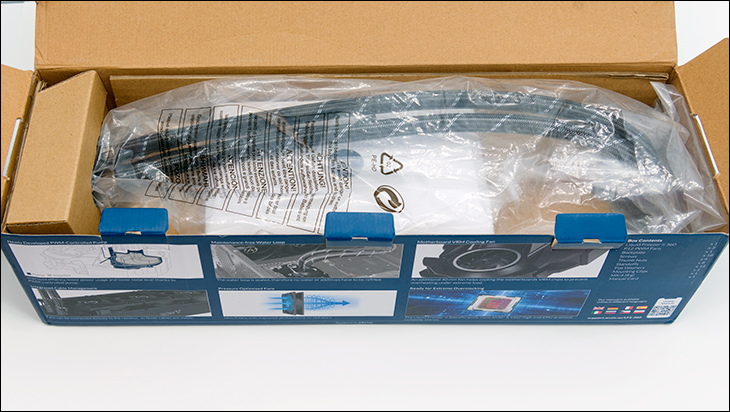 Internally Arctic is using a combination of copious amount of cardboard with intelligent packaging to ensure your Liquid Freezer II 360 arrives safe and sound. The end result is a shipping container that we would feel entirely comfortable with shipping across the country or even around the world.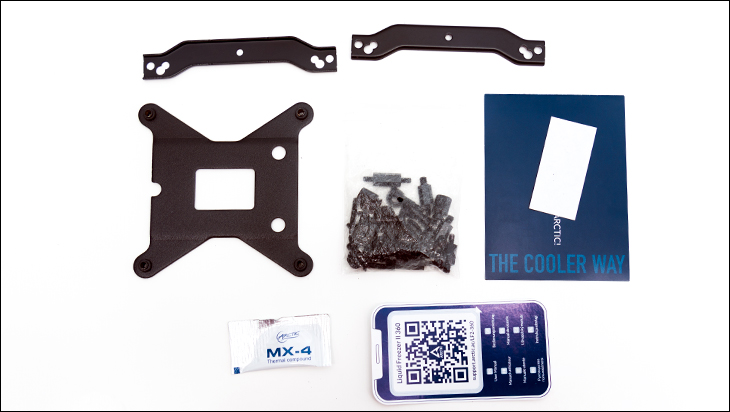 Moving on. The accessory list is not perfect, bit everything included is of the highest quality. For example, even though the waterblock and pump combo is not all that heavy an item the mounting backplate Arctic includes is a solid chunk of metal. Forget about flexing, or stripping out a post because the backplate is plastic (or worse still made from "number one best quality" Chinesium 'steel') this backplate is robust. It is of such high quality we are disappointed that it is for Intel 115x systems only. We really wish Arctic had included one for AMD instead of relying upon AMD motherboards integrated CPU backplate. Yes, saying we would rather have extra steps to deal with rather than using stock backplates just underscores the level of quality Intel users will have access to.
As to specifics, in grand total you can expect to find a big bag of screws for mounting the Liquid Freezer II 360 to everything from Intel 115x on up (with the exception of 1366 socket), and AMD AM4 (as long as your AMD motherboard comes with a backplate) compatibility. You will get a nifty 'one shot' packet of Arctic MX-4 TIM. You will even get an actually good and useful installation pamphlet. The only missteps is we wish the MX-4 TIM was a multi-use tube of MX-4… as this is TIM you will actually want to use on future builds. That and the fact that you will not be given extra screws to mount an additional three fans to the radiator. Given the low asking price we are not surprised to see Arctic… 'round' this corner, but what they do include is easily better and higher quality than the vast majority of AIO's for sale right now – for Intel buyers. In the installation section we will go over how Arctic may have rounded a few too many corners for AMD buyers.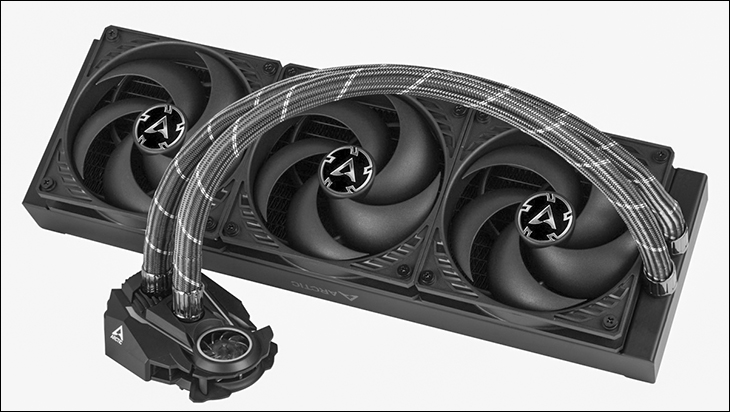 On the plus side, and as you will discover the moment you take the Liquid Freezer II 360 out of the shipping container, the three fans are already mounted to the radiator for you. This will save you a couple moments of effort during the installation stage and we always like to see companies go this extra mile for their owners. Also on the positive side, these fans are not your typical 'stock' fans. Rather, they are Arctic's very own P12 PWM 120mm fans. Fans which have been optimized for high static pressure, low noise, and (thanks to Fluid Dynamic Bearings) longevity. These P12s retail for about $8 each and are worth every penny and then some. They actually are one of our favorite high static pressure fan models, as they not only come with ten-year warranties, they have an extremely wide operating speed range of 200 to 1800 rpms. They also move a decent amount of air (53.6 CFM) and do so with an impressive 2.2mm H20 static pressure rating. Compare and contrast these fans with say Noctua and you have to move up to Noctua's A12 line to find better (be it static pressure, CFM, etc). A fan which will set you back a lot, lot more than 8 bucks. Basically, these are three fans you will not be in any hurry to replace to say the least. This is typically one of the areas AIO manufactures cut corners on to help reduce MSRP… and it is impressive to see Arctic not even 'round' this corner.
To be honest, the fans were not the first thing we noticed when we took the Liquid Freezer II 360 out of the box the first time. What we noticed was the incredibly attractive braiding they are using on their tubing. Yes, this is a minor thing in the grand scheme of things but this is easily the best, most attractive braided covering we have seen on any AIO… ever. To us it gives the tubing an Eastern Kingsnake look to the tubes, but most likely Arctic was going for some European Sea Snake motif. Either way, it is simply in a different league compared to the 'basic black' braiding most AIO's – at best – come with.
No matter what it reminds you of, the color scheme will not only fit into a wide range of custom builds… it will enhance it. Gray (instead of basic black) combined with white striping really will give most builds an air of elegance that too few AIOs can give. This is why most AIO manufactures (especially Asetek based models) have to rely on a "LEDS EVERYWHERE!!!!1111" approach. Thankfully Arctic did not feel the need to include any LEDs. The downside is if you really need an AIO that lights up it will not be right for you. It however is pretty much tailor made for us – as we dislike generic LED lighting and feel that if a build requires lighting, we will do it via custom LED strips in strategic locations. This is bucking the trend of the industry and proves Arctic is not afraid to go their own way and blaze their own trail. Hopefully a trail that others will follow.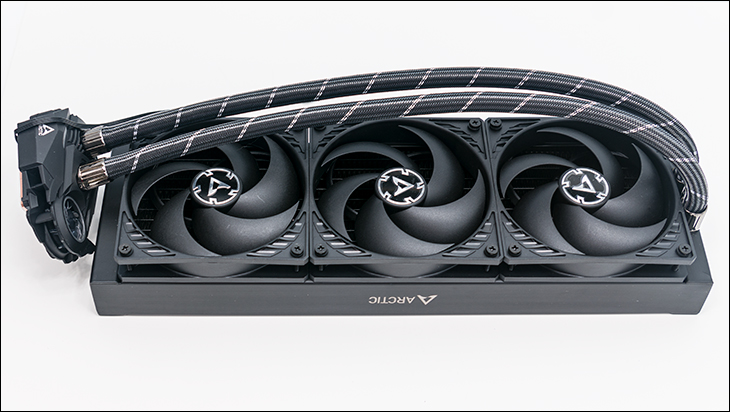 The reason we keep comparing and contrasting the Liquid Freezer II 360 with Asetek is simple. Regardless of what label is on the box Asetek is the ODM for the majority of AIOs on the market. Asetek is not the ODM for the Liquid Freezer II 360. This is an Arctic design not an Asetek one. As such it does not have the typical 'Asetek quirks'. Quirks such as pumps that fail earlier than they should. Pumps that (relatively) eat way too much power for what they offer. Quirks like not integrating the fan's cables and instead have a rat's nest of cables to contend with. The Liquid Freezer II 360 has none of these quirks.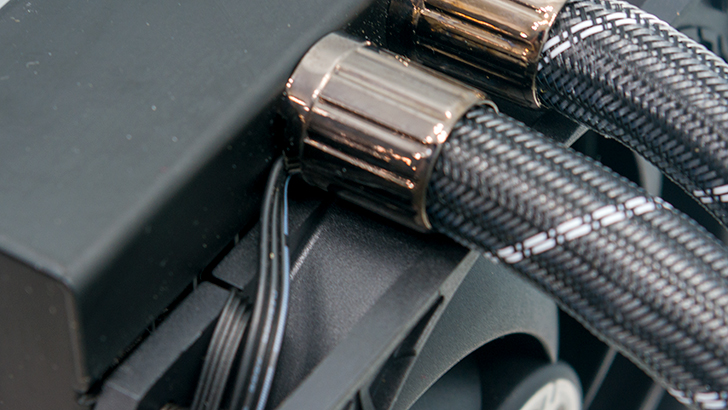 Let's start with the cables. Usually three fan, 360mm AIOS mean dealing with tidying up three fan 4-pin cables, a 3 or 4-pin pump cable, and maybe even a USB cable. The Liquid Freezer II 360 has a grand total of one cable to contend with. This is because the Liquid Freezer II 360 not only comes with an integrated fan controller, and comes with the cables hidden underneath the oh so sweet braiding… it integrates the four fans as well as the water pump via your motherboards CPU header. Simply set up a 'fan speed' profile for this device in your mobo's BIOS and it will take care of balancing water pump vs cooling fan(s) speed for you. All without needing to install and configure a dedicated software application. That certainly is 'user-friendly' in a nutshell.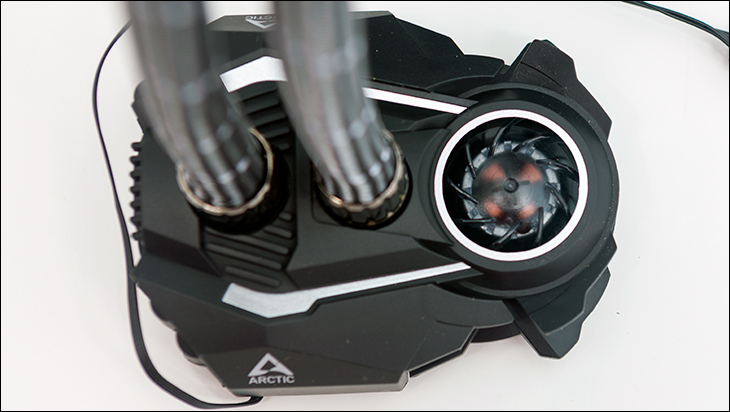 You may notice we keep talking about four fans. That is because the next feature of the Liquid Freezer II 360 is its integrated VRM cooling fan. Yes, Arctic really knows what enthusiasts really need… and gives it to them. This small 40mm fan may not move all that air (even at 3K rpm… it still is only a 40mm fan) but that couple CFM of air movement is down low and directed right at your motherboard's VRM heatsinks. Heck, even motherboards without VRM heatsinks will notice a difference in VRM temperatures as this airflow is focused and will push air over 'naked' VRMs nicely.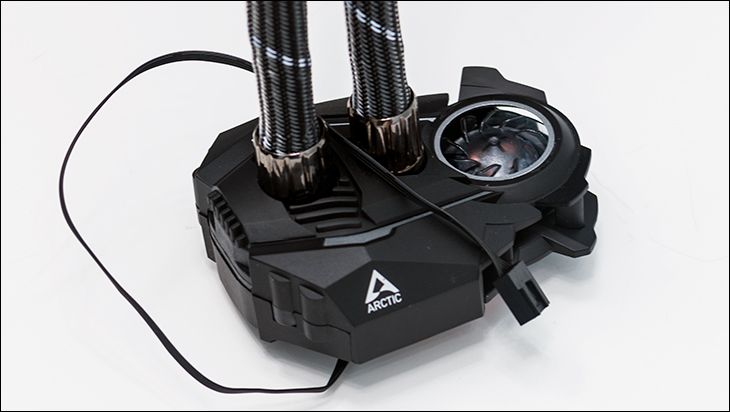 The only hesitation some system builders may have when hearing about this somewhat unique feature (e.g. ASUS's RoG Ryujin has such a feature) is some variation on 'what kind of amperage will you need to run all that?!'. The answer is… not as much as you would think. The gen 2 water pump Arctic has created uses very little power. How little? That is hard to state as Arctic's specs not only include it but the 40mm fan in its "1 to 2.7" watts of power usage rating. On startup both slowly spin up to speed and are usually only going to suck down a single watt of power. Worst case though, 2.7 watts at 12v is 0.225 of an amp. The three P12 PWM fans only use a nominal max total of 0.24A (or basically a watt each) and they too will not start out at full tilt boogie. This intelligent lowering of startup draw means that the 'startup surge' really is not a surge at all. Put in simplistic terms, even a cheesy 0.5amp header should be able to handle this device, and any 1A header will be happy running the Liquid Freezer II 360. Yes, this massive cooler veritably sips power. That is the upside to not having a USB integrated controller, or integrated LED controller… and no LCD panels to have to power via 'fan' headers.
Next up. Instead of the typical 3/8th or 7/16ths OD tubing the Liquid Freezer II 360 uses 12.4mm (or basically 31/64 in hamburger units) Outer Diameter neoprene tubing. This increase allows the actually important (and yet rarely stated) internal diameter to be larger. Specifically, it is 6mm (or a hair over 5/16ths in hamburger units) ID tubing. 'Wider' not only carries more water per linear foot (in the Liquid Freezer II 360 the tubing is 450mm or 17.72 inches long) it can do so with lower static pressure. Basically, a wider tube is easier on the pump when dealing with the same amount of fluid being moved in the same amount of time.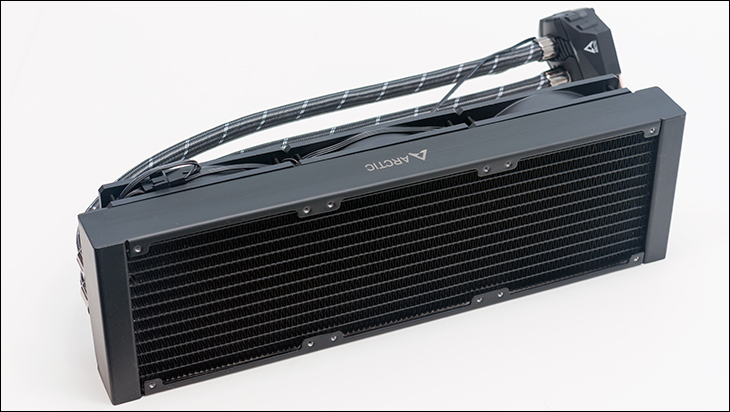 The next change from the same old same old Asetek design is the radiator. Typically, Asetek based models use ~27mm thick radiators (and one easy way to spot most Asetek models). The upside to a thin rad is that it makes for an easier install with few(er) case compatibility issues. The downside… lowered performance. The whole point of large 360mm radiators is performance. Anything which negatively impacts this critically important feature is a bad thing. Arctic obviously grasped this simple, and yet seemingly difficult, idea. Instead of doing a thin but long rad, the Liquid Freezer II 360 comes with a long '360mm' (actually more like 398mm) radiator that is 38mm thick. That is an increase of over 40.7percent. An increase which means a relatively greater quantity of coolant is housed in the Liquid Freezer II 360's rad compared to similar Asetek based 360mm AIOs.
More importantly, this increased thickness means not only taller water channels (which decreases static pressure on the water pump) but it means room for wider aluminum cooling fins with more contact points for said fins. Bigger fins with more surface area, means more cooling performance. So not only can the Liquid Freezer II 360 carry more water (and thus take longer before water temperatures increase) it can keep its coolant… cool longer and easier. Put simply, this radiator is going to be much more effective and efficient and dumping heat from the CPU into the air than 27mm Asetek rads.
Somewhat counterbalancing these innovative ideas is a few minor nits worth picking. The first is… there is no easy way to keep such a clean looking setup if you do opt for six fans. You cannot, and really should not, daisy chain an additional three fans on to the existing four fans. Instead you will have to hide the wires like on any AIO build. Arctic really should think about making enthusiasts lives easier in this regard… even if it means two cables coming from the waterblock instead of just one. This really is a unit that cries out for six fans as it is a cooling unit that is built for insane levels of performance.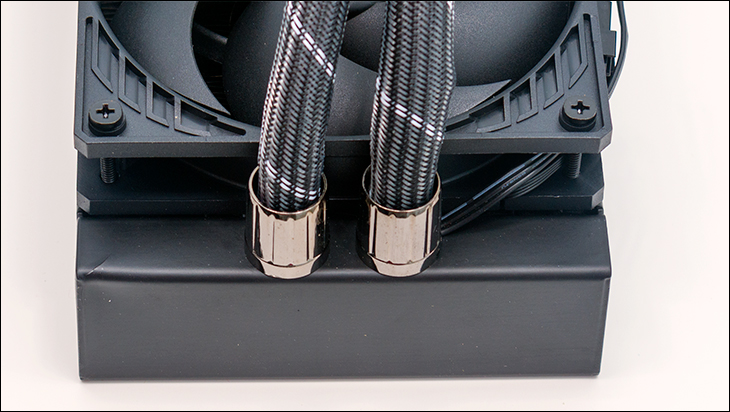 The other big nit is the tubing connectors. First and foremost is they are not swivel type connectors such as Asetek and most other ODMs use these days. Instead they are the 'old school' compression fittings which do not budge. This rigidity will make working with the tubes during installation more difficult as you will be fighting the tubes every step of the way. Since the waterblock connectors also do not swivel laterally / 'side to side' the end result is after installation will have more stress on the fittings as well.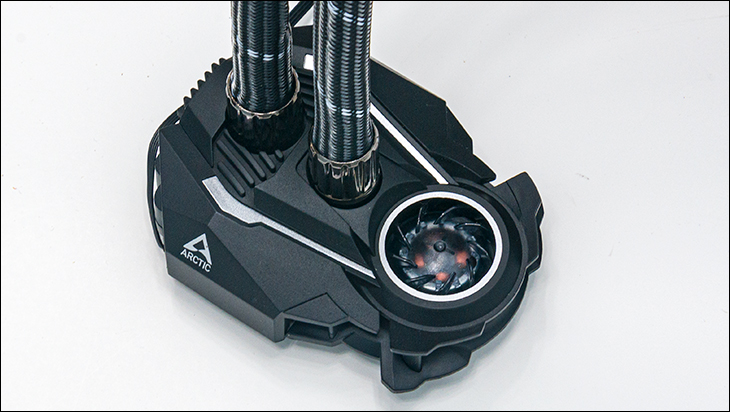 Next is the size of the waterblock. Most AIOs have downright petite blocks. The Liquid Freezer II 360's waterblock is many things… petite is not one of them. It is 78mm wide by 98mm long by a reasonably 53mm tall. So, if you are looking for a 'minimalistic' look the Liquid Freezer II 360 probably will not be the right model for you. For most though, the downside to the waterblock is its overuse of plastic. Yes, it will (probably) remind you of a racing car, but funky styling or not that is whole lot of black plastic. Move the VRM fan to the top, the inlet/outlet headers to the side, make it rectangular… and please call it a day Arctic. This overly stylistic block does not add to the maturity of the design. It does the opposite as if the design team was trying way too hard to appeal to the PC Gaming crowd.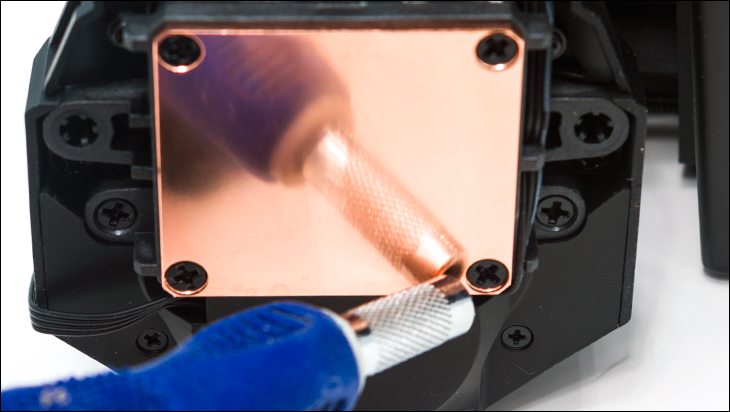 Lastly, if there was ever an AIO that cried out for upgradability… this is it. These old school fittings mean that you cannot easily pop one off and add in a secondary run to say your water-cooled GPU. Nor will you be able to add in a 'water' reservoir… or even flush, change, and burp the fluid every couple years. Arctic has a great foundation for a great modular water loop foundation with this design. One that could take on the likes of AlphaCool and their modular Eisbaer models. As it stands it is a great sealed closed loop cooling solution, but where a great opportunity for even more was missed. All for the sake of a couple quick disconnectors.
Installation & Issues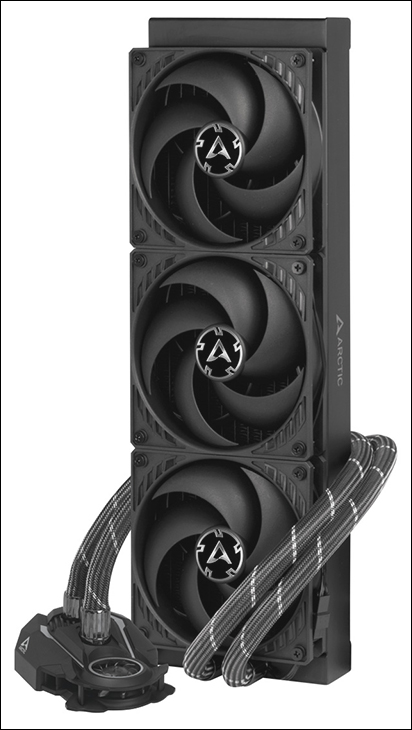 Before we begin let us state the obvious. When you buy a 360mm class water cooling solution you have to expect more installation issues than the typical AIO. Even compared to 280mm class All In One devices… expect case installation issues. You will have to pay careful attention to how much room you actually have to work with. Even with cases that claim 360mm support… not all truly support them. Instead many simply allow you to mount a 360mm rad and two fans to it – leaving the forward most fan slot empty. That is a sub-optimal configuration to say the least.
In this regards the Arctic Liquid Freezer II 360 also comes with above average issues. A thick as a bowl of oatmeal 38mm radiator with 25mm fans means you need at the absolute minimum 65mm of clearance… and even that only leaves a ~2mm gap for air flow. So, if you think this cooler meant for enthusiast grade systems is going to work in some plebe case… think again.
Expect to pay a premium for a case that actually can handle a 360mm AIO optimally. Thankfully there are plenty of good cases to choose from. Even ones where the AIO is mounted vertically at the front of the case and not horizontally at the top. Choose wisely or you are going to have a very bad day.
Much like previous Arctic CPU cooling solutions we have looked at in the past, the Arctic Liquid Freezer II 360 comes with extremely good hardware. Installation hardware that is well thought out, well-engineered, and does get the job done… or at least will get the job done as long as your motherboard's socket type is on the list of compatible options and the CPU manufacture's name begins with an 'I'. Basically, if you have a really old Intel (775 or 1366) based system, or anything older than AM4 (or have ThreadRipper) based system the included hardware will simply not work, and AMD AM4 users will have a harder time than Intel users.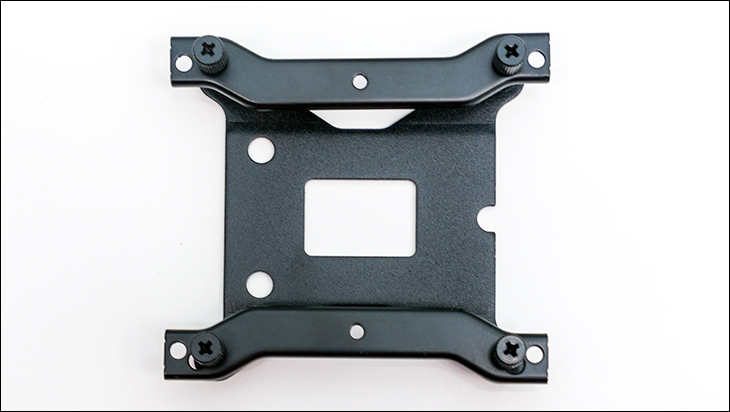 On the positive side, and unlike some of Arctic's own air based cooling solutions, you will not be dealing with typical Asetek plastic backplate and thin metal mounts – which can strip easily. Instead the metal in the included hardware is good enough that if by some quirk of Mr. Murphy you do strip one out… you can thread and tap in a new screw thread pitch with little worries. The quality is just that good.
While bigger than most, if you have any experience with installing AIOs in the past the Arctic Liquid Freezer II 360 will pose no real issues for Intel users. Arctic has not tried to reinvent the wheel here. They simply use better equipment to do the same things than most. Like all, you are best to start by mounting the waterblock to the motherboard before moving on to the radiator installation. Depending on the case this may mean removing the motherboard first. Either way this is how you would start installing any AIO and is how we would start with the Arctic Liquid Freezer II 360.
Also like the vast majority of AIO's the hardware you use will vary depending on what socket type you are using. For AMD AM4 and Intel HEDT based systems you will be re-using the motherboard's stock backplate. This is an unfortunate as the Intel 115x backplate really puts to shame any motherboard manufacture's 'stock' backplate. So if you are using 115x the process is simple. Place the backplate in place, push the four posts up and through the motherboard and secure it in place with the proper included double-ended threaded bolts. For Intel HEDT… simply thread in the smaller Intel HEDT double ended threaded bolts in the bag and move on to the next step. For AMD AM4 remove the plastic top bracket(s), reuse the stock backplate and then temporally secure it in place with some tape… tape that is not included. This is because there are no securing bolts for AMD. Instead AMD users will have to jump through a lot more hoops than Intel users.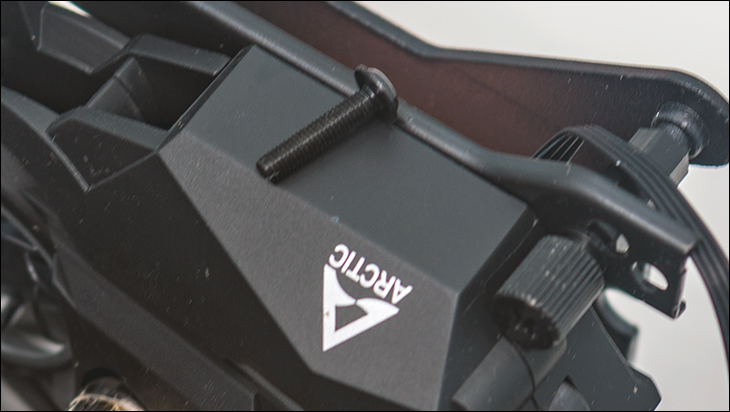 With that complete grab the two long metal arms and the waterblock itself. In the bag o' parts you will see two long but fully threaded small diameter screws. These are used to secure the metal 'arms' to the water block. Line them up, one by one, so that most of the length of each arm is covered by the block's top fascia and with the ends of each either sticking out or in. For Intel systems (both 115x and the two HEDT socket types) the two ends point out and away from the waterblock.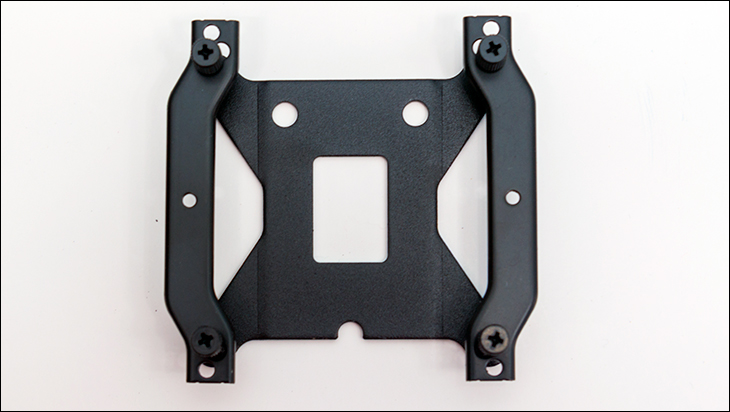 For AMD AM4 they point inwards towards the block. Just be careful you do not pinch the 4 pin power connector while doing this.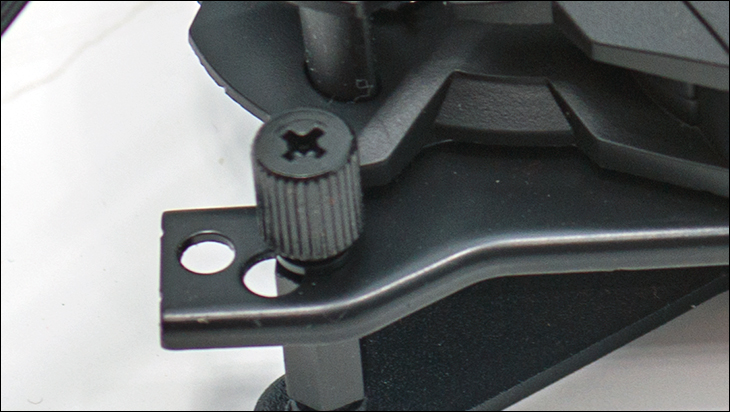 Then apply the included TIM to your CPU, peel of the sticker… and place the waterblock in place. You really will only get two directions to 'choose' from. Pick the direction where the integrated fan actually blows air over (or at least towards) the motherboard's VRM heatsink(s). Secure it in place with the four thumb screws in a diagonal pattern using one turn/move to next/one turn process.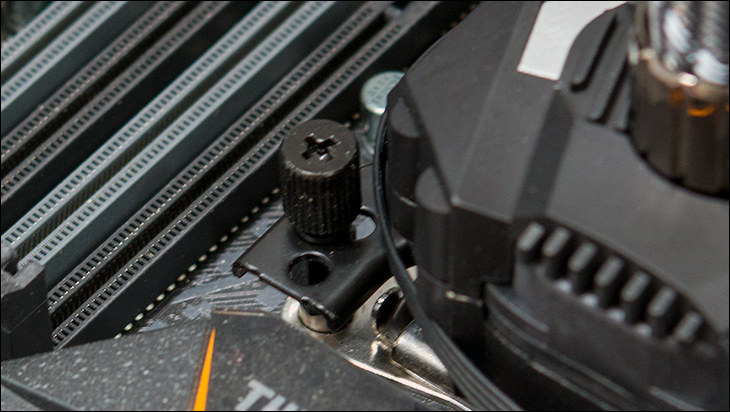 This only applies to Intel based system. For AMD users you will have thread the four long AMD bolts through the proper holes in the top bracket arms and then gently screw each one in… one at a time. This is a finicky procedure as the gap between the block and the metal arms is not much on the 'back' two screws. Take your time. Thread one bolt in one full turn. Move on to the diagonal bolt. Rinse and repeat until all four are tightened down. For less headaches, a second set of hands really will come in handy for AMD users.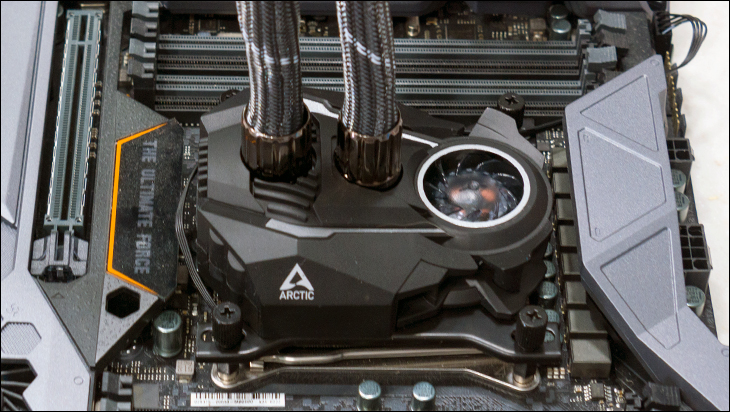 Next, we would remove any fascia from the case that is covering the exhaust ports you are planning on using. With that done, we would tip the PC case on its side so that you can still access the motherboard area. If you did remove the motherboard from your case this is when we would reinstall it. If you did not… having a second person holding the rad while you gently tip your case over is a very, very good idea.
When installing the radiator we would highly recommend orientating the tubing inlet and outlet ports on the rad towards the back of your case. That way the tubes do not block any 5.25 bays… and it makes for a neater installation. This is not what Arctic recommends, but that is because doing it 'our way' may block the rear exhaust port of your case. We would rather lose a 120/140 exhaust fan that a 5.25 bay. You may disagree with our priorities. In which case… do it the 'official' way. There really is no right or wrong method to top mounting this cooler. It just comes down to your priorities and your pArcticular case you are using. So don't stress over it.
If you do opt for a front mounted orientation you are going to have to go with the inlet and outlet ports on the rad mounted at the top of the rad. The tubing is not long enough to do it any other way (in most cases)… and quite honestly an air bubble stuck in the top of the rad will not only reduce the efficiency of the loop but the hard to track down and variable noise will drive you nuts. To be honest, we dislike front mounting AIOs as you can't not add in a water reservoir and 'burp' them.
In either case, we would strongly recommend not reversing the direction of the three fans. Doing so will mean pumping hot air into your case. Instead leave them as they are… and go with a 'back to front' or 'reverse' air flow configuration for your case. It is just too much heat for the typical video card to handle… and even storage devices will not like living in a heat box. The couple degrees in the difference from using 'hot' vs 'cold' air to cool the rad is not worth the trade-offs. So just don't do it.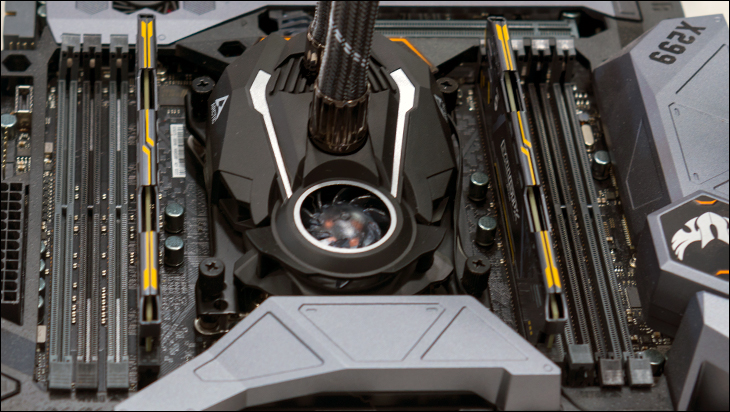 With this step completed all that is left to do is plug in the lone power header to your motherboard's 'CPU' header… and if you are an AMD user remove the tape that was temporarily securing the backplate in place. In either case, there is no need to mess with extra cables. No need to mess with extra software installation. Nothing else. Simply run your mobo's built in to the BIOS CPU fan controller app and figure out what levels of noise vs performance you are willing to live with. In this regards, this extra step is really not needed. Yes, you just added three fans to your system… but they are not that loud even when running flat out. You will most likely end up running the BIOS fan configuration simply to quiet down the 40mm fan that is cooling your VRMs rather than toning down the Arctic Liquid Freezer II 360's 120mm fans. Now that is impressive. We just wish as much time and effort was put into securing this to AMD systems as it was Intel systems.
Testing Methodology
While there are many, many ways of properly and efficiently testing CPU cooling solutions not every method will offer useful information for all potential buyers. Some consumers care more about noise than shear performance (aka 'Silent PC' enthusiasts). Others only care about performance and do not mind in the least if the cooler is as loud as a jet plane. Others still want to know how flexible a cooler is and how effective it will be at moderate – not silent – noise levels. Most though fall somewhere in the middle and want a good all-round design. Further complicating things is results on AMD systems do not necessarily translate to Intel based testbeds (and vice versa) as the CPU is a different size and will come in direct contact with more/less of the CPU cooling solution's heatsink.
To this end we are not just going to present you our readers with an overly simplified result and call it good enough. Instead we are going to do our best to provide you with as much data as possible so that you can make an informed decision based on what you consider to be important.
This different approach starts with testing on two testbeds and not just one. The first is an AMD AM4 Ryzen 1700X based system that is a good representation of what AMD users will experience. For Intel we have opted for a i7 8700K based system. Both are tested at stock and a moderately stressful overclock.
Further helping to give as clear a picture of a given cooler's real-world performance, we also will be testing a test sample with stock number of fans (i.e. whatever number is included in the box), and (when possible) the maximum number of fans. For most air-based coolers this means one fan for stock, and two to three for maximum results; whereas with water-based stock could be one or two, and two to four for maximum.
Since not all fans are made the same, we will also be testing the review sample at various fans speeds. While many can go below 800rpms few will not spin at below this level and fewer still do so and still keep temperatures in check. This is why we have chosen 800RPM as the minimum fan speed cut-off, and from then on we increase the rotational speed in 200 to 250 RPM increments until the fan is running at 'full speed'. This can vary from 1200 to over 3000… and will help highlight how much – or little – extra performance the increase in rotational speed brings to the table. Our personal cut off for CPU temperature is 90 degrees and as such once 90-degree average is reached no further results below that fan speed will be included.
The included results are the average for 20 minutes of stress testing using Aida64 and its built-in stress testing with logging feature enabled (as found under File / Preferences / Hardware Monitoring / Logging). In cases where 'maximum' fan speed falls between two chart points we will take a rounding up approach and place the max numbers under the higher fan speed point.
To round out our testing we have also included fan noise using stock number of fans included in the box, and at all successful rotational speed points. These results are taken using a professionally calibrated and NIST certified DT-805 sound meter that is placed 24 inches away from the cooler. We then spin up or down the fan on the cooling solution while the (Intel) CPU is idling.
Intel Testbed:
Processor: Intel 8700K
Memory: Ballistix Sport AR DDR4-3000
Video Card: MSI 980Ti Lightning
Motherboard: ASUS TUF-Z370 Pro Gaming
Cooling: Noctua NH-D15
SSD: 1x Intel 750 1.2TB NVMe SSD
Power Supply: Corsair AX860i
Monitor: Dell U2714H
OS: Windows 10 Professional
AMD Testbed:
Processor: AMD Ryzen 1700X
Memory: Ballistix Sport AR DDR4-3000
Video Card: MSI 980Ti Lightning
Motherboard: ASUS ROG STRIX Z370-E Gaming
Cooling: various
SSD: 1x Intel 750 1.2TB NVMe SSD
Power Supply: Corsair AX860i
Monitor: Dell U2714H
OS: Windows 10 Professional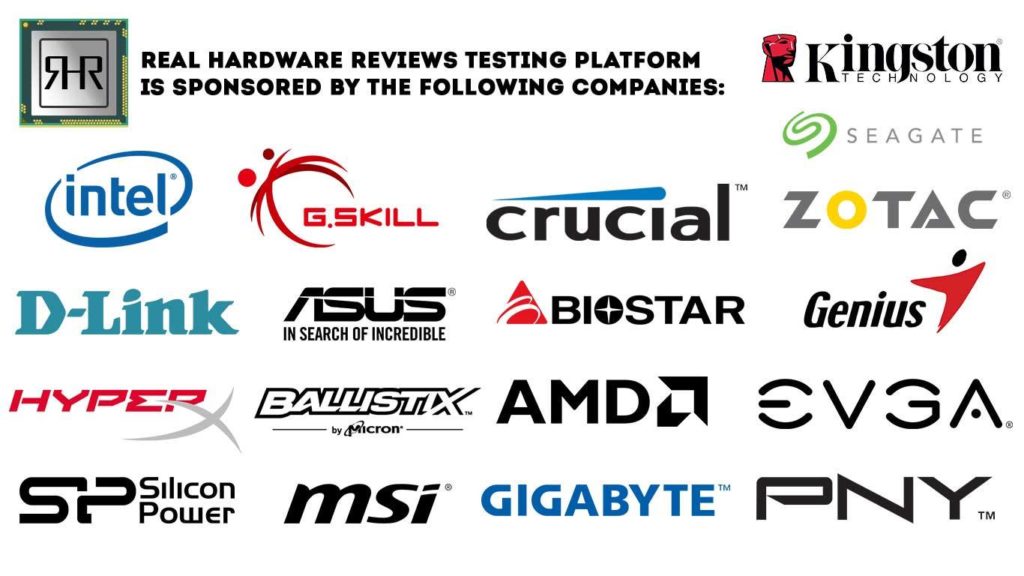 Performance Results
For exact details on system configurations and methodology please refer to the Testing Methodology page.
Intel System:


AMD System: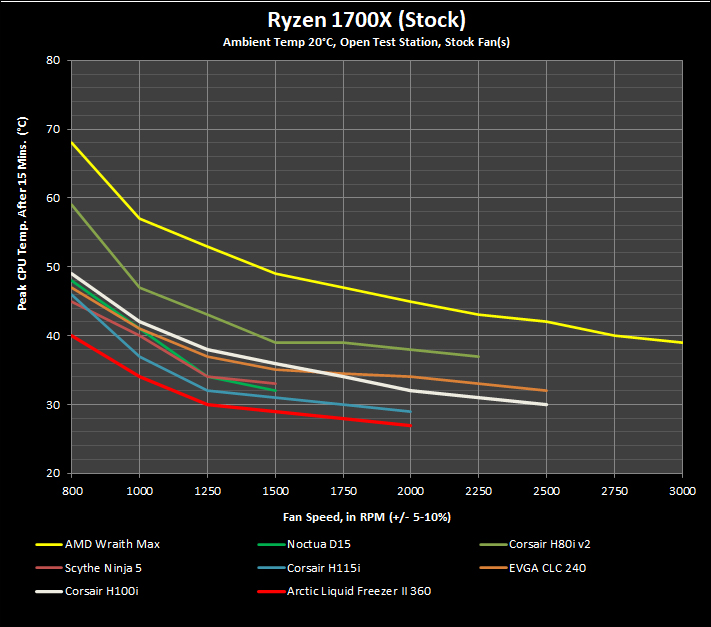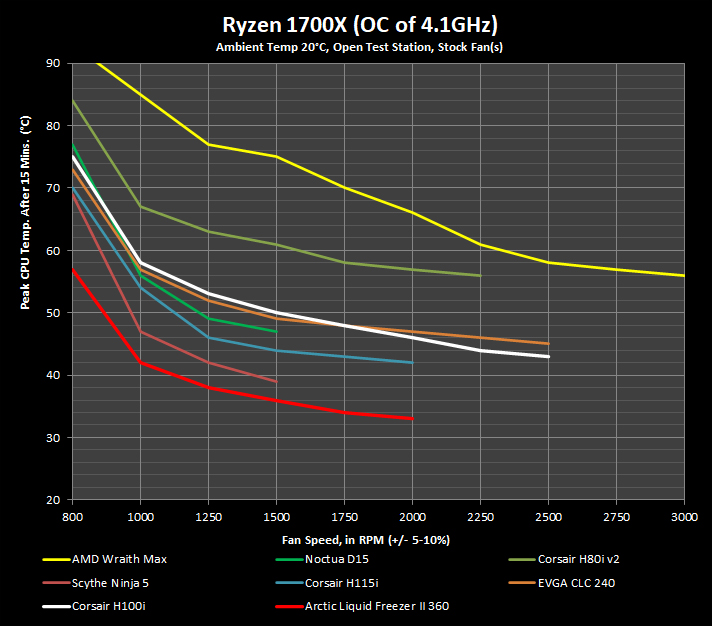 Performance Results (Noise)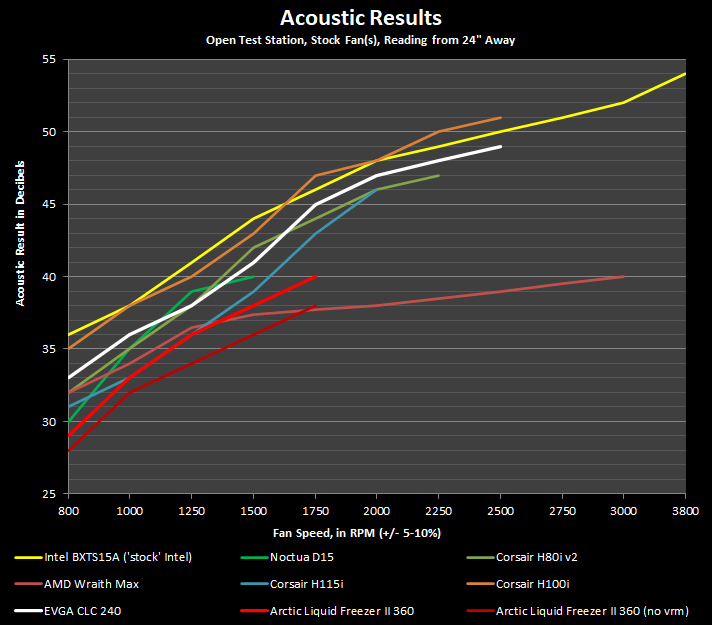 Score Card and Summary
Performance: 39 out of 40
Massive radiator? Check. Good pump with good flow rate? Check. Not just another rebadged Asetek clone? Check! Added cooling for the motherboard's VRM? Double check! From a performance standpoint the Arctic Liquid Freezer II 360 sets the bar awfully darn high for sealed, closed loop coolers. The only minor ding is from the additional noise the 40mm cooling fan brings to the table. It could be better. It however is better than nothing… like the vast, vast majority of AIOs 'offer'. Color us impressed.
Ease of Use: 15 out of 20
Let us make things clear. Working with any 360mm based cooling solution is not going to be as easy as even 280mm models. They are big and awkward. However, when compared against Asetek options, Arctic did make a few minor missteps which will increase the hassle factor beyond 'expected' levels. Firstly, the lack of swivel connectors does make positioning the block and rad a touch more finicky with more stress on the tubing. Next, the 40mm fan position means your mounting options for the block are limited. These are not deal-breaking issues. One that may be a deal-breaker for novice users, is the installation for AMD based systems is a royal PITA. Arctic needs to revamp this procedure ASAP… and simply include dedicate mounting bolts like they do Intel. Ones that can 're-use' the Intel (only) thumb nuts.
Build Quality: 17 out of 20
Everything from the high performance, and yet low noise, fans to the oh so sweet braiding used on the tubing screams quality. The only things that stand out are the lack of swivel connectors (or better still… quick disconnect couplers), the (over)use of plastic on the block's fascia, the mediocre AMD installation, and the short two year warranty. A warranty period which does not exactly scream 'quality is job one' when compared against most AIOs. This really is the largest tradeoff – up front cost vs warranty period – you will be making when opting for the Arctic Liquid Freezer II 360 instead of say a NZXT Kraken X73.
Value: 19 out of 20
The uber high performance levels this model offers with such a reasonable asking price really is almost peerless. The only argument that can be made against it, is the warranty is short and less than great installation process. Both of which will reduce the perceived value of this high performance, highly innovative AIO for some buyers. As it stands the Arctic Liquid Freezer II 360 is the king of value when it comes to 360mm AIOs… but there is still room for improvement. Missing improvements that other companies could leverage to 'dethrone' this king.
Final Score: 90 out of 100
With only a few minor missteps to mar an otherwise perfect execution the Arctic Liquid Freezer II 360 is sure to satisfy not only the overclocking 'performance is everything' crowd but also the buyer looking for a great value. Quite honestly, with the Arctic Liquid Freezer II 360 there is very few good reasons to even look at 240 and 280mm AIOs. Why pay the same (or even more) for less cooling performance?! Now that is a game changer. One that was long overdue, but one whose day has finally come. Now if they had only shown as much love to AMD users as Intel and it would be as close to perfection as we have seen in a long while.
Closing Statement
The Arctic Liquid Freezer II 360 is pretty much tailor made for enthusiasts interested in pushing the limits of their CPUs and doing so without the hassle factor typically associated with uber-performance machines. Put simply, the Arctic Liquid Freezer II 360 will give buyers all the cooling performance they could possibly want without going down the custom water loop road and without breaking your budget. More than enough performance without the same level of headaches or cost… that pretty much is the epitome of value. If this information was all you needed to know you can stop reading here. Buy it, you will not be disappointed. Its overall value is all but unmatched – poorly thought out AMD installation or not. This is why we are awarding it not one, not two, not even three… but four awards. That is a first for us.
To be honest, this was not all that unexpected. Units with radiators capable of accepting three 120mm fans per side (aka '360mm') are going to outclass even 280mm units. The increased surface area combined with increased airflow and better static pressure abilities of three 120mm fans is just too big a performance lead for the typical "280mm" AIO to overcome. What was not expected was the outside the box, and highly innovative, thinking that the Arctic Liquid Freezer II 360 design team put into this bad boy. This is not your typical 360 AIO. Arctic did not just call up Asetek and go 'stick our label on your latest gen AIO' and call it a day like most others do. Instead of doing what 90 to 95 percent of the rest of 'manufacturers' do Arctic set out to exceed what others call 'good enough', and succeed they did.
The best example of this is the fact that they actually understand the stresses high overclocking place on the entire system, not just the CPU, and set out to fix the state of the AIO industry. They set out to fix by leading by example. By showing, not telling. With typical water coolers (and for that matter most 'tower' air cooling solutions) the CPU itself may be kept cool regardless of the heat it is putting out, but the VRMs and other power delivery subsystem components on the motherboard do not. They are not even 'left to their own devices' to cool themselves, as the typical design robs the cooling airflow they were assumed to be getting. Put simply, with massive heatsinks found on the typical overclocking enthusiasts' motherboard, it does not take much airflow to keep them happy but they need some air movement. AIOs do not provide this airflow. They have offloaded the fans to the cases exhaust ports location. This in turn means builders have to use more/faster case fans to try and boost the airflow over the motherboard back to the levels it would have gotten if a stock or after-market 'down draft' CPU cooler was used. With the Arctic Liquid Freezer II 360 you do not need to boost internal case airflow. It takes care of this issue for you.
Yes, the included 40mm fan is small and runs at RPMS that are too high to be anything but loud and annoying. It however does provide this crucial airflow… and being an Arctic fan it actually not as loud as you would think. It will be above ambient / background noise levels but it is not buzz saw annoying… usually. This fan really only ramps up when your system needs the added cooling performance – and only then in a rather intelligent manner.
With all that said the Arctic Liquid Freezer II 360 is not perfect. Arctic really needs to think about relocating this innovative cooling fan to a different spot on the waterblock/pump combo and making it larger. They really should take a page from ASUS, who modded an Asetek design, and have the entire top of the block covered in a fan with integrate downward and sideward facing ventilation slits to direct the air 360-degrees around the CPU. This would not only increase airflow, and noticeably decrease noise levels, but also allow the owners the luxury of not having to install the block in only one direction. Instead you could install the Arctic Liquid Freezer II 360 any way you please and still get good airflow over the VRM heatsinks. Sadly, it does not offer such a feature… a feature that would require an entire overhaul to the waterblock and its inlet/outlet location.
Mix in a short two year warranty… and as it stands, the Arctic Liquid Freezer II 360 is great. It is a game changer. It is the veritable king of value in this corner of the market. So much value we are shocked that Arctic can sell this 360mm AIO at this price and still make a profit. It just is not perfect. It is more like a 'generation 1' design with room for improvement. We look forward to seeing what innovations Arctic brings to the table in future 'Liquid Freezer II' models – especially for AMD users. In the meantime, yes we still highly recommend this beast from the east. It is not perfect, but it is better than the vast majority of AIOs out there you can buy right now… or at least is once you get the darn thing installed and up and running.