$59.99
in stock
as of December 5, 2023 7:33 pm
$98.30
in stock
2 new from $98.25
as of December 5, 2023 7:33 pm
$15.99
in stock
as of December 5, 2023 7:33 pm
Last updated on December 5, 2023 7:33 pm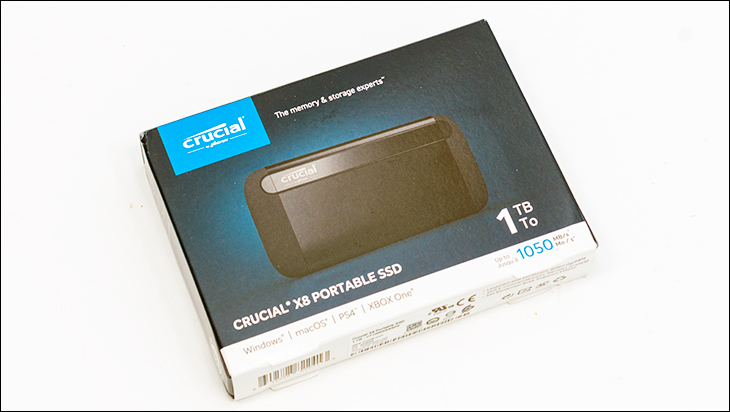 Except for the size and labeling, the average buyer will have a tough time telling this external SSD from Crucial's internal models. Yes, it is obvious that Crucial takes a 'why fix what is not broken' approach to shipping containers. This is both a good thing and a bad. It is good because while Crucial's shipping containers may be a touch conservative for some, they do a very good job at advertising what is inside while at the same time protecting their precious cargo. The downside, is you will have to actually read what model you have in your hands… and are not picking up say a MX500 instead of the shiny new X8 Portable SSD you actually intended to buy.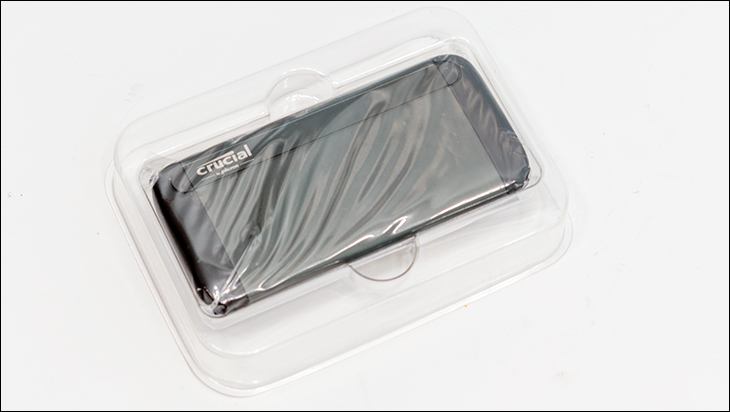 Also like darn near every Crucial branded storage device in recent memory, the internal protection is both lightweight and yet very, very good at its job. As you can see it consists of a plastic tray that keeps the X8 Portable SSD secure while the box is being banged around and will this tray absorb the impact of a bad fall before any blunt force trauma is passed on the X8 Portable SSD itself. So while we would have liked to have seen the X8 also wrapped in an ESD bag, buyers really need not worry about what mister postman is doing to their new online purchase before it arrives.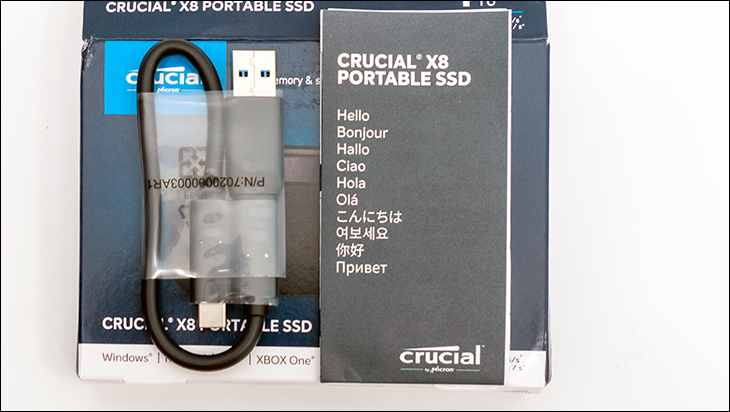 As this is an external storage solution the included accessories are on the light side. In grand total you get a small pamphlet and a short USB 3.1 gen 2 cable. This however is still one of the best accessory lists we have seen in this corner of the market. The included USB Type-C to Type-C cable may be short but it is basically twice as thick as the usual 'free' cable included with external storage. This increased thickness (and to be honest shortened length) decreases EMI "noise" and reduces transmissions errors. Such an added step is not needed when dealing with most devices, but this drive is rated for over 1GB/s so little errors do add up quickly.
Equally impressive is it comes with a keyed Type-C to Type-A adapter that not only works but works better than 99 percent of other adapters we have used in the past. Color us impressed with this level of attention to detail.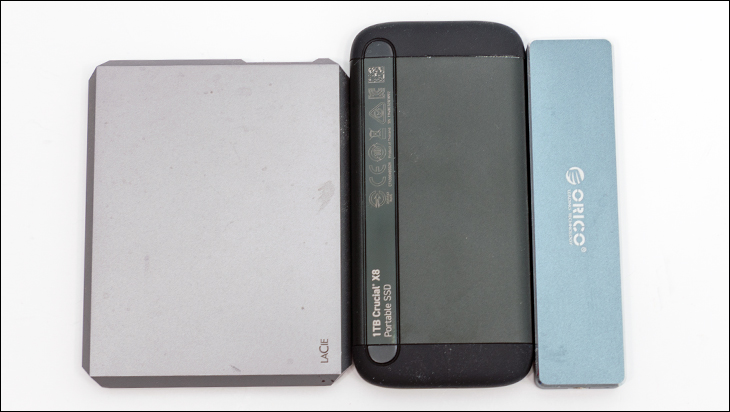 Let us start with the obvious. This is a M.2 2280 NVMe SSD based model that is downright large for being M.2 based. It is 272.1 percent wider, 208.7 percent taller, and 18.1 percent longer than say an Orico M.2 to USB 3.1 gen 2 adapter. By the same token it is also down right svelte in its dimensions compared to the typical 2.5-inch SATA based device.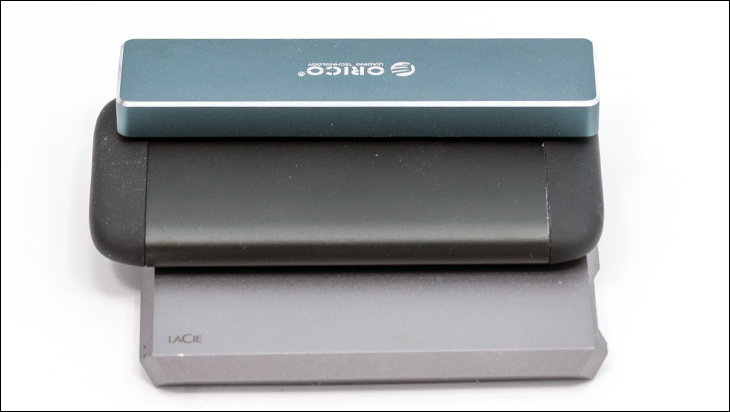 Put another way, yes the X8 1TB is larger than you would think a M2 USB drive 'should' be, but its dimensions are still rather waifish. Mix in rounded edges and corners… and the X8 is only slightly less easy to carry in a pocket than the typical M2 adapter-based models. We highly doubt many will find this drive difficult to carry; rather we expect most to find the SATA 2.5-inch drive-based models to be a tad cumbersome in comparison… even if the X8 is 48% heavier than typical 'mobile' SSD models like the LaCie Mobile SSD series. This however is a compromise in the design – albeit one we agree with.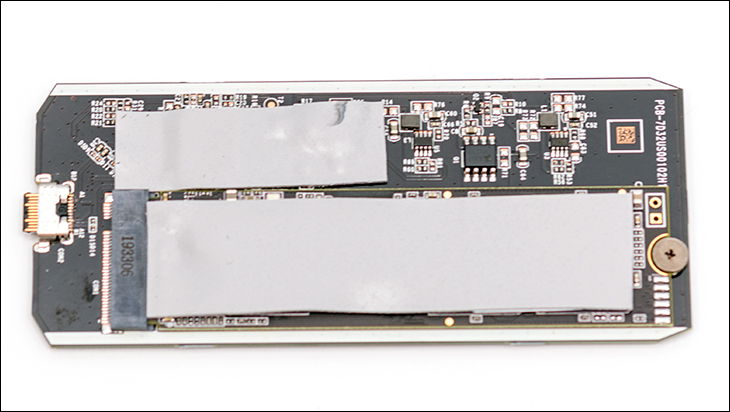 The reason we have zero issues with the increased dimensions is because Crucial did not waste space. Instead they increased the size not for appearances sake, but because it should be up-sized. Crucial X8 Portable SSD's design team did not ignore one key performance factor that most external device design teams do ignore. That is heat… or to be more precise how to handle the heat a NVMe SSD creates. Instead if ignoring the problem, or prioritizing portability over performance, Crucial started with a blank slate. They then applied many of the lessons they learned from their internal devices to the X8 series. Firstly, just as with all optimal M.2 NVMe designs, the heat creating components on the PCBs housed inside the aluminum chassis are all located only on one side of the PCBs. By opting for not only a single sided M.2 drive, but also placing the ASMedia ASM2362 PCIe 3 to USB Type C bridge controller on the same side, the X8's design team had the luxury of easily connecting every single major component directly to the thick aluminum chassis via thermal transfer / 'heat' pads.
Next is just Thermodynamics 101. Smaller form-factors have less thermal mass for heat absorption compared to larger models. So while relatively large for its class, this thick heat spreader chassis can absorb a lot more heat than an Orico (for example) adapter can. It can also dissipate that heat a lot faster due to increased surface area. However, even here the design is a bit more elegant than it already appear on first blush. When in use, most external devices are laid flat on a desk/table/etc. This means half of the chassis will not be able to radiate heat into the air. Instead that side can only transfer heat to your desk/table/etc. Over time this half of the external enclosure becomes less and less effective at dumping heat than the side radiating it into the air. In typical designs the end result is a device that throttles more than its internal brethren do.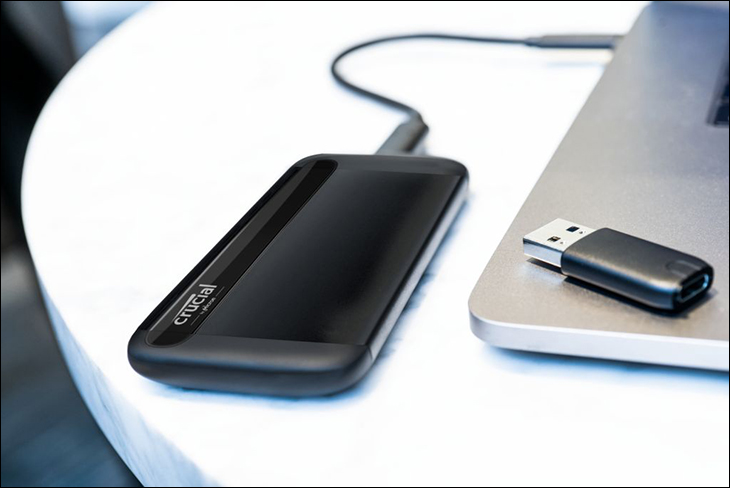 Since the X8 is single sided only… only one side gets hot. Since only one side gets hot, only one side really needs to be in contact with the air. The end result is that the P1 1TB drive housed inside actually runs cooler than most P1's inside PCs will… as it comes with a heat spreader that downright dwarfs any internal M.2 heat spreader. This logical conclusion to keeping temperatures in check without resorting to active cooling is the epitome of great engineering… and why something so 'obvious' in retrospect takes so long to become a reality.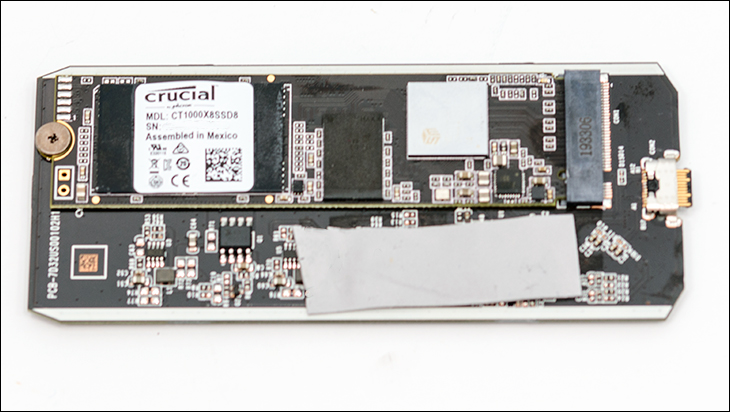 Of course, in order to only use single sided components, Crucial did have to re-use their QLC NAND based P1 series. Typically, QLC NAND and external storage is a match made in hell. QLC thermally limits faster and generally offers lower performance than TLC NAND. Counteracting this is a few key details. The USB 3.1 Gen 2 bus is so narrow that even SATA based models can gobble up about 50% of its real-world bandwidth. Yes, a Crucial P1 when thermally limited will slow down to SATA speeds. Yes, a QLC NAND based device will get even slower when its pseudo-SLC buffer is exhausted. Thanks to the great engineering outlined above heat is not a concern. Neither is performance.
With the P1 1TB capacity option the pseudo-SLC buffer will range in size from 12ish GB to 140'ish GB. Few TLC NAND M.2 drives of this capacity come with pseudo-SLC buffers of this size, fewer still are singled sided. Add in the 1GB of onboard RAM cache and even when filled to capacity you have to transfer more than 13GB to ever notice QLC's slower native write performance. In most cases people will have to transfer over 50GB before they notice a slow down as few will keep their external drive at more than two thirds of the capacity filled. At 'just' 50% full you will need to do over 75GB to saturate this crucial (pardon the pun) write buffer. We doubt many will do this much in one continuous burst. If you do and require NAND levels of performance the $500 range Samsung Thunderbolt 3 based models are of the few we know of that will satisfy your specific requirements. Once again, this use of less expensive QLC NAND is a compromise, but just as with the dimensions it is a compromise that most will not mind. After all, few can justify $500 (plus TB3 adapter costs), but most will find $165 palatable… not easy per se, but easier than most of the alternatives.
These are the two largest compromises the Crucial X8 design team had to make. However, there is a third. This last compromise is actually one that more people will have problems or concerns with compared to the first two, and underscores the lengths Crucial's design team went to ensure the X8 Portable SSD series was enticing as possible to as many buyers as possible. This compromise is in the robustness of the chassis vs. ease of carry vs. price. As you can see Crucial may have indeed given their X8 Portable SSD series a recessed USB Type-C port, but they do not include a water tight cap for it. As such, this device is not IP rated for water or dust resistance. In all likelihood it would pass the lower IPx ratings for both dust and water (as the Type-C port is small, and the silicon covered end caps are pressure fitted to the aluminum chassis. Crucial opted to save the cost of IP certification and pass it along to you the buyer.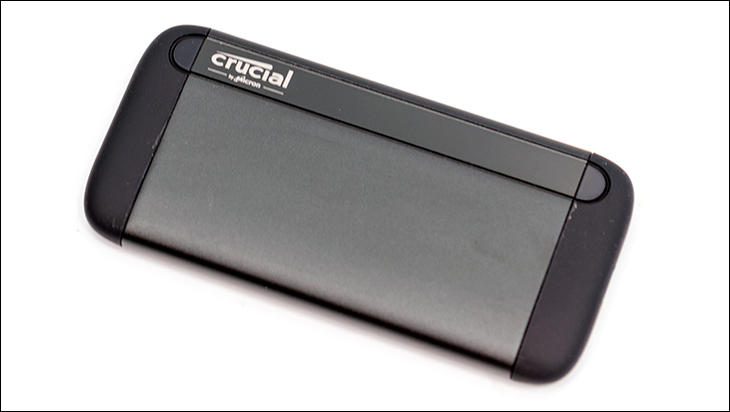 They also opted to not certify it for any significant drop-test (e.g. Military MIL-STD-810G). Technically Crucial guarantees the X8 Portable SSD series can survive a 3 feet drop on to hard and 7.5 feet on to soft surfaces. The first is actually the only important one… as the second is rather fluffy to say the least. Not as bad as saying it will survive 20 feet when dropped into Jell-O or on to a feather bed, but pretty much easily ignored. Three feet on to hard surfaces is decent, but nowhere near as good as what LaCie guarantees, let alone what Silicon Power and their Bolt BP75 Pro series can survive. Once again Crucial opted for a compromise. One that will survive rather rough treatment, but one that does not noticeably increase the build cost. So if you need water or dust protection, or just peace of mind that your moderately expensive external SSD can take a beating, the X8 may be or may not be right for you. Most however will find it durable and robust enough.