Last updated on December 7, 2023 8:12 pm
It certainly has been awhile since we have done a 'bargain hunter' article but with the release of NVIDIA GTX 16-series it was brought to our attention that we had been overlooking some potential great cards. Cards that we have overlooked as they were not NVIDIA based and yet offered great value. This was an oversight on our part and we do apologize. Sourcing out these 'older' cards is difficult as no manufacturer will sampling them anymore. Only new and shiny are available. That however is no excuse. So today we are going to rectify this issue and will be looking at what appears to be a great addition to our ongoing list of cards for the bargain hunters out there. To be precise we will be looking at a great example of AMD's older Radeon RX580 series: the XFX GTS Radeon RX 580 Black.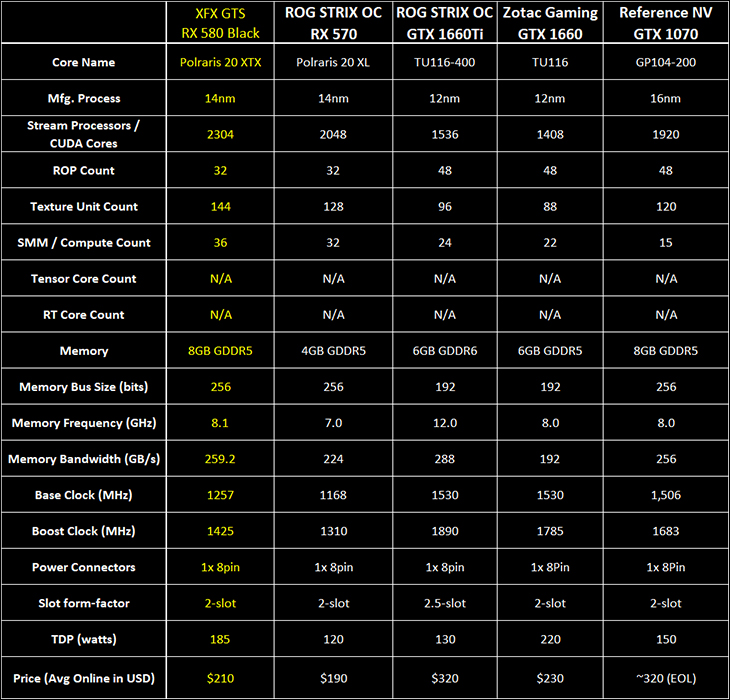 On first glance this does seem like a controversial choice. The Radeon RX 500-series was replaced sometime ago by AMD's Vega series and during its 'hay day' the Radeon RX 580 did not garner as much market appeal as AMD had hoped. Instead, many found their asking price of about 300 USD to be a touch too high compared to similarly priced NVIDIA models. Since then, AMD has been very aggressive with price cuts, and what was once an overlooked series… may indeed now be precisely what AMD had hoped it be: serious completion for NVIDIA and their mid-ranged GTX options.
As to why the XFX GTS Radeon RX 580 Black, this card simply stood out from the crowd and appears to be an excellent example of what the Radeon RX 580 can be when a manufacture spends a lot of TLC on it. Firstly, it is factory overclocked to within an inch of its life (instead of 1340Mhz, XFX has set the boost clock speed to a relatively high 1425HMz and overclocked the GDDR5 RAM from 8.0 to 8.1Ghz). It comes equipped with a great example of XFX's custom cooling solution (that is both beefy, and rather low noise), yet it demands an asking price that is only a couple dollars more than a more reference/ barebones RX 580. Yes, it is easily found for a mere $210 USD. Mix in XFX's legendry warranty and it does appear to tick all the right boxes for our 'bargain hunter' article series' requirement.
Equally important, is while this card is priced more like an upper end, entry level card the RX 580 'Polaris 20 XTX' core is anything but entry level in what it has to offer. Even today, a core with 2304 shaders, a ultra-wide 256-bit bus, and 8GB instead of 4 or 6GB of onboard RAM it not some lightweight meant for light-duty work. Instead it was built to game. So much so the XFX GTS Radeon RX 580 Black appears to be great competition for not only NVIDIA's EOL'ed GTX 10-series, but also NVIDIA's new GTX 16-series… as its asking price slots in nicely between the NIVDIA GTX 1650 and GTX 1660 models. This last point is what sealed the deal for us and why this card may be controversial, and may not be right for every build, but it does demand a closer look.