Last updated on November 30, 2023 7:04 pm
Let us start by addressing the large, and neon pink, elephant in the room. The Radeon RX 580 is not much more than a RX 480 with low-level improvements baked in. When AMD's engineers set out to design the Polaris 20 core (which powers the Radeon RX 580 series) they did not start with a blank slate. They did not even start with a somewhat blank slate. Instead they took their existing Polaris 10 architecture and optimized it to take full (or at least further) advantage of the then cutting edge 14nm FinFET manufacturing process the Polaris 20 would be built on.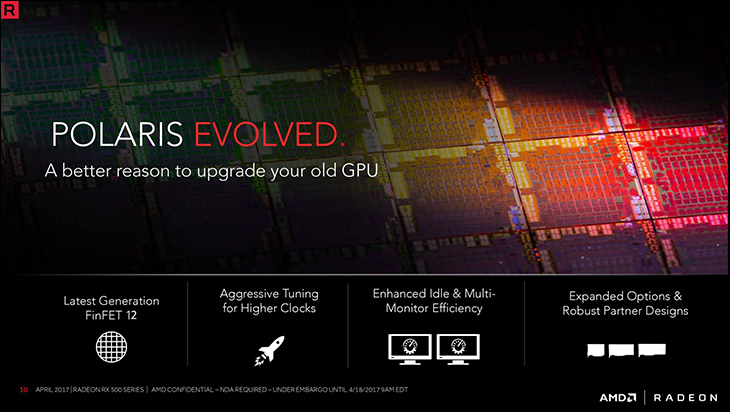 These optimizations boil down to two noticeable improvements. Firstly, the Polaris 20 is more 'fuel efficient' than the Polaris 10 it replaced. This includes requiring less power to hit the Radeon RX 480's 1120Mhz stock frequencies, and this in turn allowed AMD's engineers to up the stock frequency level to 1257Mhz. Thanks to an increase in TDP from 150 to about 185 watts this also gave headroom for their AIB's to release models with even higher 'stock' frequencies. The other improvement was on the low end. Instead of having two power states for the memory and memory controller they added a third. A 'in-between' state that is neither full snorting, pedal to the metal power nor 'idle'. This improvement was mostly noticed by multi-monitor users who, with Polaris 10, did complain of high 'idle' frequencies and power consumption. While not noticed by many, it also did reduce power consumption and heat output while playing games that were not 'overly demanding'.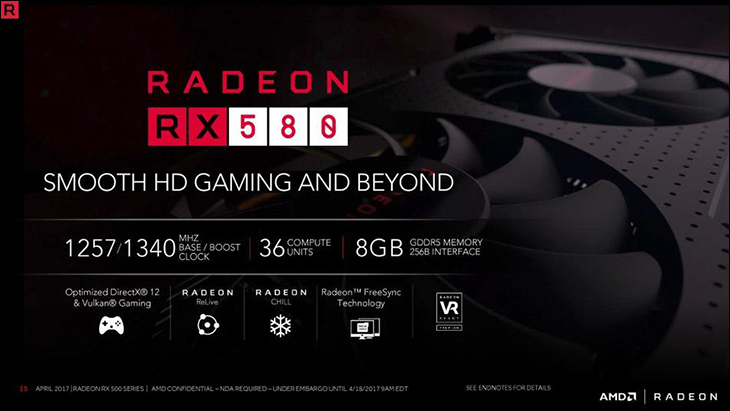 What Polaris 20 did not do was allow AMD to have a true competitor the NVIDIA 1080 – let alone 1080Ti. Instead the Radeon RX 580 was positioned to take on $300 class NVIDIA cards… with variable success. Put bluntly, many enthusiast ignored the RX 580 as it was seen as "nothing more than a factory overclocked RX 480"… and why AMD pushed the RX 500-series replacement, Vega, as hard and as fast as they could out the door.
This leads us to the state of today's marketplace. A marketplace where many ignore the Radeon RX 500-series all together and instead just focus in on AMD Vega vs. NVIDIA GTX 1600 and/or RTX 20-series options. That is why you can find barebone RX 580s for about $200USD and fully customized, factory overclocked, 'best of the best' versions for not that much more. In this instance the XFX GTS Radeon RX 580 Black can be found for as little as $210. At this price point the XFX GTS Radeon RX 580 Black sits in between the typical factory overclocked NVIDIA GTX 1650 (about 160USD) and GTX 1660 OC cards (about 230USD) in asking price.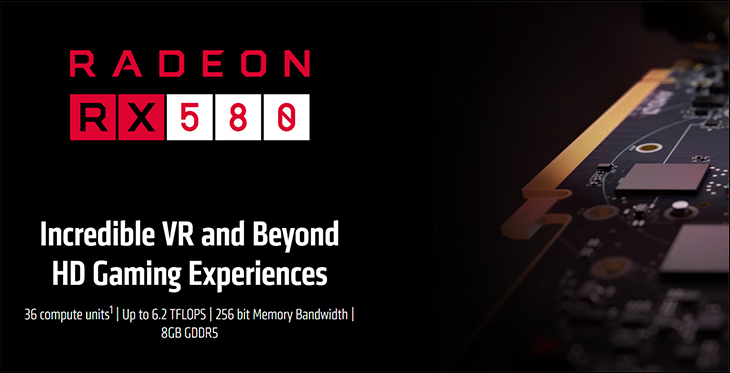 That to us is a very interesting comparison. One where the AMD Radeon RX 580 seems to more than hold its own. Even when compared against the slightly higher priced NVIDIA GTX 1660 the RX 580 has a lot going for it. It comes with more shader cores (2304 vs 1408), more texture mapping units (144 vs 88), a large memory bus (256bits vs 192), and more memory bandwidth (259GBs vs 192GBs), and even more total onboard memory (8GB of GDDR5 vs 6GB of GDDR5). Counteracting this is the newer GTX 1660 series requires less power (120 watts TDP vs 185 watt TDP). Has a higher base clock rate (1530 vs 1257) and higher boost rate (1750 vs 1405). It is also newer and built on a smaller 12nm node. In other words, this is a match between two different core philosophies: bigger but slower vs lighter and faster… or a modern-day Marvelous Marvin Hagler vs. Sugar Ray Leonard rematch. Who will win… we have no idea, but really want to find out. First though, we recommend reading over our Zotac GTX 1660 OC review to see the NVIDIA contender (in the 'green trunks'), and then reading the next page to see who will be wearing the 'red trunks' for AMD and their Radeon RX 580 series.