As is our usual MO, we like to start with a few caveats. The first is that few 'home consumer' orientated applications are optimally multi-threaded enabled. It is getting better and will continue to do so, but few home users will ever harness the full power of what Intel and AMD are offering in their latest generation of "desktop" line of processors. Furthermore, the number of buyers who do use optimized applications enough to justify picking their processor based on time saved… is only moderate in size. Those that can, have already moved on to 'true' workstation-class processors.
The second caveat is we are not the intended target for 'consumer' orientated CPUs. Our typical usage patterns/scenarios not only can, but typically do, max out workstation / HEDT / etc. processors. However, this second caveat is starting to become more and more… fluid – with more and more people (including ourselves) realizing that their usage scenarios are now starting to become adequately covered by these new 'HEDT-lite' consumer CPUs.
With that out of the way this generation is unusual. With such little time between their 13th and 14th Generation… not much has changed in the marketplace. The same equations all consumers need to make before opting for Team Red or Team Blue last year apply this year. All that has changed is the amount of performance on tap.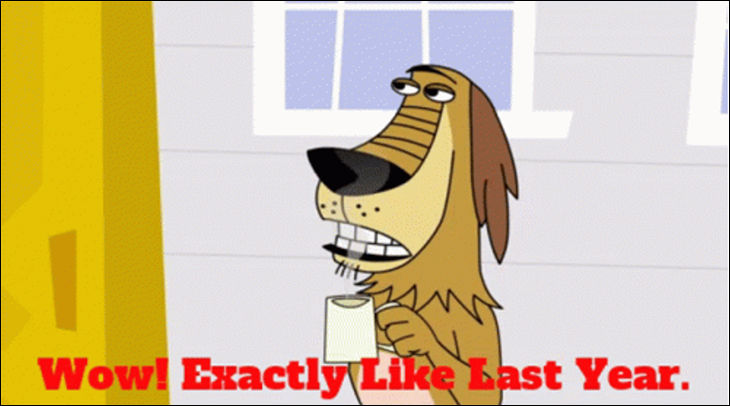 (image courtesy of tenor.com)
To reduce the chances of a higher profit HEDT sale transforming into a lower profit 'consumer' sale AMD still refuses to allow their consumer 'Ryzen' series to come with more than 16 cores running in the mid(ish) to low 5GHz range. 'Big' cores which are all Hyperthreaded enabled allow for (up to) 32 threads of processing performance. Which in turn offers more processing power than some early-gen HEDT processors. However, there is no replacement for displacement, and more 'real' cores will (almost) always beat a virtual/'hyper' thread. For the final Core-I branded, Intel 14th generation buyers can get a processor with 24 real cores and 32 threads of processing performance. Real cores running at (up to) 6GHz. Once again, a virtual ton of performance is now widely available without HEDT / workstation pricing. Just as it was last year.
What all this also means is that when it comes to heat, noise, and power consumption there is once again no clear decisive advantage to opting for one 'team' over the other… but AMD is on the back foot for many scenarios and builds. AMD was caught off guard by the 12th…13th… and now 14th Generation Intel options and still has not been able to release a sane solution to counteract it. Instead, AMD processors are still "designed" to ramp up the frequencies (and voltage) until they are running at 95 degrees Celsius.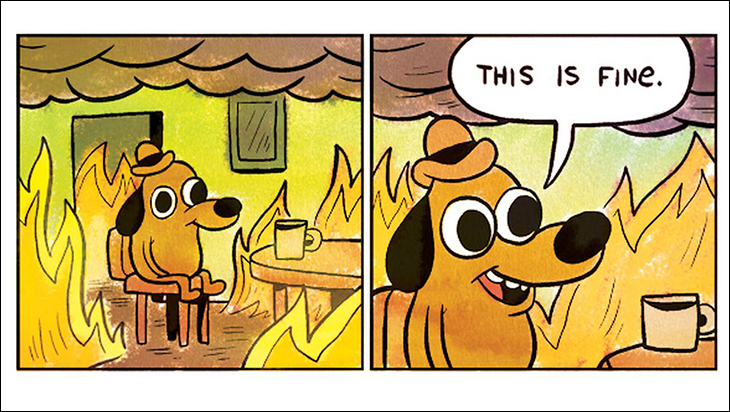 (image courtesy of KC Green of gunshowcomic.com)
AMD fans, and the marketing team, will point out that Intel 'is just as bad', and to a certain extent that is indeed true. Intel processors offer Power Level profiles that now allow for not 150, not 350 but 400amps of power to be applied to their i9 cores (i5 is 'merely' 200A). This means both the Ryzen 9 and Core-I 9 processors can run hot. Potentially so hot that both recommend 360MM AIOs… and 420mm AIOs are a good idea. Even then, with AMD opting for a bigger and more powerful cooling solution will not decrease noise levels. With Intel, more cooling will result in lower noised profiles, and if that is not possible simply opting to not change the 'out of the box' defaults will.
Things are even harsher for AMD when one turns their attention away from the flagship options and looks toward the biggest sellers: the x5 models. When one compares the Intel Core i-5 14600K (i.e. the hottest running 'i-5') to AMD's Ryzen 5 7600X the Intel option will run cooler, quieter, and require nowhere near as robust a CPU Cooling solution as the AMD option. Instead, just as with previous generations there are hard and fast (sane) limits at stock frequencies. AMD owners do not get that luxury and instead must actively work against the nature of their CPU to try and tame its savage nature. As such Intel's 5 owners will have a system with a much easier-to-tune noise profile.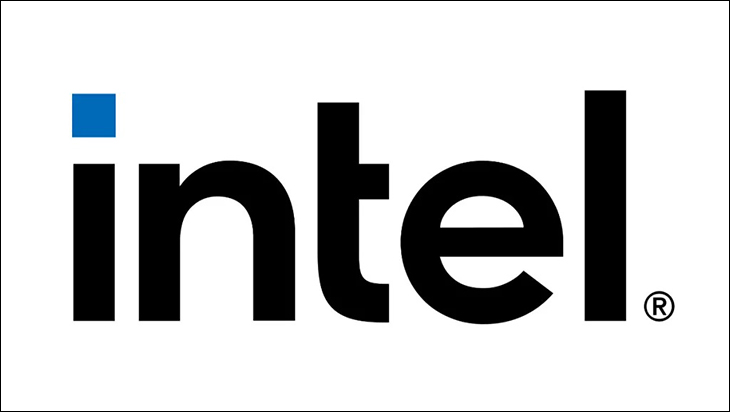 Furthermore, Intel CPUs once again consume noticeably less power in more mundane scenarios than AMD Ryzen CPUs. Even when comparing an AMD R5 to an Intel i9 there are many scenarios where Intel's (up to) sixteen e-cores can take over and handle the load without consuming much power, creating much heat, or making much noise. Put bluntly. The P+E-core combination allows a system to run noticeably cooler, and quieter, than AMD options without sacrificing performance. Once again, we do not think many should make their final decision based on heat output, to and lesser extent noise output, but by the same token, a more well-behaved system is always a nice bonus. A nice bonus that is (once again) easier to accomplish with Intel than with AMD.
This segues nicely into performance comparisons. We firmly believe that 90 to 95 percent of the buying public will be happy with both companies' flagship offerings from a performance point of view. Blindly throw a dart at a dart board and the resulting 'winner' will satisfy their needs. Be it an AMD Ryzen R7, AMD Ryzen R9, Intel Core-I i7 or Intel Core-I i9. All of more than enough horsepower to satisfy the needs of the vast majority of buyers. For those who demand the best, things are even better for Intel than they were in the 13th Generation "days of yore" (aka a couple of weeks ago). Yes, in single and even dual active threads both team's best CPUs are godly fast – 6.0 vs 5.7(ish). Yes, both offer IPC performance that is insanely good… but 300Mhz extra performance is now a large enough difference to make it a decisive 'win' for Intel over AMD in the flagship i9 vs R9 debate.
In 3 to 8 active core debate Intel's 14900K's minor speed increase over the last gen i9 widens their lead over AMD and their 5'ish GHz performance. In heavily multi-threaded scenarios, the small boost to Intel's e-cores frequencies (4.4 i9 and 4.0 i5) also allows them to outmuscle AMD's R9 and R5 offerings respectively. Yes, it is 'only' a smidgen more performance per e-core compared to the 13th generation version. However, instead of taking about 1.9'ish of them to match an AMD Zen 4 core, the comparison is now more like 1.85 to 1. Thus, giving a slight to moderate advantage to Intel on the i9 ("16.8" cores vs. AMD's 16) and a major advantage to Intel with the i5 (10.4'ish cores vs. R7's eight or R5's six).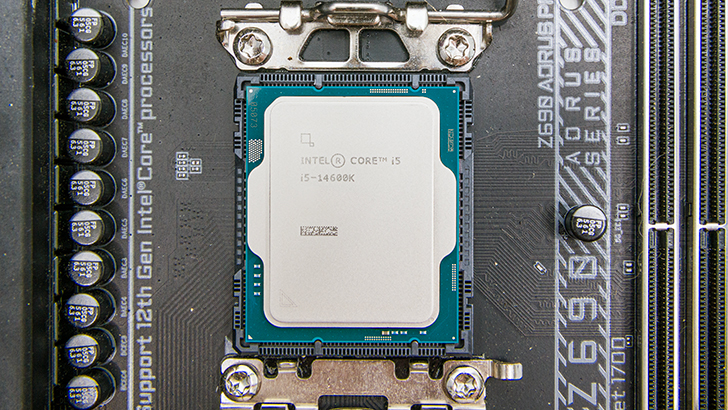 Turning our attention to secondary considerations like motherboards and even memory options. Yes. Once again the 'platform' should be a major consideration for most buyers of this generation. AMD AM4 owners looking to upgrade to AMD's latest and greatest will have to purchase a new motherboard and new RAM. Intel owners may not even need to buy a motherboard… as 12th Generation 'Z690' era motherboards just require a BIOS flash to work with 14th Generation CPUs. Yes… we would be very hesitant to stick a 400-watt i9 in a hooptie ASUS (anything but) 'Pro' motherboard, but that selfsame over-priced, underperforming motherboard should be able to handle any 14th gen i5 with aplomb.
If one so chooses to purchase a new motherboard the Z790 chipset has been out for a full generation now, and most motherboards have had all the BIOS firmware 'kinks' worked out. Something that, based on ASUS and their 'we are so hot that we can catch fire' AM5 boards, can not be fully said of Team Red options.
Even excluding the motherboard decision from the equation, Intel has once again allowed buyers the luxury of opting out of DDR5 for another system upgrade cycle. AMD not only demands you purchase DDR5 RAM but faster DDR5… as their CPU's interconnect bus is directly tied to the speed at which their RAM runs. With Intel the CPU performance difference between slow DDR4 vs 'fast' DDR5 is rather minor outside of a few edge cases. Thus, Intel is the clear and decisive winner when it comes to secondary considerations… and overall value.
Make no mistake, AMD does have many things going in their favor. AM5 is at the start and not the end of its cycle, so AMD's AM5 socket does have a longer lifespan ahead of it than the absolutely, positive last gen for Intel's LGA1700 socket. This will change the next generation (making it a tossup once again) but right now AMD is a clear choice if you do want to reuse your motherboard for future generational upgrade(s). You just need to be willing to eat the upfront cost of DDR5 RAM (and possibly a cooling solution as contrary to AMD claims… AM5 is not entirely backward compatible). You must also understand that future AMD (and Intel) CPUs will most likely require you to purchase new, faster RAM to fully utilize their baked-in improvements. As such the decision comes down to potential motherboard longevity vs. cost of RAM upgrade. AKA "platform longevity" vs. "up-front cost". Only you can decide which is best for your needs as there is no perfect answer. Anyone who says otherwise is just guessing at what the future holds and/or is narrowly focused on just their specific needs… and/or fanboi'ing.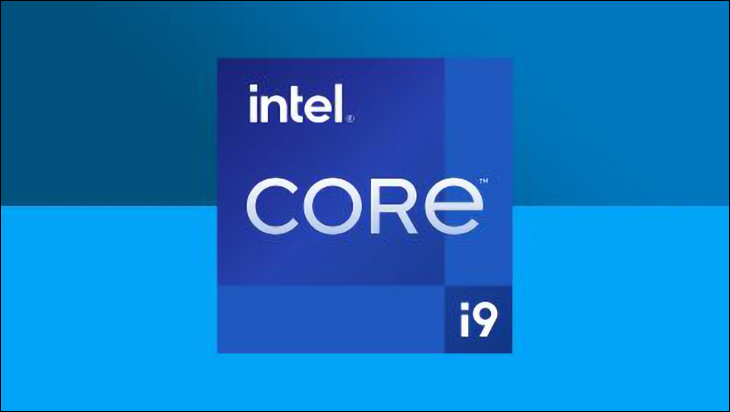 This brings us to specifics on CPUs. With its unique blend of excellent multi-threaded performance with as good to better "PC Gaming" than Team Red's R9, the Core i9 14900K is just as good and arguably even better value than the 13900K it supersedes. After all, at $589 one now can purchase a 6GHz factory-certified CPU. Yes. AMD is going to have to further cut the asking price of their flagship R9 if they want to compete against Intel in this corner of the market. Which can be considered nothing other than a decisive 'win' for Intel and buyers alike.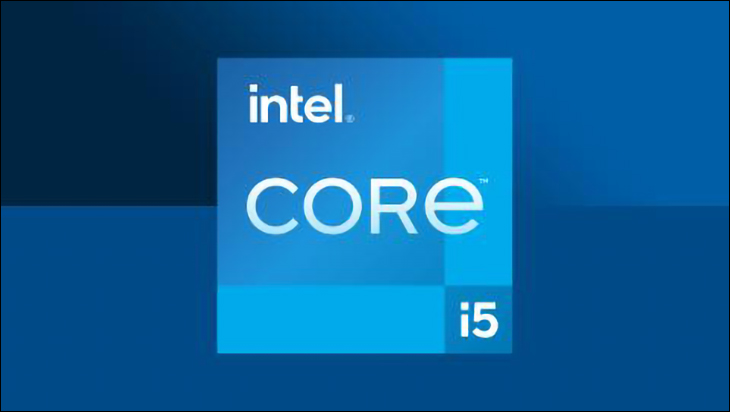 In the hotly contested 2-300 US dollar range Intel's advantage has also widened. With its combination of six p-cores and eight e-cores, the price-to-performance ratio is heavily weighted in the Core i5-14600K's favor. So much so it all but eliminates the majority of reasons for opting for any six-core Ryzen 5… and makes justifying the already price reduced to $300 (8-core) Ryzen 7 7700X rather difficult. Put bluntly, AMD is going to have to respond via further price cutting to their "meat and potatoes" Ryzen 5 series lest it does nothing but collect dust on retail shelves.
In summary with a moderate advantage in cooling for Intel; a moderate edge in heat output; a now decently large edge for Intel in noise (albeit neither red nor blue are optimal for silent PC builds)… and an incredibly large advantage in overall value for Intel, the 14th Generation can be considered a consolidation of Intel's lead over AMD in the hearts and minds of the average buyers and system builders alike. Now that is how you go out on a high note and we just hope future Compute Tile-based Intel Core processors can live up to the Core-I legacy.