$139.99
in stock
11 new from $139.99
as of November 30, 2023 6:03 pm
Last updated on November 30, 2023 6:03 pm
Cooler Master certainly has been on a rampage lately. A rampage to regain lost ground, and reputation, in the ultra-comeptive All In One cooling marketplace. The first salvo was their dual stage pump upgrade, then came the massive improvements to the included 'stock' fans; quickly followed improvements to their waterblock's aesthetics. All of which has now culminated in their next generation AIO they have dubbed 'Atmos'. Today we will be putting the MasterLiquid 360mm variant of this new MasterLiquid ATMOS design under the microscope to see if it indeed does live up to the promises Cooler Master's marketing department has made on their behalf… or if they have written cheques it simply can not cash.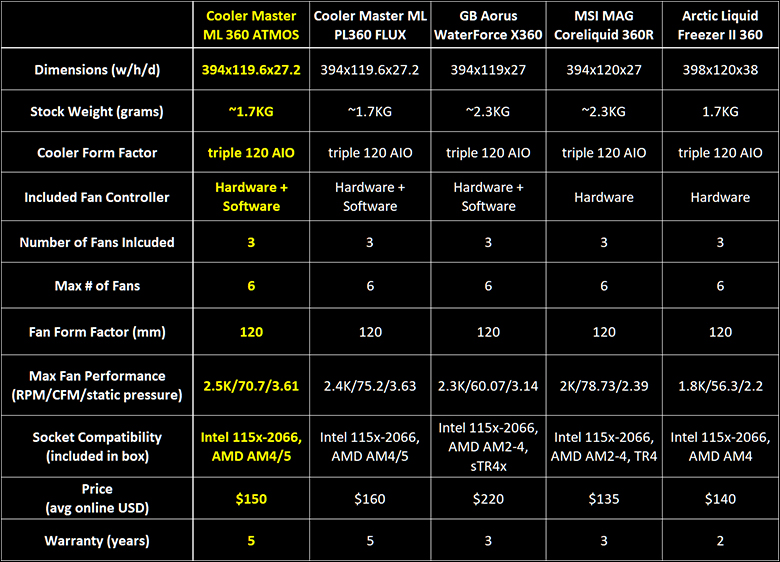 Before we dig in, and as we will go over in the coming pages, we must make one thing clear. ATMOS is not a complete break with their older All In One MasterLiquid design(s). Instead ATMOS builds upon the foundation Cooler Master has been laying down for a few years. A foundational blueprint that has already garnered their 'ML' models numerous accolades. As such, those hoping for a mega-thick radiator (like those that an Arctic Liquid Freezer II come with) will be disappointed. It still has the same dimensions (~27mmx120x360) as what previous ML360s came with. The same goes for those wanting to see those premium 'Mobius' fans; or those hoping for the thicker "PL" series tubing to… trickle down to the ML series. Instead, the ML once again makes use of a SickleFlow fan variant (newly released 'Edge' version to be precise) and the still very decent (~11mm OD) tubing previous generation(s) of ML models made use of is once again carried over to the new ML Atmos series.
Put another way this generation is all about the waterblock and making Cooler Master's ML series live up to their name of being a Master (of) Liquid (cooling). That is indeed a tall order. These days the competition in All In One sealed water cooling marketplace is downright fierce. Mix in concerns that come with any first(ish) generation design and Cooler Master does indeed have an uphill battle ahead of them. So, let us dig in and see if Cooler Master has indeed been able to create an entirely new breed of AIO. One that can take on all comers and come out on top.