$139.99
in stock
11 new from $139.99
as of November 30, 2023 6:03 pm
Last updated on November 30, 2023 6:03 pm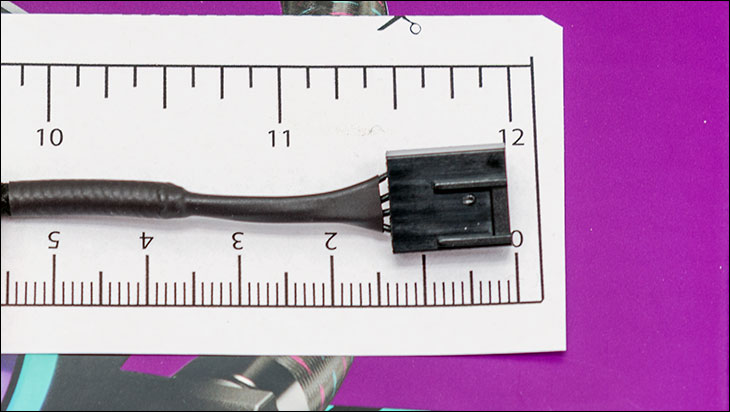 For many the second nit-pick will be anything but a negative, and rather be a net positive. We are of course referring to the fact that while they are ARGB enabled, and fairly decently at that, they are nowhere even close to being in the same league as Cooler Master's Mobius 120 line. A line of fans that even RGB-agnostic users, such as ourselves, like. So instead of having a fan that boasts of even the fan chassis being able to light up, one can expect this SickleFlow Edge 120mm fans to merely offer standard levels of lighting. Still 16.2million color combination lighting… but not that "wow! Now that is impressive!" levels lighting Cooler Master's Mobius 120s offer.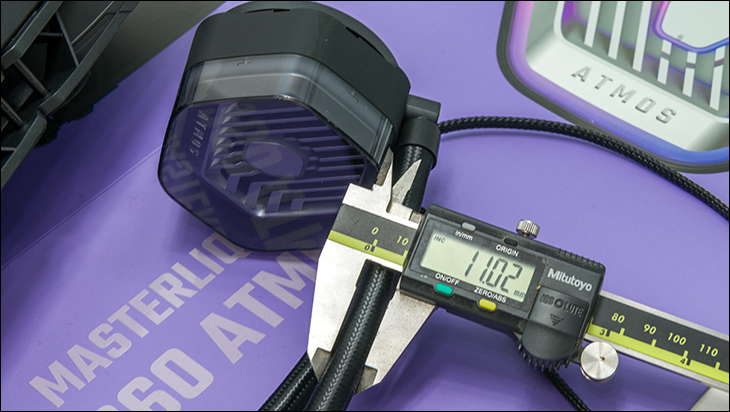 Moving on. The tubing. Yes. The ATMOS variant does not upgrade the tubing one iota over what the previous generation of MasterLiquid AIOs offer. That is to say, a noticeable reduction compared to the PL360 FLUX series. To be precise, instead of ~13mm OD low evaporative tubing one should expect to find the more common ~11mm OD tubing that previous ML360s use. Still very decent, and still clad in a very nice and tight nylon braiding… but not exactly best in class – like the PL FLUX series uses.
On the positive side Cooler Master does give about ~14 inches worth of tubing. So even if you do use this in a full tower case you should have no problems installing it in the top or front of said case. In smaller mid-towers cases you probably will even have enough to reach the bottom of it for a 'bottom mount' configuration – which we strongly recommend against as you want the rad to be higher than the pump, lest air bubbles get into the pump and create much more noise as well as wear n tear of the motor.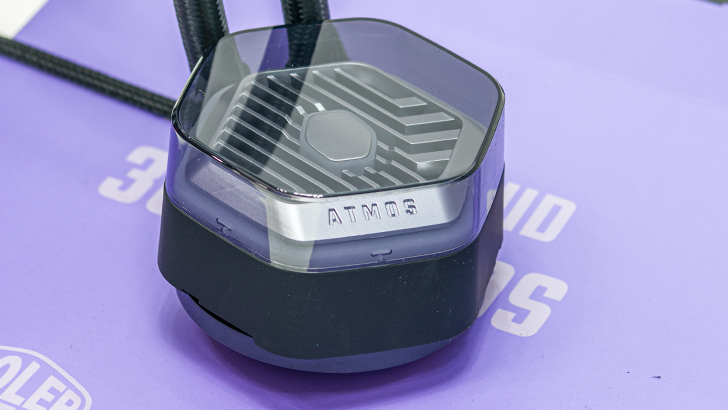 This brings us to what has changed… and yes, it is impressive. Yes, it does make the ATMOS a paradigm shifting series for Cooler Master. We are obviously talking about the new waterblock+reservoir combination unit the ATMOS is rocking.
Yes. Obviously Cooler Master had once again upgraded the aesthetics of their new block. This was arguably one of the biggest issues many custom system builders had with Cooler Master ML-series AIOs… as they worked, and worked well, but skewed heavily into the utilitarian end of the spectrum. We personally liked the big ol' blocks Cooler Master used but could see the other side of that coin… as if you are putting together a 3K+ custom build for a customer other companies' options did provide a more optimal final build aesthetic.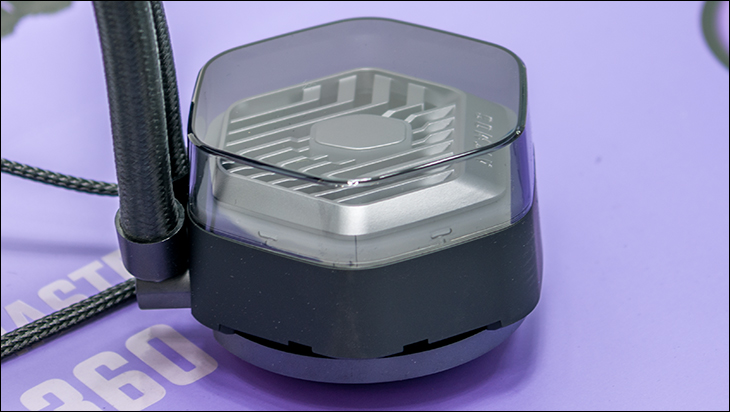 So let us start there. Firstly, and similar to the PL-series albeit even better, the new ML ATMOS series block looks like a million bucks. Quite honestly when we first opened up the box and took a look at it, we thought the clear Lexan topper was not just a topper but they were pulling an AlphaCool and it was a large 'window'. Thankfully it is not a large window, and fluid does not pass through this clear section. This is a good thing as the block is drop dead gorgeous but, unlike early Eisbars, will not clog up with algae from all that access to sunlight. Better still, Cooler Master has made this clear topper cad files available. So if you want a truly custom and unquie looking 'block without manufacturing one you can easily fire up your CAD program of choice, desing it and then print it. All without having to go to outside 'services'.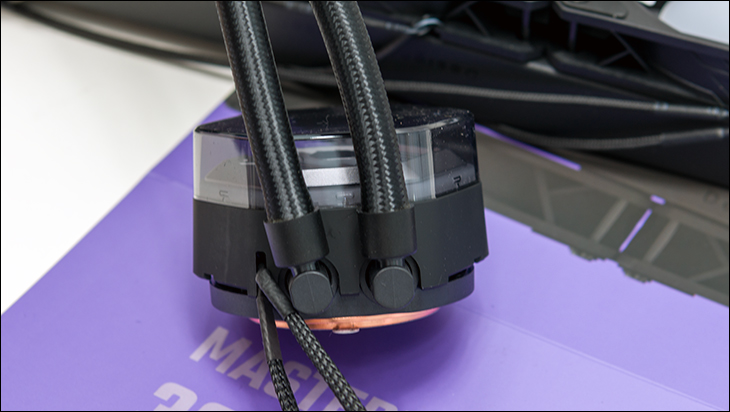 Personally we are tempted to mod it so as to add in a '5015' blower – ala 3D printers "print" fan. That way the one consistent complaint we have with 99.999 percent of the AIOs marketplace could be easily alleviated. Since it does not, we once again have to point out that this AIO will sadly not actively cool your motherboard's VRM(s). As such, you must ensure great air flow inside your case lest your motherboard's VRM get a wee bit toasty.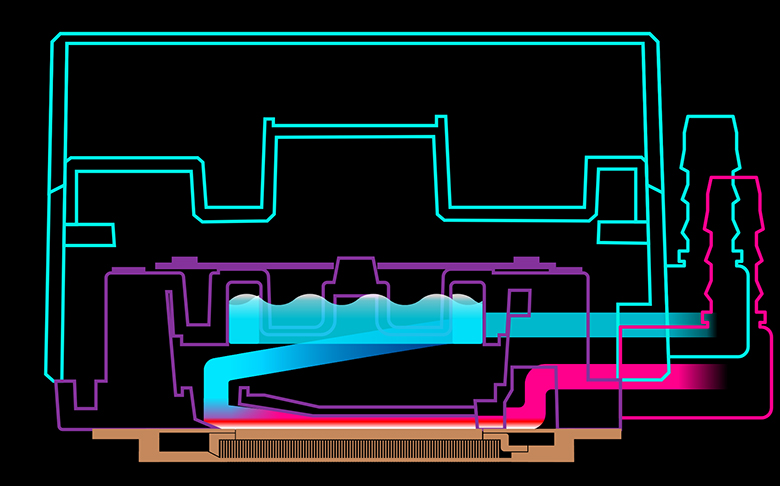 Moving on. Much like the massive improvement in the overall aesthetics Cooler Master has, once again, improved the performance of the block. Which at the end of the day is more important than mere aesthetics. To be precise, this new ATMOS block takes the PL360 30th A.E. block and refines it even further. For those who do not follow 'block improvements what this means is Cooler Master's mad lads have taken their idea of a dual chamber / non-mixing of hot and cold liquid and improved the internal micro fin array to improve overall efficiency. Of course, going along with increased efficiency means a slight increase in static pressure (as more surface area usually means more pressure needed to get the water to flow over them properly)… which led Cooler Master to improve their already good pump.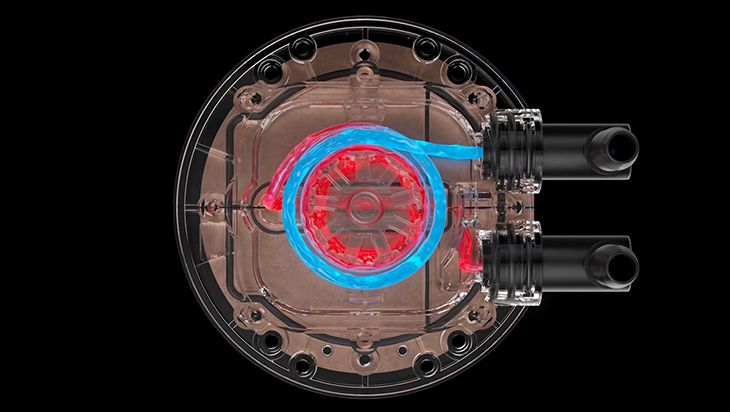 These last two improvements are what make the ATMOS design special. We say this as the dual chamber / layer idea allowed Cooler Master to catch up to Asetek… as having the cold water come in on the 'second floor' be shot down in and onto the cold plate and then shot out the block without ever being allowed to mingle with cold fluid was brilliant. It literally negated nearly a decade of Asetek RnD.
However, "catching up" with your competition is never the end goal of any company. Sadly, their pump design and micro-fin array used inside the block (aka how the water flows over the 'other side' of the copper cold plate) was a little out dated. The pump was underpowered, and the micro-fin array lagged compared to Asetek's advanced fluid dynamic modeling. These issues have now been fixed and the end results are obvious. Put simply, this one-two-three combination makes the MasterLiquid ATMOS live up to both of its names. It is a Master (at) Liquid (cooling). It offers atmos(pheric) efficiency levels compared to Asetek's latest and greatest. It even allows a thin rad to perform like a thick radiator based AIO.