$139.99
in stock
11 new from $139.99
as of November 30, 2023 6:03 pm
Last updated on November 30, 2023 6:03 pm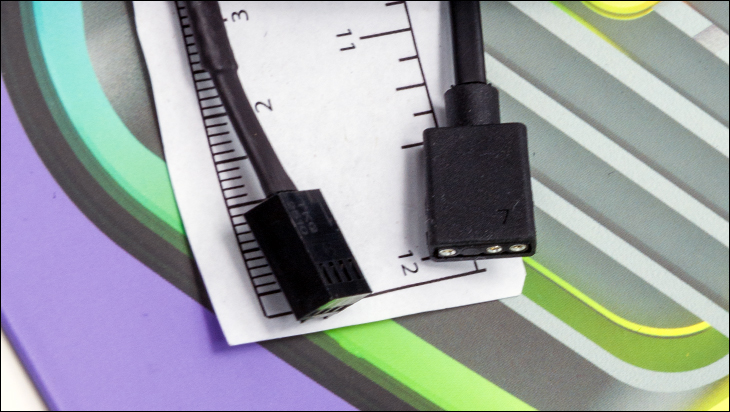 Also firmly in the win column is that this waterblock combination unit not only is LED equipped it only has two cables sprouting from it. Both cables are ~12inches long and nicely braided. One is a 4-pin "fan" header that powers the pump and the other is an ARGB 2.0 cable. That is it. No need for a bollocks load of hassle hiding cables during the final build process. No need to worry about block orientation vs. length of USB cable vs. internal USB header location. None of that matters. The only downside is this does mean that you cannot custom tune the pump speed (or fans speed) via software, but with modern motherboards nearly ubiquitously coming with such a feature such concerns are neatly negated…or at the very least sidestepped. Sidestepped with little downside to doing so.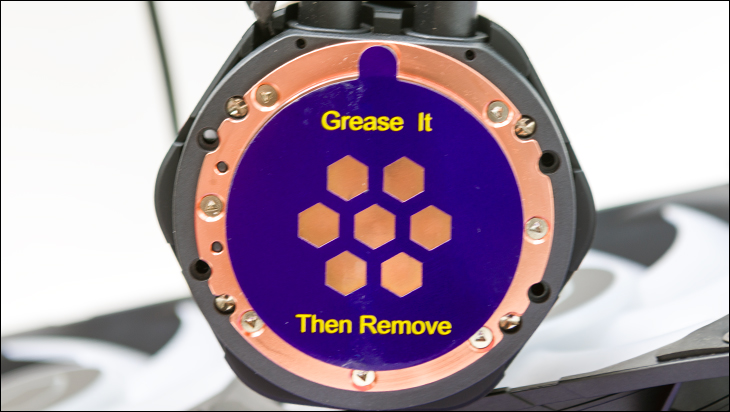 Sadly, going along with all those goodies, and improvements is a secondary improvement… that still needs a bit more work. We are referring to the fact that Cooler Master does not pre-apply TIM to this copper block's base. Instead they have pre-mounted a custom (paper) template for how to apply TIM to it the 'Cooler Master Way'.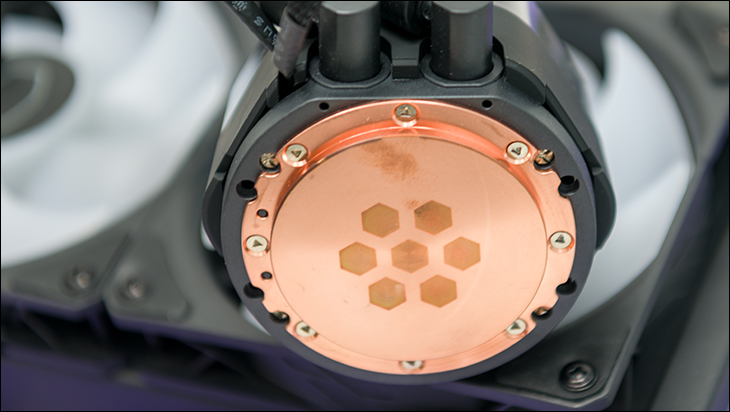 To be candid we like this pre-applied template, but we do not like the fact that it allows the copper to oxidize while in transit… as you can see in the above photo. A thin plastic film on top of this would be nice, and necessary. In the grand scheme of things this minor oxidization issue is drowned in the improvements offered and the fact that this base is finished darn near perfectly.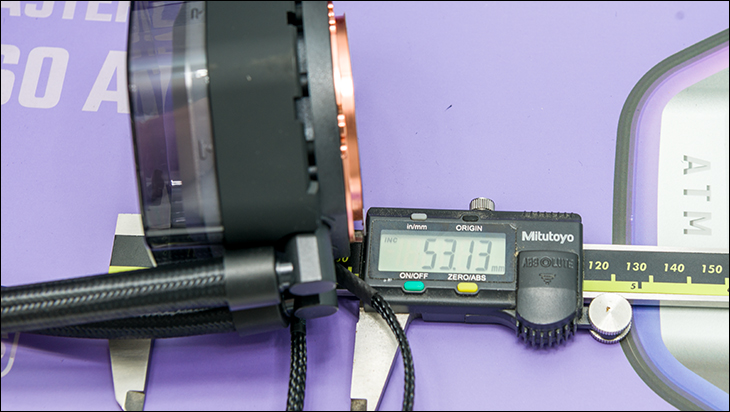 Overall, we firmly believe that Cooler Master has made incredible improvements in just one generation. Enough improvements that a lot more builds can be rocking a 'thin' AIO instead of a 'thick' one. Color us impressed… even if there are still a few kinks they need to work out.