There certainly is no denying that PCIe-5.0 x4 Solid State Drives are 'faster' than the previous PCIe 4.0 x4 generation. That however is not the same as saying that saying PCIe 4.0 drives are slow or manufacturer's all pulled an "Apple" and purposely made them slower to sell PCIe 5.0 models. No, instead it is more accurate to say that they offer blazing fast performance, but it just is relatively slower compared to the bleeding edge PCIe 5 models. This divergence on performance vs. perceived performance has caused some very nice opportunities to appear in the marketplace. Opportunities for savvy buyers to pick up incredible deals… which segues nicely into the focus of today's review: the $68 Crucial P5 Plus 1TB.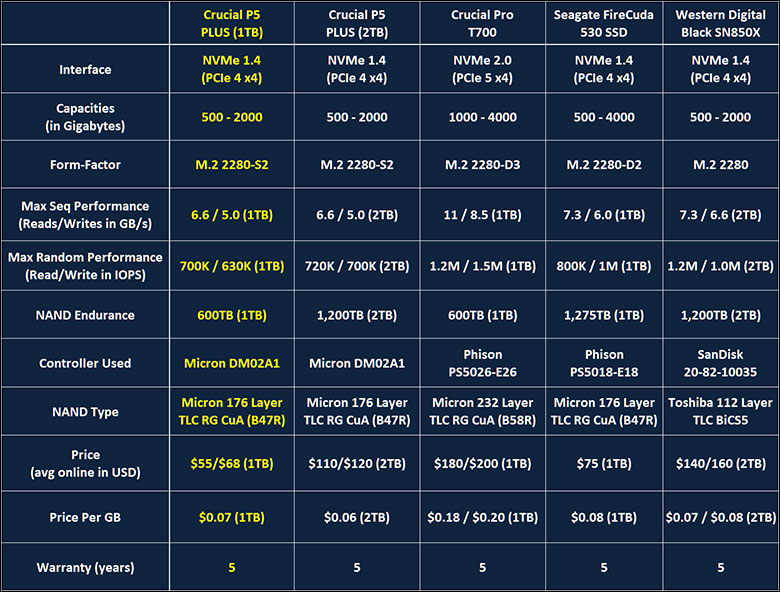 On paper Crucial's, circa 2021, P5 Plus 1TB's certainly is not in the same class as Crucial's T700 series… and that is where most inexperienced bargain hunters stop and move on to a 'better' deal. However, when you dig into the specs it offers the P5 Plus 1TB SSD is not lacking in performance for average joe and jane six-pack. In fact, not that long ago the P5 Plus was considered one of the faster reliable options going. After all, Micron B47R RG 2.0 NAND may be eclipsed by the RG 3.0 B58 class of TLC NAND, but it still is some of the best NAND widely available today. When paired with the inhouse DM02A1 controller, a controller Micron originally developed for the server environment, this is a combination that can easily saturate the bus of Sony's PlayStation 5 or any mid-tier / PCIe 4.0 based PC/Laptop/NUC/etc. It just cannot saturate a PCIe 5.0 bus-based system.
When one then mixes in the excellent warranty (5 years), with the fact that Crucial recently slashed the price to a mere $55 for the nekkid 1TB and only an extra $13 ($68 USD) for the heatsink version (or about $112 less than a T700 PCIe 5.0 x4 1TB SSD) that certainly sounds like our favorite combination: excellent value. This does however beg the question on how much 'slower' is this model compared to more expensive offerings… and is the massive difference in price justified or is this one a Real Deal. Let's put it to the test and see if it indeed can impress us in 2023 like they did in 2021 and 2022.